Sanitation Focus of Triennial Global Event
Hosted this year by Istanbul, Turkey — March 16-22, 2009 — and expected to draw over 15,000 people, the conference also features as usual the World Water Expo trade fair.
Dec 1st, 2008
By Daniella Boström
Hosted this year by Istanbul, Turkey — March 16-22, 2009 — and expected to draw over 15,000 people, the conference also features as usual the World Water Expo trade fair.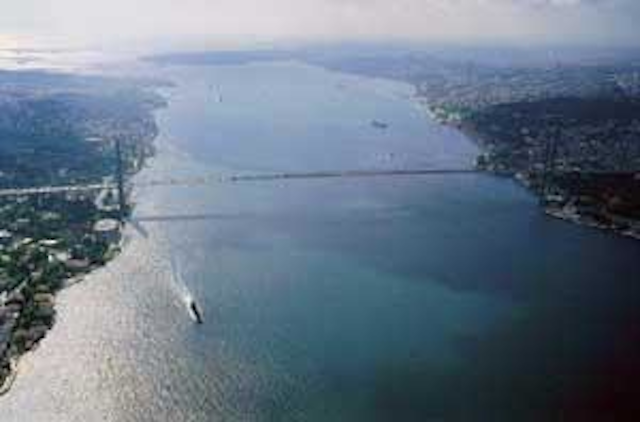 The Bogaziçi Bridge spans the Bosphorus Strait in Istanbul and linking Europe and Asia. Istanbul, Turkey, is the host city of the 5th World Water Forum to be held in March 2009
Click here to enlarge image
Nearly half of the world's population lacks basic sanitation. Urbanization, with half of human beings now living in cities, is concentrating the problem. Little is being done to address this predicament that jeopardizes the health of billions of individuals.
"When we consider the state of the rivers or groundwater, we can actually talk of a new kind of 'sanitary bombs,'" says Loïc Fauchon, president of the World Water Council (WWC), an international umbrella organization for the water sector based in Marseille, France, that advocates for improved water resources management globally.
Battling for Resources
The responsibility for delivering clean water and providing sanitation services often falls into the hands of mayors, governors and other local officials. They customarily face an uphill battle to convince national leaders to provide financing, technology and training. The job of local authorities is often complicated by developments such as rapid population growth, rural-to-urban migration, decentralization, pollution and climate change.
While fundamental to health and quality of life, investments in sanitation often do not offer the same political dividends as more visible public works projects like roads and bridges. "Sanitation is often seen as a black hole," says Ger Bergkamp, WWC director general. "We need to figure out what the bigger picture for sanitation looks like and get beyond the thinking that sewage is only waste."
Every four years, the WWC organizes the World Water Forum, which was launched in 1996 in Marrakesh, Morocco, and also has been hosted by The Hague, Netherlands, Kyoto, Japan, and Mexico City. For the next edition of the Forum, 16-22 March 2009 in Istanbul, Turkey, the WWC is mobilizing mayors and other local officials around the world to help address urban water challenges. With several major reports released in the past year regarding weakness in the sector worldwide, it's also encouraging the sanitation industry to take a look at the big picture of waste management.
Istanbul Water Consensus
In 2006, at the 4th World Water Forum in Mexico City, local authorities assumed responsibility for providing safe water and sanitation and called for more cooperation from national governments.
From that debate emerged the idea of Istanbul Water Consensus (IWC) — initially the Istanbul Urban Water Consensus (IUWC) — a pact among local leaders who pledge to make measurable improvements in the water and sanitary conditions of their constituents. So far, mayors from cities like Brisbane, Australia, Thessaloniki, Greece, and Vienna, Austria, have signed on to support the document's goals. Dozens more are expected to join by March. Consisting of a joint political statement and an agenda with tailor-made targets for each city, the IWC will help local authorities take action most relevant to their particular situation. "The Consensus is an important symbol of cities coming together for water and sanitation," says Bergkamp.
Apart from helping cities cope with external pressures, the IWC will also provide practical assistance. Some cities, like Entebbe, Uganda, have limited investment capacities and few households connected to the sewerage system. They'll benefit from technical assistance and other kinds of support. Individual cities will team up to address shared challenges. As a low-lying delta city, Rotterdam needs to improve water and sanitation services while addressing climate change, sea level rise and urbanization. "Sharing experience and support with other delta cities in the world will help us tackle the challenges", says John Jacobs, Rotterdam Waterplan Programme manager. "This way, we can protect the cities against climate change effects and improve the urban quality of life."
The IWC will be signed at the 5th World Water Forum, a gathering that's expected to attract 15,000 people, including leading international water professionals, experts and policymakers.
"We would welcome ideas to set up the exchange and support cooperation between cities and experts," says Bergkamp. Companies and organizations will have the opportunity to showcase their products and services at the event's inaugural trade fair, the World Water Expo.
Sanitation's Bigger Picture
Another part of the sanitation challenge is to see the bigger picture. "What we see in the UN-system is a strong emphasis on toilet level solutions," says Bergkamp. "Although we know that toilets are very important on a local level, we should also focus on what happens downstream. What are those large scale systems we have to put in place to treat 100 millions of tons of waste in an environmentally benign way?"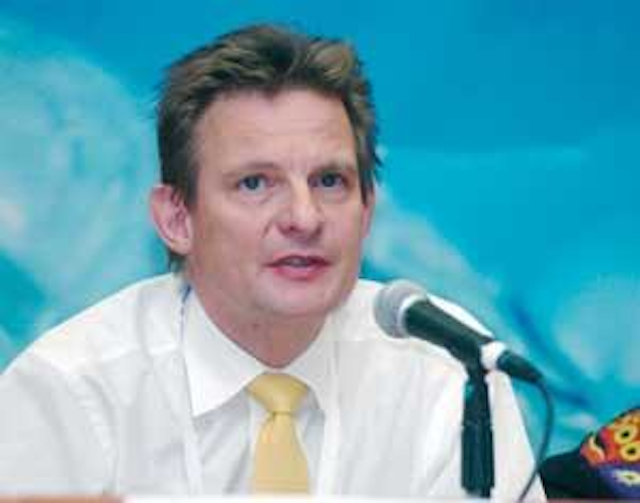 Ger Bergkamp, director general of the World Water Council, at 4th World Water Forum in Mexico City in 2004. At the time, he headed the IUCN Water Programme of the International Union for Conservation of Nature, arguing that local communities needed to build capacity to engage in political negotiations and processes. [Credit: International Institute for Sustainable Development]
Click here to enlarge image
Sanitation experts are trying to develop new and innovative approaches to this problem. Their effort will be furthered by a high level panel on sanitation for the 5th World Water Forum. The panel will bring together local authorities, sanitation experts, civil society representatives, community activists, engineers, industry leaders and bankers. Among other things they'll discuss ways to move beyond the concept of sewage as waste, examining ways to turn sludge into a resource. The panel is expected to suggest clear goals for policy and oversight. Rather than the tired old cookie cutter approach, where one size fits all, the panel will promote a portfolio of solutions. Ideas gathered from participants of all stripes will be hashed out with the engineers so that human needs are met in a practical way. One major challenge will be to make cutting edge solutions affordable for low income countries and communities.
The discussion in Istanbul will not represent a culmination but a starting point. "What we hope for the 5th World Water Forum is to start moving the thinking beyond where we are now," says Bergkamp.
---

Author's Note:
Daniella Boström is the media officer of the World Water Council (WWC), based in Marseille, France. Contact: www.worldwatercouncil.org or www.worldwaterforum5.org