Technology Roundup
At WEFTEC in Chicago, Bord na Móna Environmental Ltd. introduced a patented biofiltration odor control system called MóNASHELL® that uses waste seashells as the media to the U.
Dec 1st, 2008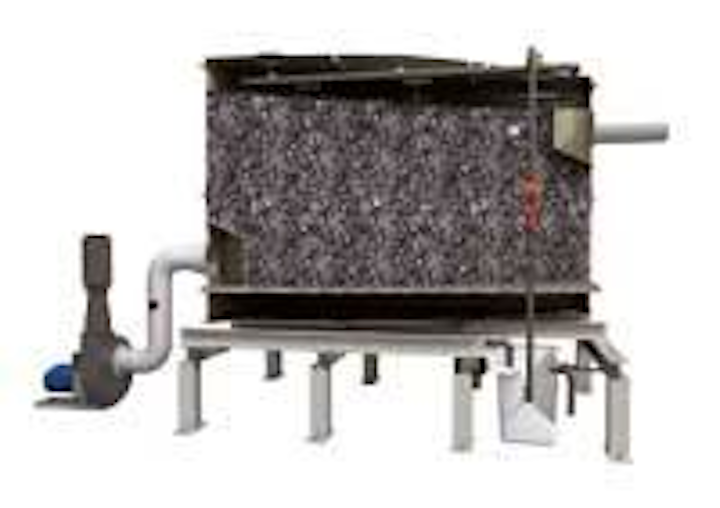 Biofiltration odor control uses seashells as media
At WEFTEC in Chicago, Bord na Móna Environmental Ltd. introduced a patented biofiltration odor control system called MóNASHELL® that uses waste seashells as the media to the U.S. market. Installed at over 500 locations worldwide, this solution was brought stateside along with three other wastewater products and a new subsidiary, Bord na Móna Environmental Products U.S. Inc., as part of a major expansion by the Ireland-based, $550-million odor control solutions provider in the environmental, energy, fuels and horticulture markets.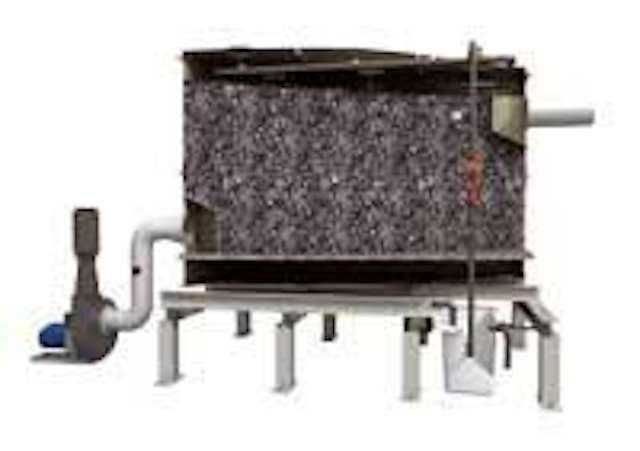 Click here to enlarge image
"Odor emitted from wastewater treatment processes is increasingly a concern as populations grow and housing encroaches upon once-remote treatment facilities," explained Bord na Móna president Shane Keaney. "Odor is more than unpleasant. It derives from sulfurous compounds that can raise acidity and cause corrosion."
The MóNASHELL Biofiltration System is a sustainable, low maintenance and low operating cost alternative to traditional carbon or chemical scrubbing. Reuse of waste shells as media maintains a neutral pH, allowing for effective biological treatment of odorous sulfur compounds in wastewater and industrial airstreams without chemical use. The system is applicable to wastewater pumping stations, wastewater treatment works, sludge-handling and treatment processors, municipal solid waste and composting centers, as well as various industrial facilities.
The waste air stream is directed into re-circulating water within the unit, allowing contact between select microorganisms and odorous compounds. The harmless bacteria reside on the shells, which contains high levels of CaCO3 and neutralizes acid byproducts of sulfide oxidation. The media's physical, structural and chemical properties allow for smaller filters and higher efficiencies. By-products are harmless, clean and odor-free.
Bord na Móna Environmental Ltd.
Newbridge , County Kildare, Ireland
www.bnm.ie
Enquiry No. 23
---

Pungent odours eliminated with new H2S tube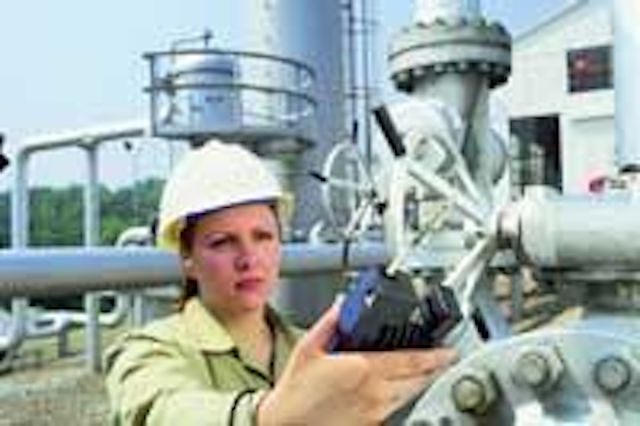 Click here to enlarge image
Able to detect extremely low levels of hydrogen sulphide (H2S) before the nuisance smell becomes apparent, the easy-to-use H2S DraegerTube is of particular benefit to water and waste industries where the gas can accumulate in sewers and stagnant water. Perfect for risk assessment in line with the CoSHH Regulations, tubes are designed to provide onsite gas measurement and are suitable for monitoring personal exposure, spot check measurements, leak checks and confined space investigation. The range comprises over 250 short term tubes to enable fast, accurate measurement of some 430 different types of gases and vapours, with a measurement capability as low as 0.2 ppm. It's ideal for use in any odour control application, including chemical processes. Used in conjunction with a hand bellow pump, they enable rapid measurements and provide optimum volume and flow specifications.
Draeger Safety UK Ltd.
Blyth, Northumberland, UK
www.draeger-safety.com
Enquiry No. 24
---

Global odor control market to grow by 25% by 2013
According to a new technical market research report, "Sludge Treatment: The Global Market" from BCC Research Inc., the global market for sludge treatment technology is expected to be worth $4.6 billion in 2008 — increasing to over $5.8 billion in 2013, a compound annual growth rate (CAGR) of 4.6%.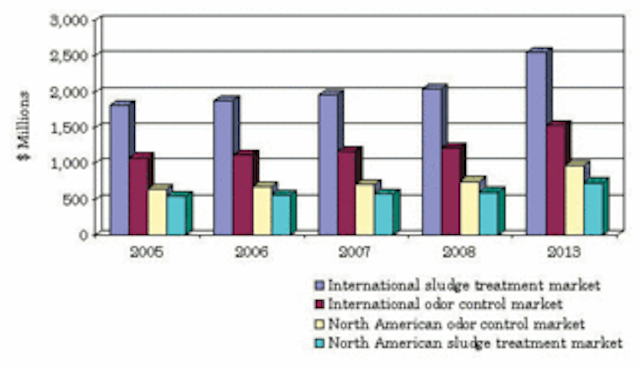 Click here to enlarge image
The market is broken down into the following segments: North American sludge treatment, international sludge treatment, North American odor control and international odor control. The international sludge treatment segment has the market's largest share, worth an estimated $2.1 billion in 2008. This should increase to $2.6 billion in 2013, for a CAGR of 4.5%. International odor control is the next largest, generating an estimated $1.2 billion in 2008. This is expected to grow at a CAGR of 4.5% — or by 25% overall — to reach $1.5 billion in 2013. The North American odor control segment is the third largest, worth an estimated $750 million in 2008 and $968.2 million in 2013, for a CAGR of 5.2%. The North American sludge treatment segment generated an estimated $600 million in 2008. This should increase to $733.8 million in 2013, for a CAGR of 4.1%.
Sludge is produced during the treatment of wastewater either onsite through septic tanks or off-site through activated sludge plants. Untreated sludge, stored for a long time, produces offensive odors that require treatment. The quantity of wastewater treated and quality of wastewater treatment results in increasing amount of sludge. Treatment requirements for sludge neutralization and storage are growing worldwide. As a result, sludge treatment, management and reuse technologies are in increasing demand.
BCC Research Inc.
Wellsley, Massachussetts, USA
www.bccresearch.com
Enquiry No. 26
---

Submersible aerators meet EU standards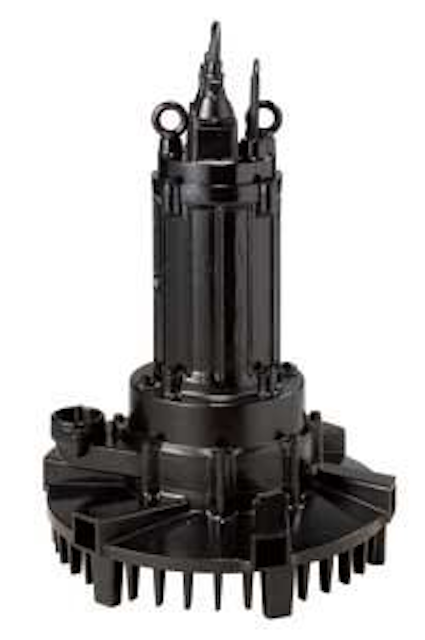 Click here to enlarge image
One of the quickest manufacturers to respond to ongoing demands of the EU water quality improvement industry, Tsurumi launched a new TRN series of submersible aerators. The range follows hot on the heels of the Japanese manufacturer's new sewage pumps, which were also among the first to meet full requirements for the new EU ATEX European Directive for worker protection in explosive atmospheres. The aerators — with waterproof moulding for every conductor and which don't require a separate blower for installations at 6m and below — can be used, among other things, to oxygenate biological wastewater treatment tanks. They also conform to the new EN 12255-15 European Standard, which requires oxygen transfer rates be measured under defined uniform conditions that specify oxygen should pass through an aeration tank filled with clean water, at 20°C and sea level. Other features include an over-sized oil chamber and leading-edge for enhanced lubrication, as well as beveled aerator-casings to reduce rust by ensuring no water rests on the machine when not in operation. The series consists of 10 models with motor outputs of 0.75-40 kW.
Tsurumi (Europe) GmbH
Düsseldorf, Germany
www.tsurumi-europe.com
Enquiry No. 27
---

WTE/Cambi consortium wins Vilnius sludge treatment contract
German water experts WTE Wassertechnik GmbH, with its Norwegian partner Cambi AS, signed a major order for construction of a sludge treatment plant for Vilniaus Vandenys, the municipal water- and wastewater utility of Vilnius, Lithuania's capital. The consortium will build one of Europe's most advanced sludge treatment plants for an investment of over 200 million Litas, or about €58 million. The contract is for a five-reactor Cambi plant (capable of processing 25,000 tonnes dry solids/year) and three-fin fan digester coolers. The scope of work at the wastewater treatment plant (WWTP), which has suffered from growing sludge odour and disposal problems for several years, includes sludge thickening, digestion, dewatering and low-temperature drying, as well as biogas recovery for use in a combined heat and power (CHP) station. By introduction of a thermal hydrolysis plant, for which Cambi will be responsible, the facility ensures pasteurised, odourless biosolids. A high digestion rate and dry solids feed give only a third to half the digester volume of conventional systems. The plant also will lead to increased biogas production and reduced final product volume, both benefits for sludge drying via a low temperature belt dryer running on thermal energy from the CHP station.
Cambi AS WTE Wassertechnik GmbH
Asker, Norway Essen, Germany
www.cambi.com www.wte.de
Enquiry No. 28
---

H2S — it smells and it costs!
Odour and corrosion is a severe challenge all over the world. Hydrogen sulphide (H2S), with its intense smell, often is the villain — increasing problems with bad smells in the neighborhood of sewage systems. Not only does H2S constitute health and safety hazards, it also leads to corrosion of concrete pipes and, in turn, increasing costs. Kemira H2S-Guard™ solution from Kemira is a splendid answer to the challenge. A presentation and application brochure on its use for both odor and corrosion control are available at the company's website.
Kemira
Helsinki, Finland]
www.kemira.com
Enquiry No. 29