Powered Up with Hobas
Austrian Hydro projects aided by GRP pressure pipe systems effects that lead to global warming.
Apr 1st, 2008

By Alexandra Dobnigg
Austrian Hydro projects aided by GRP pressure pipe systems effects that lead to global warming. A national law on green electricity aims to raise the production of renewable energy from 64% to 78.1%. In addition, there's a request to reduce Europe's increased dependence on energy imports and to focus on environmental protection.

Click here to enlarge image
Due to these conditions Hobas Pipes Austria established itself as competent supplier of pressure pipes for power plants over the last few decades. A total of 181 pressure lines for small hydropower plants have been installed since1979.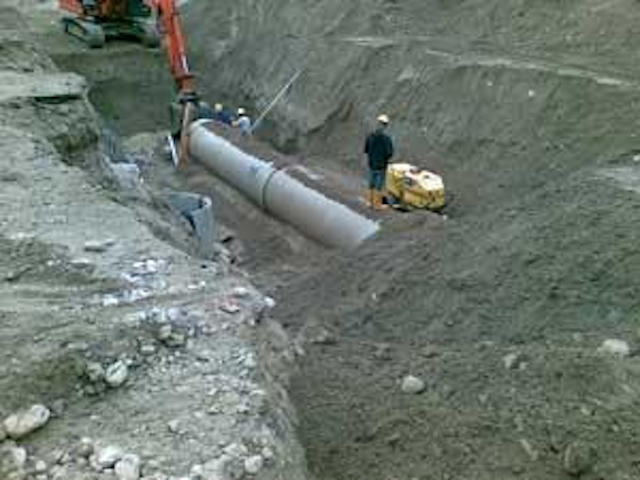 Installation of Hobas CC-GRP pressure pipe at small-scale power plant at in Carinthia, Austria
Click here to enlarge image
One of the most important projects in Austria is the eco-power plant Schwarzach in East Tirol. This power station, with a turbine output of 9.9 MW, has an average working capacity of 59 GW per year. A 4-km DN 1600, PN10 - PN16 HOBAS® CC-GRP pressure line was installed for this project and the plant went into operation in January 2007.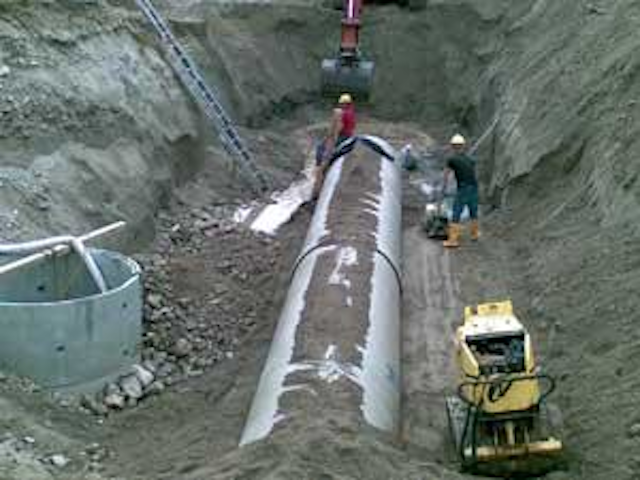 Click here to enlarge image
Another hydro project recently realized with HOBAS CC-GRP pressure pipe systems is the smallscale power plant at the Loibl Stream in Carinthia, on the border to Slovenia. The plant is run by a group of eight different entrepreneurs including the planner and turbine manufacturer. It consists of a timber intake structure, a 2080 m HOBAS pressure line DN 1400, SN 5000, PN 2 to PN 8 and the powerhouse with a tail water channel. The gross head is 39 m and the average flow amounts to 2.3 cubic meters per second (m³/sec). The plant has a capacity of 740 KW and an average of about 3.5 GW can be generated per year.
The CC-GRP pressure pipe line was installed by open cut in the embankment of the Loibl Stream, which had to be cleared before construction works could be started. An installation rate of six pipes (36 m) per day was calculated due to difficult site conditions. Still, well scheduled construction works, on time deliveries, a well trained construction team, and extensive project support by the Hobas team more than doubled the rate to 14 pipes (84 m) per day.
This outstanding performance under given conditions allowed the construction company to finalize the project well ahead of schedule.
---

Author's Note:
Alexandra Dobnigg is marketing & communications coordinator for HOBAS Engineering GmbH, of Klagenfurt, Austria. Contact: +43 463 482 424, alexandra. dobnigg@hobas.com or www.hobas.com
---

Monumental Microtunnelling in Verona
HOBAS Pipe combines trenchless, open trench techniques to improve stormwater control and resolve flooding in Italian city. A problem of flooded buildings below street level in Verona, Italy, after heavy rainfalls was solved thanks to a new stormwater sewer, a project promoted by Acque Veronesi, the water management department for 77 municipalities in the Veneto region.

Installation of HOBAS' new SewerLine® in Verona, Italy, by contractor Impresa Serpollini S.r.l. enhances stormwater control
Click here to enlarge image
The effort involved installation of 210 m of HOBAS CC-GRP SewerLine® DN 900. The line runs from Prato Santo Street to Lungadige Matteotti straight into the Adige, the river which crosses downtown. The project's first section was laid in an open trench utilizing short 3-m pipes where the road was wide enough for this installation method. The second was microtunnelled due to an installation depth of 4 m, high groundwater level, and old buildings and monuments along the route. Using open trench also would have meant longer construction time and more disruption for inhabitants, tourists and traffic.
Acque Veronesi design engineer Luca Comitti suggested microtunnelling, an installation method the water management department chose for the first time. Installation was awarded to Impresa Serpelloni, a reputable area contractor specializing in no-dig techniques. It and Acque Veronesi didn't take any risks and decided to change the pipe material originally planned for the project, switching to centrifugal cast glass reinforced polyester (CC-GRP) pipes – a reliable material that requires the least amount of equipment onsite coupled and some of the shortest installation times. The CC-GRP DN 900, SN 10000 pipes were produced by HOBAS Pipe Austria, whereas the Jacking Pipes in the first section came from HOBAS Pipe Germany.
Although the line is fairly short and work took only two weeks, the project was highly acknowledged by designers and authorities of the region. It proves that even seemingly difficult projects can be easily handled when well managed. Local authorities were impressed by the small work site and fast installation.