ecoLogs
RESTON, VA — Continuous real-time information on water quality helps safeguard lives and property and ensures adequate water resources for a healthy economy.
Jul 1st, 2008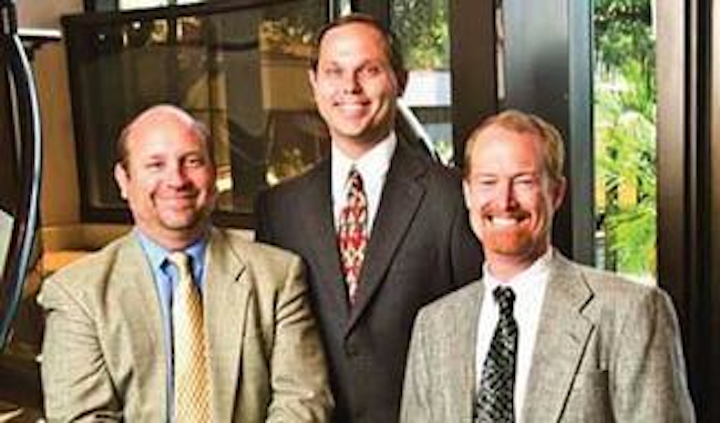 USGS makes real-time water quality information available
RESTON, VA — Continuous real-time information on water quality helps safeguard lives and property and ensures adequate water resources for a healthy economy. Real time water-quality data are now accessible online through the U.S. Geological Survey's (USGS) WaterQualityWatch website (http://water.usgs.gov/waterwatch/wqwatch).
Real-time water quality measurements are available at more than 1,300 sites across the United States in streams with watersheds as small as a few square miles to more than a million square miles. Measurements include streamflow, water temperature, specific conductance, pH, dissolved oxygen, and turbidity.
"Real-time water information is breaking new ground in science and technology and is proving to be very useful, helping local water managers make important daily decisions, such as regarding drinking water, water treatment, recreation, and public safety on beaches throughout the U.S.," said Matthew Larsen, USGS Acting Associate Director for Water.
---

EPA releases TMDL website
WASHINGTON, DC — EPA recently released a new "Impaired Waters and Total Maximum Daily Loads" (TMDLs) homepage (www.epa.gov/owow/tmdl), which features an overview of the Clean Water Act section 303(d) program activities, highlights new resources, and provides easier access to program resources, such as EPA's new Water Quality Assessment and TMDL Information (ATTAINS) website.
The site revamping was prompted by the desire to improve navigation for a variety of audiences and to distinguish two key activities: 303(d) listing of impaired waters and development of TMDLs.
The site also features a new "TMDL Stormwater Resources" page that hosts several stormwater-source TMDLs and case studies highlighting the innovative approaches states are using to address stormwater.
---

Court decision rules MASSHighway water pollution violates federal law
BOSTON, MA — In a precedent-setting decision, a federal court judge has ruled that the Massachusetts Highway Department violated federal clean water laws by failing to develop an adequate stormwater cleanup plan for its 2,500 miles of urban roads and bridges. The decision stems from a lawsuit filed by environmentalists charging MassHighway was not properly implementing a provision of the federal Clean Water Act requiring them to control and clean up polluted water that flows off roadways into neighboring lakes and streams.
After a six-day trial, MassHighway was ordered to commit to a two-year schedule for adopting a new, revised stormwater pollution cleanup plan.
---

EPA says permit not needed for water transfers
WASHINGTON, DC — EPA is publishing a final rule that clarifies water transfers are excluded from regulation under the Clean Water Act's National Pollutant Discharge Elimination System (NPDES) permitting program. The rule defines a water transfer as an activity that conveys or connects waters of the United States without subjecting the transferred water to intervening industrial, municipal, or commercial use. This exclusion does not apply to pollutants introduced by the water transfer activity itself to the water being transferred.
"EPA's Water Transfer Rule gives communities greater certainty and makes clear they have the flexibility to protect water quality and promote the public good without going through a new federal permitting process," said Assistant Administrator for Water Benjamin H. Grumbles. "Clean water permits should focus on water pollution, not water movement."
---

Hydro acquires wastewater industry supplier
PORTLAND, ME — Hydro International, a provider of products and systems that control and treat stormwater, wastewater and combined sewer overflows, recently acquired Eutek Systems Inc., an Oregon-based provider of grit-removal equipment. The combined business expects annual revenues of approximately $60 million.
"This acquisition is a perfect fit for Hydro, giving us expanded market share in the U.S., a West Coast base of operations, and product technologies that complement our existing wastewater grit-removal portfolio," said Steve Hides, CEO of Hydro International.
Hides commented that the market for grit-removal systems is expanding, driven by the growing need to upgrade and replace aging equipment and the rising demand for more efficient systems to remove grit from wastewater flows. "We look forward to tapping our combined sets of expertise to capitalize on this exciting market opportunity," he said.
Hydro plans to maintain the Eutek brand and use the company's Portland, OR, base as a platform to expand Hydro's U.S. wastewater business.
---

Refiner penalized for discharging wastewater into Allegheny
MEADVILLE, PA — United Refining Co. has paid a $52,864 civil penalty for several industrial wastewater discharge and operational violations at its oil refining facility in Warren County, PA.
The facility is to treat the company's industrial wastewater before discharging it to the Allegheny River. United violated wastewater discharge permit limits when it failed to use a storage tank properly that the company had installed years earlier to prevent discharge violations.
"The storage tank was not used for its intended purpose and the wastewater was inadequately treated before being released to the Allegheny River, violating Pennsylvania's Clean Streams Law," said DEP Regional Director Kelly Burch.
United is working on a plant upgrade that would avert future violations. Now that the penalty has been settled, DEP has issued a permit to United that provides for greater wastewater control.
The $52,864 penalty was directed to the Clean Water Fund, which is used by DEP for water pollution remediation projects.
---

Woolpert acquires stormwater specialty firm
DAYTON, OH — Woolpert Inc. recently acquired TEK Science, a stormwater specialty firm, located in Orlando, FL.
"The acquisition of TEK Science will provide Woolpert with an added level of expertise in water management," said Mike Flannery, Woolpert's president and CEO.
TEK Science specializes in stormwater retrofit design, NPDES compliance, stormwater drainage design, stormwater modeling and utility design.
"We are looking forward to collaborating with the professionals at Woolpert to help expand the firm's water management services," said Jeff Earhart, TEK Science owner.
Woolpert also recently acquired Rockett & Associates of Orlando Park, FL, a firm that specializes in water distribution and sewer collection.
---

Group warns of rise in theft of infrastructure metals
WASHINGTON, DC — City, county, and state governments are warned to be on the lookout for a new wave of material thefts. The Institute of Scrap Recycling Industries Inc. (ISRI), the national trade association for the scrap recycling industry, reported an increase in the theft of iron and steel infrastructure metals, such as manhole covers and sewer/stormwater grates.
"Government agencies, police, and the public should be on alert that the metal theft epidemic that we have been experiencing for the past two years has now apparently spread to ferrous materials," said Chuck Carr, ISRI's Vice President of Member Services.
Over the past two years, ISRI has worked to develop tools to help law enforcement fight material theft crimes and to educate stakeholder groups about the need for comprehensive efforts to solving this problem.
ISRI maintains a Theft Alert System that allows the association to notify scrap yards when material theft is reported to the association. This tool, available free to any law enforcement agency, helps recyclers identify stolen material.
"The scrap recycling industry recognizes that it is a stakeholder in reducing material theft,"Adams said. "We are working hard to be a part of a solution to a community-wide problem."
---

Invasive species managed inconsistently across state programs, says report
WASHINGTON, DC — Invasive species are a major source of impairment to many of America's waters, but states are not addressing this problem in consistent ways under the federal Clean Water Act, according to a report by the Environmental Law Institute.
The report, titled "The Role of Aquatic Invasive Species in State Listing of Impaired Waters and the TMDL Program," uses a sample of seven states with differing invasive species problems, finding that some states list every water segment damaged by these species, while others list none at all. The report found that some states treat invasive species like chemical pollutants, while others identify them as a cause of harm but not as pollutants that require preparation of TMDL cleanup allocations.
According to the report, each state has at least some water quality standards that can be used to assess impairments due to invasive species, and most have done so at least a few times during the past decade.
ELI staff attorney Adam Schempp notes that "identification by states of waters impaired by invasive species is desirable because it informs the public of the seriousness of the problem and provides a basis for action, however the state chooses to classify the impairment."
ELI's study, supported by EPA's Office of Water, shows that water quality regulators in Washington, New York, Massachusetts, Iowa, Ohio, and California have integrated at least some invasive species assessment into their water pollution programs, although different approaches have been used in different states.
To download the free report, see: www.elistore.org.