Ballast market to stay buoyant for water treatment
The global ballast water treatment market earned revenues of $466.6 million in 2013 and this could reach $3.14 billion by 2023, according to new findings...
Dec 11th, 2013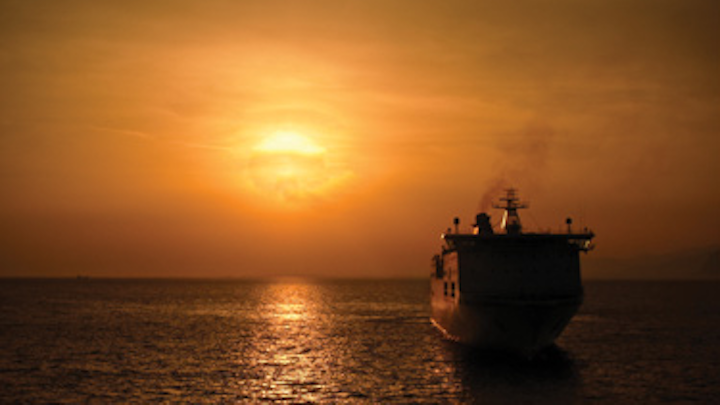 The global ballast water treatment market earned revenues of $466.6 million in 2013 and this could reach $3.14 billion by 2023, according to new findings.
Industry analysts Frost & Sullivan (F&S) new report - Global Ballast Water Treatment Systems Market – forecasts the market to grow at a compound annual growth rate of 21%.
The retrofit market is expected to account for a substantial share of the global market during its peak installation period in 2018. Bulk carriers as well as oil and chemical tankers will be key end users, generating cumulative revenues of $17.76 billion and $12.68 billion over the forecast period.
An estimated 60,000 shipping vessels account for about 90% of the global economic trade. These ships require ballast water to maintain balance and stability. The ballast water taken onboard at the port of embarking consists of a variety of biological organisms that can be harmful to new environments, said F&S.
In fact, when discharged at the destination or interim docking port, invasive species can be introduced in the new aquatic ecosystem causing damage.
Recognizing the urgent need to address this escalating environmental problem, two important regulations are expected to come into force next year, and these will be the key drivers for the ballast water treatment systems (BWTS) market globally.

The International Maritime Organization introduced the Ballast Water Management (BWM) Convention in 2004. The convention becomes legally binding 12 months after it has been ratified by 30 states that represent 35% in fleet tonnage.
Currently, 38 states accounting for 30.38% of fleet tonnage, have ratified the convention and should states such as Singapore be the next to ratify the Convention – it could get the fleet size target over the 35%.
However, in the interim the United States Coast Guard (USCG) requirement for vessels using the U.S. waters to be equipped with ballast water treatment systems is set to enter into force from 2014. Since the USCG requires an additional certification to the IMO certification of the ballast water treatment systems, it has provided an interim measure in the form of the Alternate Management System (AMS) approval process which has been secured by about 25 ballast water treatment suppliers so far.

F&S said Europe will dominate market revenues from 2017 to 2019, while Asia-Pacific will display consistent performance throughout the study period. Europe shipyard industry also supports major retrofit opportunities, creating a fertile market for BWTS.
Asia-Pacific, being a hub for shipbuilding and the base for the majority of ship owners and yards, is a key revenue generating market, particularly in the countries of Japan, China and South Korea.

The research also reveals that North America, though low in terms of ship owners and yards, presents attractive prospects for BWTS manufacturers owing to the sizeable number of suppliers and the implementation of the USCG regulations on ballast water treatment.

Systems incorporating filtration and Ultraviolet (UV) process appear to dominate the BWTS market at present and the trend is set to continue as newer upgraded versions of these systems are far more energy efficient.

Meanwhile, chemical treatment technologies using electro chlorination, electrolysis and electro chemical treatment have also carved a niche in some of the key vessel segments of the market. Other processes include cavitation, heat, ultrasound, and electro-clean systems, F&S concluded.
###
Read more

Ballast Backlash: Is IMO Ratification Helping or Hindering Technology? Ballast water treatment has increased in the past few years. US states such as New York and California have set their own requirements, with the stalled International Maritime Organisation Convention hovering in the background, waiting for ratification. How is this affecting manufacturers? WWi finds out…
Ballast Water Treatment Market Remains Buoyant Driven by international regulations, the market for ballast water treatment systems is predicted to grow to over $34 billion. Tomasz Zagdan looks at the costs involved in purchasing a system, how companies such as Veolia Water Solutions & Technologies are getting involved and the separation and disinfection process…