What does 2014 hold for Siemens Water Technologies, under AEA control?
The agreement for AEA Investors LP to acquire Siements Water Technologies has been closed for 640 million euros and the new company will now be called Evoqua Water Technologies...
Jan 15th, 2014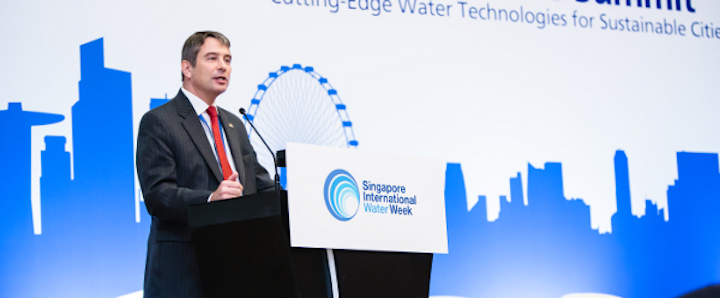 Industry analysts predicted that Siemens Water Technologies would be bought by a global water company such as Xylem or Pentair.
So it may have come as a surprise towards the end of 2013 when investment company AEA Investors announced it would buy the German firm for the sum of 640 million euros.
The agreement closed today with Siemens Water Technologies now being rebranded as Evoqua Water Technologies.
Following the sale of Siemens Water Technologies? Here are some additional articles that might interest you:
A statement released today said: "Evoqua originates from the definition of "evoke" to re-create imaginatively, as well as "evolve," symbolizing the ongoing evolution of one of the great water industry leaders combined with a shortened version of "aqua." It is pronounced e (long "e") vo (long "o") qua."
The agreement included the acquisition of the municipal, industrial and services water and wastewater treatment operations and assets of Siemens Water Technologies.
AEA's history includes focusing on control buyouts in four industry sectors: value-added industrial products; specialty chemicals; consumer products/retail and services.
Dr Lukas Loeffler will continue in the role of CEO to "ensure continuity of the ongoing successful integration and optimization of Water Technologies' operations and assets" according to a company statement.
It was in 2004 when Siemens entered the water treatment market, following the much publicized acquisition of USFilter from Veolia Environnement for $993 million. At the time the acquired business had reported sales of $1.2 billion and employed around 5,800 people. Part of the challenge for Siemens stemmed from trying to consolidate and integrate the many parts of the newly acquired business.
Speaking to WWi when Siemens was first put up for sale, Loeffler said: "When the company came to Siemens in 2004-2005, initially the first leaders in Siemens were busy with a whole bunch of other topics.
"So from the point of view of managing the business, it was never integrated in a way that you had complete oversight of the individual locations, other than the financial level."
Following the AEA announcement, the CEO told WWi: "The sale attracted a great deal of interest from the industry and investors. There were a number of attractive offers, but AEA proved to be the best fit."
When asked about AEA's experience in investing into water companies, Loeffler added: "The primary AEA people interfacing with Water Technologies have years of water, specialty chemicals and industrial experience – they know our business.
"For example, operating partner Gary Cappeline is a former president and COO of Ashland [speciality chemical company], where he had direct responsibility for the water treatment chemicals business. He also has co-authored book on industrial watertreatment."
In a previous interview the CEO commented that due to the fragmented nature of the global water market, Siemens has found it difficult becoming one of the top performers as it has in its other divisions and a position it aims for. However, under the new owner, Loeffler believes his company is now in a position to grow.
"Under AEA ownership, Waters Corp. management reengineered manufacturing operations, invested in R&D, executed several acquisitions and grew annual revenue growth from 1% to more than 8%," he said.
"Following a successful IPO, Waters now has a market cap of $9 billion. With Mettler-Toledo, AEA tripled annual revenue growth to 12% and spun the company off in another successful IPO resulting in a $7 billion market cap."
The CEO concluded by saying: "The fragmented nature of the water industry is inherent and is not likely change any time soon, but we are confident of our ability to grow and build market share in the attractive end market verticals we serve."
Read more
Why Siemens is selling its water processing division Concentrating on the industrial automation side of the industry, Siemens is exiting the water treatment business. What does this mean for water equipment manufacturers out there? Who will make an ideal buyer? Tom Freyberg speaks to Dr Lukas Loeffler, CEO of Siemens Water Technologies to find out…
Siemens Water Technologies to be acquired by AEA Investors An agreement was recently signed by AEA Investors LP to acquire the water and wastewater treatment operations and asset services of Siemens Water Technologies for €640 million ($865 million)…