Onsite Disinfection: Rugged Realities in Honduras
MIOX Corp. recently partnered with a team of missionaries to offer Honduran colonias on Roatan Island off its Caribbean coast greater access to clean drinking water...
Aug 24th, 2009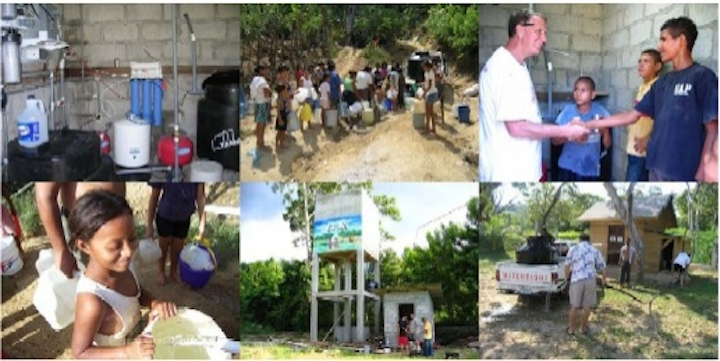 By Rachel Zuback
• MIOX Corp. recently partnered with a team of missionaries to offer Honduran colonias access to clean drinking water.
Tucked between the islands of Útila and Guanaja off
Honduras
' northern Caribbean coast,
Roatan Island is 60km long and less than 8km wide at its widest point. An influx of inhabitants has increased pollution and rapidly depleted natural resources including water. Many small colonias, or unplanned neighborhoods on urban outskirts or in semi-rural areas on the island, often don't have access to clean water.
Committed to improving health and quality of life for local inhabitants, missionaries Chuck and Tia Laird partnered with Henry Zittrower, founder of Living Water 4 Roatan, and
MIOX Corp.
to improve the water situation on the island. MIOX on-site
disinfection
generators have provided a sustainable and innovative solution, bringing safe, affordable drinking water to outlying areas.
The island is a serene tropical getaway for many vacationers. Pristine beaches, diving, snorkeling, and sunset cruises attract tourists worldwide. Each year, thousands descend on Roatan to indulge in the many amenities offered at world-class resorts including charming restaurants, exciting excursions, aquatic activities, a well-developed transportation system and, of course, readily available drinking water.
But despite some of the lush surroundings, Roatan Island is still an underdeveloped community, stricken with poverty. With increased pressure on the natural resources, small colonias on the island – including Sandy Bay Village and Polin Carpo – often don't have access to clean water. Existing supplies are becoming depleted and more polluted.
Enter Chuck and Tia
Natives of Palmdale, California, the Lairds had deep roots in the desert sand. The couple owned a powder coating shop, as well as Terra Art Water Supplies. Satisfied but not fulfilled, the Lairds picked up and moved to Roatan Island. Before their arrival, four young boys under age six died from dysentery associated with drinking contaminated water.
| | |
| --- | --- |
| | |
| Delivering safe water to Peggy Strange's Health Clinic. | Construction of building to house water system. |
The Lairds were committed to improving the health and quality of life for local inhabitants, setting up the Calvary Chapel Roatan and Son Rise Terra Art Hotel. Given Chuck's professional expertise and these terrible tragedies, one of their primary missions became providing potable water to these communities.
True Lifesaver
With about 350 homes, Polin Carpo is a very impoverished colonia. "When we arrived, it had a major need for improved access to safe drinking water. The untreated well they previously used broke and became unusable due to mismanagement," Chuck said. Community members lived without well water for eight months and many resorted to fetching water from nearby ditches filled with stagnant water that was polluted with parasites and bacteria. Families often sent small children to carry water jugs back and forth between these ditches and their homes.
Remembering a positive experience with MIOX from his previous life in California, Laird contacted the Albuquerque, New Mexico-company and secured the donation of a MIOX AE-4 on-site chlorine generator. The technology uses salt, water and electricity to produce a chlorine-based disinfectant, known as mixed-oxidants, on demand. "These technologies offered a sustainable and innovative solution, bringing safe drinking water to outlying areas on Roatan," Laird said. "The water became affordable, clean and healthy; and people appreciated the fact this water was odorless and tasteless."
| | |
| --- | --- |
| | |
| MIOX On-Site Generation system, at SonRiseTerraArtHotel | Chuck Laird personally installing a MIOX system for Polin Carpo |
One unit was installed at a well the missionaries built for Living Water 4 Roatan and another purchased for the Son Rise Terra Art Hotel, providing disinfected water to Polin Carpo and Sandy Bay Village. A third unit was donated to the SOS Orphanage in La Ceiba, another Honduran colonia.
"The technical specifications of the MIOX system worked well in these communities," said Laird. It's a simplified automatic unit that requires less than 4 lbs of mixed oxidants per day measured as Free Available Chlorine, and can produce up to 480,000 gpd of treated water.
"The AE-4 specifications are perfect for rural and remote communities," said MIOX CEO Carlos Perea. "The only service requirement is to load salt into the brine generator. And you only need 12 volts of power to run the unit."
Before Laird and Zittrower re-structured the water delivery system, none of the residents of the colonia had water delivered to their homes. In Polin Carpo, 90% of homes now have a water tap and subscribers pay the equivalent of $5 a month to have water service. The exceptions are residents at higher elevations who must walk down to retrieve tap water from a neighbor's house.
The Right Fit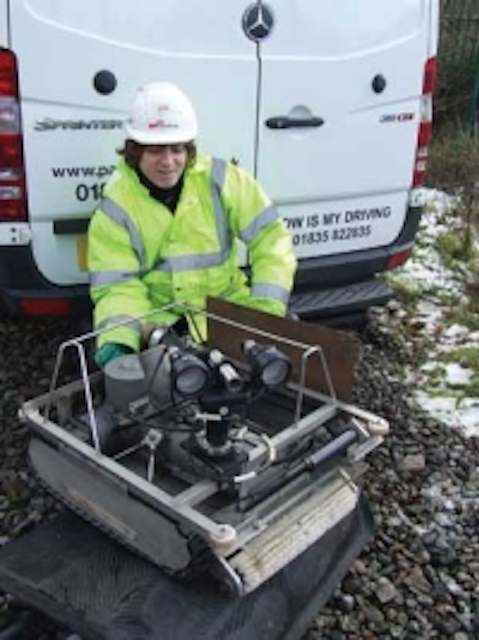 Sandy Bay Village community members installed the piping networks that would deliver safe drinking water.
Laird has seen many organizations come to Honduras to give away water treatment systems with the best of intentions, but unfortunately many of those gifts don't fulfill their intended purpose. "Bio-sand filters don't kill all of the bacteria that may be present in raw water," explains Laird. "And people get tired of adding bleach to their water because they don't like the taste."
Systems installed without careful consideration of local needs or capabilities quickly become abandoned or useless. "The MIOX units have been operational for over three years, successfully improving water quality and also making a positive contribution to the social and economic growth of the communities," adds Laird.
Sustainable Approach
Laird and Zittrower did more than just hand-off a free water treatment and distribution system. They established an ongoing, locally supported program for delivering clean water to the people of Sandy Bay Village and Polin Carpo. The mayor approved installation of the systems, and locals were trained to manage the entire program as a private, self-sustaining enterprise.
Employees of the program collect money from customers, pay the electric bill, and operate and maintain the systems and infrastructure. The US$5 a month collected from each household that uses the water pays the employees, electricity bills and maintenance costs. As well as bringing safe drinking water to these communities, the project created jobs and empowered residents to take responsibility for their own access to clean water.
Laird and Zittrower hand-picked operators who were well-regarded members of the community. "Operators and other employees are not technical experts, but they have the skill sets and acumen to manage these systems," explained Laird. "The MIOX units are compatible with the low voltage (106-112VAC) that's available in the colonia. The systems are appropriate for these communities not only in terms of their ability to disinfect and deactivate the dangerous pathogens, but also in terms of the practical, daily usage of the systems for a consistent, reliable and safe water supply."
| | |
| --- | --- |
| | |
| Laird delivers clean drinking water to Polin Carpo | Children with clean water courtesy of MIOX treatment system |
Promising Future
Implementation of on-site water treatment technologies has been complemented by health education efforts on the part of Peggy Stranges, R.N. Stranges is an American registered nurse who runs a low-cost and free health care clinic on Roatan Island. Her education programs informed residents about the dangers of drinking or using water in stagnant pools or creek beds. Along with availability of clean drinking water, educating people not to use the unsafe water has dramatically reduced the number of people who rely on surface water.
Access to clean water is one of the world's most critical yet unresolved issues, according to MIOX's Perea. "This is why we're committed to improving safe access to drinking water in developing communities around the world," he said. "With the energy it takes to boil one liter of water, our systems can treat over 40,000 liters. It's a safer, cleaner, and more cost-effective way to purify water and help save lives." WWi
Author's Note:
Formerly international market development coordinator, Rachel Zuback is now product manager for Miox Corp. Its patented water disinfection technology is used in over 30 countries and hundreds of U.S. communities for public drinking water systems, water reuse projects, and a variety of commercial and industrial applications. Contact: +1-505-343-0090, rachel.zuback@miox.com and www.miox.com
###