Water Corporation, Murdoch University named joint host agencies for 2010 IDA award program
TOPSFIELD, MA, Jan. 21, 2010 -- The International Desalination Association (IDA) has named the Water Corporation and Murdoch University in Western Australia as joint host agencies for its 2010 Fellowship Award Program...
Jan 21st, 2010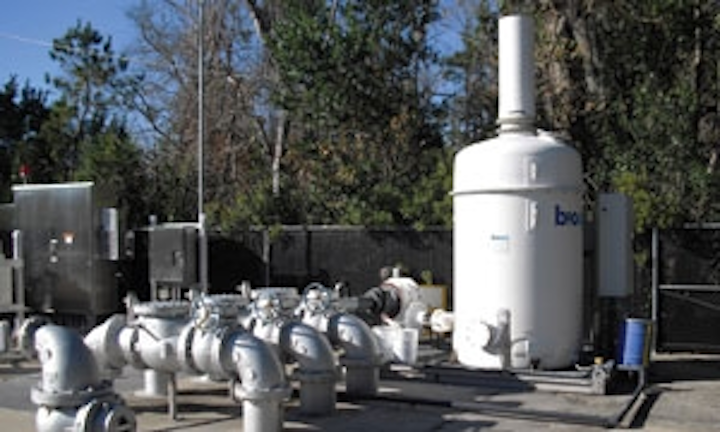 • Deadline for applications is April 15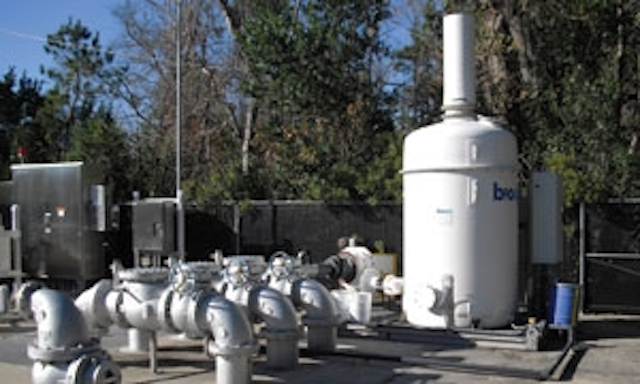 Aerial view of Perth Desalination Plant.
TOPSFIELD, MA, Jan. 21, 2010 -- The International Desalination Association (IDA) has named the Water Corporation and Murdoch University in Western Australia as joint host agencies for its 2010 Fellowship Award Program.
The goal of the IDA Fellowship Program is to facilitate the advancement of global expertise in desalination and water reuse through the exchange of talents, knowledge and skills. The program consists of both a monetary award, funded through the IDA Foundation, and an attachment spanning several weeks with the host agency to work on a specific project. Through this process, the IDA Fellow becomes a conduit for knowledge transfer when he or she shares their learning with their own organization, as well as with other fellow professionals through IDA's publications or presentations at major IDA events.
Since the program's inception in 2008, IDA has awarded three fellowships and partnered with PUB, Singapore's national water agency, and with Saline Water Conversion Corporation (SWCC) in Saudi Arabia as host agencies.
"The Fellowship Program plays an important role in promoting education and fostering information exchange among industry professionals, two essential elements in the fulfillment of IDA's mission. We are very pleased to have the support of the Water Corporation and Murdoch University, two of the most respected and prestigious organizations in Australia," said Patricia A. Burke, Secretary General of the IDA.
"Both Water Corporation and Murdoch University firmly recognize that the production of potable water is one of the most important global issues of the 21st century, and that the market for large scale desalination is growing rapidly, particularly in Australia. We are pleased to collaborate with IDA to further the industry's knowledge in this critical area," said Sue Murphy, Water Corporation's CEO.
The Water Corporation is at the forefront of advances in seawater desalination applications for potable water supply within Australia having undergone a rapid expansion of the use of reverse osmosis (RO) technology in the past few years. Murdoch University is research-intensive with strong links to industry and is set to become the focal point of desalination research in Australia by hosting the new National Centre of Excellence in Desalination.
In recent years, a telling reduction in rainfall in Australia has led to widespread interest in recycling and in the large scale adoption of membrane technologies, in the form of reverse osmosis filtration, to obtain drinking water. Thermal/evaporation processes are also in common use.
The application deadline for the 2010 Fellowship Program is April 15. Guidelines for eligibility, selection criteria and other important dates are available at www.idadesal.org . Recipients will be named at the Singapore International Water Week in June.
About Water Corporation
Established in 1996, the Water Corporation is the principal supplier of water and wastewater services in Western Australia, an area of some 2.5 million square kilometers, much of it arid. It supplies drinking water to almost two million customers and wastewater and drainage services to hundreds of thousands of homes, businesses and farms as well as bulk water to farms for irrigation. Owned by the Western Australian Government, the Corporation directly employs about 2650 people full time and manages infrastructure valued at almost $12 billion, with a current annual works program costing $1.1 billion.
The Corporation has become a leader in water supply planning in recent years with a strategy of "Climate Resilience" in response to the onset of a drying climate. This has produced initiatives such as Australia's first large scale seawater desalination plant for public supply and a major trial of groundwater replenishment using highly treated wastewater. The Corporation also has a "Water Forever" program to plan sustainable water supplies 50 years ahead. The push into desalination was supported by the Corporation's establishment of an internal Centre of Excellence in Desalination in 2000 in recognition of the important and rapidly growing role that desalination for potable water supplies was clearly to play in coming years.
About Murdoch University
The Centre for Water Desalination Research at Murdoch University aims to increase the capacity for desalination research in Western Australia, support commercial desalination R&D, and develop a coordination role for desalination R&D by bringing key Murdoch staff together under one umbrella to collaborate. Murdoch's Desalination Research Centre is led by Professor Richard Pashley, a preeminent colloidal chemist with an international research reputation in the area of the physical chemistry of water and salt solutions. Professor Pashley's research focuses on exploring the fundamental properties of water and innovative and novel approaches to reverse osmosis membrane filtration, thermal desalination and electrodialysis.
Murdoch's solutions chemical group's research strengths lie in chemical water analysis and knowledge of salts in water and their determination of solution properties, while the nanotechnology group is exploring novel porous materials for membrane development. Murdoch also has a long history of expertise in renewable energy research, environmental technologies and water management in remote and isolated communities.
About IDA
The International Desalination Association (www.idadesal.org) is a non-profit association of over 2,300 members in 60 countries. The membership is comprised of scientists, end-users, engineers, consultants and researchers from governments, corporations and academia. IDA is associated with the United Nations as part of a growing international network of non-governmental organizations (NGOs).
###