ecoSPEARS launches technology to permanently remove persistent toxins from water, land
NASA awards exclusive license to the company to commercialize in-situ remediation technology.
Dec 22nd, 2017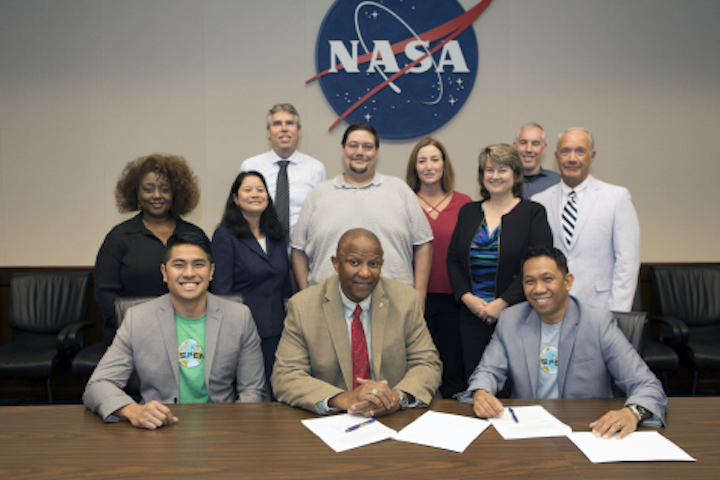 Front Row: R. Ian Doromal (VP - ecoSPEARS), Kelvin Manning (Associate Director - NASA-KSC), Sergie A. Albino (President & CEO - ecoSPEARS; Barbara Brown (Chief Technologist - NASA-KSC), Josephine Burnett (Director of the Exploration Research and Technology Programs Directorate - NASA-KSC), Robert DeVor, Ph.D. (SME II - NASA-KSC), Jacqueline W. Quinn, Ph.D. (Environmental Engineer/Resource Prospector Payload Project Manager - NASA-KSC); Back Row: James Nichols (Technology Licensing Manager - NASA-KSC), Carolyn Mizell (Chief of Research and Technology Management Office - NASA-KSC), Phillip Maloney, Ph.D. (Scientist IV - NASA-KSC), Lewis Parrish (Senior Technology Transfer Specialist - NASA-KSC) (Photo: Business Wire)
ORLANDO, FL, DEC 22, 2017 -- ecoSPEARS announced today that it received an exclusive license from NASA to use their Sorbent Polymer Extraction and Remediation System (SPEARS) to permanently clean up the world's most pervasive and persistent toxins, including polychlorinated biphenyls (PCBs), from water and land.
Developed in 1929, PCBs were widely used across the world as a flame retardant in everyday goods, including in the insulating material in electrical equipment such as transformers and capacitors, and also in heat transfer fluids and lubricants.
The toxic substance was finally banned from production in 1979, but the irreversible damage was done. PCBs are not only persistent in water and on land but also are fat soluble, meaning they can linger for decades in the fatty tissues of living organisms. The most prominent site contaminated with PCBs is the Hudson River in New York.
"I grew up just down the road from the Hudson River. When I learned about the PCB epidemic in the river, and the ineffective dredging efforts, I knew something had to be done," said Serg Albino, CEO of ecoSPEARS. "As a New Yorker, I cannot sit idle and see an almost 100-year-old toxin problem continue to destroy the health of the people in my hometown and communities around the world."
During his time as a NASA engineer, Albino worked with Dr. Jackie Quinn, a NASA environmental engineer; Dr. Robert Devor; and Dr. Phil Maloney, all of whom are co-inventors of SPEARS.
When placed in river or lake beds, the NASA-developed SPEARS will absorb PCBs and other harmful contaminants from the sediment. When site-specific PCB levels are achieved, ecoSPEARS removes the SPEARS with the trapped PCBs from the sediments, and uses a proprietary post-process technology to destroy the harmful chemicals.
PCB contamination has been linked to human cancer as well as liver dysfunction, digestive disorders, chloracne, headaches, nausea and fatigue. PCBs can also affect the respiratory, immune, nervous systems and cause a variety of reproductive disorders, including male sterility, developmental abnormalities, learning disorders and birth defects.
Until now, the only way to remove PCB contaminates from waterways was to dredge—an expensive and incredibly invasive means of remediation. During dredging operations, the levels of PCBs in the water column are often raised when the contaminated sediment is disturbed. Further, the dredged soil is deposited in landfills where the contaminants can then runoff and re-pollute the environment.
"Our SPEARS technology removes harmful PCBs at a fraction of the cost of dredging and without disturbing the aquatic ecosystem and local community -- it's a true environmental breakthrough.," said R. Ian Doromal, Vice-President of ecoSPEARS. "Most importantly, when coupled with our proprietary post-process technology, we create the only permanent solution to extract and destroy PCBs from earth, forever."
With venture-backing raised by Kirenaga Partners, the cleantech company's co-founders Albino and Doromal have assembled a brilliant team of innovators, scientists and engineers. This world-class team has developed scalable solutions for permanently cleaning-up persistent toxins in water and dry soil.
About ecoSPEARS
ecoSPEARS is providing America's polluted waterways a second chance at life through the commercial deployment of NASA-developed, transformative technology. The company's Sorbent Polymer Extraction and Remediation System (SPEARS) can permanently clean up the world's most pervasive and persistent toxins from water at a fraction of the cost of dredging and without disturbing the aquatic ecosystem and local community. To learn more about ecoSPEARS, visit www.ecospears.com.