Standing out from the Cloud
The UAE is leading the world in advancing rain enhancement science, demonstrating its vision and commitment to helping those in need in arid regions and beyond gain access to water.
May 2nd, 2019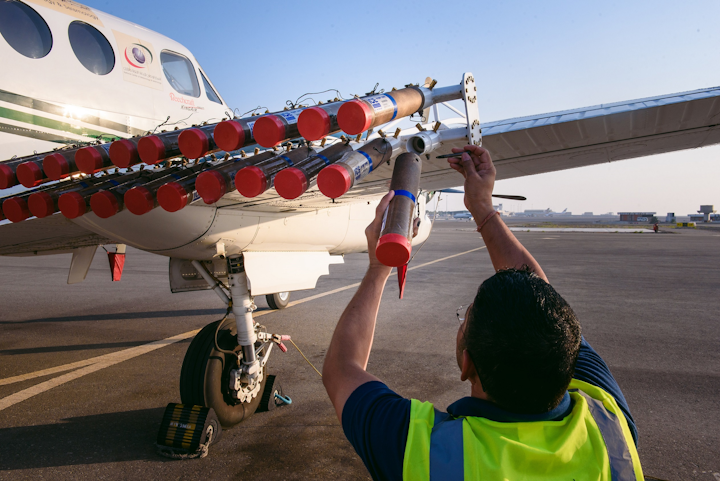 UAE leads the way in developing rain enhancement solutions
Dr. Abdulla Al Mandous
In January 2019, the UAE Research Program for Rain Enhancement Science held its third International Rain Enhancement Forum during Abu Dhabi Sustainability Week.
At the same time, the program reached a new landmark in its outstanding record of success with the announcement of the results of its First Cycle awardee research projects.
The forum also featured updates on the Second and Third Cycle awardee projects, potential solutions to global water resource challenges, youth participation in water-related issues, the role of women in water sciences, and the potential for artificial intelligence (AI) to improve weather forecasting and the management of precipitation and extreme weather events.
The successful completion of the First Cycle awardee projects was a testimony to three years of sustained effort and productive collaboration with a range of international collaborators.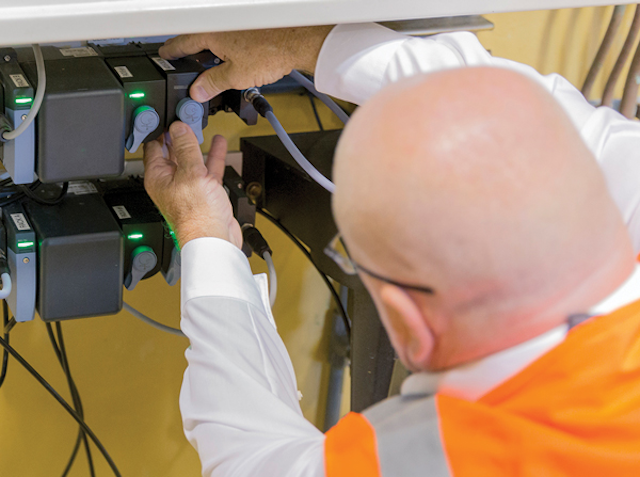 The sensor cubes can be removed and installed without interrupting the process.
UAE's research is making a demonstrable contribution to the scientific basis for effective cloud seeding and rain enhancement.
Linda Zou, a professor at the Khalifa University of Science and Technology, UAE, has fabricated, tested and validated novel nanotechnology-based cloud seeding materials that can increase rain droplet dimensions by up to three times their original size, at 100 percent relative humidity, compared to conventional cloud seeding materials. Two patents have been filed for this unique material, and an examination of potential methods for mass production is currently ongoing.
Masataka Murakami, a designated professor from the Institute for Space-Earth Environmental Research, Nagoya University, and a visiting scientist at the Japan Meteorological Research Institute (MRI), has developed new statistical evaluation methods to study long-term effects of seeding and investigate improvements in seeding effects. Professor Murakami has also developed a numerical simulation model for forecasting and identifying suitable clouds for seeding.
Professor Volker Wulfmeyer, managing director and chair of physics and meteorology at the Institute of Physics and Meteorology of the University of Hohenheim in Stuttgart, Germany, developed a high-resolution 3D numerical weather prediction model to identify optimal locations of land cover and terrain modifications to increase rainfall. In addition to determining plantation specifications and net water gain, another expected project outcome is carbon mitigation, thus helping the UAE achieve the CO2 reduction requirements of the Paris Agreement.
Ongoing projects conducted by the program's Second and Third Cycle awardees, covering fields as diverse as ice nucleation, optimization of aerosol seeding, electrical properties of clouds, artificial updrafts to produce rain, targeted use of unmanned aerial systems, and experimental-numerical approaches, are expected to yield similar outstanding results over the next two years.
The forum also explored new avenues of research based on some of the most dynamic and innovative work being led by its awardees and other experts drawn from the international scientific community.
These initiatives include an ambitious plan called "Integrating Schemes from UAEREP Projects into a Unified Multi-Component Atmospheric Model," which is aimed at increasing weather forecast accuracy related to clouds amenable to seeding operations in the UAE. Another project entitled "Nano-technology Seeding Material Evaluation" is designed to test new cloud seeding material in order to prove its efficacy and potential for broader use under a range of climatic conditions.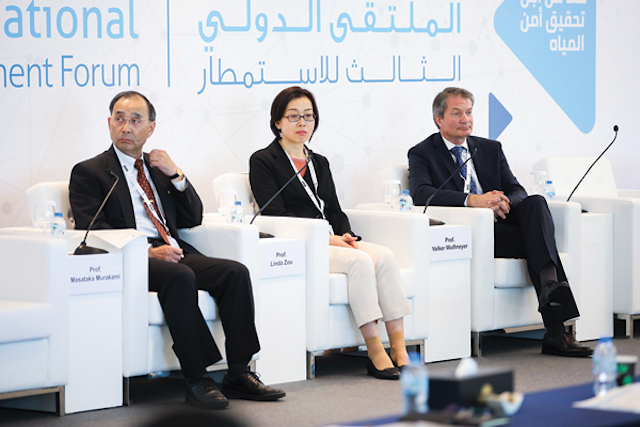 L-R: Professor Masataka Murakami, Professor Linda Zou and Professor Volker Wulfmeyer.
The significant contribution made by the UAE Research Program for Rain Enhancement Science has recently been recognized by the World Meteorological Organization (WMO).
In a scientific survey published in 2018 and entitled "Peer Review Report on Global Precipitation Enhancement Activities," the WMO's Expert Team on Weather Modification provided a timely and important survey of scientific knowledge related to the theoretical and practical aspects of rain enhancement research and ongoing operations around the world. The team reports that improved knowledge of the underlying mechanisms of the convective clouds found and regularly seeded over the UAE in the summer months, along with refined remote sensing technologies and historical data analysis, is making a demonstrable contribution to the scientific basis for effective cloud seeding and rain enhancement.
In addition to noting the impact of ongoing UAEREP projects, the WMO Expert Team also identified gaps in current knowledge and outlined recommendations for guiding future research directions for the international scientific community.
Among the recommendations were the following: conducting model inter-­comparison projects to improve their ability to mimic both natural and seeding processes and isolate their effects as proof of rainfall enhancement; incorporating background aerosol physiochemical schemes in current models; optimizing new seeding materials and their delivery and assessing their toxicity; investigating ice phase processes, including ice multiplication, as a radar-­based primary indicator of post-seeding effects; and determining appropriate seeding altitudes in mixed-phase clouds.
In addition, the report's endorsement of the UAE's efforts also highlights the significant promise of interdisciplinary approaches that could be exploited, including nanotechnology, artificial intelligence, UAV and drone technology, big data, and machine learning.
Through its ongoing, intensive and wide-ranging research agenda based on the work of its awardees, its global coordination role, and practical applications of new scientific and technical innovations, the UAE Research Program for Rain Enhancement Science will continue to strive for imaginative solutions to help strengthen water security.
By leading the world in advancing rain enhancement science, the UAE has once again demonstrated its inspiring and generous vision and commitment to making a real difference through new knowledge to help those in need in arid regions and beyond. WW
About the Author: His Excellency Dr. Abdulla Al Mandous is the director of the National Center of Meteorology (NCM), which aims to achieve excellence in meteorological and seismological services and contribute to the development of science through the promotion of the sustainable development of the UAE.
Circle No. 295 on Reader Service Card