Products & Services: Disinfection
Collection of disinfection products and services.
Nov 18th, 2014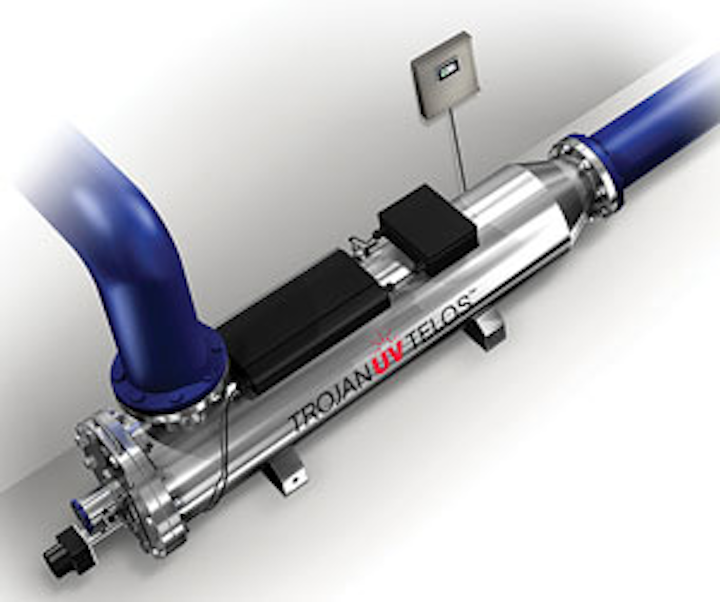 UV system
TrojanUV has launched the TrojanUVTelos™, an ultraviolet (UV) disinfection system for small communities. The system combines TrojanUV Solo Lamp™ technology and the TrojanUV Flow Integration (FIN™) technology to deliver a process that is easy to maintain and has low energy and a low lamp count. FIN advances the science of mixing and light distribution inside a closed-vessel UV system. Inside the TrojanUVTelos, FIN uses patent-pending flow modifiers distributed throughout the length of the UV chamber to ensure a high disinfection performance.
Trojan UV
www.trojanuv.com
---
Dechlorination solutions
Integra Chemical's technical support staff can provide assistance in addressing specific dechlorination requirements. Dechlorination may be as simple as placing tablets in a flow stream or delivering a mixed solution through a metering pump or day tank. The company's Vita-D-Chlor provides safe and effective dechlorination. Further, it will neutralize chlorine and chloramines instantly and is 100% organic and water soluble.
Integra Chemical Co.
www.integrachem.com
---
>
Aquionics' ultraviolet (UV) disinfection range includes the new highly compact, low-pressure, high-output (LPHO) multi-lamp AmaLine system. Its hydraulics rotate the liquid flow to ensure optimal disinfection with minimal headloss. The company has also expanded its InLine+ series with the more compact InLine+SE, which can be installed against a wall or in any tight-fitting space. Further, its Pearl line of UV LED disinfection products includes the PearlAqua, a mercury-free, low-power UV-C LED unit for low-flow applications. The PearlSense transmittance monitor delivers fast, accurate readings as either a handheld portable field monitor or a compact in-process instrument.
Aquionics Inc.
www.aquionics.com
---
Hypochlorite generation equipment
Evoqua Water Technologies has introduced the OSEC® hypochlorite generator range, designed to accommodate all applications for municipal, industrial and leisure end-users, and the flexible installation configuration means the product can be fitted into available space. On-site hypochlorite generation systems operate by electrolyzing a brine solution. The systems produce sodium hypochlorite onsite and on demand. Unlike purchased hypochlorite, the production on demand means that the hypochlorite does not degrade, and subsequently there is no reduction of product strength.
Evoqua Water Technologies
www.evoqua.com
---
Amalgam system
The Neptune Benson family of ultraviolet (UV) systems has been third-party tested at a California wastewater plant in accordance with the Ultraviolet Disinfection Guidelines for Water Reuse, Third Edition (National Water Research Institute/Water Research Foundation, August 2012). The units were designed using a variety of CFD emulation tools and are 800-watt, low-pressure, high-output, closed-vessel systems designed for high-level reuse water disinfection. The NWRI standard allows municipal wastewater to be treated and reused for various applications.
Neptune-Benson
www.neptunebenson.com
---
Bleach disinfection
Olin Chlor Alkali Products is a supplier of chlorine and sodium hypochlorite (bleach) for drinking water and wastewater disinfection. Olin can make delivered bleach reliable and cost-effective. Further, using trucks and hundreds of rail cars, the company can deliver bleach coast-to-coast from 10 plants in the U.S. and Canada.
Olin Chlor Alkali Products
www.olinbleach.com
---
Chlorine sensors
Sensorex's FCL500 series free chlorine sensors use advanced amperometric measurement technology to provide highly-accurate monitoring of free chlorine in process applications. With three models covering the 0-2 ppm, 0-5 ppm and 0-10 ppm ranges, FCL500 sensors can be used in new installations or as a field replacement for existing sensors in drinking water disinfection and distribution applications, food and beverage production, cooling water, and other industrial water treatment systems. For real-time free chlorine monitoring, the FCL500 series sensors interface with PLC, SCADA and other process control systems via the 4-20 mA output.
Sensorex
www.sensorex.com
---
Gas chlorinator
The REGAL™ Gas Chlorinator from Chlorinators Incorporated is used to disinfect and purify municipal drinking water and wastewater, industrial process wastewater and more. It provides a consistent chlorine residual, eliminating guesswork. The all-vacuum system virtually eliminates the possibility of gas leaks. REGAL is directly mounted with a strong yoke, and its tough diaphragm is made with corrosion-resistant materials. The Chlorinator is assembled by hand, tested by skilled technicians and easy to maintain and clean.
Chlorinators Incorporated
www.regalchlorinators.com

More WaterWorld Current Issue Articles
More WaterWorld Archives Issue Articles