Product Showcase
Collection of new products of special interest to the municipal water and wastewater markets.
Oct 20th, 2014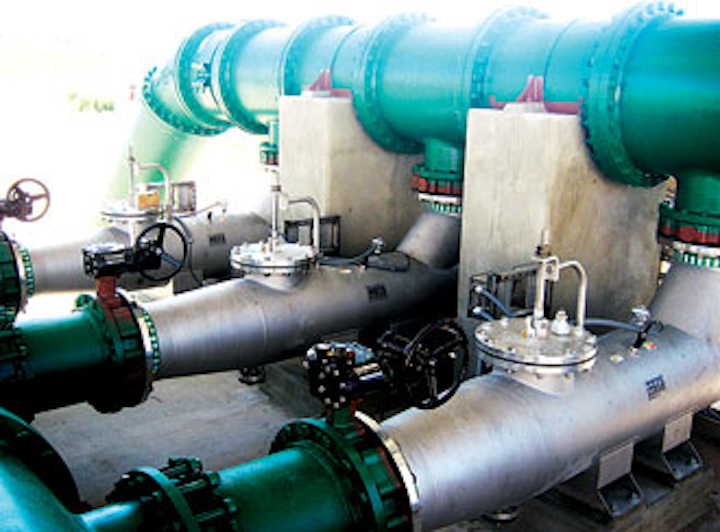 Amalgam system
The Neptune Benson family of ultraviolet (UV) systems has been third-party tested at a California wastewater plant in accordance with the Ultraviolet Disinfection Guidelines for Water Reuse Third Edition (National Water Research Institute/Water Research Foundation, August 2012). The units were designed using a variety of CFD emulation tools and are 800-watt, low-pressure, high-output, closed-vessel systems designed for high-level reuse water disinfection. The NWRI standard allows municipal wastewater to be treated and reused for various applications.
Neptune-Benson
www.neptunebenson.com
---
Manhole grade adjustment system
The Cretex PRO-RING™ manhole grade adjustment system is a lightweight alternative to concrete grade rings or brick and mortar used in the construction of manholes and other utility structures. PRO-RING is made from expanded polypropylene, a high-strength, impact-absorbing plastic that meets AASHTO HS-25 load requirements. PRO-RING also meets the requirements of ASTM C969 (exfiltration test) and C1244 (vacuum test), has excellent chemical resistance, and is approximately 1/20th the weight of concrete grade rings.
Cretex Specialty Products
www.cretexseals.com
---
Adaptive bar screen technology
The Duperon® FlexRake® Millennial Line offers controlled flexibility and positive engagement with the lifelong security of adaptive technology for future needs. Ideal for vertical and non- vertical applications, the line captures and removes everything from grease and grit to hard hats. With no lower sprockets, bearings or tracks to foul or jam, the Duperon FlexRake Millennial Line adapts to a variety of challenges, without shutdown or operator intervention.
Duperon Corporation
www.duperon.com
---
Fiberglass reinforced enclosures
Fiberglass reinforced polyester and polycarbonate enclosures from Allied Moulded offer a comparable alternative to metal. Features include increased strength, reduced weight, corrosion resistance, non-conductivity, ultraviolet (UV) resistance, and ease of installation. The enclosures can be found in a multitude of applications. Design features range from push-button enclosures to free-standing units for a wide array of water and wastewater problems.
Allied Moulded Products Inc.
www.alliedmoulded.com
---
Protective polymer linings
Sauereisen's SewerGard® 210 family of protective polymer linings is formulated to exhibit low permeability. This enhances corrosion resistance and extends the longevity of underground infrastructure such as manholes and lift stations. SewerGard is available in several variations to accommodate desired thickness and methods of application.
Sauereisen Inc.
www.sauereisen.com
---
Analytical sensors
KROHNE has announced the availability of SMARTSENS, the first family of 2-wire, loop-powered analytical sensors with integrated transmitter technology. SMARTSENS offers direct connection of sensors to process control systems and can be installed in explosive and hygienic areas. The sensors significantly reduce the risk of failures along the chain from the sensor to the process control system. Offered for pH, oxidation-reduction potential (ORP) and conductivity, SMARTSENS sensors can feature direct communication via 4-20 mA/HART.
KROHNE Inc.
www.us.krohne.com
---
Grit treatment
Hydro International has launched the GritCup® and SpiraSnail®, a combined grit washing and dewatering solution. It is ideal for utilities with a peak capacity of up to 10 million gallons per day (MGD) or as a replacement for worn or ineffective grit treatment systems. Hydro can guarantee 90-95% capture of all grit 106 microns and larger with less than 20% volatile solids and greater than 60% total solids in output grit at design flow.
Hydro International
www.hydro-int.com
---
Wastewater aeration technology
With Mazzei's patented AirJection® Wastewater Aeration technology, wastewater is recirculated from activated sludge or sludge digester basins through high-efficiency Mazzei injectors to draw in air or concentrated oxygen and dissolve it into the wastewater. No blowers are required. The resulting gas-water mixture is returned to the basin through Mazzei Mass Transfer Multiplier™ (MTM) Nozzles for greater oxygen transfer and basin mixing.
Mazzei Injector Company Inc.
www.mazzei.net

More WaterWorld Current Issue Articles
More WaterWorld Archives Issue Articles