Resource Spotlight
Collection of books, etc. dealing with water issues.
Sep 1st, 2015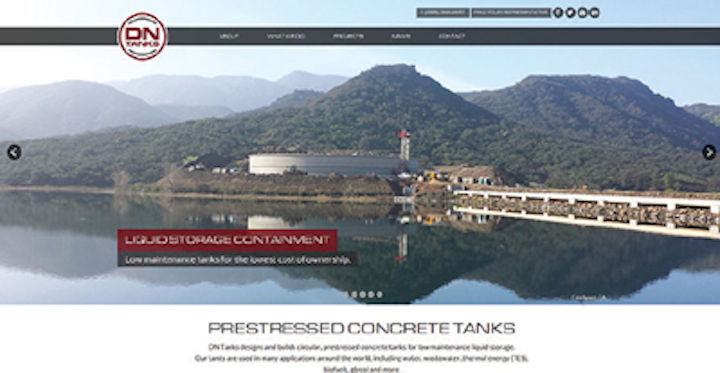 New website
DN Tanks has announced the launch of its new website (www.dntanks.com). The company developed the site's new, fresh look to match its core values such as professional excellence and innovation and ingenuity. DN Tanks designs and builds circular, prestressed concrete tanks for low-maintenance liquid storage. Its tanks are used in many applications around the world, including water, wastewater, thermal energy (TES), biofuels, glycol, and more.
DN Tanks
www.dntanks.com

Levelogger app
Solinst has released a new version of the Solinst Levelogger App that is compatible with Android™ smart devices. The app makes water level data collection and sharing, as well as programming Levelogger dataloggers in the field, convenient and efficient. With the interface, Bluetooth wireless technology allows users to connect their Levelogger to their smartphone or tablet. Further, the Interface threads onto the end of a Levelogger's Direct Read Cable, or an Adaptor, and is paired with a smart device running the app.
Solinst Canada Ltd.
www.solinst.com
New book
Written by Dr. Madan Arora Ph.D. PE and Professor Joe Reichenberger P.E of Loyola Marymount University -- with a combined experience of about 100 years in planning, design and troubleshooting of wastewater treatment and recycling facilities -- the book "Turning Sewage into Reusable Water" provides an easy-to-follow picture of what it takes to deliver water to taps at home, collect the wastewater/sewage from there to a remote location where it is treated to different levels, and finally deliver it to the users of recycled water. Regulatory and health issues are also discussed.
Archway Publishing
www.archwaypublishing.com

Digital library
The American Membrane Technology Association (AMTA) has launched its comprehensive new Digital Library. Accessed exclusively through the organization's website, the library contains almost 1,000 papers and presentations authored by the industry's most respected and experienced professionals. AMTA members can enjoy free unlimited access to view and download technical papers and presentations as well as affiliate workshops, symposiums and conferences. Topics include direct and indirect potable reuse; seawater desalination; RO, MF, UF, and MBR; concentrate disposal; regulatory issues; case studies; and innovative research in membrane processes.
American Membrane Technology Association
www.amtaorg.com

YouTube channel
Xylem has launched a new YouTube channel dedicated to its Flygt brand. The new channel features informative, engaging content including a behind-the-scenes video of one of Xylem's main factories producing Flygt-branded solutions; a Flygt Experior non-clog test; service 'how-to' guides; product information videos; and case stories demonstrating Flygt in action. The channel aims to continuously provide customers with helpful information in an easy-to-access, entertaining manner. Country-specific playlists and local language captions offer a user-friendly experience.
Xylem Inc.
www.xyleminc.com

Web database
The Lubrizol Corporation's water treatment business has launched a new web database that provides customers with easy, searchable access to the company's water treatment technical publications. As a deposit-control polymer industry specialist, Lubrizol's technical contributions during the last four decades include over six dozen papers, articles and reference book chapters. Since 1998, these publications have been posted at www.carbosperse.com. The company has made its growing technical publications library easily accessible and user-friendly by adding a search engine for documents by topic or product.
Lubrizol
www.lubrizol.com

Piping system course
Engineered Software, Inc. (ESI) has announced an all-new piping system course designed for busy engineers on-the-go. The Piping System Fundamentals course, launched on July 7, utilizes a self-paced, blended learning modality, which includes instructor-student critical lesson times and open student forums to share dialog. The course runs in four-week sessions, allowing engineers to take the class at their own pace in any time zone.
Engineered Software Inc.
www.eng-software.com

Product brochure
Sauereisen has released a brochure of its epoxy-based SewerGard R No. 210 family of products, which are designed to enhance corrosion resistance and extend the longevity of underground infrastructure such as manholes and lift stations. The SewerGard is ideal for municipal wastewater environments and offers an economical solution to Microbiologically Induced Corrosion. It resists high concentrations of sulfuric acid and treatment chemicals. It also exhibits moisture tolerance, allowing it to bond directly to damp concrete.
Sauereisen Inc.
www.sauereisen.com