Technologies & Products
Design innovations to the patented Stormwater Management StormFilter underground filtration system allow engineers to manage water quality...
Oct 1st, 2003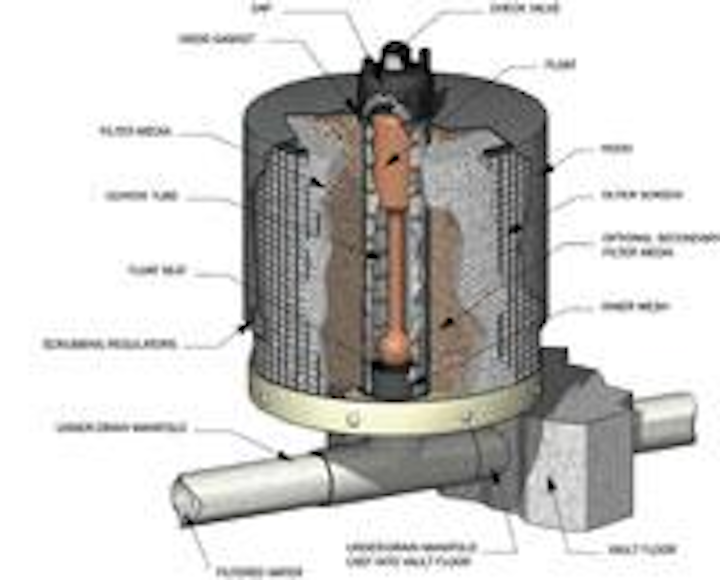 Air lock cap eliminates upstream stormwater storage
Design innovations to the patented Stormwater Management StormFilter underground filtration system allow engineers to manage water quality volumes while simultaneously treating stormwater to meet water quality standards. The newly engineered air lock cap enables the system to store significant volumes in the same vault with Stormfilter cartridges, thus reducing total system costs and providing a solution for urban areas with water quality volume requirements.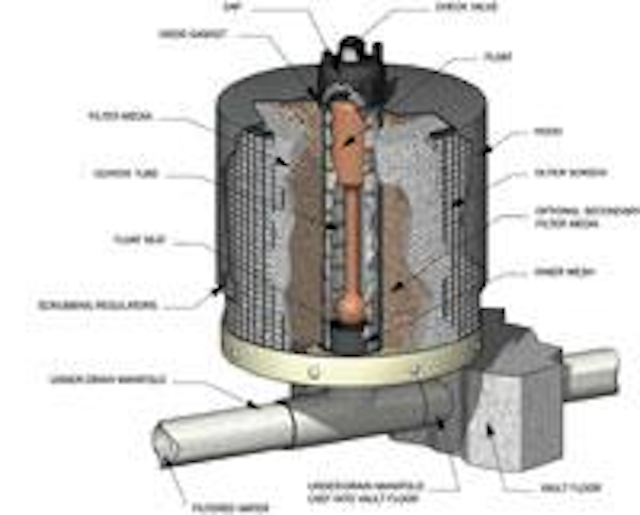 Click here to enlarge image
The new air lock cap for the StormFilter cartridge is configured to permit air to escape the check valve, while preserving an air-filled void within the check valve cap assembly. Therefore, it is now possible to store up to nine feet of stormwater within the vault on top of the cartridges used for treating water. This advance eliminates the need for upstream storage of large water quality volumes. The new air cap can be installed in existing StormFilter systems and could be done as part of the annual maintenance process.
The StormFilter system is typically comprised of a vault that houses rechargeable, siphon-actuated self-cleaning media-filled filter cartridges. Stormwater from storm drains is percolated through these media-filled cartridges, which trap particulates and remove pollutants such as TSS, dissolved metals, nutrients and hydrocarbons. The system also removes surface scum, debris and floating oil and grease.
The StormFilter is installed entirely underground, uses no additional land and is simple to maintain on an annual basis. Typical applications include parking lots; commercial and industrial sites; high-density and multi-family housing and maintenance, transportation and port facilities.
Stormwater Management, Inc.
Portland, Oregon, USA
Hybrid process automation adds scalability
A flexible process automation system, ControlWave, combines technologies provided by PLC, RTU and DCS architectures into a hybrid system suited for large or small process control applications in the energy, water and wastewater industries.
ControlWave Micro adds scalability to the ControlWave series by evolving the capabilities of ControlWave into a lower priced, space-efficient package required by small- to mid-sized applications. ControlWave Micro operates in wide temperature ranges from -40ºC to +70ºC for remote sites and very low power consumption for solar applications.
ControlWave Micro has three serial communication ports and one optional 10/100 Mb Ethernet I/P port. Optional built-in spread spectrum radios and dial-line modems offer integration and communication flexibility. The system facilitates communication with other devices through widely accepted networks such as TCP/IP Open Modbus, serial Modbus, DF1, CIP, HART and Foundation Fieldbus.
The ControlWave Designer programming software supports all five IEC 61131-3 programming languages and is enhanced with a library of ACCOL III process control function blocks allowing the use of a single controller for logic, process control functions, measurement, calculations and data storage. Engineers can also develop their own reusable function blocks, further reducing engineering time and cost. Time-stamped alarming and historical archive storage within the PLC/RTU provides maximum data integrity.
Bristol Babcock Inc.
Watertown, Connecticut, USA
Welding pulled tees
Orbimatic GmbH, an orbital tube welding equipment manufacturer, produces modified collets that fit a standard Orbiweld fully enclosed weld head range to allow operators to weld a pulled tee with minimal weld neck. These collets mean that no modifications are needed to weld heads and with Orbimatic "Quick Fit Collets," a standard weld head can be adapted to weld pulled tees within minutes. The head can then be back for use on standard application within minutes. This principle can also be adapted to suit a variety of fittings, valves and forgings.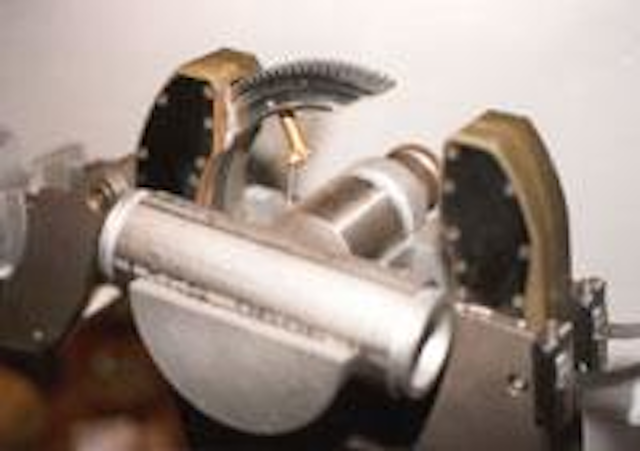 Click here to enlarge image
The Orbiweld range features an integral control panel on the weld head handle, which means that the whole operation can be controlled without need to keep returning to the Orbimat power supply.
Orbimatic GmbH
Peterborough, UK
Instrument controller operates in harsh environments
The Rugged Reader instrument controls all current In-Situ Troll products in harsh environments, according to In-Situ, Inc. Personal digital assistants (PDAs) have led to an increase in the utility and capability of field-portable instrument controllers. PDAs allow the user the functionality of a laptop computer at a fraction of the size and weight; however most PDAs are not environmentally protected and must be handled with care when used outdoors.
Coupled with Pocket-Situ software from In-Situ, the IP-67 rated, hand-held Rugged Reader provides an intuitive platform to control and operate In-Situ Troll series of water instrumentation products.
Rugged Reader features the Intel® Xscale™ 200 MHZ processor, 64 MB of SDRAM, 65 MB of non-volatile Flash storage, a sunlight-optimised colour display, two CompactFlash® slots for system expansion with add-ons such as Bluetooth or GPS, a Windows® CE operating system and Pocket-Situ control software from In-Situ. The case is waterproof and is documented to exceed military specifications for drop, immersion, vibration and both high and low temperature operation.
In-Situ, Inc.
Laramie, Wyoming, USA
Harmonic reduction minimises distortion problems
The HR1018 Harmonic Reduction Technology package, an 18-pulse AC drive that reduces the total harmonic distortion common to standard 6-pulse drives, also minimises harmonics interference that can impair sensitive electronic equipment such as sensors, meters, computers and communications devices common to water and wastewater treatment facilities. The package minimises heating in motors, transformers and wiring.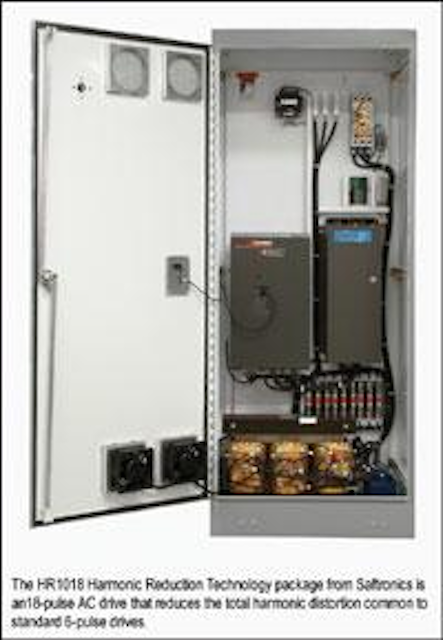 Click here to enlarge image
Saftronics claims that the HR1018 helps companies avoid utility penalties based on power factor, current distortion and peak demand charges. Built on the Saftronics GP10 Vector AC drive platform, the package incorporates an integrally mounted 18-pulse transformer in a single, pre-engineered enclosure.
The system features monitoring, maintenance and protective functions, such as static, dynamic and on-line tuning, and fourth-generation soft-switching technology in the IGBT output that lengthens motor cable runs without the need for output filters. System options include input circuit breaker, fused and non-fused disconnect, three-contactor manual, auto or SMART® Bypass, and integrated reduced voltage soft-start bypass.
Saftronics
Fort Myers, Florida, USA
UV reactor LBX fulfils disinfection requirements
The new BX/LBX series for UV disinfection of drinking and wastewater, designed for water throughputs of 1.5 to 1,100 m3/h, continually monitors disinfection by a calibrated UV sensor. The LBX consists of a hydraulically optimised reaction chamber of stainless steel. The radiation geometry of the LBX re actors in connection with the Spektrotherm® HP UV lamps guarantees excellent disinfection results even in unclear or organically contaminated waters, according to Wedeco.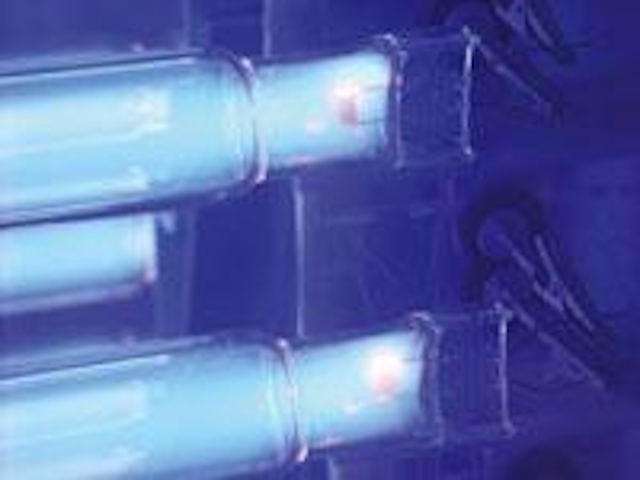 Click here to enlarge image
The reactors can be integrated into existing plumbing systems horizontally or vertically and are equipped with a separate switchbox. Lamp output is 400 J/m2 at a transmission of T 35% to 75% (in effluent) in relation to the end of the lamp lifetime. Spektrotherm HP lamps are temperature-stable; between 4º C and 60º C disinfection can be safely executed without a loss of output.
The LBX can be equipped with a fully automatic cleaning system for the quartz protection pipes and the UV sensor and a vario system for infinitely variable regulation of UV output. The vario system enables a fully automatic dosage control of the LBX reactor, so that the minimal UV output required can be adjusted exactly to the respective water quality and throughput volume. This feature prevents UV radiation overdosing.
The fully automatic cleaning system prevents the formation of a coating on the surface of the quartz glass pipe and UV sensor, which can negatively affect system performance and require higher UV dose.
Wedeco AG Water Technology
Dussefdorf, Germany
Hydroejectors perform two cleaning functions
ITT Flygt's submersible hydroejectors eliminate the need for manual cleaning, enabling solids to be removed upon emptying the retention basin. Water entering retention basins often contains odorous or toxic solid particles, sediments and organic matter built up, which necessitates manual cleaning.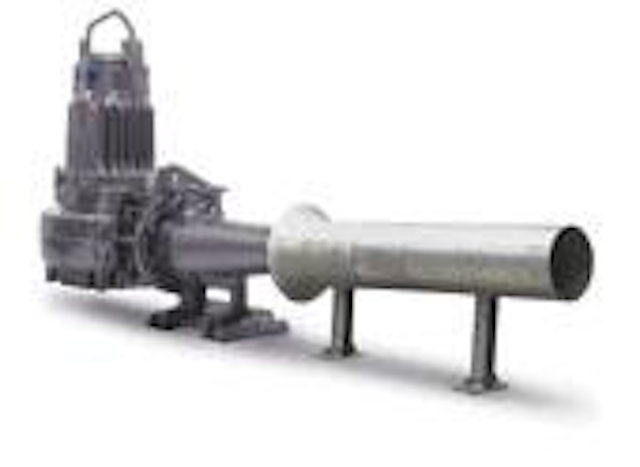 Click here to enlarge image
Depending on the water level, the hydroejector performs two different functions. It acts as a mixer when submerged by using primary and secondary water flows. The ejector pipe nozzle ensures that the velocity of the water, which passes through it, increases to cause a reduction in pressure, increasing the thrust and producing a high power jet, which suspends the pollutants until their removal from the basin. The hydroejector turns into a powerful flushing device that cleans the basin floor and walls of organic matter when the water is low.
"Clogging is always a potential problem because of the presence of solids in the stored water, so Flygt's hydroejectors are equipped with a self-cleaning N-impeller and a large nozzle diameter to eliminate this possibility, explained Andy Gaunt, Flygt's municipal market manager for process equipment. "A hydroejector can also be fitted with different sized pumps to obtain the optimal mixing and flushing capacity for specific sized or shaped retention basins," he added.
Hydroejectors can be combined with submersible mixers in deep tanks to agitate settled deposits.
ITT Flygt Ltd.
Colwick, Nottingham, UK
Non-clogging pump handles high-volume projects
Contractors, rental companies and municipalities use Pumpex Models K103 and K153 to divert and re-route high volume or intermittent volume flow to bypass deteriorating sewer lines, coffer dams, streams and creeks without interrupting surface transportation during bypass replacement and repair.
These pumps feature a proprietary motor and pump configuration that is constructed as a single, compact unit set into an air-filled, watertight casing. This self-cooling pump handles intermittent and/or continuous operations in which solids, fibrous materials and sludge found in raw sewage, industrial wastewater and other wastewaters are processed.
Pumpex, Inc.
Somerville, New Jersey, USA
Wireless remote system allows 24-hr service
A new wireless remote maintenance, monitoring, control and alarm notification system, AlarmAgent.com, allows field, plant and other personnel to collect, access and view data from monitored equipment 24 hours a day from Internet-connected PCs or other Web-enabled devices through a secure central Web site.
Raco engineers designed all hardware and interface software for exclusive use in the AlarmAgent.com, which allows the company to make modifications and updates as technology changes. In addition, Raco designed the Web interface to provide users with the ability to manage the generation, delivery, escalation and acknowledgement of remote data and alarm messages, and allow equipment configuration and manipulation.
Users can simultaneously configure multiple RTUs via the web site without the need to visit RTU locations. Configurable parameters include recipient calling lists and duty roster, multi-tier alarm escalation sequences, reporting modes, input channel alarm criteria and others.
For detailed analysis and charting, users can view and download a variety of reports on alarms, maintenance data, pump station flows, operating efficiencies and other types of events/activities. The Web site is implemented redundantly at two geographically separate, secure Network Operation Centres.
Raco Manufacturing and Engineering Co.
Emeryville, California, USA
Multi-function ball valve reduces system configuration costs
The new Type 546 Multi-functional Ball Valve can be reconfigured to operate with or without an electric or pneumatic actuator without removing it from the pipeline. Its manufacturer, George Fischer, claims that this new design decreases contract time, increases control flexibility and reduces the cost of system reconfiguration.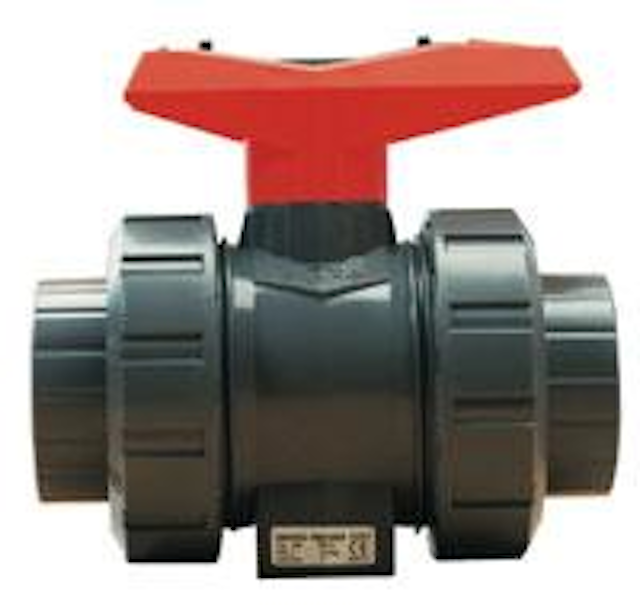 Click here to enlarge image
The modular design of the ball valve allows reconfiguration to provide electric feedback with a position indicator without removing it from the pipeline, but by removing the clip-on handle.
A newly designed buttress thread for the ball valve, with a range of different screw-on end connections, enables it to be incorporated into any pipe installation method, from solvent cement to backing flange, quickens installation and provides more positive tightening forces. A compact unit, the ball valve includes stainless steel-threaded Torx inserts, so it can be bolted down, eliminating metal retaining straps and reducing mounting time.
George Fischer Sales Limited
Coventry, UK
Photometric tube test now accepted in ISO Norm
The Nanocolor® system for photometric water analysis fulfils all requirements of the new ISO 15705, which describes the photometric tube test as a standardised and internationally accepted method for water and wastewater analysis. The norm recommends explicitly to use commercial tube tests, although it also describes instructions for the self-made production of small-scale COD tube tests.
The tube tests from Macherey-Nagel work with the required sample volume of 2 ml and contain all required chemicals, which are predosed and ready to use. Nanocolor® heating blocks are preprogrammed with the required digestion conditions, namely a temperature of 148ºC and a reaction time of two hours. The final photometric analysis is done with Nanocolor photometers, which can be operated without any keystroke because all the information is labelled on the bar-coded test tubes. The selection of the right wavelength, depending on the measuring range, and measurements are done automatically.
The new ISO 15705 is based on the same chemical reaction as the established IO 6060. Water contents are oxidised by sulphuric acid and potassium dichromate in the presence of silver sulphate and mercury(ll) sulphate. The new method, described in the ISO 15705, uses five times less mercury and comparably less other toxic and hazardous reagents, compared with the ISO 6060.
Macherey-Nagel
Dueren, Germany
Capital cost 20% less for EcoCell package treatment plant
Vexamus Water installed its submerged aerated filter package treatment plant, EcoCell, in the small village of Osgodby, UK, at a capital cost 20% less than conventional products, according to company reports.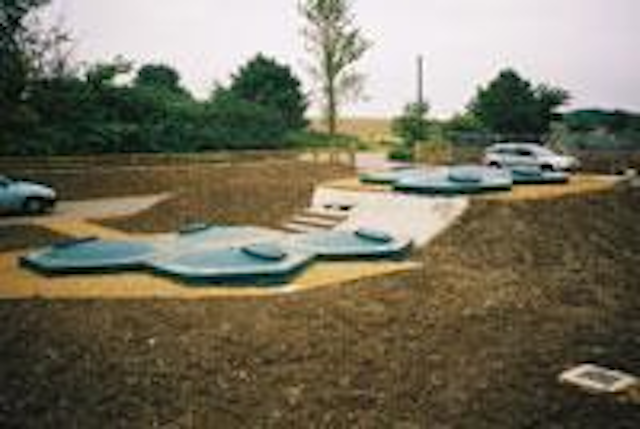 Click here to enlarge image
EcoCell uses a compact moving media, fixed media zones and final settlement, which makes it capable of treating municipal and industrial wastewater to better than standards of 30 mg/l suspended solids and 20 mg/l biochemical oxygen demand.
The treatment plant is designed for use in communities with as few as 60 people. Additional cells can be added to the plant to increase its treatment range and serve populations of up to 1,000. EcoCell can be buried, half buried or located at ground level. Interlocking cells can be used in a variety of formations, and if necessary, cells can be bypassed to cope with seasonal fluctuations.
Vexamus Water
Ely, Cambridge, UK
Rugged wireless computer withstands concrete falls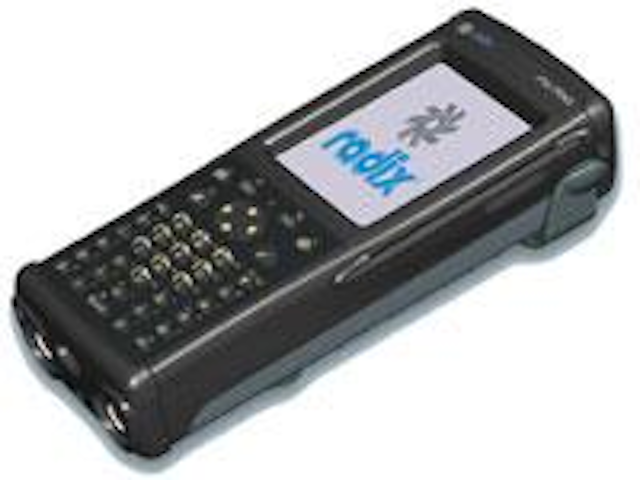 Click here to enlarge image
The totally submersible, hand-held and wireless Radix FW700 C can withstand repeated drops up to 1.5 metres onto concrete, a feat that does classify this equipment as rugged, as its manufacturer claims. The new computer features Windows CE.NET™ and PC Card support including 802.11b wireless LAN, GPRS/GSM/CDPD and BlueTooth, making it useful for applications including utilities, logistics and distribution and inspection and maintenance.
Radix Micro Devices plc
Milton Keynes, UK
Solar-powered purification system tested
A portable solar-powered water purification system, developed by SolarGen Solutions, is undergoing trials in Chiang Mai, Thailand, to test its effectiveness in treating contaminated water supplies, in partnership with the Maekok River Village Resort (MRVR).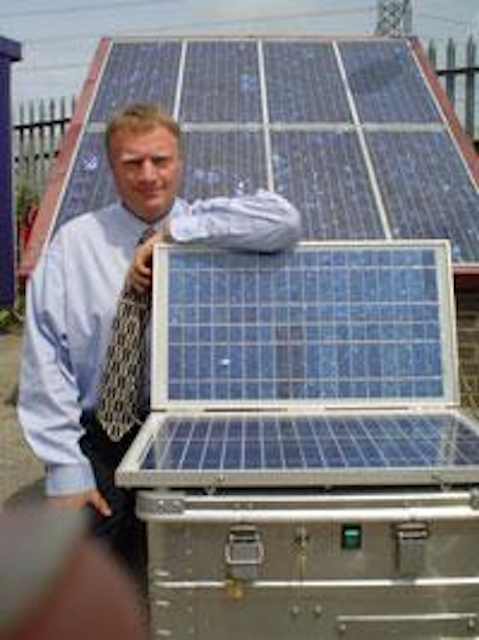 Click here to enlarge image
Two photovoltaic panels power the self-contained system with the capacity to produce more than 400 litres of water every day, which amounts to five litres of clean, drinkable water for 80 people. The built-in filter sanitises water from any source including rivers, puddles, streams and lakes, and will kill any known pathogens that can cause illness such as E-coli, salmonella and cholera, according to SolarGen.
Bryan Massingham, project manager at MRVR, explained: "Individuals and institutions are becoming more and more reliant on purchasing their drinking water from suppliers, a relatively expensive source."
The trials are being conducted to assess whether this innovation could be used in communities and institutions in Thailand and in other southeast Asian countries. Mr. Massingham hopes to welcome visitors from a variety of national and regional institutions to observe the water purifier and to consider how it could be used to provide water in a variety of situations. "We will also invite commercial, hotels, for example, as well as social institutions, such as hospitals, orphanages and schools to consider using the purifier," he added.
SolarGen Solutions' Managing Director Ken Bird explained why the product is applicable for use in communities, such as MRVR: "Harnessing the power of the sun in a country where the sun shines most of the year is by far the most cost-effective means of powering any system requiring electricity. The resort only has to outlay the initial capital to buy the product and little or no additional cost thereafter."
For the past three years, purified water from a SolarGen solar-powered unit has been used to treat and administer medication to premature babies and infants in a hospital in Uganda. Consequently, child mortality rates have reduced by 300 babies a year.
SolarGen Solutions Ltd.
Newport, UK
Cobra cyclone separators and ozone generators launched at IWEX
The Cobra range of cyclone separators incorporates a full range of sizes from 3/8" to 20" covering flow rates from 0.5 to 2,700 m3/hr. Cobra cyclones provide progressive removal of settleable solids down to less than 20 micron.
With no internal moving parts, the cyclones provide continuous dirt separation without the need for backwash. Purged dirt is discharged directly to waste without interruption of flow or filtration. The design ensures no change in the flow rate or pressure differential across the unit whilst in operation.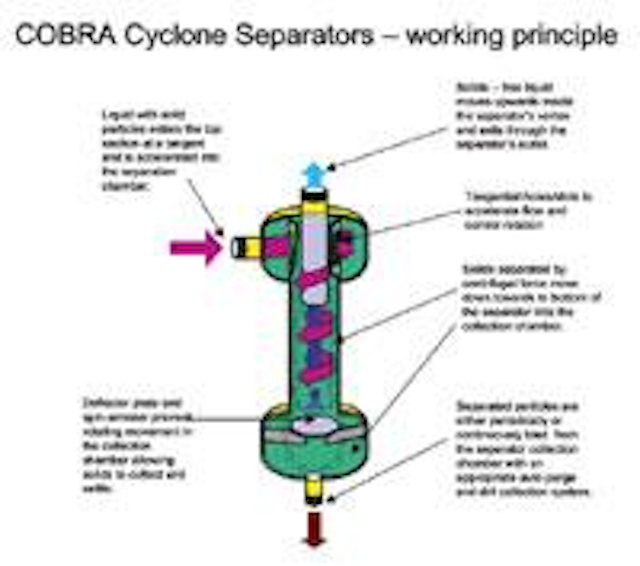 Click here to enlarge image
Cobra cyclones are available in carbon steel, stainless steel or with specialised protective coatings, making them suitable for applications such as borehole water, cooling water, effluent, brackish water, seawater and process fluids.
The WCG range of ozone generators recently introduced and produced by Waterwise has outputs from technology to produce high outputs of ozone with low power consumption. The cell design, which is covered by a 10-year cell and electrode guarantee, allows full access for inspection, maintenance and cleaning, eliminating the need for cell replacement. The generators have been designed for heavy-duty industrial use, allowing operation at up to 100% output on continuous duty. Units will operate on dry air feed gas or oxygen as required.
Waterwise Technology Ltd.
Thame, Oxfordshire, UK
Outside plant designers exceed power goals
The outsourced Guaranteed Battery Management Program (GBMP) features a Battery Validation System™ (BVS®) that maximises existing network assets without the installation and cost of adding redundant battery systems and associated maintenance, according to BTECH, Inc.
The compact BVS system automatically measures and analyses internal cell impedance and connection resistance, battery voltage, ambient and pilot cell temperatures at programmed test intervals. The BVS system logs battery discharge current. Display graphs and charts provide a comprehensive view of discharge events to highlight relative data including voltage, current and kilowatt performance.
Local and remote alarm features warn of out-of-limit conditions concerning cell voltage and impedance, system voltage and temperature, loss of AC power and battery discharge. Proprietary Windows®-based software captures, archives and reports the measured data. An interactive battery view screen shows an actual battery layout pinpointing the battery health of each cell by using a colour code to represent the exact location within a battery string.
The GBMP features continuous battery monitoring systems that provide early identification, enabling the repair and/or removal of the flawed and failing battery jars to increase power reliability, reduce maintenance costs and eliminate unnecessary waste and disposal of usable cells.
BTECH, Inc.
Morris Plains, New Jersey, USA