Roundup -- Membrane Technology
A ready-to-connect membrane filtration plant, installed upstream of reverse osmosis and electro deionisation units, removes suspended solids from aqueous solutions for ultrapure water production.
Oct 1st, 2003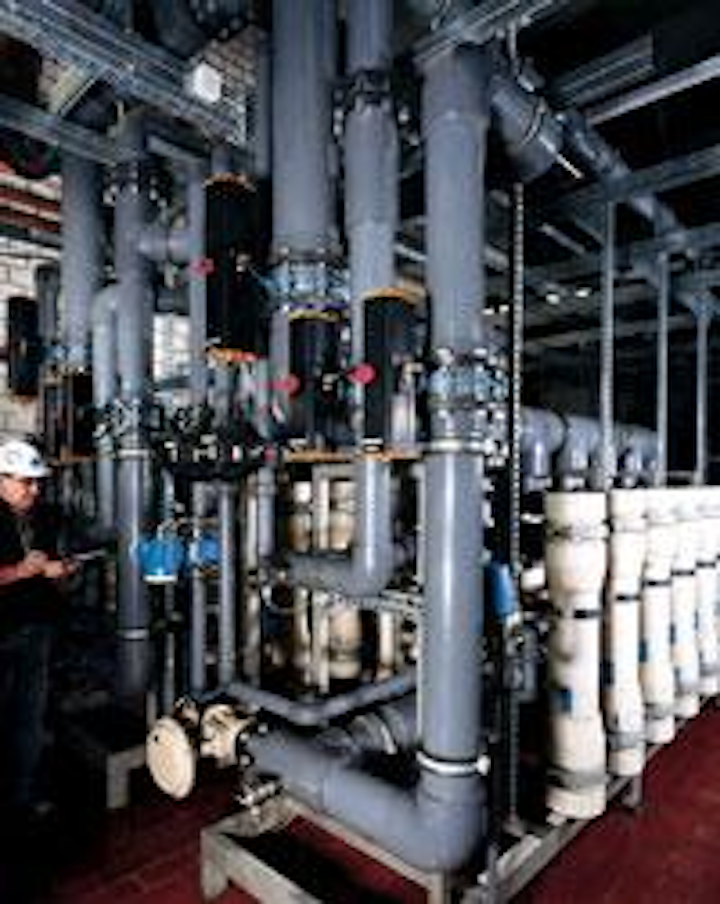 Filtration module removes colloidal matter from raw water
A ready-to-connect membrane filtration plant, installed upstream of reverse osmosis and electro deionisation units, removes suspended solids from aqueous solutions for ultrapure water production. This Ultrastil system, available from Christ, a member of the Christ Water Technology Group, can filter raw water capacities up to eight m3/h and ensures a silt density index of less than three, according to the company.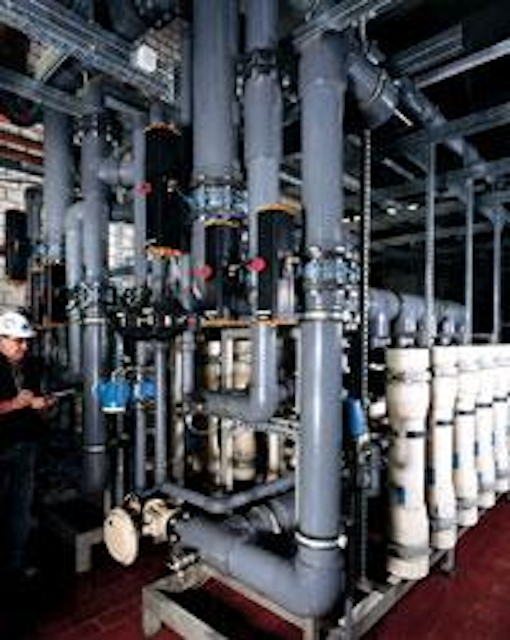 Click here to enlarge image
The module uses the absolute filtration method (dead end), which maintains economical plant operations. Ultrastil combines the following process steps: raw water feed, rinsing, ultrafiltration, pure water storage, cleaning and disinfection, in addition to a Simatic S 7 control cabinet to control and monitor all fully automated processes. The ultrafiltration membranes installed have a pore diameter of approximately 0.01 µm ensuring a cut-off of 100 kD (kilo Dalton) for the retention. Assembly work during the commissioning of the plant on site is unnecessary since the membrane filtration system is supplied ready-to-connect or as a component of the compact high-purity water treatment plant Osmotron.
Christ GmbH
Stuttgart, Germany
Aquator secures MBR order in Qatar
Technip-Coflexip of Rome, Italy, awarded a contract to Aquator (Bahrain) W. L. L. for the design and construction of a wastewater treatment plant for the Qatar Vinyl production plant in Mesaieed Industrial City, Qatar.
The Aquator plant will use submerged flat sheet membrane bioreactor (MBR) technology to treat highly contaminated wastewater from the vinyl plant, which produces linoleum, before the treated effluent is reused and/or disposed. Aquator engineers in the Bahrain office, company headquarters for the Middle East, designed the plant. Plant assembly was completed in Jebel Ali prior to shipment to Qatar in the middle of October 2003.
Aquator Group Limited
Trowbridge, Wiltshire, UK
Interlocking endcaps eliminate weakest link
New "interlocking endcaps" achieve direct, leak-tight connection between adjacent permeate tubes, eliminating numerous problems associated with sliding couplers, the connection method used in most current reverse osmosis (RO) systems.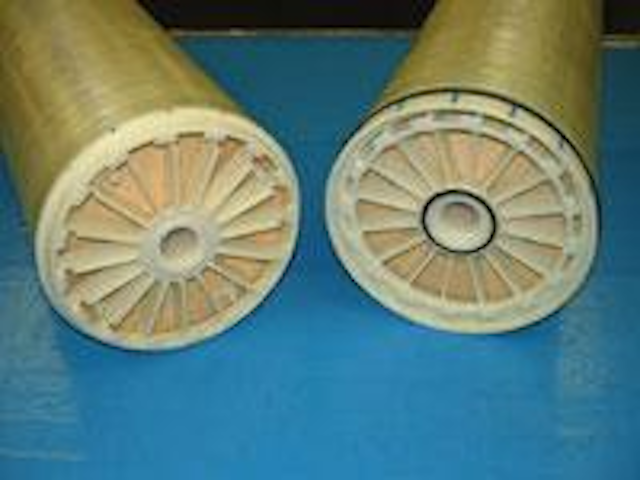 Click here to enlarge image
Interlocking endcaps eliminate the need for sliding couplers altogether, reducing the number of sealing surfaces per connection to a single, axially compressed o-ring. This results in reduced permeate pressure loss, fewer potential leak points and fewer parts that wear out or require maintenance, according to Karen Dobson, the global market manager for FilmTec™ membranes.
Additional benefits, Dobson explained, include:
• easier loading and unloading for membrane cleaning;
• reduced energy-consuming flow resistance;
• full compatibility with current connection methods and vessel designs;
• elimination of o-ring abrasion;
• full performance without lubricants.
Interlocking endcaps will be available on select FilmTec membranes beginning in the second quarter of 2004. FilmTec is a subsidiary of The Dow Chemical Company.
FilmTec Corporation
Midland, Michigan, USA
PLUS tubular membrane enhances FEG™ results
Koch Membrane Systems, Inc. designed the FEG™ PLUS tubular membrane as part of an re-engineering and upgrading program of its FEG™ tubular membrane product, which now has more than 50,000 tubes installed worldwide, and has been used for more than 30 years.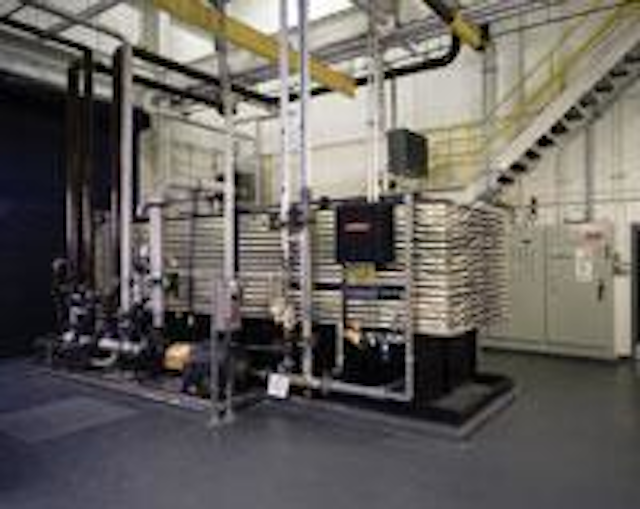 Click here to enlarge image
The new membrane can be directly retrofitted into existing FEG tubular membrane-based systems to improve performance. The FEG PLUS tubular membrane operates at higher pressures and temperatures, up to 95 psi at 150ºF. It provides increased chemical resistance and resists plugging by fibres and bulky materials. Modules can be spongeballed and tolerate upsets without diminishing the process.
The new membrane incorporates a configuration that eliminates the bootie and snap ring, thereby lowering the risk of chemical attack. The tube locks into the CPVC shell with a locator and epoxy pot for optimal security.
The FEG™ PLUS tubular membrane treats wastewaters and in-process streams in metal, chemical, automotive, latex, electronics, textile, food and printing processes. These systems require larger, open-flow channels to accommodate higher concentrations of solids and higher fluid turbulence.
Koch Membrane Systems, Inc.
Wilmington, Massachusetts, USA