Technologies & Products
Industrial Waste Water Services, LLC was granted a US patent on its Continuous Metals Removal™ (CMR) process for removal of heavy metals from wastewater.
Nov 1st, 2003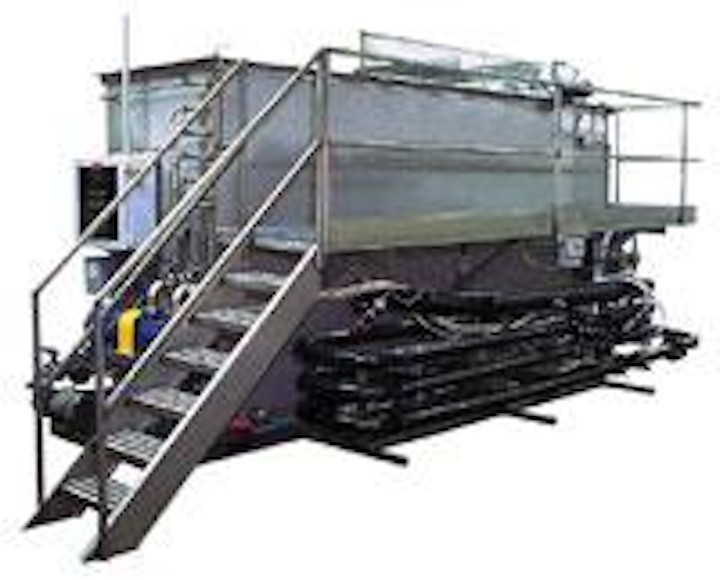 CMR process removes heavy metals
Industrial Waste Water Services, LLC was granted a US patent on its Continuous Metals Removal™ (CMR) process for removal of heavy metals from wastewater. The new technology removes all common metals to the parts per billion level in a continuous process.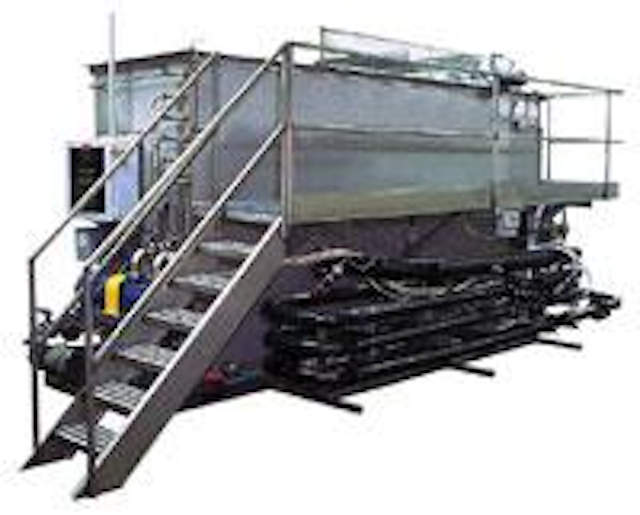 Click here to enlarge image
IWWS President Lamar Coleman explained that "CMR was developed to address the increasingly tight heavy metals limits imposed on industries by municipalities." The system cleans the entire waste stream including all common metals, oils, greases and other contaminants in one continuous process at flow rates up to 1,000 gpm in a single unit.
Industrial Waste Water Services, LLC
Clarkesville, Georgia, USA
Trenchless series demonstrated at IWEX
Radiodetection Ltd. exhibited its trenchless products - I-Track, RD4000 and Gatorcam — at IWEX 2003, held on 11-13 November in Birmingham, UK. The iTrack, a tracking and guidance system locates the drill head, whether in tracking or steering mode. Comprised of three parts, the receiver, a remote display (DataView) and a DataSonde, each communicates with the other to provide guidance of the drill head. Features include automatic tracking and depth, remote steering capability and downhole frequency change to overcome localised interference.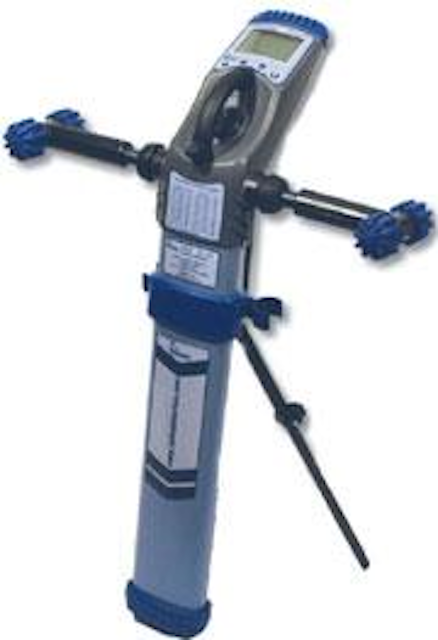 Click here to enlarge image
The RD4000 is used before any on-site contractor begins digging to prevent striking underground cables and pipes. The web-enabled locator allows users to register and configure their RD4000 online and download additional features and support, including system reconfiguration to upgrade and add extra value. It also features a signal strength meter for pinpoint locator precision and real-sound location.
GatorCam is a low-cost compact unit used for small pipe diameter inspection in domestic plumbing, drainage and telecommunications applications. The system features variable lengths of flexible rod wound onto a special rugged rotating frame with the controls and monitor built onto a single housing.
Radiodection Ltd.
Bristol, UK
High surface area membranes save 5% energy
The new seawater composite SWC3+ and SWC4+ high surface membranes increase productivity, resulting in lower operating pressure and up to 5% energy savings when operated at reduced flux rates, according to its manufacturer Hydranautics. The membranes provide approximately 8% cost savings from fewer pressure vessels, less piping and marginally lower operating pressures when operated under equivalent flux rates. These membranes contain 37 m2 of membrane surface area per element.
The SWC3+ provides 6,500 gpd and the SWC4+ provides 7,000 gpd, both at 99.8% nominal salt rejection and 99.7% minimum salt rejection. Available in 8-in diameters and 40-in-long configuration, the new elements can be used as a stand-alone product or part of Hydranautics' Integrated Membrane Solution® (IMS).
Hydranautics
Oceanside, California, USA
Reagent detects coliforms and E. coli in 24 hrs
The Idexx Colisure® reagent simultaneously detects total coliforms and E. coli in drinking water and is the only approved test that offers definitive results at 24 hours with the option to read up to 48 hours, according to Idexx Laboratories. The reagent offers a distinct colour change and a low false positive rate. The reagent is included in Standard Methods for the Examination of Water and Wastewater 20th Edition (APHA, AWWA, WEF) as Method #9223.
The method includes several steps. Add pre-measured Colisure reagent to a 100-ml water sample and incubate for 24 hours. Coliforms turn the mixture from yellow to magenta and E. coli makes it fluoresce. Colisure reagent yields P/A or quantified results in 24 hours with less than one minute of hands-on time. It can suppress up to two million non-coliforms per sample and requires no filtering or confirmation.
Idexx Laboratories, Inc.
Westbrook, Maine, USA
UV disinfection treats cruise ship ballast water
Berson UV-techniek teamed up with its US partner Hyde Marine to deliver a ship ballast water treatment system for installation on the Coral Princess cruise ship in order to control the spread of non-indigenous invasive species in ballast water.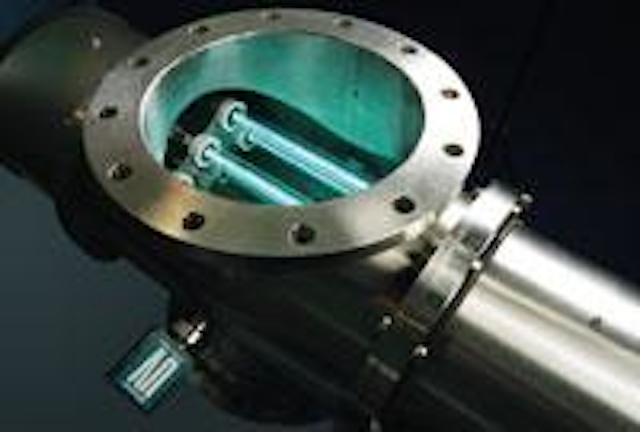 Click here to enlarge image
The system comprises a bersonInLine® UV disinfection system and an Arkal Galaxy automatic backflush filter. After passing through the 50-micron filter to remove larger organisms, the ballast water will flow into the UV system to disinfect smaller organisms. This process kills the majority of microorganisms that pass through the system.
During de-ballasting, the water bypasses the filter but again flows through the Berson system where further UV treatment kills the remaining microorganisms.
Aboard the Coral Princess, the system will use high-intensity medium-pressure UV technology to treat 250 m3/hr ballast flows. Once installed, the system requires little effort to operate by the ship's crew. A master PLC unit controls the entire system, including pumps and valves. Automatic wipers keep the lamps clean. The only maintenance required by the ship crew is the replacement of UV lamps once a year and occasional preventive maintenance procedures.
Berson UV-techniek
Nuenen, Netherlands
Photometer equipped with pre-programmed methods
Users can store their own methods, but the PC MultiDirect microprocessor-controlled photometer is equipped with a range of pre-programmed methods based on the range of Lovibond® tablet reagents, liquid reagents, vial tests and powder reagents (Vario Powder Packs). Its calibration and software-based adjustment options mean that the photometer can be used as a testing instrument.
The photometer can be used for the following tests: alkalinity-m, alkalinity-p, aluminium, ammonia, bromine, calcium hardness chloride, chlorine, chlorine dioxide, COD, copper, cyanuric acid, DEHA, fluoride, hydrogen peroxide, iron, manganese, molybdate, nitrate, nitrite, ozone, pH, phosphate, potassium, silica, sulphate, sulphide, sulphite, total hardness, total nitrogen, urea and zinc.
For portable use, the instrument operates with seven standard rechargeable batteries that are supplied. Test methods are continuously updated using supplied software.
Tintometer GmbH
Dortmund, Germany
Natural gas generator improves fuel efficiency
The 1,200-rpm version of the Caterpillar G3520C advanced natural-gas-fueled generator sets offers high fuel efficiency, low maintenance and reduced operating costs in extended-duty distributed generation and cogeneration applications.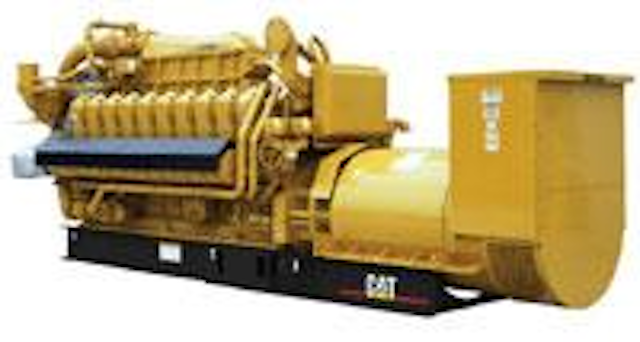 Click here to enlarge image
The 1,200-rpm/60Hz package delivers 1.6 MWe from an electronically controlled, 20-cylinder advanced lean-burn gas engine, coupled with a six-pole synchronous generator. Mechanical efficiency is rated at 43.5% with fuel consumption at 6,069 Btu/bhp-hr, and Nox emissions at 1.0 g/bhp-hr. The G3520C generator set is also available in a 0.5 g/bhp-hr Nox version for applications with even lower emissions needs.
"This unit fills the need for a low-first-cost, low-emission generator set that also provides competitive electricity cost in longer-running applications," said Michael A. Devine, gas product marketing manager with the Electric Power Group of Caterpillar Inc.
Caterpillar Electric Power
Peoria, Illinois, USA
Jordan Water Authority uses InfoWorks to reduce network costs
The Water Authority of Jordan is using InfoWorks WS, the water supply and distribution software from Wallingford Software, to analyse the country's water infrastructure as part of a major redevelopment of the nation's water supply system, particularly in Zarqa.
Jordan suffers from serious problems in water supply and distribution, similar to much of the Middle East. Acute scarcity of water resources often result in water rationing and intermittent supply, which can be as low as seven hours a week. Its infrastructure, however, exacerbates the country's water supply and distribution problems. Water distribution relies on pumping systems, which are very expensive and consume about 50% of the annual budget of the Water Authority of Jordan (WAJ). Maintaining acceptable water pressure levels in such a mountainous country is difficult, if not impossible, especially where the pumping station is located at the base of a mountain.
The WAJ plans to change from a pump-based to a gravity-based system of water distribution.
A hydraulic model of the existing water distribution system is being built in InfoWorks WS. Network simulations will then be run to identify how to improve the quality and consistency of the network, while reducing the cost. Once completed, the WAJ intends to retain the model and use it for operational planning on a daily basis.
Wallingford Software Ltd.
Wallingford, UK
Ion exchange approach reduces costs by 40%
The Rapide Strata uses Elga Process Water's Scion® short-cycle regeneration technology with the pulse regeneration programme to produce high-purity deionised water with running and effluent costs up to 40% lower and chemical efficiencies up to 50% higher than conventional deionisers, according to Veolia Water Systems Ltd.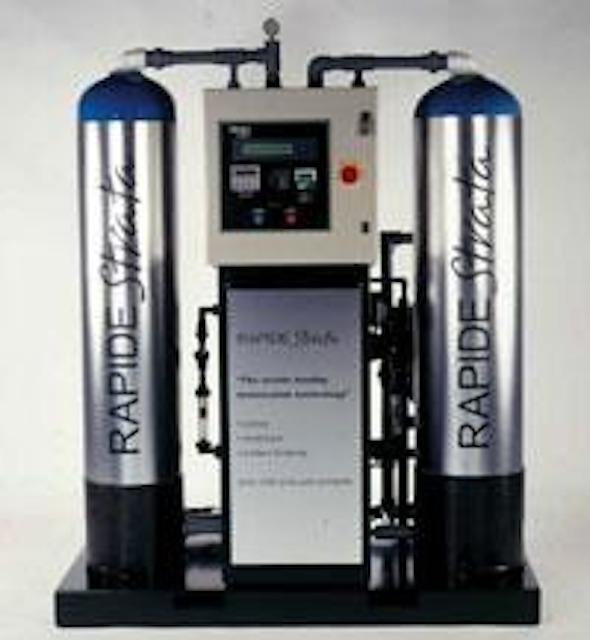 Click here to enlarge image
The Scion process regenerates the deioniser in about half an hour. Short cycle operation helps to prevent bacterial growth in the resin bed, which improves the microbiological profile for pharmaceutical and healthcare applications. Regeneration is counter-current and uses regenerant chemicals efficiently so that chemical consumption and operating costs remain low. The technique produces deionised water with resistivity better than 0.5MΩ.cm.
Elga Process Water is a brand of Veolia Water Systems Ltd.
Veolia Water Systems Ltd.
High Wycombe, UK
Ion exchangers remove heavy metals
Bayers' Lewatit® TP 207, a chelating resin, removes trace heavy metals from process water and nickel from drinking water. The threshold for nickel in drinking water has been reduced from 50 to 20 micrograms per litre because of its carcinogenic effect.
The Lewatit MonoPlus product range is used for almost all water treatment processes. These ion exchange resins are styrene-divinylbenzene copolymers marketed as gel and macroporous resins. Their monodisperse properties and modified polymer structure provide several advantages. Each resin has an optimised and uniform bead size, varying between 0.55 and 0.75 millimetres depending on the type. The high chemical, mechanical and osmotic stability of these resins increases their operating capacity and service life. Moreover, the MonoPlus resins cut the cost of investment in new units by reducing the dimensions and resin volumes required.
Bayer Chemicals
Leverkusen, Germany
Flow monitor profiles velocity distributions
The Acoustic Doppler Flow Monitor (ADFM) profiles the distribution of velocities throughout an entire flow area, producing results in almost any location including in conditions of high turbulence such as near flumes, weirs and overflows, and in large-diameter pipelines or channels where there is often a significant variation in flow velocities throughout the cross section.
The ADFM Velocity Profiler comprises an array of four velocity transducers plus an ultrasonic depth measuring transducer, incorporated within a low-profile housing that causes minimal interference to the flow pattern. The ADFM transducers emit a very short pulse along each of four narrow acoustic beams, which are at an angle to each other. The return signals are divided into discrete intervals known as "bins," and an independent velocity measurement is recorded for each of these bins. This produces a linear distribution of velocity values at different levels along the length of each beam, allowing the velocity profile throughout the entire flow area to be established. Integration of all the velocity and depth data allows the overall flow rate within the pipeline or channel to be determined with a high degree of accuracy.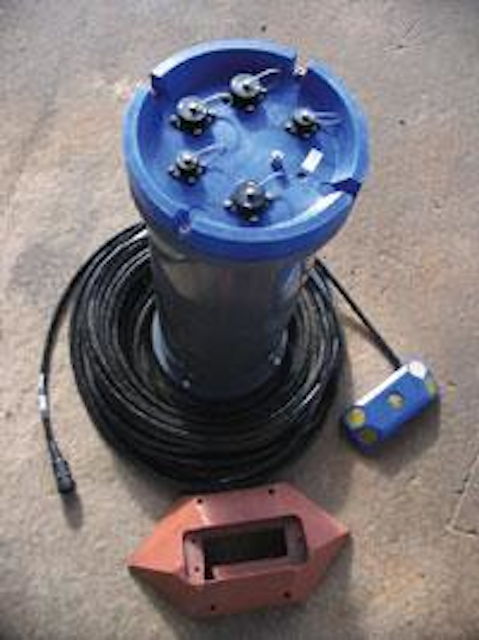 Click here to enlarge image
The velocity profilers can be used as short- or medium-term monitors to establish sewer flows in conjunction with modelling and simulation studies. Alternatively, they can be permanently installed to provide continuous data on network flows via telemetry. They are used to measure flows in trunk sewers and are installed in wastewater treatment works as a basis for trade effluent treatment charges calculated from actual flows.
OnSite
Worcester, UK
V-shaped design distributes force evenly
The V-Flange Ring, which features a patent pending V-shaped groove in the inner diameter, distributes force evenly on the flange adapter, improving connection strength, according to George Fischer, Inc. The all-plastic flange ring consists of fibreglass-reinforced polypropylene PP-H, making it suitable for conveying aggressive media.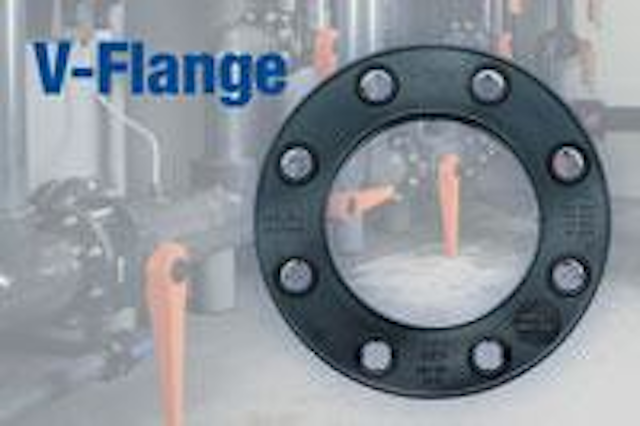 Click here to enlarge image
The design weighs one-third less than its flange ring counterparts built with steel cores, reducing transportation costs and simplifying installation. Plastic design prevents piping components in the flange connection from creeping.
Other features include high resistance to ultraviolet light and other harsh environments. The fibreglass-reinforced polypropylene homopolymer provides chemical resistance while its hydrolysis resistance capabilities makes it suitable for applications where traditional polyester flanges are not applicable. Free of joining seams, the V-Flange Ring demonstrates little internal stress, reducing the risk of stress cracking.
George Fischer, Inc.
Tustin, California, USA
Irrigation controllers adjusts water needs daily
HydroPoint Data System and The Toro Company started a partnership in early November to co-develop and market weather-based irrigation controllers built on HydroPoint's WeatherTRAK technology.
Toro will license the WeatherTRAK technology for use in select Toro controllers, and HydroPoint will provide its wireless evapotranspiration (ET) Data Service to all of Toro's WeatherTRAK-enabled controllers allowing for automatic watering adjustments based on each landscape's exact needs.
The technology is an automated weather-based irrigation controller that includes a scientifically-based irrigation scheduling engine that takes the landscape's specific parameters such as plant type, soil type, sun exposure and slope and calculates the exact amount of water to apply at the right time.
HydroPoint Data Systems
Petaluma, California, USA
Veolia Water deploys valve innovation in French network
Veolia Water signed a three-year agreement with Aeon Pipe Systems to supply new and patent-protected Resilient Seated Gate Valves (RSGV) for the water utility to deploy across its company network in France and in other European countries in which the utility operates.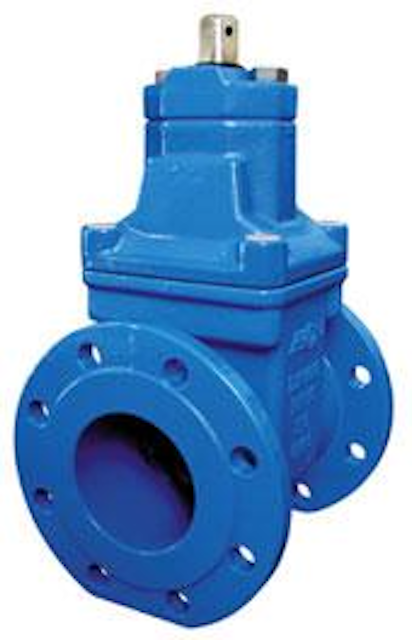 Click here to enlarge image
Veolia Water worked with Aeon for the past two and a half years on the design of the RSGV, which includes four patents. According to Veolia Water, "the decision to adopt the Aeon valve was due to the valve's superior pressure and flow capabilities offered at a competitive price. The company's patents for the RSGV includes a low torque seat design that provides between 2.5 to 3.5 times lower seat closure torque than is available from any other manufacturer, and absolute shut-tightness capability in all possible configurations of applications in the field."
Aeon Pipe Systems' Managing Director Arnaud Kerhuel commented: We have been determined to restore a sense of useful innovation on those products for the utilities sector and to reintroduce the manufacturing quality seen in previous generations, but without having to increase cost to the customer. To achieve this, we've examined the issue of valve design from basic principals. All aspects of the product development and manufacturing process have been thoroughly scrutinised and in doing so, we have been able to create a host of new patents and to manufacture a valve that has a standard of sturdiness not seen for decades."
Aeon Pipe Systems Ltd.
Guildford, Surrey, UK