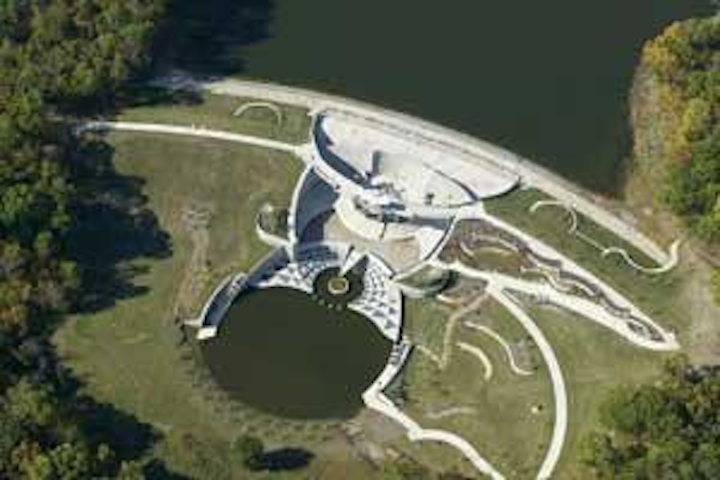 ---
Americas
---
Field notes
MEXICO: Mexican national oil company PEMEX chose four Hydra-PAK SE Series fail-safe electric actuators from Tulsa-based Flow-Quip Inc. for an expansion and upgrade of the JPC Maya Crude Oil Dehydration Facility at Dos Bocas Marine Crude Oil Marine Terminal in Tabasco, Mexico.
CANADA: Nova Scotia Environment recently approved use of Quick4® Chambers from Infiltrator Systems Inc. as a substitution for rock and pipe for use in onsite septic systems. Both the Quick4 Standard and Equalizer 36 models offer contouring connections, molded-in inlets/outlets, and piping options to eliminate pipe fittings.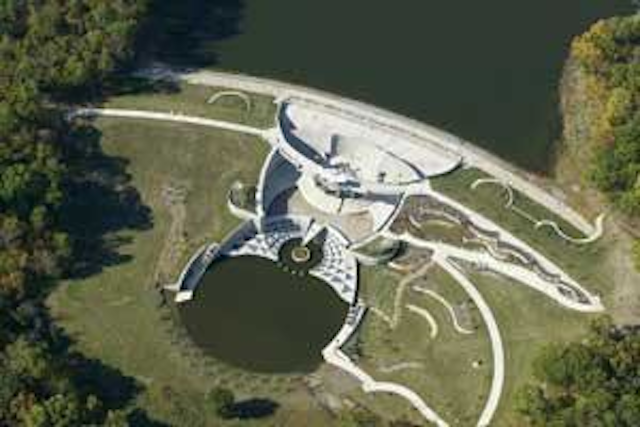 The Lake Lenexa Dam & Spillway, which provides stormwater control and flooding prevention, recently earned Black & Veatch and the city of Lenexa, Kansas, the U.S. Society of Dams 2009 Excellence in the Constructed Project Award. [Photo credit: P-Tn]
Click here to enlarge image
USA/CANADA: Infilco Degremont and GEA Process Engineering agreed to merge proprietary technologies to develop system solutions for zero-liquid discharge (ZLD) applications in the USA and Canada.
CHILE/BRAZIL: An Advanced Drainage Systems Inc. and Tigre S.A. joint venture in South America, Tuberias Tigre-ADS Ltda combines ADS corrugated pipe and Tigre's mining, solid wall pipe. Based in Santiago, Chile, a new Rio Claro, SP Brazil factory will start making HDPE pipe in late 2009.
Global ultrapure market falls, but to rebound in 2010
The McIlvaine Company reports the market for ultrapure water systems is expected to be down in 2009 from $4.l billion in 2008, but will rebound to that level again in 2010 and then register positive growth in 2011 and 2012. Expect significant differences in specific industries' growth rates, according to the online "Ultrapure Water World Markets" study. Electronics will be down and other segments up, including pharmaceuticals, medical devices, hospitals, cosmetics and soft drinks. But shrinkage in semiconductors, the largest sector, has a big impact. Second largest sector, power will be up. The forecasts include consumables such as ion exchange resins, membranes, and treatment chemicals. Firms such as Pall and Dow that supply membranes aren't showing severe shrinkage felt by companies relying on sale of turnkey systems. Substantial market loss in Europe will be offset by solid growth in Asia.
In other forecasts, cleanroom consumables will grow 1% in 2010. The global valve market will be flat this year, but recover over the next few years. The market for fabric filter systems will drop 11% in 2010 and won't recover until 2012.
Trojan UV wins Stockholm industrial water award
Trojan Technologies, developer of large-scale ultraviolet water disinfection systems worldwide, will receive the 2009 Stockholm Industry Water Award. Based in London, Ontario, Canada, the Danaher Corp. unit acquired in 2004 produces open channel and pressurized UV disinfection systems for industrial applications, municipal water and wastewater treatment, residential use, and elimination of environmental contaminants from wells and other drinking water sources, including reused water. With installed systems in over 5,800 facilities and 80 countries, Trojan has led the worldwide drive for commercial, engineering and regulatory acceptance of UV technology as an environmentally sound alternative to traditional chlorine-based water treatment.
---
Europe/Mideast
---
Field notes
DENMARK: The USA's EnSolve Biosystems and Gertsen & Olufsen (G&O) of Denmark, signed a distribution agreement under which G&O will market and sell EnSolve's PetroLiminator® biological oily water separator (OWS) system under the G&O name along with its own bioreactor for black and grey water treatment.
SCOTLAND: Balmoral Tanks, of Aberdeen, Scotland, has seen its third generation sewage treatment plant, the Balmoral HydroClear™, secure a Technical Innovation Award from the Royal Highland and Agricultural Society of Scotland (RHASS).
EGYPT: The Nile Basin Initiative to secure a sustainable, equitable way to manage regional water resources, signed a contract with Denmark's DHI for deployment of the Nile Basin Decision Support System, which will enable member countries to monitor and manage water in a transparent and regionally accepted way.
GERMANY/FRANCE: SIPOS Aktorik named an IKS-Group Austrian unit to represent it in Austria, Hungary, Slovakia, Croatia and Slovenia. Sipos also will supply 200 actuators and valves at an E.on power plant in Nuremberg. And Exxon chose its solar actuators for pipeline control in France, too.
Veolia's Krüger WABAG to supply WTP for German paper factory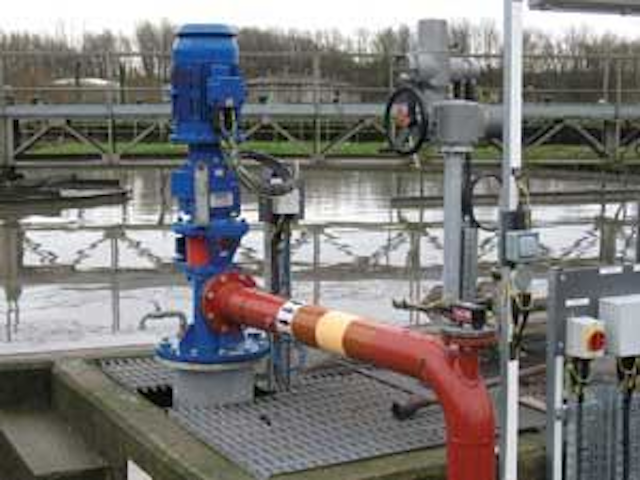 Six high performance Compact C range progressive cavity pumps from Mono NOV were installed at a wastewater treatment works in Dukinfield, Manchester, to improve processing efficiency for water company United Utilities.
Click here to enlarge image
Veolia Water Solutions & Technologies (VWS) with German subsidiary Krüger WABAG won a €5.5 million order to plan and build a circulating water treatment plant at the Fritz Peters paper factory in Gelsenkirchen, Germany, by 2010. The client is water management association Emschergenossenschaft/Lippeverband, which will operate the plant on behalf of Peters. At the site, Peters produces about 180,000 metric tons of paper products a year. The plant is designed for a BOD load of 8,900 kg/d for future capacity needs. It includes an anaerobic pre-treatment stage employing the BIOBED® Expanded Granular Sludge Bed (EGSB) system and an aerobic activated sludge plant. After passing through a sand filter, some of the biologically cleaned water is returned for production. Biogas from anaerobic stage is to be used in a CHP unit with heat output of 1.7 MW. As well as electricity, the installation also generates saturated steam for use in the paper factory.
In other news:
VWS acquired global rights to commercialize a new patented zero discharge desalination technology developed by ZDD Inc.
Veolia Water signed a seven-year, €44 million contract with the public works authority of Doha-Ashgal, Qatar, for O&M of two WWTPs with a capacity of 124,000 m3/d.
VWS unit N.A. Water Systems won a patent for its AMDRO™ technology, an RO process for treatment of acidic wastewater, applicable to mining and fertilizer industries.
Saudi Arabia ditches bidder on Ras Al-Zour IWPP
Saudi Arabia's Water & Electricity Company signed contracts worth US$2.4 billion for water projects in the central region around Riyadh, the Saudi Press Agency reported. They're for water pumping, desalination and storage with a group of Saudi and foreign companies. The contracts involve a project which will take 42 months to implement to transfer 900,000 m3/d of desalinated water, plus 1,000 MW of electricity, from the $5 billion Ras Al-Zour independent water & power project (IWPP) to the Riyadh region. Kingdom authorities chose to implement the project on an engineering, procurement and development (EPC) basis instead of the development consortium led by Sumitomo that it chose last year as a preferred bidder. The Saline Water Conversion Corporation (SWCC) was reportedly leading the EPC tender.
---
Asia Pacific
---
Field notes
JAPAN/IRAN: Hiroshi Iwahori, senior consultant in the Membrane Division of Nitto Denko Corp., Shiga, Japan – parent company of Hydranautics – is one of two honored with the International Desalination Association's 2009 Fellowship Award. He shares it with Kourosh Mohammad, associate professor and environmental engineering chief at the Water Engineering Research Institute, Tarbiat Modares University in Tehran, Iran.
NEW ZEALAND: Tyco Thermal Controls announces that OMV, Central Europe's leading oil and gas group, has reported that production in the Maari oilfield has commenced from two wells that utilize its PetroTrace® STSi electric downhole heaters.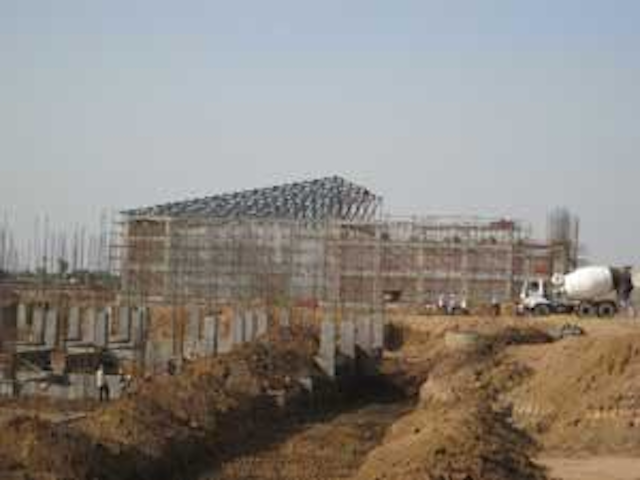 Speciality chemicals company LANXESS is on track to start up its new Jhagadia site in India in 2010.
Click here to enlarge image
INDIA: Aquatech International won a DBO contract for a seawater desalination plant for India's First Ultra Mega Power Project (UMPP) at Mundra in Coastal Gujarat. The 4,000 MW coal-fired plant is owned by Coastal Gujarat Power Limited, a Tata Power unit. Aquatech will provide a pretreatment system with lamella clarifiers, two-stage pressure filtration and an SWRO/brackish water system.
Adelaide desal plant pace up
Energy Recovery Inc. will provide Pressure Exchanger™ devices to help lower the cost of producing water at Adelaide's AU$1.1 billion desalination plant. AdelaideAgua, a consortium formed by Acciona Agua, United Utilities Australia, ABI group and McConnell Dowell, won the DBO contract on the 150,000 m3/d SWRO plant at Port Stanvac, by South Australian Water Corp. The water crisis gripping Australia prompted the government to move up the construction schedule by 12 months to 2010 and call for doubling the plant's capacity to 300,000 m3/d.
Hydranautics gets WCRWP job
Coping with rapid population growth and the worst drought in the region's history dictated Southeast Queensland, Australia's water authority explore new, long-term solutions to provide residents and businesses with clean water for drinking, energy and industrial use. This gave birth to the US$2 billion Western Corridor Recycled Water Project (WCRWP), an integrated effort employing six wastewater treatment plants, two power stations, storage tanks, a dam, miles of piping and – the WCRWP's backbone – three advanced water treatment (AWTP) plants. The largest of the three, the Gibson Island AWTP (100,000 m3/d, 26.4 mgd) is enjoying operational success since the plant's commissioning in 2008. Over 3,200 ESPA2 elements with 400 ft2 RO membranes were chosen for the facility.
Beijing Olympics water performance earns gold
Beijing largely exceeded drinking water and waste-management goals it set as part of its bid for last summer's Olympics, according to the Washington, DC-based Water Resources Institute. It met China's new drinking water standards and guidelines set by the WHO and expanded wastewater collection and treatment covering 92% of the city's sewage during the games. A report, "Independent Environmental Assessment: Beijing 2008 Olympics Games," was produced by UNEP with data from the Beijing Municipal Government, Beijing Environmental Protection Bureau, and Beijing Olympic Organizing Committee. WRI provided expertise and analysis on both the water quality and solid waste chapters.
---
Asia Minor
---
Marseille to host 6th World Water Forum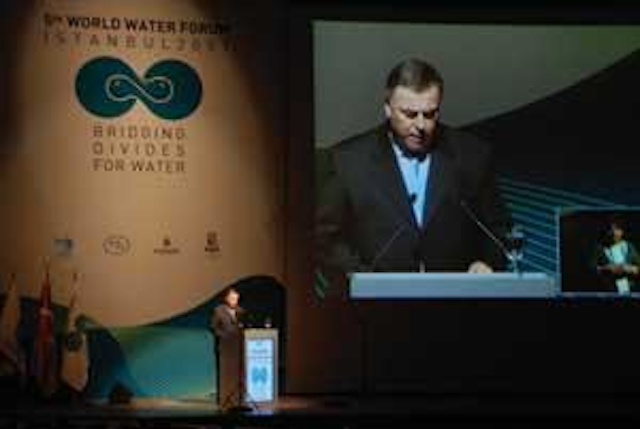 World Water Council president Fauchon-Dünya Su Konseyi Baskani at opening of 5th World Water Forum in Istanbul in March.
Click here to enlarge image
The World Water Council chose Marseille, France, as the site to host the 2012 World Water Forum. Following a rigorous evaluation process, a final vote from the council's board of governors was held in Madrid, Spain. The forum is one of the world's largest water gatherings, bringing together over 20,000 political leaders, NGOs, government officials, water professionals, and scientists every three years. Before the vote, the two final candidates, France and South Africa, agreed to a partnership on preparation for the next forum. As such, when Marseille was chosen, it extended an invitation to Durban, South Africa, to be a full partner in the years running up to the event. Noting debate isn't enough, France committed to making it "the Forum of Solutions." The council's decision comes three months after the 5th World Water Forum in Istanbul, Turkey. Governors commented on signing of the Istanbul Water Consensus by over 100 cities worldwide to promote local action to deliver water and sanitation services and manage water resources sustainably. Over 20,000 people from 182 countries participated in the Turkish event, including 90 ministers, 250 parliamentarians and 300 mayors.
Making Waves Among other recent water industry news items at www.wwinternational.com, see:
Sensortechnics' CLC level sensor among Best of Sensors Expo awards
U.S. finalist for Stockholm Jr. Water Prize in documentary, 'Whiz Kids'
UK's Lanes for Drains earns Royal Mail awards, adds to Jet-Vac sewer fleet
Siemens A&D helps South West Water improve level measurement
Borealis 'Water for the World' programme nominated for Austrian CSR award
Environmental consultancy ADAS expands with first Irish office in Dublin
China wins US$250m in World Bank loans for water projects in three provinces
Bahrain-based Robeco Middle East set to launch Islamic water funds
Wastewater project begins at Airport Heights in Muscat, Oman, begins
Uzbek, Egyptian joint commission sign water resources management deal
Infilco Degremont, GEA Process Engineering to merge ZLD efforts in USA, Canada
Scientific Instruments, epro GmbH key acquisitions for Emerson
Lyon Water chooses over 100 Ethernet connectors, switches from Westermo
Artemis Project names water industry's top 50 'global gladiators'
HaloSource opens Bangalore, India, facilities
USA's first Bandalong Litter Trap stormwater solution installed in Washington, DC
Panton McLeod demonstrate underwater robots for Bristol Water
MIOX wins Japan's JWWA certification
Faber Maunsell rebrands itself as AECOM Ltd.
GE Water wins reclamation plant contract for Shanghai petrochem company
ROTEX signs contract with Tenova Takraf Italy for MEGATEX XD screens
CDM, PUB Singapore win AAEE Superior Achievement award for Marina Barrage project