Singapore transforms water vulnerability into global R&D asset
Water and the environment are becoming increasingly important subjects globally as environmental consciousness reaches new heights.
Dec 1st, 2006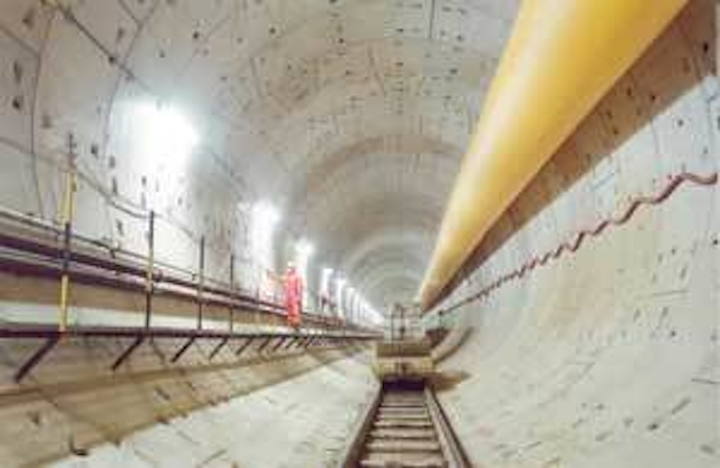 Singapore has been investing in research and technology of water technology solutions for the past fouty years. The island nation has recently positioned itself to become a global "hydrohub" of research and development centers for the water industry, and to diversify its economy.
Water and the environment are becoming increasingly important subjects globally as environmental consciousness reaches new heights.
Countries and cities are looking for innovative solutions to their water and environmental management issues. With sustainable development becoming an international concern, the global environmental technology market is expected to enjoy robust growth in the coming years.
Singapore recently earmarked the environmental industry as a strategic growth area to help diversify its economy. Its impressive track record in water and environmental management over the past few years has given Singapore a head-start in growing a vibrant environmental and water industry that can tap into vast opportunities in Asia and beyond.
Much of the international spotlight has fallen on the water industry, which is the largest contributor to the global environmental industry. The US business publication Fortune rates this industry as one of the world's greatest business opportunities and the 21st century's answer to oil.
To meet its water scarcity challenges, Singapore has been investing in research and technology, and improving its water manage-ment systems for the last four decades. Consequently, the Singapore government agency responsible for the entire water loop, the Public Utilities Board (PUB), has attained world-class capabilities in water management and solutions.
The development of major national projects such as NEWater - a nationwide initiative to reclaim potable water from wastewater - and Singapore's first state-of-the-art seawater desalination plant serve as excellent examples of how the island nation turned its vulnerability in water into an asset. Other innovative projects include the nationwide Deep Tunnel Sewerage System as well as the Marina Barrage, which will allow Singapore to develop its fifteenth reservoir at the shoreline of its central business district.
Leveraging on this strength in municipal water management, Singapore now hopes to position itself as a "Global Hydrohub" - a vibrant ecosystem supplying technology and products to three percent of the global water market over the next decade. Its growing global emphasis on water and the environment has placed Singapore in the lead as a base for research and development (R&D) of water technology solutions. The water industry in Singapore now consists of more than 50 international and local companies today, and plans are underway to increase the breadth and depth of this industry.
The region around Singapore is growing at such a rapid rate that they are advancing towards an inflection point where environment needs will take a quantum leap. Strategically located within Asia, Singapore is being used by major global water players as a launch pad to expand into the region, and as a test-bedding and piloting base for new water technologies.
Environment and Water Industry Development Council
The Singapore government established the Environment and Water Industry Development Council (EWI) in July 2006 to spearhead the growth of the industry. The EWI amalgamates the strengths of key government agencies such as the Economic Development Board (EDB) and PUB. This unique set-up allows Singapore to more effectively grow R&D capabilities and capacities in this industry and for the R&D outcome to be exploited into commercially-viable solutions to be exported to the rest of the world.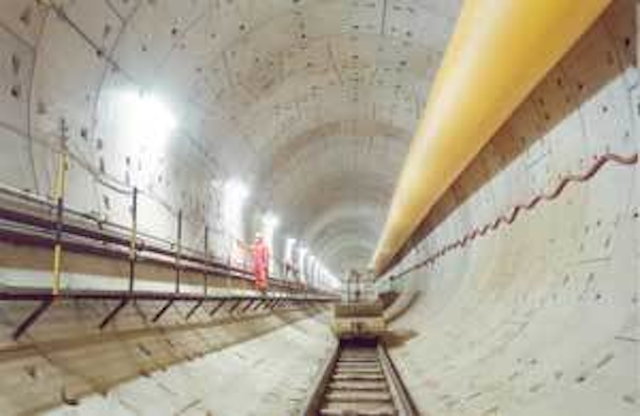 The Deep Tunnel Sewerage System
Click here to enlarge image
Through EWI, Singapore targets to grow value-added (VA) contribution from the water sector from US$ 315 million (0.3 percent of Singapore's gross domestic profits (GDP)) in 2003 to US$ 1.07 billion (0.6 percent of Singapore's GDP) by 2015. Jobs for this sector are expected to double to about 11,000 in 2015, with a large part of the growth in professional and skilled categories. Value-Added (VA) is a measure of the returns to factors of production (including labor, capital, entrepreneurship) and is a one-to-one proxy for GDP. For specific projects, the major contributors are profits, remuneration, depreciation, rentals, etc.
The EWI aims to:
Attract more companies to locate their operations in Singapore
Help grow Singapore's local companies
Encourage more companies and research institutes to develop cutting-edge water technology; and Export Singapore's capabilities to growing markets such as the Middle East and China.
With R&D as the main growth driver, six strategies have been mapped out to support organizations across the entire technology value chain, starting from idea-conceptualization to commercialization. These are to:
Put in place a coordinated funding program for environment and water R&D in Singapore. This has been done through the establishment of the Environment and Water Research Programme (EWRP), which will do technology scanning and identify areas of research needed to position Singapore as a global technology leader. Local and foreign organizations in both the public and private sectors are encouraged to bid competitively for EWRP funding.
Strengthen international linkages by attracting and anchoring world-class educational and R&D organizations here from both the public and private sectors.
Make Singapore a global test-bed for environmental products and solutions. Besides making PUB facilities (including waterworks, NEWater factories, reservoirs) widely available as test sites for industry, public and private sectors are also encouraged to be test-bedding sites.
Encourage the early adoption of new technologies in capital projects in Singapore's public and private sectors.
Bring new technologies to market, including incubation of start-up enterprises.
Groom talent and specialist manpower to fuel the growth of the industry here. Some initiatives include developing educational and R&D centers of excellence, granting graduate scholarships and attracting internationally-renowned industry experts to be based in Singapore who would in turn, act as a magnet for top local and foreign students.
Global players in Singapore
Already, home-grown firms such as Hyflux, SembCorp and Keppel are developing environmental projects in the region such as China and the Middle-East, while global engineering firms such as Black & Veatch and CH2M Hill are applying expertise gained in Singapore to projects around the world, including in the US.
In 2005, Hyflux opened one of the world's largest membrane-based seawater desalination plants in Singapore. This plant will supply a tenth of the country's water needs and it exemplifies Singapore's bold vision to be a world leader in the water industry. Hyflux has also set up a water membrane technology R&D center here. When fully developed, this center will employ more than 100 researchers, making it one of the largest membrane technology R&D centers in Asia outside Japan.
Siemens Water Technologies, the leading technology provider in water and wastewater treatment, has set up its 50-man Asian Center of Competence for Water Technologies in Singapore. Siemens is in the midst of transferring its expertise from Germany and the US to Singapore, and the center is expected to carry out projects amounting to US$ 30 million in a few years' time.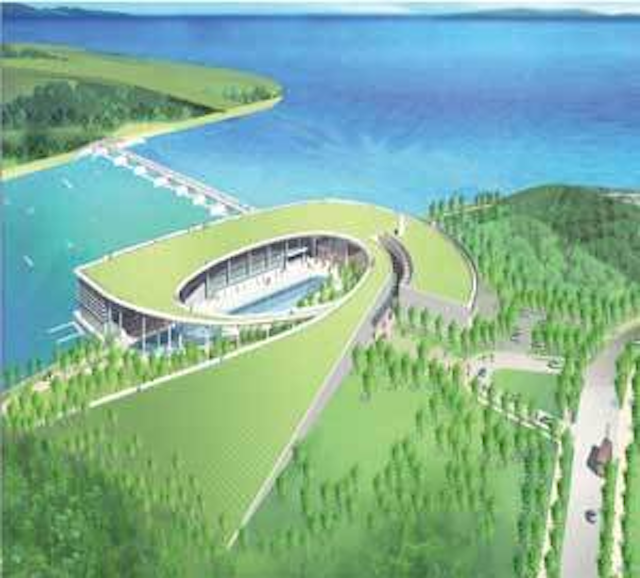 The Marina Barrage
Click here to enlarge image
Siemens Water Technologies' Vice President Jagannath Rao commented: "We were attracted to Singapore because of the country's willingness to work with water companies to develop new technologies. Furthermore, Asia is after all the fastest growing market in water technologies, so rather than conduct business here through our offices half a world away, we thought it made better sense to set up shop here."
CH2M Hill, a Fortune 500 US consultancy company, has steadily grown its operations in Singapore over the years. Its staff strength in Singapore has significantly expanded from 10 in 1996 to 160 in 2006 with a corresponding jump in revenue. The company now uses Singapore as its regional design and project management office to service Southeast Asia and India. This year, CH2M Hill was awarded the International Headquarters (IHQ) award by EDB for its plan to double the headcount in the Singapore office due to strong growth momentum in the region.
Delft Hydraulics is an independent research institute and specialist consultancy firm based in the Netherlands. In June this year, Delft Hydraulics signed a Memorandum of Understanding (MOU) with the National University of Singapore and PUB, aimed at establishing a regional center of excellence for water knowledge with close industry linkages. The center seeks to embark in cutting edge research to serve the needs not only of Singapore, but more importantly of the region and beyond. In recognition of Singapore's potential as a leading center for the water and environment sectors, Delft Hydraulics also announced their plans to set up a branch office in Singapore, the company's first office in Asia.
Delft Hydraulics' Managing Director Jan Groen explained: "Singapore is not naturally endowed with water and this situation has led to the country's development of remarkable expertise in urban rainwater collection as well as water reuse and treatment. We thus want to tap on this expertise and also share with Singapore our experiences in the hope of bringing R&D efforts in the water industry to greater heights."
Author's Note
Kenneth Tan is the director of the Services Cluster for the Singapore Economic Development Board, and the deputy executive director of the Singapore Environment & Water Industry Development Council (EWI).
---
GE establishes global R&D center in Singapore
On September 21, 2006, GE announced that it will invest SGD $130 million (USD $82 million) over the next 10 years to establish a world-scale GE Water & Process Technologies Global R&D Center in Singapore. Comprising of five Centers of Excellence, this R&D center will employ 100 top researchers who will build up a full range of R&D capabilities and transform innovative concepts into products and solutions that will address real world demands.
"Our decision to invest in Singapore is due to the strong commitment from the government in developing the water industry. This, coupled with the easy availability of skilled manpower and the strong enforcement of intellectual property rights regulations makes Singapore the ideal platform to launch this R&D center," said Mr. Jeff Garwood, president and chief executive officer of GE Water & Process Technologies.
The center will conduct research aimed at alleviating pressing water issues related to quality, availability and the affordability of safe, usable water supplies. Specific areas of research include water treatment and systems integration, fundamental chemical and membrane applications and ion-exchange technology.
Mr. Teo Ming Kian, then-EDB chairman, said, "GE's decision to site the Global Water R&D Center in Singapore marks a very significant milestone for the water industry here. Singapore has identified the water industry as a strategic growth area and our goal is to develop a vibrant ecosystem with many water players, both foreign and local, establishing their bases here."
This new research center marks the launch of Singapore's first world-scale R&D center for water technologies by a foreign company. This center will contribute to developing Singapore as a global knowledge hub in water technology and firmly elevate Singapore's standing as a location for water companies in the world. Hosted at the National University of Singapore (NUS), the center will leverage on the university's comprehensive research infrastructure in engineering, science and medicine.
Colin Low, president, Singapore, GE Corporate, said "The initiation of the latest Water R&D Center in Singapore shows the commitment by GE to commit investments and resources in Singapore. This center is GE's sixth R&D center, and it is one of three centers in Asia. This is an exciting phase of GE's growth in Singapore and the South East Asia region and attests to the rapid growth of GE's revenue from this region." GE employs some 2, 300 employees in Singapore since it started operations in 1969. To date, its total annual revenue in Singapore is USD $850 million.