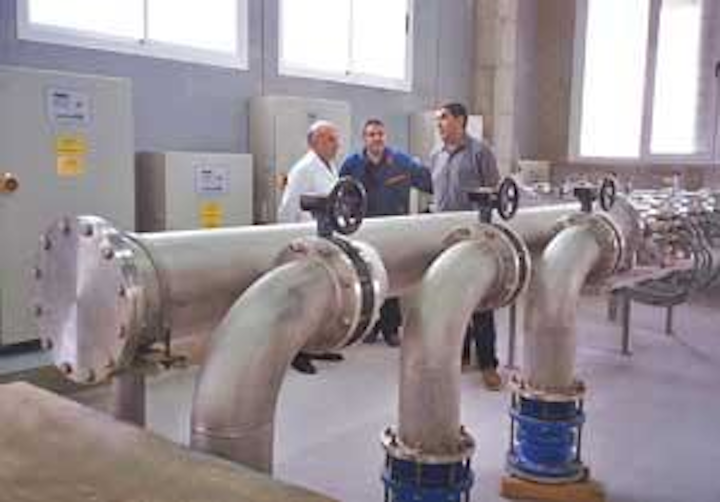 UV-treated effluent irrigates crops in Murcia, Spain
In one of the first schemes of its kind in Europe, UV technology from the Aquionics' UK sister company, Halma, is being used to treat municipal effluent for irrigating crops in the arid Murcia region of Spain.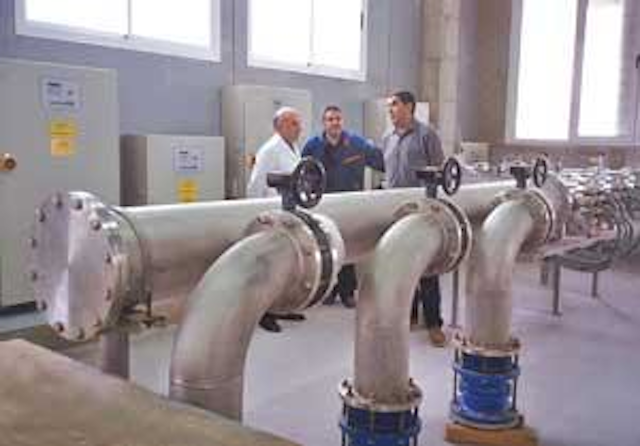 Click here to enlarge image
Murcia has a unique microclimate that allows fruit and vegetables to be grown throughout the year, giving the area its popular name "the vegetable garden of Europe." Its unusual geography causes the region to receive low rainfall, so irrigation water is scarce. Consequently, treated effluent is used to water crops.
The effluent supply is gravity-fed, so the disinfection system is very susceptible to pressure loss. Medium pressure UV technology was a deciding factor in the choice of treatment system, as the low number of UV lamps in each chamber offers less resistance to fluid flow, resulting in lower overall head loss. Medium pressure technology also results in energy and component savings for system operators and is more reliable at permanently destroying microorganisms.
The installation consists of three medium pressure UV treatment chambers installed in series. They treat a combined effluent volume of over 130,000 gallons/hour (500m3/hour) and are normally running 16 hours per day, although they can operate 24 hours a day if required.
Commenting on the project, Aquionics President Jon McClean said, "The Murcia project demonstrates the Halma UV companies' ability to provide custom-designed solutions for specific disinfection problems."
Aquionics Inc.
Erlander, Kentucky, USA

Enquiry No. 50
---

Online solid phase extraction method development tool brings greater functionality
Anachem chemists improved the free, web-based SPE Online Method Development Tool to provide greater functionaility. SPEnet enables users to specify any number of compounds to extract, the interferences to remove, and to select desired sample matrix. The web site then provides estimates of logP and pKa values, chromatographic retention estimates even for new chemical entities, and a recommended SPE method.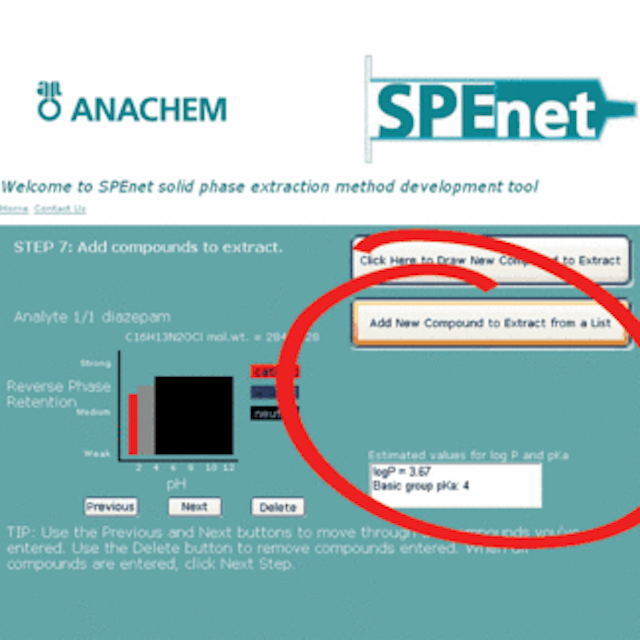 Click here to enlarge image
The website www.spenet.co.uk has a built-in structure drawing tool, allowing users to input new chemical entities. A recent improvement to the site is the addition of lists of pre-drawn structures (including many pesticides, herbicides, priority pollutants, and pharmaceuticals) for faster data entry. Another major change is a significant improvement in the algorithms used by SPEnet to estimate logP & pKa/pKb values and the algorithms used to predict SPE methods. Finally, the website displays calculated pKa and logP values for the structures drawn, significantly improving the amount of information the website provides.
To assist further in developing SPE and HPLC methods, Anachem chemists developed the site to give a quick graphical representation of reverse phase chromatographic retention values versus the pH range. With predictions of chromatographic behaviour vs. pH, charge vs. pH relationship, logP and pKa values all given for free, the site provides the best free online method development resource for analytical chemists involved in SPE or HPLC method development, according to Anachem.
SPEnet suggested methods are best starting points for the extraction a user needs to perform. The methods are based on Anachem's new SPEnet range of solid phase extraction cartridges, 96-well SPE plates and SPE method Development Kits.
Anachem provides the complete solution for SPE consumables, protocols, automation method development and technical support. The company supports automation of solid phase extraction, protein precipitation, and liquid-liquid extraction methods using the Gilson ASPEC Xli or XL4 (automated SPE) or any Gilson liquid handler.
Anachem
Luton, Bedfordshire, UK

Enquiry No. 51
---

UV disinfection system for mid- to large-sized drinking water systems
The Water Technologies division of Siemens' Industrial Solutions and Services (I&S) Group introduced a higher capacity model to its line of Barrier M UV disinfection systems for potable water applications: the Barrier M Model 3800. This UV model handles flow rates up to 7.3 mgd at a transmittance level of 98 percent.
The Barrier M 3800 UV system provides a cost-effective, reliable and operator-friendly solution to medium- and large-sized community drinking water systems. Adding the Barrier M UV system to other disinfection processes provides a multi-barrier approach, and ensures complete inactivation of all waterborne pathogens. The Model 3800's compact reaction chamber enables easy, flexible installation, especially in retrofit situations where space is limited.
The Barrier M Model 3800 UV disinfection system is part of the Wallace & Tiernan product line from Siemens Water Technologies. Barrier is a registered trademark of Siemens, its subsidiaries and/or its affiliates.
Siemens Industrial Solutions and Services
Erlangen, Germany

Enquiry No. 52
---

KSB PumpDrive offers quick payoff
The KSB Pumpdrive, a new variable speed drive pump system, provides electronic controls that ensures performance continuously matched to variations in operational conditions. It can reduce energy consumption by up to 50 percent, providing fast pay back on capital cost.
PumpDrive's sensors detect variations in demand and adjust the frequency as required. Such variables generally include pressure, differential temperature and differential pressure. Additionally, KSB claims the system also can have a significant impact upon overall life cycle costs. Pump operation under flow conditions provides smooth control with fewer stop / start situations and reduces mechanical stress and surge pressure risk. In turn, wear and tear is reduced resulting in low pump maintenance and repair bills.
PumpDrive was designed to interface with other KSB equipment, including the PumpExpert remote interrogation and diagnosis device and the PumpControl measurement and control system which is capable of co-ordinating several pumps to increase reliability and keep operating costs to a minimum.
Britta Frank, market sector manager for KSB, said: "The basic principle of variable speed control pumps is well known and has been tried and tested in many kinds of application, but we see PumpDrive as being used as an integral part of high level system rather than an individual component working on its own.
"PumpDrive, together with PumpExpert and PumpControl, provide speed control, intelligent diagnosis and measurement, thereby giving the user all they need for a cost effective and flexible solution."
Other key features include user cost effective installation, user friendly operation and quiet noise levels due to low, rotational speed.
The company says PumpDrive is highly suitable for building services applications in single and in multiple configurations of up to six pumps, including ventilation and air conditioning, heat generation and distribution and water supply. The product is also used for water and waste water usage and in manufacturing process.
KSB has been established in the UK for more than 100 years and is one of the world's largest pump manufacturers. The company's products are used in a wide variety of applications including building services, water and sewage as well as in manufacturing processes.
KSB
Loughborough, UK

Enquiry No. 53
---

Arc Energy wins contract for Hydro
As principal fabricator of Hydro-Brake® Flow Controls for Hydro International, fabrication specialist Arc Energy Resources secured another contract to manufacture the company's Hydro Vortex Drop-Shaft™ systems.
The Hydro Vortex Drop-Shaft is a specialized unit used to quietly and safely drop water/sewage from heights. It dissipates the energy generated when water/sewage falls to the lower levels, preventing any noise, vibration or damage to the network infrastructure. They will be installed in major sewer upgrade projects in Oldham and Bonnyrigg in Scotland.
Arc Energy Resources
Eastington, Glos, UK

Enquiry No. 54