Membrane technology expands wastewater reuse applications worldwide
Recent wastewater reuse projects in Bora Bora, France, Grand Canary Islands, India, and Qatar completed by Degremont demonstrate the effectiveness of several membrane filtration systems designed for wastewater reuse applications in agriculture, industry, and indirect and non-potable water uses.
Aug 1st, 2006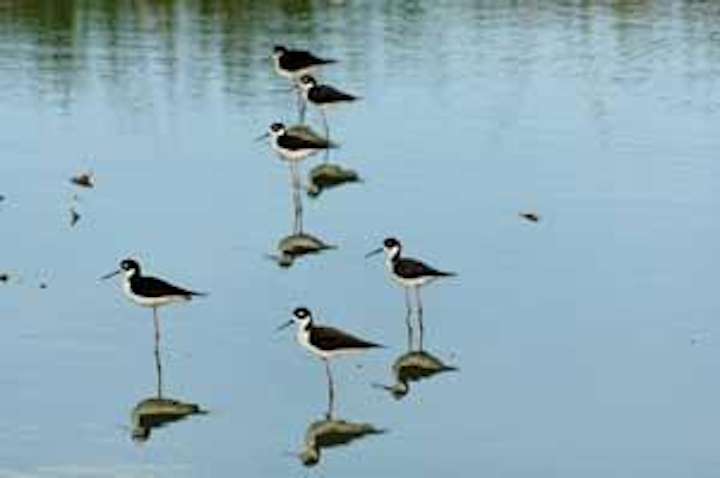 Recent wastewater reuse projects in Bora Bora, France, Grand Canary Islands, India, and Qatar completed by Degremont demonstrate the effectiveness of several membrane filtration systems designed for wastewater reuse applications in agriculture, industry, and indirect and non-potable water uses.
By Laurent Guey
Can membrane technology change the usage of wastewater? In recent years, wastewater has become a valuable product in water-scarce regions and technological advancements in membrane filtration have expanded the applications of treated effluent.
Governments have increasingly promoted the use of reclaimed water by developing dedicated distribution networks and high discharge quality through treated effluent program analysis. Moreover, improved membrane treatment has resulted in high water quality and increased trust of end users in the safety of recycled water. Local constraints, however, should be considered when determining the type of water reuse scheme to be established. Depending on the final uses of purified wastewater, the successful application of preferred strategies and technologies also requires an understanding of the social, cultural, and economical environment in which the reuse is to be applied.
For many years, Degremont, a Suez company, has worked with these considerations throughout its many years of extensive experience in designing, building and operating sewage reclamation plants. Membrane technology was slowly accepted years ago as a preferred technology given that conventional treatment schemes, including coagulation settling and sand filtration can meet stringent recycling water requirements (as California standard Title 2.2), but less cost-effectively than advanced membrane technologies now available.
Wastewater reuse applications
Purified wastewater is used in several principal applications: agriculture, industry, and indirect and non-potable uses. Historically, agricultural use consumes more than 65 percent of global water resources. Advanced primary treatment is typically used for this application. Degremont has constructed several of these facilities in Mexico, where the effectiveness of advanced primary treatment is proven in the following plants -- Culiacan (144 000 m3/d), Ciudad Juarez I and II (216 000 m3/d and 86 400 m3/d). Additional treatment steps, such as Degremont's Aquazur® sand filtration and Densadeg® settling, improves water quality even more in terms of nutrient removal and microbiological parameters, such as helminth eggs. Tertiary treatment is required to enhance the disinfection step for non-potable water uses. The Puebla facility (312 000 m3/d), constructed by Degremont, is an example of this approach.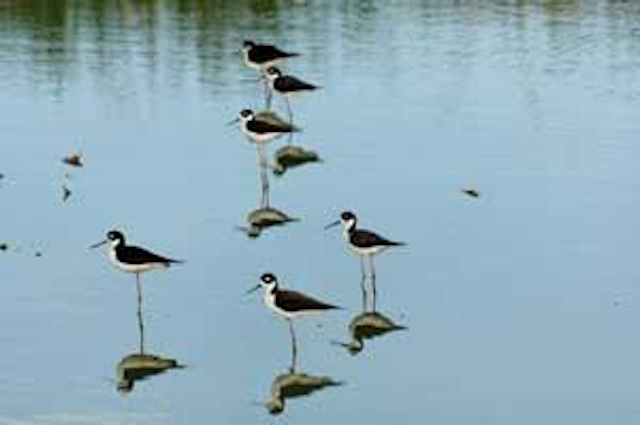 Birds on the lagoon after water discharge in San Luis Potosi
Click here to enlarge image
Worldwide, many industries understand the benefit by using purified wastewater. Numerous projects have clearly demonstrated that water recycling enables industrial facilities to maintain operations, such as those requiring cooling water, during droughts and government restrictions on potable water consumption. Even in cases of no restrictions, many industries have decided to recycle water or buy purified water from a wastewater treatment plant because of its lower cost.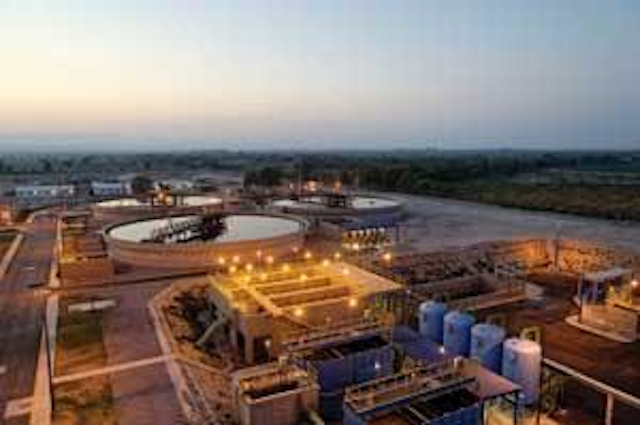 The San Luis Potosi facility began recycling 80,000 m3/day of municipal wastewater in early 2006.
Click here to enlarge image
In San Luis Potosi, Mexico, the wastewater reclamation plant includes secondary clarifiers and tertiary sand filtration, which makes it possible to use reclaimed wastewater for agriculture and industry. The wastewater plant, which began operating in early 2006, recycles 80,000 cubic meters a day of municipal wastewater. A portion of the treated water is distributed to farmers; the remaining water is recycled as coolant water for a power plant and as landscape irrigation after undergoing tertiary treatment (sand filtration and disinfection).
Under a build-operate-transfer contract, Degremont designed, financed and implemented the project and will operate and maintain the facilities over 18 years. The City of San Luis Potosi will benefit from this arrangement in several significant ways:
Improve sanitary conditions, especially for farmers who still use raw wastewater for irrigation;
Boost the regional economy by providing cheap water source for agriculture and industrial sites;
Promote the conservation of natural resources and, particularly, rivers in the region.
Clearly demonstrated already, the economic and environmental benefits of reclaimed water are helping the city, farmers, and industry. Wastewater reuse provides industry with an affordable water source that costs 33 percent lower than groundwater pumping costs, according to the Federal Electricity Commission in Mexico. The high quality irrigation water makes it possible for farmers to diversify crop production. Cooperatives, which today specialize in fodder crops, can now introduce new, more profitable crops, since their irrigation water complies with applicable standards. In this region, wastewater is considered an asset and not as a disposable waste.
Recycling costs
Cost estimation and comparison of wastewater treatment on a national or international scale is difficult and challenging given the varying factors, such as local wastewater conditions and plant size. But Degremont's international experience with water reclamation plants helps the company overcome these challenges.
The Extra Total Water Cost (4% discount rate, 25 years plant life time) of purified wastewater increases as the level of treatment rises. Extra Total Water Cost means the additional cost required to improve water quality from secondary treatment (i.e. conventional activated sludge) to tertiary treatment, or from tertiary treatment to polishing quaternary treatment. This does not include the cost of secondary treatment; the wastewater must be treated to meet local discharge constraints.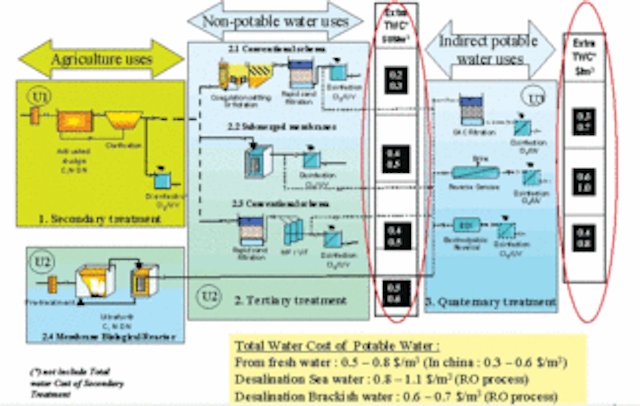 The schematic illustrates the extra total water cost involved in several categories of water usage.
Click here to enlarge image
Associated water costs rise as recycled water quality requirements become more stringent. Conventional tertiary treatment, including coagulation settling or lime clarification with gravity sand filtration, of non-potable water uses remains an economically viable solution for applications that do not require potable water standard.
In the past three years, Degremont designed wastewater treatment for reuse facilities in China with more than 600, 000 m3/day of cumulative recycled water capacity. These facilities are based on the conventional treatment for water services and cooling water for steel production companies. In Mexico, a water reclamation plant produces purified water for industries, such as ICA Fluor in Sempra.
Other non-potable water uses (i.e. golf courses, landscape irrigation, irrigation for crops eaten raw, urban irrigation, toilet flushing, and fire protection) call for high quality recycled water, mainly because of greater probability of exposing general public to recycled water in densely populated settling. For this reason, most water quality standards for such uses are more stringent that those for agricultural irrigation. Most standards from different countries require almost total disinfection with target concentrations of microbial indicators between non-detectable and 10 u per 100 ml.
Consequently, membranes are being used increasingly as a physical barrier in tertiary treatment, which is the key to reliability in water reuse schemes and probably a necessity to win public acceptance. Ultrafiltration membranes are being introduced as secondary or tertiary clarification to provide a preliminary disinfection step before additional chlorine or UV disinfection in accordance with the double barrier concept. These compact treatment lines produce water quality for secure irrigation and urban non-potable uses.
In wastewater treatment, the ultrafiltration membrane can be designed within a tertiary filtration or a membrane biological reactor (MBR) process. In the past decade, the membrane filtration, also known as ultrafiltration, has emerged as an effective way of transforming various types of wastewater into high-quality effluent. Plants running have clearly demonstrated that membrane technology can be cost effectively used in full-scale treatment plants, and produced effluent water quality in terms of biological oxygen demand (BOD), suspended solids (SS), and E Coli counts better than most standard discharge requirements.
Moreover, membrane filtration enhances all polishing quaternary treatment processes for indirect potable water uses, but this last reuse application is more dedicated to salt removal before irrigation and other urban uses in countries that impose watering restrictions on aquifer usage to cope with potable water shortages. For these countries, membrane technologies have helped transform wastewater, which once created disposal problems, into a reusable resource. Degremont promotes several membrane treatment technologies:
UltraforTM membrane biological reactor process with Zenon's product, is a worldwide-adapted technology for water conservation and reuse for irrigation;
An alternative process of clarified sewage water for non-potable water could be a tertiary filtration and disinfection step.
Recent success stories in Bangalore, India; Firgas, Grand Canary Island; Grasse Roumiguière, France; Povai, Bora Bora Island; Doha west and Lusail, Qatar, demonstrate that membrane filtration systems are increasing the applications of effluent reuse. Since 2001 the cumulative capacity of wastewater membrane treatment, awarded and installed by Degremont, exceeded 350,000 cubic meters per day with 150,000 cubic meters per day of MBR treatment capacity.
Author's Note
Laurent Guey is the membrane marketing manager for Degremont, Suez Group, based in Rueil-Malmaison, France. For more information, visit the website: www.degremont.com.