University graywater collection ecological and educational
Stormwater Management StormFilter® systems remove pollutants from roof runoff before entering the graywater system.
Aug 1st, 2006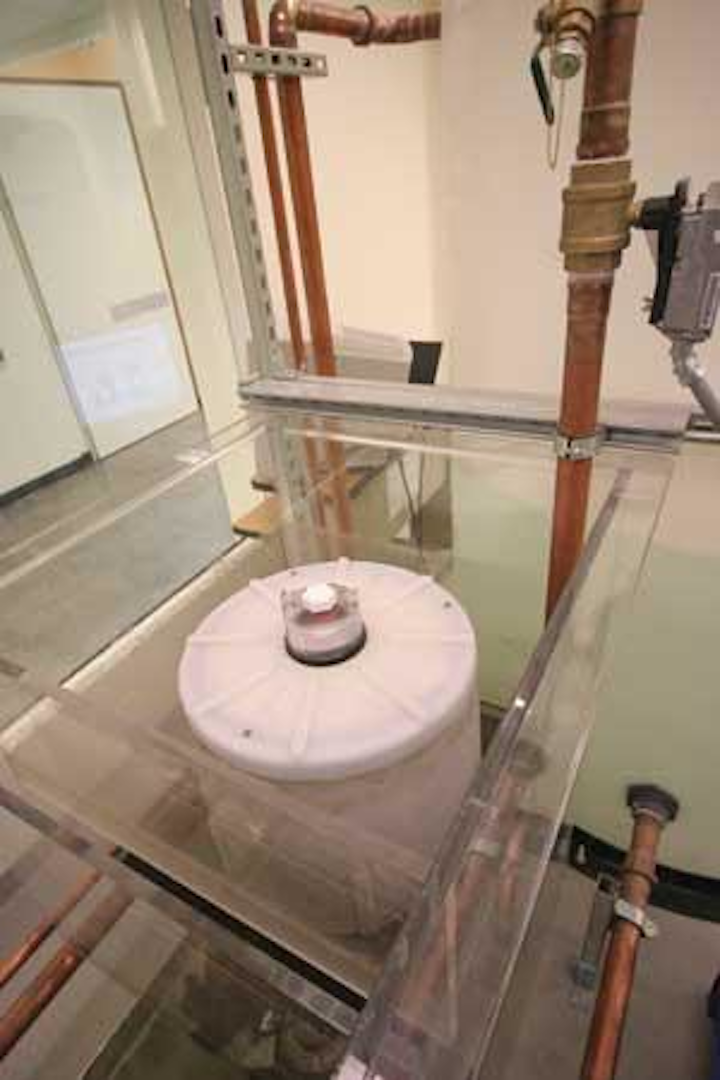 Stormwater Management StormFilter® systems remove pollutants from roof runoff before entering the graywater system.
By Corky Lambert
Students in the new hydrology lab at Portland State University's (PSU) Maseeh College of Engineering, Science and Technology in Oregon, USA, have a clear view of the building's graywater filtration system. Not only does the procedure collect rain from the roof for use in some of the building's toilets, it provides a live laboratory for the students.
Despite a winter break scramble to finish moving several PSU engineering department offices, the new US$ 44 million building opened in time for January 2006 classes. The five-story tower expanded the campus space for the university's growing engineering programs with a 120-seat auditorium, classrooms, 41 labs and office space.
Funded with public and private money, green design was a major consideration for the 130,000-square-foot engineering building. The state of Oregon provided $26.5 million in general bonds; the city of Portland $5 million and private funding another $12 million.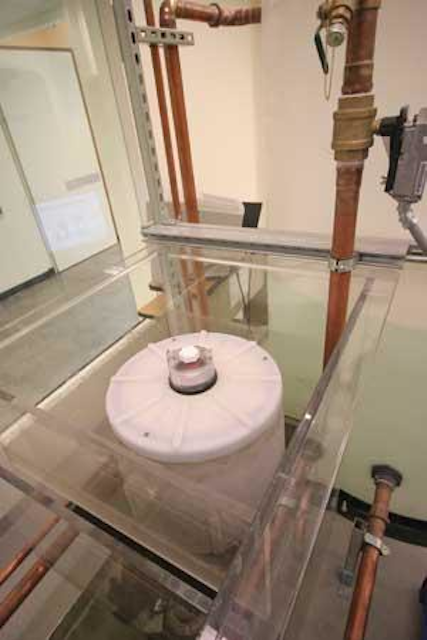 Portland State University's rainwater harvesting system has four stages-collection, storage, filtration, holding and pressurization and chlorination.
Photo by Contech Stormwater Solutions
Click here to enlarge image
Several sustainable design features led to the building's certification as a Leadership in Energy and Environmental Design (LEED) silver green building. LEED certification is a voluntary, consensus-based US standard for developing high-performance, sustainable buildings sponsored by the US Green Building Council. A silver award is the second highest level in a four-level rating program. LEED rating is voluntary, and its green guidelines lessen the huge impact of buildings on the environment by helping create more resource efficient buildings at all stages of design, including construction, operation and maintenance.
Green features adding to the building's LEED points included a geothermal heating and cooling system, three stormwater filtering systems, and a sophisticated rainwater harvesting system that collects and treats runoff from the roof. Collecting rainwater reduces the use of freshwater in the building, increases the effective water supply on-campus and saves money. It was this attention to sustainable details that led to the building's silver rating.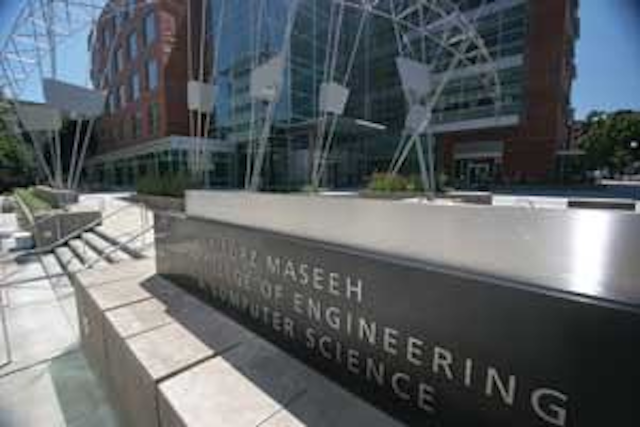 The Portland State University Maseeh College of Engineering building is LEED certified and uses a rain harvesting to collect gray water for use in toilets and labs.
Photo by Contech Stormwater Solutions
Click here to enlarge image
Rain harvesting gathers stormwater from 13,000 square feet, about 25 percent of the engineering building's roof. The rest of the runoff goes into three Stormwater Management StormFilter® systems from Contech Stormwater Solutions for processing by a compost media that filters soluble metals, oil and grease, total suspended solids, nutrients and neutralizes acid rain before it goes into the groundwater. Visible in the second-floor hydrology laboratory, the filtering stage of the treatment system also features a StormFilter. Contech donated the filter and engineering time to the school to support to sustainable practices, preservation, education, and ecological protection.
The smallest filtering system designed by Contech so far, it uses a single StormFilter cartridge held in a clear, plexiglass tank plainly visible to students working in the engineering lab. Placing it out in the open not only allows students, but also visitors to see the uniquely designed filtration system in action, normally impossible because filtration systems are found typically in underground concrete vaults.
The lab's StormFilter also uses compost media that treats the roof runoff by removing pollutants before they can enter the graywater system. The runoff treated by the StormFilter is stored in a large water storage tank. After ultraviolet disinfection, the graywater is routed through copper piping to a pressurized storage tank on the first floor. From there it's available for use in the bathrooms and hydraulics laboratory after chlorination.
Author's Note:
Corky Lambert is a stormwater consultant at CONTECH Stormwater Solutions in Portland, Oregon, USA, with nine years of experience in the stormwater treatment field.