On display at Aquatech Exhibition…
Aug 1st, 2006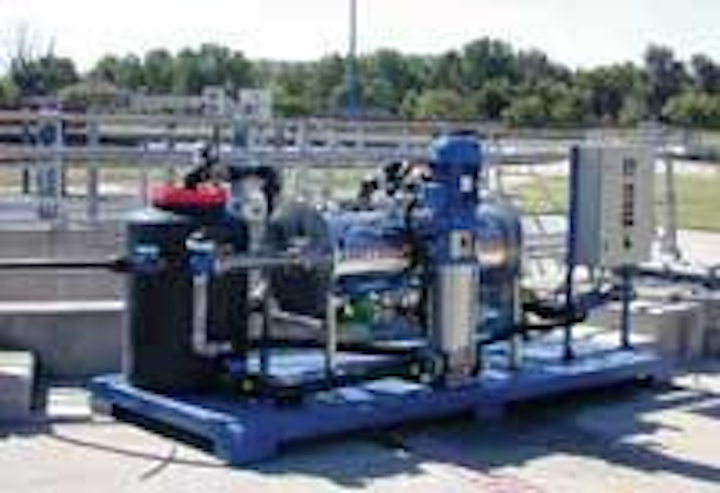 Amiad AMF filtration for RO pre-treatment and drinking water supply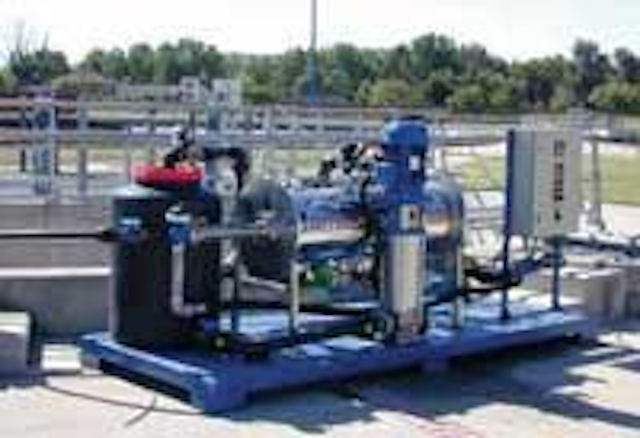 Click here to enlarge image
Amiad's AMF automatic Self Cleaning Micro Fiber consists of multiple layers of thread filter supported on plastic, arranged as cassettes on spindles within the filter unit casing. The AMF filter removes suspended particles to approximately two µm as water flows through the multi-layered micro fiber cassettes. Smaller particle sizes are excluded upon build-up of the filtration cake. The filter can be used in wastewater tertiary treatment, the treatment of drinking water, and as a pre-treatment stage for reverse osmosis (RO) applications.
Particle accumulation on and in between the filtration layers builds a differential pressure. At a preset pressure differential, or alternatively at an operator-defined time interval, an automatic control unit activates the self-cleaning cycle. In this cycle, closing the inlet and outlet valves isolates the cassette.
Amiad technology benefits:
RO feed-water pre-treatment benefits from the technology by the removal of fine particles, including organic material, a key contributor to biofilm growth.
Wastewater polishing, as discharge consents are tightened across the USA and EU, requiring improvements in suspended solids concentrations sometimes in the 5-10 mg/l range, and low turbidity (1-3 NTU).
Treatment of drinking water from surface water and boreholes. As a result of the better than two µm filtration, Cryptosporidium and Giardia cysts are eliminated at the required 4-log removal rate. Iron reduction is also achieved.
In the UK, more than 80 installed Amiad AMF units treat > 250,000 m3/day. Amiad is based in Kibbutz Amiad, Israel.
Find Amiad at Hall 01 Stand 127.
---

Berson UV displays DVGW-certified systems at Aquatech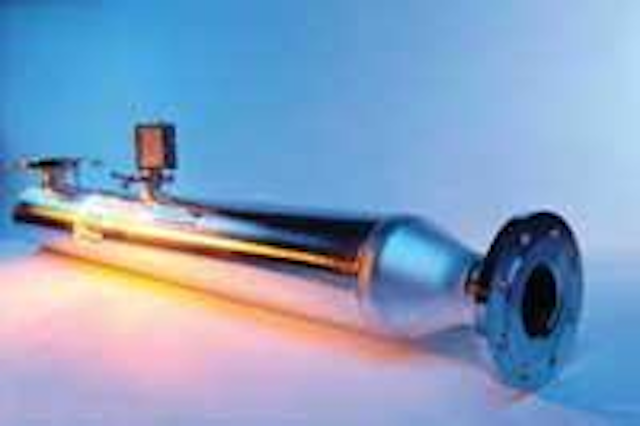 Click here to enlarge image
Berson UV will be showing its DVGW-certified UV water disinfection systems at this year's Aquatech trade exhibition in Amsterdam. Berson UV's InLine+ systems are the first of their kind in the world to meet the stringent new German Technical Association for Gas and Water (DVGW) Standard, W294 (Parts 1, 2 & 3). The National Water Research Institute (NWRI) and NSF International, an independent public health and safety company in the USA recently certified Berson UV systems.
The company will also be showing a wide selection of its conventional disinfection equipment and accessories, including UV sensors and automated wipers. Experts will be on hand at all times to provide technical expertise and answer questions.
The company has been awarded ISO 14001 certification for its Environmental Management System (EMS). An EMS provides a framework for managing environmental responsibilities so they become more efficient and more integrated into overall business operations. ISO 14001 is an international standard that formalizes this process.
Based in the Netherlands, Berson UV is a world leader in UV technology with over 30 years experience in a wide range of applications, including process, waste and drinking water treatment, dechlorination, ozone removal and TOC reduction.
Find Berson UV-techniek at Hall 1, Stand 128
---

RO membrane cleaners improve efficiency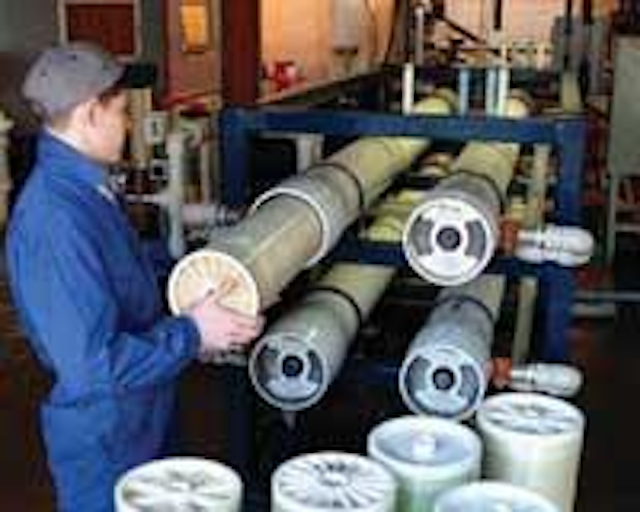 Click here to enlarge image
Membrane efficiency in RO systems can deteriorate quickly if membranes are not regularly cleaned. This may result in shortened membrane life, plant downtime and increased power consumption. Avista Technologies, based in Edinburgh, Scotland, have recently developed a more environmentally friendly cleaner and antiscalant to improve the biodegradability of the products.
Its RoClean P111C cleaner for use on specialized membranes improves overall efficiency. The original formulation contained EDTA, which is only four percent biodegradable in the permitted time.
Batches of 12 membranes were tested offsite using Avista's OSCAR membrane test unit to evaluate the cleaning effectiveness of the formulations on fouled membranes. Two formulations showed equal performance characteristics and were tested further in parallel to ensure selection of the best solution. The most environmentally friendly option was confirmed to be effective in site tests and has now been in beneficial use for over a year.
The new antiscalant Vitec SR further improves environmental performance. Static jar tests were used to determine the formulation required and test membrane compatibility followed by in-house pilot trials for 40 days under realistic full deployment conditions. Permeate flow and pressure differentials across the membrane surface were measured in these trials.
The in-house results were verified on site during an extended month's trial. All results were normalized to account for temperature and pressure differentials. These confirmed that Vitec SR performed better than its predecessor. Furthermore, the new formulation could prevent scaling on waste flows 20 percent more concentrated than expected under normal operation.
Find Avista at Hall 01, Stand 138.
---

Alldos and Grundfos display dosing equipment
Alldos dosing products will be on display at Aquatech Amsterdam in two stands - Alldos and Grundfos - to emphasize the many applications of its dosing equipment. On the Grundfos stand, Alldos will display dosing pumps for water treatment. On the Alldos Solutions stand, the company will feature specialist products including measurement and control instrumentation, disinfection technology, polymer preparation units, project engineering including dosing systems, ultraviolet products, electro chlorination units and dosing pumps.
For years, engineers have been using external flow switches to determine if a dosing pump is dosing or not. The TrueDos 209/222 Flow Monitor digital dosing pump offers this as an integral feature within the dosing pump by constantly monitoring the pressure within the dosing head, which immediately alarms out on error on loss of chemical to the dosing pump or over pressure within the discharge line. The pumps can also be profibus-enabled and feature integrated diaphragm rupture detection. Available with flows to 150 lph and pressure to 16 bar, these dosing pumps are dual voltage 110-230v, 1ph, 50/60 Hz, IP65 with an optional 24V DC version.
Find ALLDOS at Hall 1, Stand 106 and Hall 2, Stand 213
---

Ultrafiltration reliably treats pharmaceutical wastewater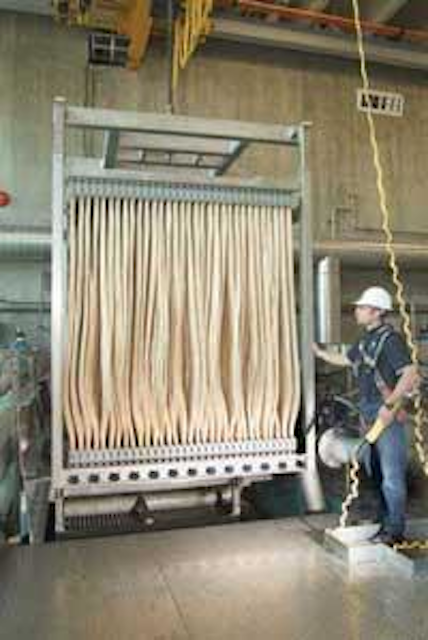 Click here to enlarge image
Pharmaceutical wastewater is unusually high in mixed liquor suspended solids (MLSS, 2000 - 40000 mg/l) and COD (10000 - 20000 mg/l). This wastewater poses specific problems for conventional CAS treatment because of its variable strength and the difficulties arising during final clarification due to high sludge production and floc destabilization.
Zenon Membrane Solutions, part of GE Water & Process Technologies, has successfully applied its ultrafiltration (UF) membrane bioreactor (MBR) systems to pharmaceutical wastewater treatment. These systems can replace or upgrade conventional treatment systems combining clarification, aeration and filtration processes. Biomass retention is complete, guaranteeing solids and COD treatment regardless of variable feed-water quality and shock-loadings.
GE's ZeeWeed® MBR uses immersed hollow fiber membranes to achieve UF. These fibers (0.04 µm nominal pore size) are gathered together as membrane cassettes to be directly immersed into the wastewater process tank. Filtration is from outside of the fiber to inside, under slight suction. The inside of the membrane only contacts filtered wastewater; removed solids remain outside the membrane without fouling its surface, whilst the exterior surface is continuously scoured of rejected solids by coarse bubble air diffusers.
GE ZeeWeed cassettes are available in pre-packaged plants for wastewater treatment, called Z-MODTM, which use reinforced, mechanically robust, ZeeWeed fibers designed for high MLSS environments. These filtration units, used in conjunction with a suitable aeration tank, flexibly and effectively treat variable strength influent, allowing optimization of the biological and hydraulic components. GE ZeeWeed MBR outperforms CAS-settlement treatment without the need for chemical dosing, typically achieving removal of >90% COD, >98% BOD and >99% TSS.
GE ZeeWeed MBR technology has been successfully installed in pharmaceutical organizations at sites in County Cork, Ireland at Pfizer (Ringaskiddy, 1500 m3/day treated) and GlaxoSmithKline (Carrigaline, 500 m3/day), both commissioned in March 2001. At Carrigaline, feed-water containing 250 kg/day COD, 160 kg/day (BOD), and 4.9 kg/day ammoniacal nitrogen, resulted in a guaranteed effluent quality (in mg/l) of better than 50 (COD), 10 (BOD) and 5 (ammonium) after treatment by the ZeeWeed MBR system.
Find GE Water & Process Technologies at Hall 01, Stand 124.
---

Hanovia launches latest UV disinfection system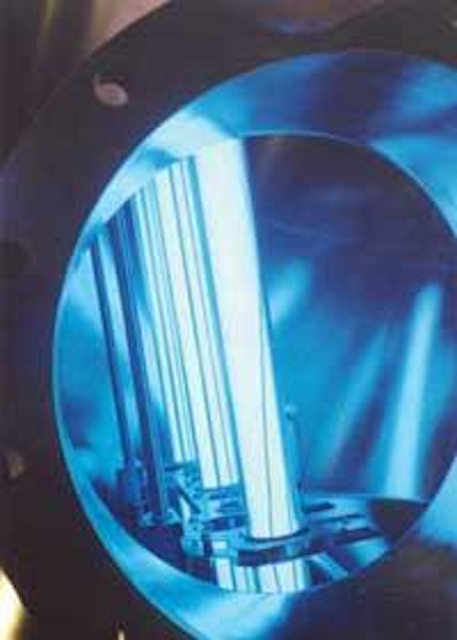 Click here to enlarge image
Hanovia is launching its new AF300 amalgam* UV disinfection system at Aquatech Amsterdam. With a UV lamp life of 12,000 hours, the AF300 produces an axial flow through an L-shaped, elongated treatment chamber, which increases residency time and improves disinfection performance. It can treat process and drinking water at flow rates of up to 50 m3/hour.
The company will also be showing its Crossflow, Photon and Quantum medium pressure UV systems and a cut-away model of a typical UV system, showing the UV lamp wiper mechanism.
Find Hanovia at Hall 1, Stand 232
---

Feeder requires near-zero intervention
Chemical feeding specialist Acrison will be exhibiting its water treatment range of products at Aquatech. Specifically, the eductor-based wetting cone system, ideal for dosing and immediate wetting of PAC, potassium permanganate and lime, will be featured on the stand.At its core is a dual concentric auger design volumetric feeder comprising dissimilar speed augers. The outer auger conditions the product for highly accurate and consistent feed of even very poor flowing products, with a central dosing auger, specified to suit the exact feed rate requirements of the application. The Al-105 Volumetric Feeder provides a durable design for a cost-effective installation that provides accurate and reliable chemical dosing with near zero operator intervention and maintenance. Engineers will also be available to discuss Acrison's dissolving tanks, gravimetric feeders and polymer preparation systems, and its range of refill options, whether these are from silos, bulk bags or single sacks.
Acrison International (UK) Limited
Manchester, UK
Find Acrison at Hall 3, Stand 308