ROUNDUP - Pumps & Motors
New 620 Series pumps deliver 50 percent more flow
Feb 1st, 2006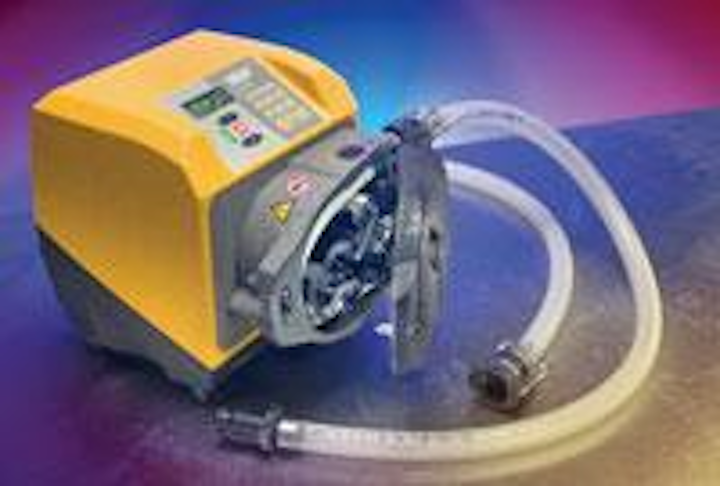 New 620 Series pumps deliver 50 percent more flow
Watson-Marlow Bredel recently launched the next generation of peristaltic pumps -- the 620 Series that provide flow rates at pump head speeds that don't compromise tube life. The 620 Series handles harsh chemicals in the water and wastewater treatment industry, including sodium hypochlorite, ferric chloride, sodium bisulfite, aluminum, fluoride, carbon and lime slurries, polymers, aqueous ammonia, potassium permanganate and caustic slurries.
The pumps deliver 50% more flow than the company's 520 Series; a single 620RE pump head is capable of 4.8 gpm and pressures up to 60 psi. This new Series provides performance with a control ratio of 2650:1. With no valves or seals to clog, the 620 Series pumps require minimal maintenance, resulting in reduced downtime.
The 620Du features manual control via a unique 16-key alphanumeric keypad, and automatic control (analog and RS485 communication) for remote operation and SCADA process integration.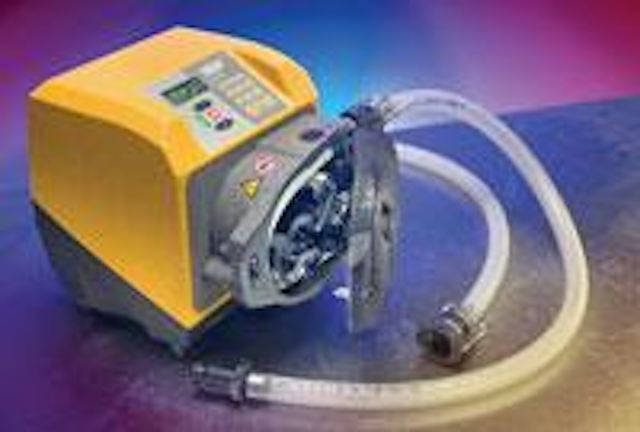 Click here to enlarge image
The 620 Series offers an exclusive, innovative PIN-secure process protection feature that provides two levels of PIN protection. For general biotech applications such as purification, the speed range can be capped to prevent accidental damage to delicate filters. In sensitive fermentation processes, keypad functionality can be disabled to avoid any inadvertent changes to pump settings. The keypad can also be disabled in remote installations to prevent tampering.
Watson-Marlow Bredel
Wilmington, Massachusetts, USA
Peristaltic pump transfers harsh liquids up to 200 psi
The Vector Series 3005 peristaltic pump features a lubricant-filled cavity for constant lubrication, and is capable of continuous duty pumping of harsh liquids at up to 200 psi. This pump also features a "roller and shoe" design that requires less starting torque and creates less abrasion than typical straight shoe designs, according to Wanner Engineering, which contends they are easier on motor/drive systems while providing increased hose life.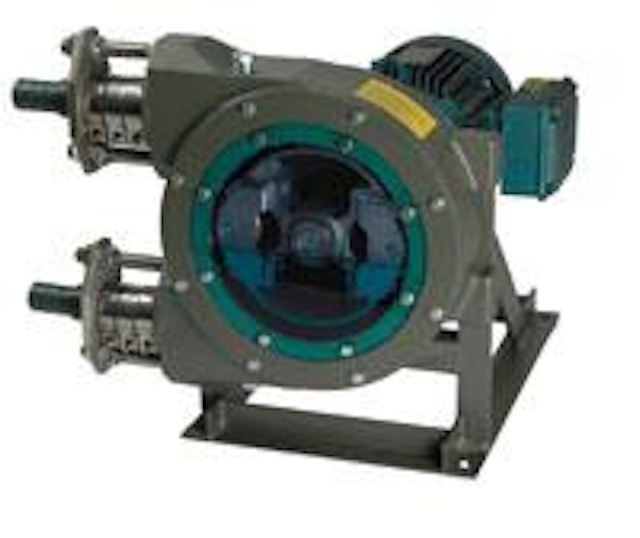 Click here to enlarge image
This industrial pump handles fluids with viscosity up to 100,000 cps and at temperatures up to 82ºC. They handle solids up to 15 mm and fibers up to 100 mm in length. They are used in water and wastewater treatment, chemical and petrochemical processing, pulp and paper, ceramics and mining. Vector Series 3005 pumps provide self-priming operation and can run dry without damage.
Wanner Engineering Inc.
Minneapolis, Minnesota, USA
Peristaltic technology solves sodium hypochlorite pumping problems
The UK company South East Water overcame difficulties in handling sodium hypochlorite by opting for peristaltic pumping technology from Watson-Marlow Bredel.
A highly corrosive and toxic chemical with strong disinfecting properties, sodium hypochlorite plays an important role in the water industry. However, its tendency to release gas bubbles and cause gas locking at the valves poses a major challenge to conventional pumping techniques.
Sodium hypochlorite is a corrosive chemical that has disinfection and bleaching properties, and is used to purify wastewater and disinfect drinking water. Dealing with the toxic chemical that emits chlorine when in contact with acids is difficult. It naturally releases tiny bubbles of gas, which have a tendency to collect on the small ball valves found in conventional diaphragm dosing pumps. This can cause gas locks in the system, which prevent the pumps from functioning.
South East Water had been using diaphragm pumps to dose sodium hypochlorite into drinking water; however company engineers found that gas locking problems required regular maintenance. This problem was eliminated when the pumps were replaced with 520U/R IP66 cased peristaltic pumps supplied by Watson-Marlow Bredel. South East Water found that the gas produced by sodium hypochlorite was able to pass straight through the tube without interrupting the dosing process, thereby reducing maintenance dramatically.
"We've worked with Watson-Marlow for years," explained Ray Lawrence, Process Engineer at South East Water, "so we understood the value of their peristaltic technology, and decided to use it in an innovative way. Because peristaltic pumps retain the fluid completely within the tube and have no valves that can leak or corrode, they can be used for the accurate metering of substances as challenging as sodium hypochlorite, without the associated gas locking and maintenance problems. Peristaltic technology has helped us to keep costly downtime to a minimum."
South East Water is also using the pumps for dosing sodium bisulphite in order to de-chlorinate the water after disinfection to remove the unpleasant taste. The chemical is dosed in very small quantities, which requires a high degree of precision and accuracy from the pump. Previously, it had been necessary to dilute the sodium bisulphite to control the dosage procedure accurately. This added an extra degree of complexity to the process, but Watson-Marlow's 520U/R IP66 peristaltic pump resolved the issue. The pump can be calibrated either by weight or volume. South East Water is now able to dose small amounts reliably even at low pressure, without the need for dilution.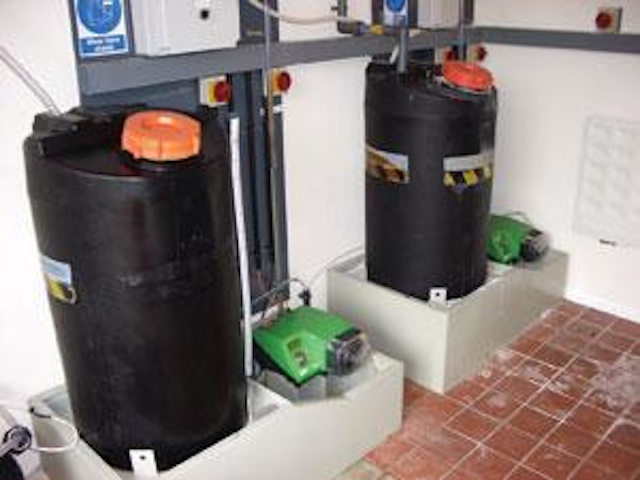 The 520 peristaltic pump is dosing sodium hypochlorite into drinking water.
Click here to enlarge image
The 520 peristaltic pump is dosing sodium hypochlorite into drinking water.
Dubai mall open to shop 'n ski
Grundfos' CR and AP pumps supply the water for snow canons that sprinkle a cloud of ice crystals at a steady pace, creating a perfect surface for skiing at Dubai's latest attraction - Ski Dubai.
Ski Dubai is the first indoor ski resort in the Middle East and one of the world's largest of its kind. From the outside the resort looks like a gigantic bag made of frosted aluminum foil. Inside 6,000 tons of snowflakes cover 22,500 square meters of slopes.
The huge structure is cooled by the same principle as a refrigerator, and an additional cooling system has been installed under the snow to ice up the base and create perfect snow conditions. Grundfos Dubai supplied pumps and pump systems for Ski Dubai and the Mall of the Emirates, and special shaft seals to maintain the extreme requirements.
In order to supply the perfect surface for skiing, the facility is fitted with snow canons that sprinkle a cloud of ice crystals. Snow is made of water and chemicals that are crushed under high pressure. This is precisely where Grundfos' NK and NB pumps supply the water for the snow canons, whereas CR and AP pumps take care of air conditioning in the gigantic mall.
Ski Dubai has a full capacity of 1500 guests. The center has slopes of varying difficulty and lengths, longest run of 400 meters, the longest run being 400 meters with a fall of over 60 meters. If the inhabitants of Dubai want to try real snow, the nearest natural ski resorts are situated in Iran or Lebanon.
Grundfos Group
Bjerringbro, Denmark
Pump controller shipped telemetry ready
The LC150 pump controller is the newest addition to the Siemens Water Technologies' family of "View-at-a-Glance" controllers for pump station applications. The new LC150 controller includes three significant features: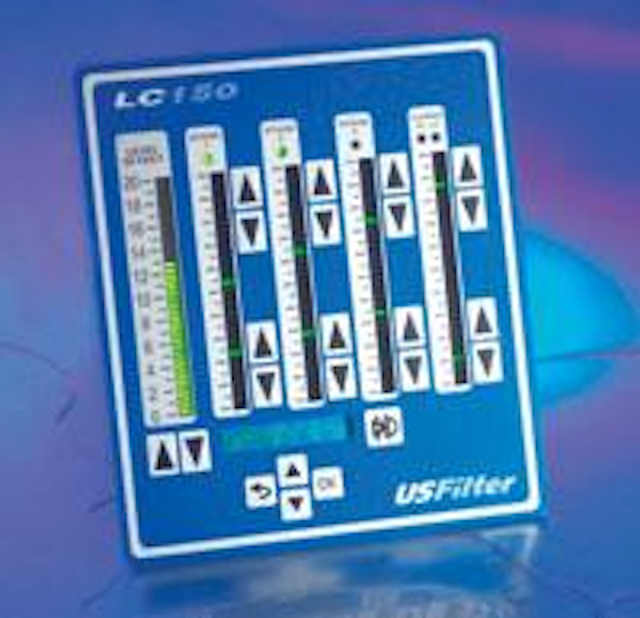 Click here to enlarge image
• Shipped telemetry-ready. Along with a radio, phone line connection, or connection to a high-speed Ethernet interface (with the Ethernet option), the controller allows operators to monitor station status; change pump start and stop set points; change high and low level alarm set points; acknowledge alarms; and view pump run, fail, and performance information.
• Has a time and date stamped Alarm/Event Log that provides operators with historical information to analyze pump performance and system failures.
• Incorporates multiple levels of security protection. A password protection system prevents unauthorized modification of the controller's controlling parameters.
Siemens Water Technologies
Warrendale, Pennsylvania, USA
InfoWorks 7 adds automated pump optimization feature
The latest version of Wallingford Software's InfoWorks WS software for water supply and distribution network includes automated pump optimization. Other developments include enhanced query tools and demand analysis, and further development to the Critical Link Analysis tool released in early 2005.
InfoWorks WS v7.0 features an Automated Pump Scheduler based on the use of genetic algorithms for producing optimized pump schedules. The optimizer includes comprehensive modeling of power tariffs and is able to account for high and low voltage costs, pump standing charges, varying maximum and usage power rates through day, week and year, and multiple power suppliers.
InfoWorks WS v7.0 will also feature enhancements to querying tools and demand analysis. SQL queries can now be run against two sets of simulation results at the same time, to compare and report on key differences between the two scenarios, which helps assess the impact of alternative courses of action. For demand analysis, InfoWorks has the most advanced toolset in the industry for allocating demands to a network, according to the company. In addition to the features listed above, InfoWorks WS v7.0 provides clients with a long list of new features and improvements. The Critical Link Analysis tool has been further developed to be run against large networks of more than 50,000 links that InfoWorks routinely models
Paul Banfield, Sales Director of Wallingford Software, explained the benefits of the new release: "With skyrocketing energy prices, our clients will be happy to hear that InfoWorks WS now includes a free pump optimization tool. Typically optimization software is a separate module that has to be purchased at extra cost or as a consulting service.".
Wallingford Software Ltd
Wallingford, UK
Submersible pump designed for sewage applications
A self-priming UVAC set with two PX3-80 dry-pit mounted pumps, complete with pipes and valves, is designed to handle solids, especially in raw sewage applications with large solid contents and fibrous material. Each of the high-performance EFF 1-rated motors is capable of discharging 75 m3/hour at 220 ft. or 300 US gallons/minute shut-off head. It has the power to suck seven meters.All PXPumps feature "Ecoflu" cooling jackets, which ensures optimum cooling of the motor across a wide range of operating conditions. Features of the new range comprising 17 models include:• Double mechanical seals, in a user-friendly cartridge, facilitate speedy on-site seal changes without the need for special tools. • Quick release stainless steel latch bolts enable easy removal of the motor unit from the pump volute.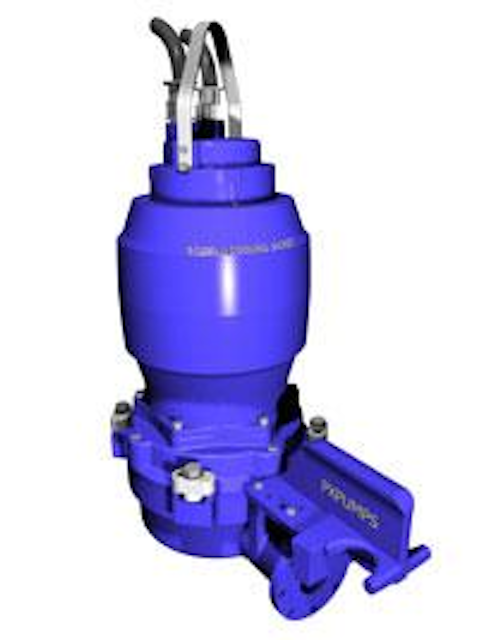 Click here to enlarge image
All pumps are available with a wide range of single vane, multi-vane and vortex impellers in ductile iron or high-grade stainless steel. The smallest PXPump is the PX0-50, 11/2 " with a power rating of 0.74 HP (0.55 kW) giving a nominal rate of 120 gallons per minute (8 litres/second), lift of 26 feet (8 m) and has the ability to handle up to 6% solids of almost 1 1/2 " (36 mm).The range extends up to the largest, the PX4-300 - a 12 1/2 pump with power rating from 30 to 133 HP (22 to 100 kW). This powerful pump has the capacity to handle in excess of 8,900 gallons per minute (560 l/sec) and head heights of 80 feet (25 m). Designed for the toughest wastewater handling application, the PX4-300 can handle solids up 51/2" (140 mm) in diameter.
PXPumps A/S
Skanderborg, Denmark