Combined MBR process recycles industrial wastewater for potable use
Water recycling is a reality for two food processing facilities by combining an advanced membrane bioreactor process developed by the UK company Aquabio with reverse osmosis and ultraviolet disinfection to treat wastewater.
Dec 1st, 2004

Water recycling is a reality for two food processing facilities by combining an advanced membrane bioreactor process developed by the UK company Aquabio with reverse osmosis and ultraviolet disinfection to treat wastewater.
Increasing water costs and legislative pressure through the IPPC, the Water Framework Directive and the Landfill Directive, are driving European industry to look closely at their water use and consider recycling.

UF membrane banks at Kanes Foods in Geest
Click here to enlarge image
Unlike more traditional wastewater treatment processes such as conventional activated sludge systems, membrane bioreactors (MBRs) can deliver the higher quality effluent and reliability required to make water recycling a reality . MBRs can achieve this in a fraction of the footprint area compared to a traditional system.
Aquabio, a UK company, designed and installed turnkey wastewater treatment and re-use plants at two food production facilities -- Kanes Foods in Worcestershire and Geest; and Bourne Salads in Lincolnshire, England. Both projects were developed in the face of increasing demand for water re-use, driven by high costs for potable water supply and high disposal costs when discharging wastewater to sewer. The installation of MBR and tertiary reverse osmosis (RO) plants has enabled Kanes Foods and Bourne Salads to cost effectively treat their wastewater to the high standards necessary for potable re-use. "Closing the loop" within their operating units brings revenue savings, strategic control over their own water resources and significant flexibility for factory growth and production without external dependence on water companies.
The Advanced Membrane Bioreactor Process (AMBR) is a high performance and robust biological process, using a small footprint and yielding treated water suitable for direct feed to an RO process to allow water re-use. This MBR configuration comprises the use of jet aeration within the bioreactor and external "cross-flow" type ultrafiltration (UF) membranes for biomass separation. (see Figure 1).
The use of the JETOX system (jet aeration) within the bioreactor delivers high oxygen transfer rates via easily accessible and low maintenance equipment. This system also allows separate control of air injection and reactor mixing functions, resulting in significantly reduced power use for processes with high fluctuations in reactor feed load, typical of industrial effluents.
The use of UF membranes for biomass separation allows the operating biomass concentrations in the bioreactor to be increased to a range of 10,000 mg/l to 30,000 mg/l (MLSS). Hence, the bioreactor tank can be three to ten times smaller in volume in comparison with conventional AS units. This, coupled with the fact that the UF membranes take up far less space than a traditional final settlement tank, means that the AMBR process has a very small footprint.
Furthermore, as UF membranes separate the biomass, the inherent problems associated with settlement tanks e.g. sludge bulking, are removed leading to easier operation and a greater degree of process control.
Both clients selected the cross flow UF membrane AMBR system due to a number of reasons. The prices for the UF membranes were lower than the equivalent submerged type of membranes. In addition, the external cross-flow membranes offer greater permeate flux rates then submerged gravity-type membranes. External membranes are also easier to clean and maintain. The use of a true ultrafiltration membrane with a low molecular cut off allows direct application of the UF permeate to RO treatment without the need for intermediate processes.

The reverse osmosis unit at Kanes Foods facility in Geest, UK
Click here to enlarge image
Kanes Foods is a major fresh vegetable and salads processor based in the Midlands, England. Hydraulic limitations on discharge to the sewer, increasing pressure on incoming water use, increasing discharge costs and the need for factory expansion highlighted the potential benefits of water recycling.
Company officials of Bourne Salads, part of Geest PLC, found themselves in a similar position. Since the factory was built in 1997, dynamic growth has lead to considerable expansion and an increase in volumetric discharge to sewer. The company was faced with either contributing to a significant upgrade of the local sewage facility or developing an in-house effluent strategy involving treatment and re-use of water.
Both companies commissioned Aquabio to survey their effluent treatment facilities and develop a full scale design to provide full biological treatment in a MBR system, followed by RO and UV disinfection allowing re-use into the factory.
Aquabio carried out pilot studies using its AMBR pilot plant to test the effectiveness of the treatment solution. The studies proved that sufficient treatment could be achieved on a reliable basis and that the final RO treated water was fully compliant with the parameters set out in the Water Supply (Water Quality) Regulations 2000 .

Click here to enlarge image
null
Table 1 shows some of the design parameters for both projects. At Kanes Foods, the AMBR process takes the form of two No. 250-m3 bioreactors, which are aerated and mixed by two No. Jetox aeration systems providing a total of 1,980kgO2/day. The contents of the bioreactor are pumped continuously through four banks of UF cross-flow membranes.
The biologically treated water is removed as permeate from the UF membranes . At this stage, the water is free of solids and bacteria, containing only low residuals of BOD/COD . The UF permeate is then passed through a two-stage RO plant that acts as a molecular "filter," producing very high quality water. The molecular cut-off of the selected UF and RO membranes provide a complete barrier to bacteria, Cryptosporidium and Giardia cysts, but a final safeguard is applied by the use of UV disinfection treatment. Following UV, treated water is mixed with incoming towns water for re-use in the factory.
At Bourne Salads, an existing storage tank was converted into a bioreactor by adding JETOX aeration systems. The UF membrane separation system consists of three No. UF membrane banks retrofitted into an existing building . Like Kanes, further treatment is achieved through a two-stage RO system with a recovery rate of circa 75% . Again UV disinfection is applied prior to mixing with towns water and re-use throughout the factory processes.
Both sites have shown high rates of COD removal being achieved within a short period of time after start-up of the bioreactor. COD removal is in excess of 98% with UF permeate concentrations consistently below 20 mg/l. The AMBR copes with variable feed COD concentrations whilst maintaining low and stable outlet concentrations.
UF membrane performance for both sites has been better than design with permeate flux averaging 154 l/m2.hr and 161 l/m2.hr for Kanes and Bourne Salads, respectively. This arrangement has allowed one bank at each site to be kept as a standby, leading to lower energy usage and greater operational flexibility.
The membrane separation process provides filtered quality water and therefore suspended solids in the permeate are virtually undetectable (less than 10mg/l). This allows direct application of the tertiary RO process.
Following RO, the final re-use water is suspended solids-free with conductivity in the range of 40-100 μS/cm2 . Regular monitoring of the water has shown it to be completely clear of total coliforms and bacteria and fully compliant with the Water Supply (Water Quality) Regulations 2000, allowing it to be designated as "wholesome" and suitable for contact with food products.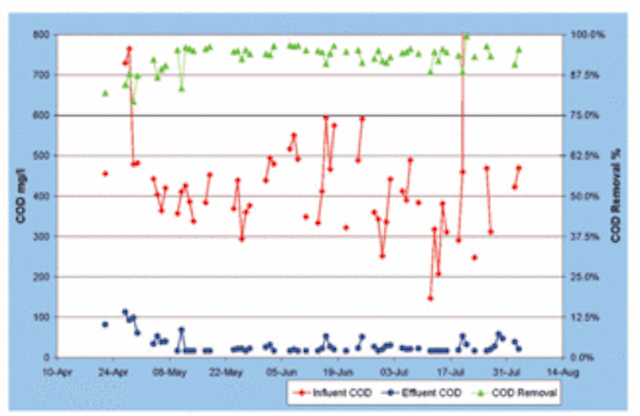 COD removal at Kanes Foods' wastewater treatment and reuse plant
Click here to enlarge image
With these performances, both factories have been able to recycle a significant proportion of their total water usage, saving on water supply and trade effluent discharge costs. Bourne Salads can recycle up to 45%, yielding annual net savings of circa £250,000. A recent upgrade to the RO system at Kanes has increased their maximum re-use water rate to 960 m3/day (64% of current water use) increasing annual net savings to around £320,000.
For each project, the AMBR technology has provided a compact and reliable biological process, and in combination with RO/UV has allowed recycling to potable water standards . At both sites, pressure on discharge limits has been alleviated, allowing the companies greater flexibility in operation and scope for increased production.
Both projects have delivered significant cost savings on water supply and trade effluent discharge . The combination of AMBR/RO/UV has delivered a commercially attractive water treatment and re-use solution.
Authors' Note
Geraint Catleyis the process engineering manager of Aquabio Ltd., based in Worcester, England. Wesley Jones is the sales manager at Aquabio, also based in the company headquarters in Worcester. For more information, visit www.aquabio.co.uk.