Technologies & Products
Dec 1st, 2004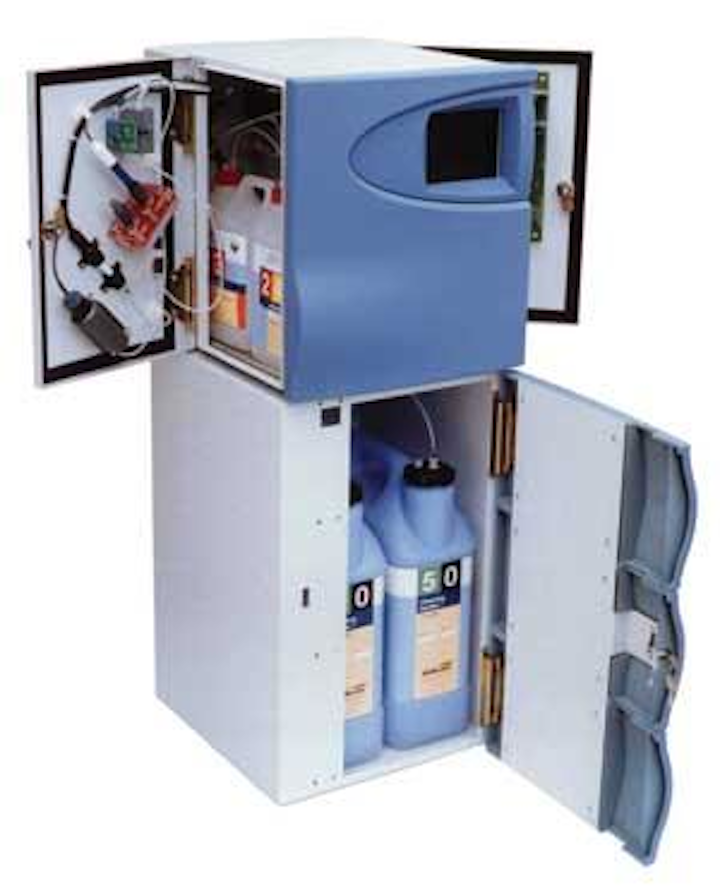 Mini analyser designed for long-term,on-site use
A new Mini-Analyser provides on-site, laboratory-quality analysis of physical and nutrient parameters of water for wastewater, aquaculture, industrial discharge and environmental monitoring.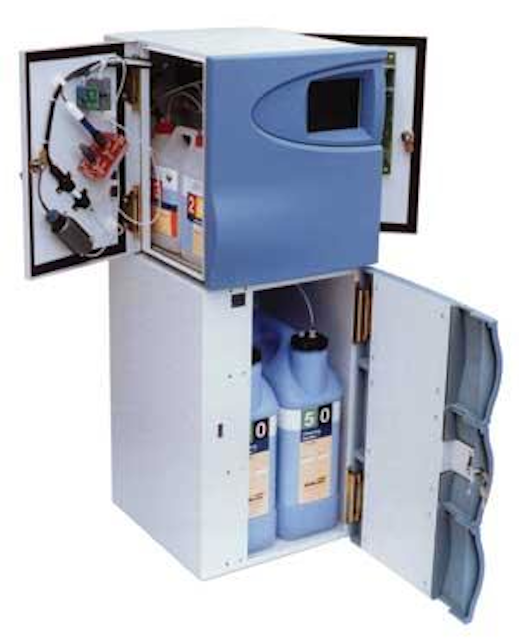 Click here to enlarge image
Part of a complete line of technologically advanced water monitoring and telemetry instruments for government and industry, the unit analyses water quality on-site. A portable method of water quality analysis, the Mini-Analyser is an extension of Stevens' line of water quality analysers, including its larger AquaLab Analyser. It comes equipped with many of the same features as the AquaLab, including on-board standards and dynamic calibration.
The mini analyser offers immediate access to data, and is designed for long-term deployment where continuous, unattended analysis is needed. A computer-controlled system automatically pumps water samples through tubes to the sensors. Once the sensor analysis is complete, the analyser self-purges the sensors and all the water collection tubes to prepare for an accurate, uncontaminated reading of the next scheduled sample.
The compact unit can be configured to measure physical parameters (pH, electrical conductivity, dissolved oxygen, oxidation reduction potential and turbidity) or nutrient parameters (total reactive phosphorous, nitrate, ammonia or ammonium). Set-up and configuration is via user-friendly Windows software or can be accessed through a built-in, touch-sensitive LCD screen that also provides data collection and diagnostic information.
"The Mini Analyser meets our goal to provide reliable, easy-to-use environmental monitoring tools and offers a good, economical option for organisations that don't require the full capabilities of the larger AquaLab," said Scott South, chief executive officer of Stevens Water Monitoring Systems, Inc.
System monitoring, diagnostics and data analysis can all be performed via a desktop PC when the analyser is used in conjunction with telemetry options, such as those Stevens offers. The analyser helps incorporate data from other water and weather monitoring sensors, and sampling instruments for an integrated, comprehensive environmental monitoring solution.
Stevens' partner is Greenspan Technologies Ltd., the company that designed and developed the analyser line of products in conjunction with the Commonwealth Scientific & Industrial Research Organisation (CSIRO) and other Australian research organisations.
Stevens Water Monitoring Systems
Portland, Oregon, USA
Multi-elementalbench top analyser helps quality control
The multi-elemental bench top SphiNCXanalyses total sulphur (TS), total nitrogen(TN), total organic carbon (TOC) and totalorganic halogens (AOX/TX).
The analyser offers high and low measuring ranges in a wide variety ofsample types, and controls ultra low lev-els of sulphur preventing contaminationin fuel cells. It incorporates and is compat-ible with the multifunctional NeXYZ auto sampler, the first of its kind forsolids, small volume hydrocarbons, largevolume water samples and headspaceanalysis. Its flexible design allows users to switch rapidly between nitrogen,sulphur, chlorine and carbon analyses,whilst bench space and investment costs aresignificantly reduced. The dualtemperature furnace guarantees at least five years lifetime and prevents overheating. The turbo quartz tubeenables optimum combustion of all solid, liquid, gas and highly viscous samples.
The SphiNCX instrument is used for quality control of groundwater, wastewater,sludge and drinking waterand monitoring of nitrogen, carbon andhalogens.
Thermo Electron Corporation
Delft, The Netherlands
Small-capacity waste-water decanter offers lowoperating costs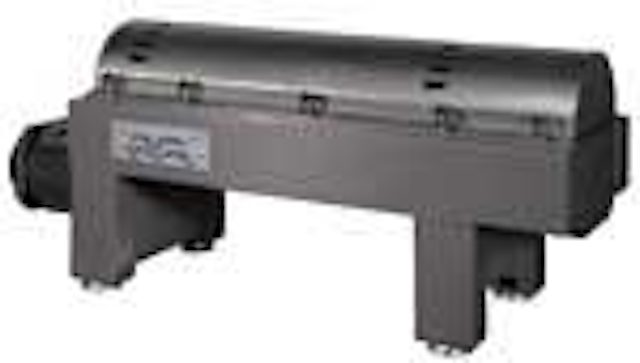 Click here to enlarge image
Alfa Lavallaunched the Aldec10 decanter centrifuge, a newsmall capacity, high-performancewastewater decanter, which is suitablefor handling throughputs of all types ofsludge including those with very low (<1% DS) and very highsolids content.
The compact decanter provides reduced sludge volume, lesspolymer consumption, lower life cycle costs, higher cake drynessand clearer effluent, according to Alfa Laval. Its average capacityfor normal dewatering duties is 0.2 to 2 m3/h. It provides continu-ous operation with low energy consumption and low operatingcosts.
Alfa Laval Inc.
Richmond, Virginia, USA
Hybrid controller improvesprocess efficiency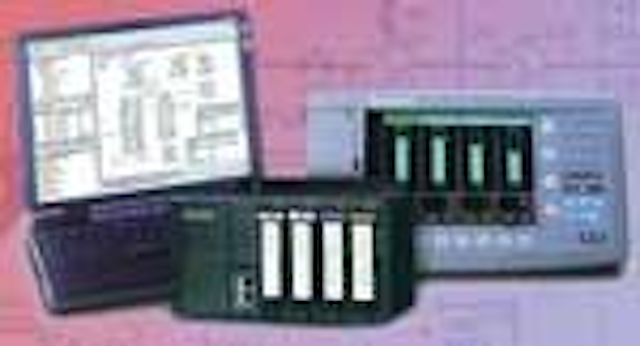 Click here to enlarge image
The Honeywell HC900 Hybrid Controller combines process, logic and sequence control algorithms with data acquisition, amodular design and a graphical configura-tion tool.
Its modular design can be scaled toprocess needs. Applications include controlof furnaces, dryers, ovens, boilers, sterilis-ers, pasteurisers, autoclaves, reactors, watertreatment, utility balance of plant equip-ment and related data acquisition.
The Windows-based Hybrid ControlDesigner software tool graphically config-ures the controller and an optional plantfloor Operator Interface, reducing configu-ration time and cost. The run-mode config-uration edit capability plus monitoringfunctions minimise process interruption,saving start-up time and allowing continualprocess improvement while running.
The HC900's integrated loop and logiccontrol shortens design time; the pre-for-matted colour displays decrease develop-ment time; and automatic tuning and fuzzylogic reduce start-up time.
Honeywell Control Systems Limited
Bracknell, UK
Sebalog recordsleak sound frequency in pipe networks
The newly developed Sebalog System pro-vides a safer pipe network survey thanother methods and reduces the cost of net-work evaluation, according to the Germancompany SebaKMT.
The Sebalog reads the sound logger datausingradio communication; however thesound logger records not only the soundlevel of the leakage but also the leaksound frequencies to ensure a more accu-rate reading about the presence of leaks,especially on plastic pipes even with longmeasuring distances. The stored data ofthe loggers are transmitted via radio com-munication to the special receiver unit -the Commander - while simply driving bythe logger location.
On the spot, the user will receive agraphic and acoustic indication about thestatus of the leakage. Seba-Loggers do notonly transmit recorded data to theCommander; they also feature wirelessprogramming without interface cabledirectly from the Commander.An addi-tional "E-Box" enables programming of alarge number of Seba-Loggers with onemouse click. They fit under any valve lidwith the low height of the loggers of 110mm - including antenna.
SebaKMT
Baunach, Germany
Decanter's high g force ensures rapid settling
The latest addition to the Westfalia CD Force range of decanters, the UCD536, is specifically designed fordewatering municipal and industrial wastewater andsludge.
The new design features energy-efficient primary and secondary motors in its patented twin-drive system thatdevelop a high g force of 3,850 g to ensure rapid settlingfor clarification and produce a high compressive forceon solids. This, coupled with the deep pond design,provides a compressive weight of solids with longerretention time for maximum dewatering.
Contact surfaces are constructed with Duplex steelcentrifugally cast for high mechanical strength. Thesolids discharge has exchangeable brushes for reducedwear. Athree-phase AC motor drives the decanter bowl.
The power required during start-up is kept low due toan adjustable fluid clutch. Power transmission isthrough the patented two-gear drive system and auto-matic torque regulation continuously adjusts the con-veyor differential speed to compensate for consistentsolids drying even with a fluctuating feed concentra-tion. The UCD536 features a potential throughput of 55cubic metres per hour. Westfalia separators in the rangeare designed to handle volumes from one to 160 cubicmetres per hour.
Westfalia Separator Ltd.
Milton Keynes, Buckinghamshire, UK
Pipe welding system range further developed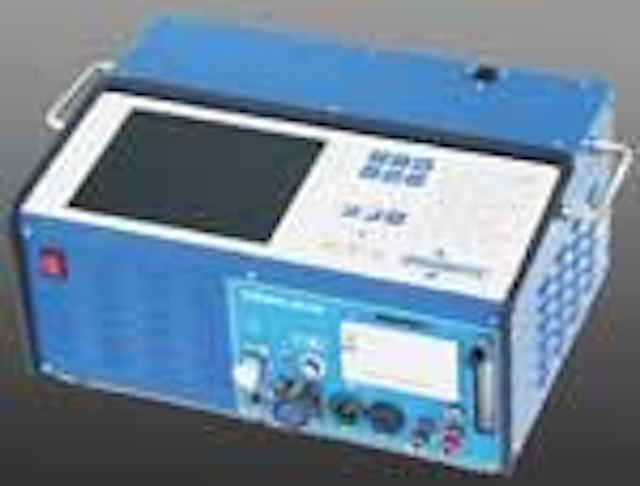 Click here to enlarge image
Orbimatic further developed itsrange of Orbital TIG Welding Equipment by introduc-ing the Orbimat 165C Basic power supply,which canbe used to control welding heads that provide anoperating range from 3 mm to 275 mm outside diam-eter tubes, pipes and fittings.
This compact water-cooled orbital welding powersupply machine weighs only 24 kg with the coolingsystem full of coolant, bringing below the single per-sons lifting limit. Its design introduces inverter technol-ogy throughout the machine enabling it to work withany input voltage between 80 and 260 VDC.
The addition of a "Compact Flash" port on the frontpanel of the machine, which allows welding data to bestored or transferred. The system also sees the intro-duction of low noise, long life components which willmake the equipment moreuser friendly in laboratoryenvironments.
The Orbimat 165C Basic uses the same softwareasthe Orbimat 160C and is easy to use with a simplemenu system for ease of use. The 165C model can beused with any Orbimatic welding head.
Orbimatic Gmbh
Buseck, Germany
Fixed-point detection systemsmonitor toxic gas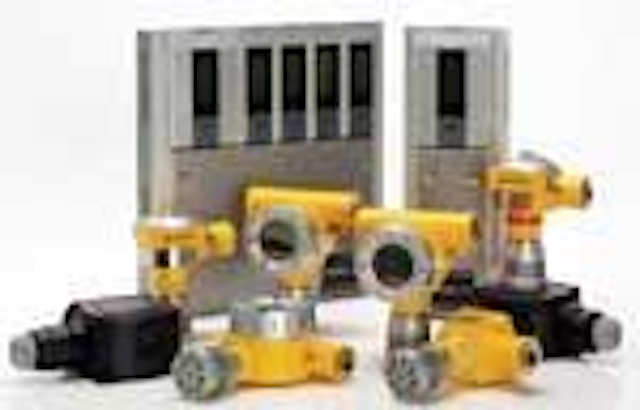 Click here to enlarge image
The new Zareba range of fixed-point gasdetection systems for wastewater treatmentfacilities provides flammable, toxic andoxygen gas monitoring solutions that canbe created by users selecting the mostappropriate sensors and controllers fortheir application, according to Zellweger Analytics.
Treatment facilities can select from aseries of sensors that range from a simplesensor to a sophisticated transmitter withprogrammable alarm relays and 4-20mAoutput. The weather-proof units are oper-ational in and out ofdoors and protectagainst flammable,toxic and oxygen gashazards, such ashydrogen sulphide(H2S), methane (CH4)and carbon monox-ide (CO) that arefound in applica-tions, such as sludgetreatment, anaerobicdigesters and de-watering.
Zareba controllers can be used stand-alone or as part of a larger distributed con-trol system. They can monitor gas hazardsin a large area or several discreet locationsfrom a central site. Driven from AC and/orDC supplies the units areself-contained,wall-mounted, with ultra-clear backlit dis-play.
Zellweger Analytics
Poole, Dorset, United Kingdom
Vacuum liquid dosing system re-engineered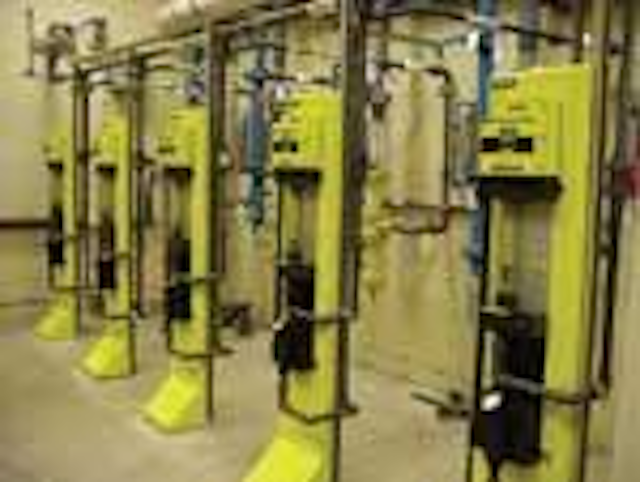 Click here to enlarge image
Portacel re-engineered its vacuum liq-uid dosing system, originally designedfor the sodium hypochlorite market, forcomprehensive use in chloraminationsystems for potable water productionfacilities and in chlorination/dechlori-nation processes for wastewater treatment plant effluent streams.
More municipalities are moving toward chloramine use to extendsafely acceptable disinfection residuals through the water distributionsystem. Consequently, there is a greater need for automatic controlthat adequately doses sodium hypochlorite and aqueous ammonia inproper proportion to achieve monochloramine activity in the distribu-tion system. Software modifications to the Portacel Automatic ValvePositioner (AVP2) permit a systemic approach to chemical feed underasafe and reliable vacuum technology, according to Portacel, Inc.
The Portacel Trent vacuum system provides V-notch metering tech-nology coupled with electronic controllers that can be used independ-ently or with a facility SCADAsystem. The AVP2 controller will oper-ate in a variety of control modes including flow/residual/trim, stan-dard compound loop configurations, flow only and feed forward.
Standard disinfection chemistry that can be dosed through this vac-uum system include sodium hypochlorite, sodium bisulphite, LASand other ammonia derivatives.
Portacel, Inc.
The Woodlands, Texas, USA
Upgraded swing check valve increases pressure-rating performance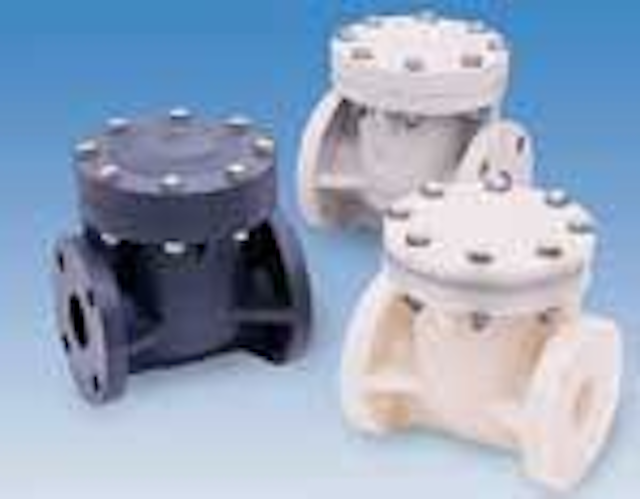 Click here to enlarge image
The upgraded Swing Check Value, used in water andwastewater treatment plants, features a top bonnet O-Ring Seal design that improves pressure-rating per-formance when using elastomeric seal materials andfacilitates maintenance.
"The valve enables users to achieve higher pressureratings while maintaining a top-entry bonnet design toallow in-line maintenance," according toAsahi/America Vice President of Engineering Valvesand Actuation, Leo Lester. The valve is available in3/4-in to 8-in sizes and is rated for full vacuum service.
Asahi/America, Inc.
Malden, Massachusetts, USA
Dual-stage MBR meets water reuse challenges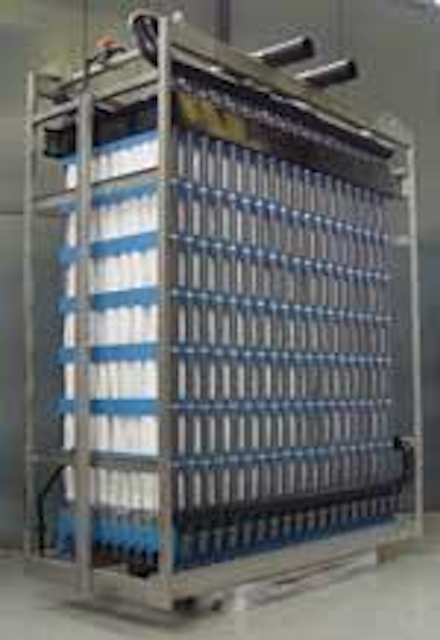 Click here to enlarge image
Adual stage membrane bioreactor (MBR)system that includes diffused aeration, bio-logical treatment, and a hollow-fibreimmersed ultra-filtration membrane offerslow operating costs, high effluent qualityand a compact footprint, claims the UScompany Sanitaire.
The MBR system is designed for munici-pal and industrial applications. "The dual-stage membrane reactor represents a keyelement in the growth of ITT in the waterreuse market, said Sanitaire President ofAdvanced Water Treatment Tom Pokorsky.The advanced biological nutrient removaland filtration process incorporates Sanitairefine bubble aeration to maximise aerationefficiencies. The optimised aeration andmembrane systems lower overall operatingcosts. The air scouring system keeps mem-branes free of solids.
The membrane module design features areinforced hollow fibre for long-term mechanical strength. The membranes areimmersed in baffled arrangement with afree-floating upper membrane section. Thesingle-ended free floating fibre designimproves membrane operation and reducesmembrane fouling by eliminating materialaccumulation at the tip of the fibre.
Sanitaire
Brown Deer, Wisconsin, USA