Veolia improves potable and process water clarifier
Veolia Water Solutions & Technologies' new generation of clarifier for potable and process water in industrial and municipal application, the Actiflo® Turbo system is equipped with a coagulation tank, a flocculation tank which contains a TurbomixTM to enhance flocculation by installing a draft tube around the mixer impeller.
Dec 1st, 2007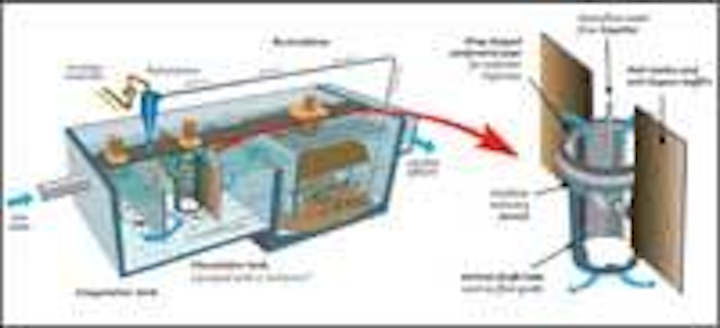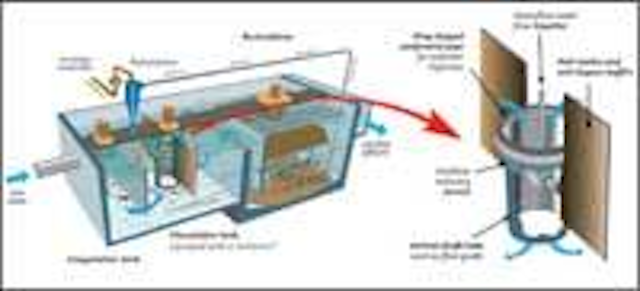 Click here to enlarge image
Veolia Water Solutions & Technologies' new generation of clarifier for potable and process water in industrial and municipal application, the Actiflo® Turbo system is equipped with a coagulation tank, a flocculation tank which contains a TurbomixTM to enhance flocculation by installing a draft tube around the mixer impeller. This enables optimisation of agitation and thus the flocculation process. After these two tanks there is a lamellar settling tank with a sludge scraper, lamellas and collection launders. A centrifugal pump draws the sludge and microsand towards a hydrocyclone which separates and recovers the microsand. Protected by patents, the system comes in prefabricated modular units that are extremely compact (covering a surface area of 40% less on average than the previous generation, but offers similar water production flexibility and speed), thus using fewer construction materials and enabling manufacturers to adapt their water treatment capacity to their needs.
Veolia Water Solutions & Technologies
Paris, France
www.veoliawaterst.com
Enquiry No. 200
Severn Trent standardizes onsite chlorine generator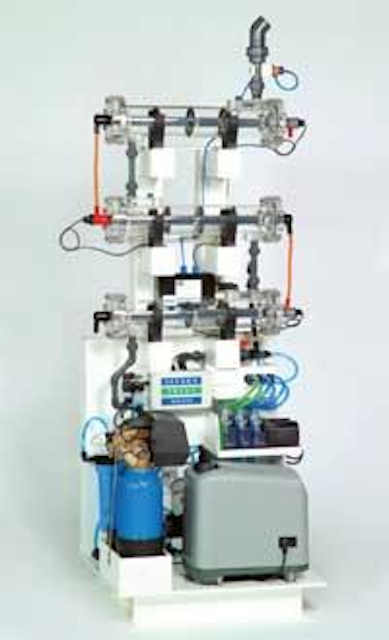 Click here to enlarge image
Severn Trent Services has introduced a standardized ClorTec® Series MCT onsite sodium hypochlorite generating system to meet disinfection requirements for 12 to 36 lb/day and 5.4 to 16.3 kg/day of chlorine equivalent. The systems are supplied in a factory–tested, skid–mounted configuration and come with standard features including a high–efficiency electrolytic cell or cells, on–board water softener, integrated control panel/power supply and brine proportioning pump. Standardization ensures easy ordering, and the system's compact design allows for easy maintenance and system expansion.
Severn Trent Services
Fort Washington, Pennsylvania, USA
www.severntrentservices.com
Enquiry No. 202
Wallingford Software launches InfoWorks SD and InfoWorks 2D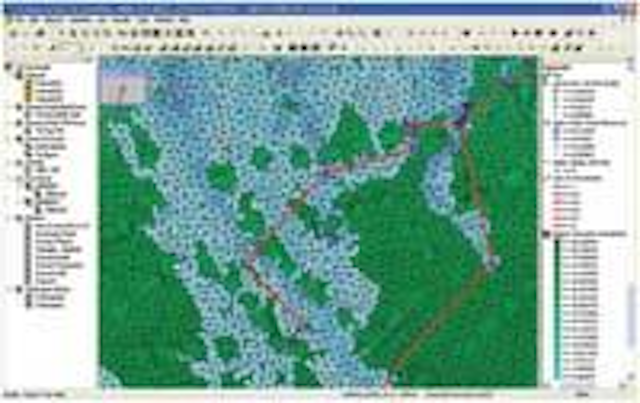 Click here to enlarge image
Wallingford Software, a leading developer of hydraulic modeling software for the water industry, has announced the immediate availability of a completely new InfoWorks product, InfoWorks SD (Storm Drainage). Also launched simultaneously with the release of InfoWorks v8.5 is a completely new and fully integrated module, InfoWorks 2D. This module is available for InfoWorks CS v8.5, InfoWorks SD v8.5 and InfoWorks RS v9.0. Other important developments announced include the availability of Unidirectional Flushing as a core function within InfoWorks WS. As with every release of InfoWorks, many improvements apply to all InfoWorks solutions. With v8.5 these focus primarily on further improvements to data integration with other modeling packages, CAD and Oracle databases.
Wallingford Software
Wallingford, Oxfordshire, UK
Enquiry No. 203
Profibus PA added to radar level transmitters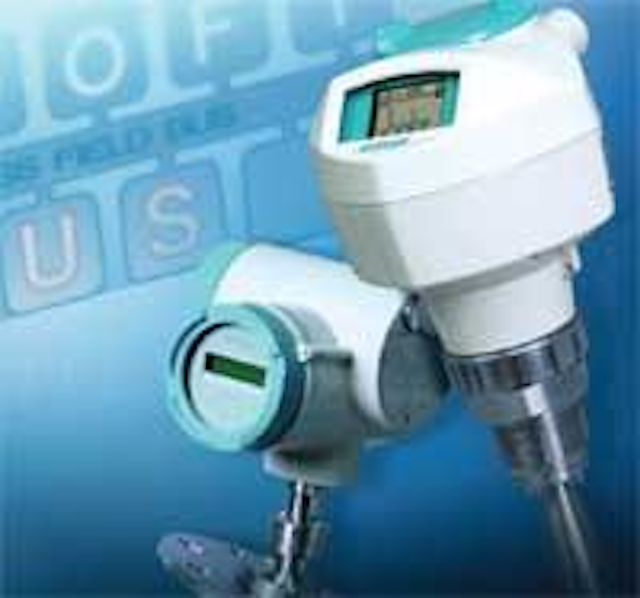 Click here to enlarge image
Siemens A&D adds Profibus PA interfaces to the Sitrans LR250 and Sitrans LR460 radar level transmitters. This allows for a more flexible approach to diagnostic management. It provides substantial cost savings through preventative maintenance as well as reporting information to optimize plant efficiency, including advanced diagnostic data. These transmitters conform to the Profibus Profile Version 3.01, Class B standard, allowing users to prioritize status information between maintenance and operator stations. The profile standard allows optimum interchangeability between other Profile Version 3, Class B level devices.
Siemens Automation and Drives (A&D)
Nuremberg, Germany
www.siemens.com/level
Enquiry No. 201
Precision dosing pump announced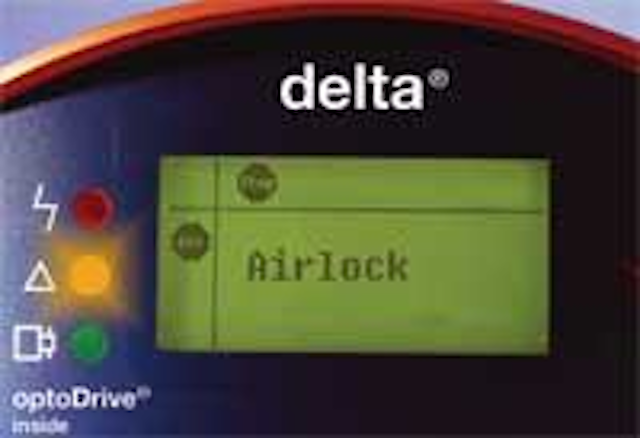 Click here to enlarge image
ProMinent Fluid Controls announced an automatic deaeration version of its Delta precision dosing pump, together with two new models for the continuous dosing of volumes as small as 5 ml/hr. The new deaeration facility, can be field–fitted to existing Delta pumps, makes this the only pump of its kind that can automatically degas when gas is detected in the pump head. This makes it ideally suited to dosing fluids that easily outgas, such as sodium hypochlorite.
The pump features the "optoGuard" integrated injection control system, which detects air or any gases locked in the liquid end of the pump that could prevent dosing of the correct quantities. Addition of a special relay module and solenoid valve attached to the coarse/fine bleed valve of the pump allows the "airlock detected" signal to trigger automatic deaeration. Deaeration can also be set to occur on a regular basis.
By monitoring actual diaphragm displacement with its predicted displacement and compensating for possible backpressure fluctuations, optoDrive also allows a slow pressure output stroke to be set for almost continuous dosing or a fast stroke to be set for pulsed dosing. Two new additions to the Delta pump range, type 2508 and 1608 offer capacities up to 7.5 L/hr at a maximum backpressure of 25 bar 7.8 L/hr at a maximum backpressure of 16 bar respectively.
The 2508 versions are available with an acrylic or stainless steel liquid end. The 1608 is available with acrylic, PVDF or stainless steel liquid ends.
ProMinent Fluid Controls (UK) Ltd.
Ashby de la Zouch, Leicestershire, UK
www.prominent.co.uk
Enquiry No. 204
Earth–friendly RO cleaning chemicals introduced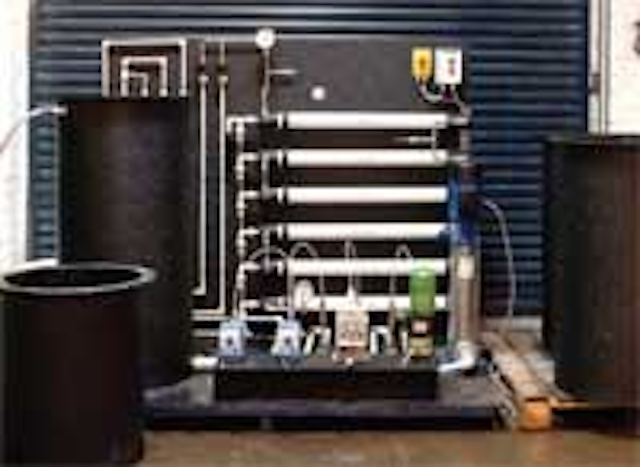 Click here to enlarge image
In response to increasing environmental concerns on effects of reverse osmosis (RO) treatment chemicals in waste from membrane systems, Avista Technologies recently developed a range of environmentally friendly and biodegradable products.
Mike Jefferies, Managing Director of Avista's UK operation said the new antiscalant and cleaning solutions help membrane system operators meet environmental rules with the added benefit of improved overall membrane system efficiency.
"Membrane efficiency in RO systems can deteriorate quickly if membranes are not regularly cleaned or effectively protected against scaling effects by suitable antiscalants," he explained. "This may result in shortened membrane life, plant downtime and increased power consumption."
Vitec SR, the new antiscalant, improves both efficiency and environmental performance of RO membranes. To determine the best formulation, Avista chemists used extensive lab testing to evaluate membrane compatibility followed by extensive in–house pilot trials under realistic full deployment conditions using a pilot plant fitted with 12 test membranes to measure permeate flow and pressure differentials across the membrane surface. Results were verified on–site during an extended month's trial, with all data normalised to account for temperature and pressure differentials. Jefferies said they confirmed that Vitec SR performed better than its predecessor and "the new formulation could prevent scaling on waste flows 20% more concentrated than expected under normal operation."
Avista's RoClean P111C cleaner has also been developed for use to improve overall efficiency on specialised membranes. The original formulation contained EDTA. After an industry standard 28 day biodegradation test only 4% was shown to have biodegraded. Having identified three non–toxic potential replacements meeting the degradation criteria, and whilst retaining effectiveness against common foulants, Avista chemists again carried out initial laboratory tests. The three were screened by tests on unused membranes to confirm compatibility. Next, batches of 12 membranes from an operational plant were tested using OSCAR (Avista's Offsite Cleaning and Restoration system) to evaluate cleaning effectiveness of the formulations on fouled membranes. Two showed equal performance characteristics and were tested further to ensure selection of the best solution. Describing the results of the cleaning tests Jefferies said, "The most environmentally friendly option confirmed effective in site tests has now been in beneficial use for over a year."
Avista Technologies (UK) Ltd.,
Edinburgh, Scotland
www.avistatech.co.uk
Enquiry No. 205
Welsh rainwater harvesting specialist grows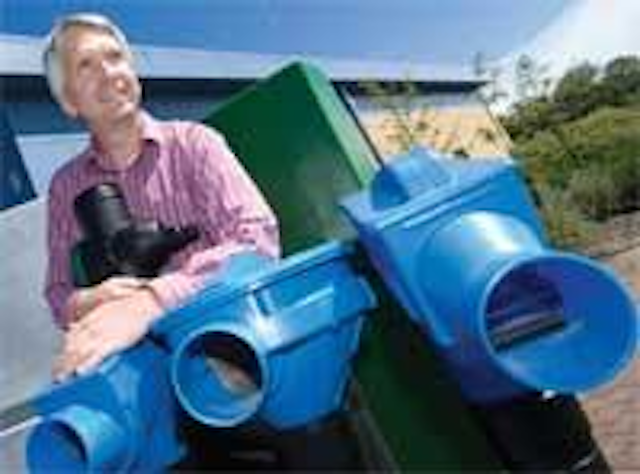 Click here to enlarge image
Tripling in size since its inception two years ago, 3PTechnik UK has moved into larger premises to cater for a growing demand for its green products. The specialist in design and distribution of rainwater harvesting systems bought a 7,800 sq. ft. unit from the Welsh Assembly Government on Cardigan's Parc Teifi business park and received an Assembly Investment Grant to support the creation of new jobs. The expansion has already created five new jobs and the company anticipates further 50% growth this year. A founding member and director of the UKRHA, Managing Director Dr. Glyn Hyett has an exclusive distribution partnering deal (for the UK, Ireland, USA and Canada) with 3P Technik of Germany, a company developing innovative rainwater harvesting products for 13+ years that's a European market leader in rainwater systems components.
3P Technik UK Ltd.
Cardigan, Wales, UK
www.3ptechnik.co.uk
Enquiry No. 206