Las Vegas Modernizes Water Recycling Efforts
HMI/SCADA system and other upgrades for Clark County Water Reclamation District make growth in U.
Oct 1st, 2007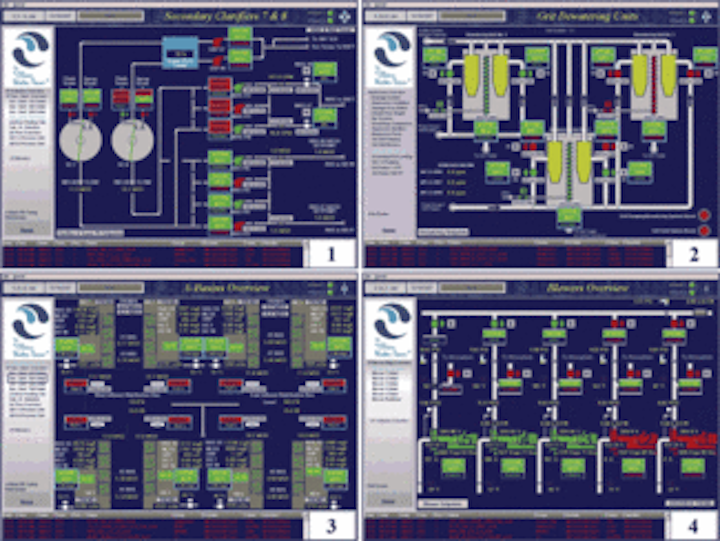 HMI/SCADA system and other upgrades for Clark County Water Reclamation District make growth in U.S. Southwest boomtown less of a gamble
By Brian Downing, P.E.
Las Vegas has been one of the fastest growing cities in the United States for the past decade. To handle unincorporated areas in and around Las Vegas and Clark County, the Clark County Water Reclamation District (CCWRD) operates water reclamation facilities primarily in Las Vegas and Laughlin. It also operates nearly 30 lift stations in Las Vegas, Overton, Laughlin and Searchlight, Nevada.
What Was the Problem?
By the mid-1990s, the CCWRD facilities were nearing engineered capacity as they coped with unprecedented growth in the Las Vegas area. As the U.S. Environmental Protection Agency tightened water quality limits, the plant's process control systems needed an upgrade. It faced potential permit excursions and EPA fines in the event of a failure. As equipment aged, plant personnel also faced a series of costly reliability and maintenance problems.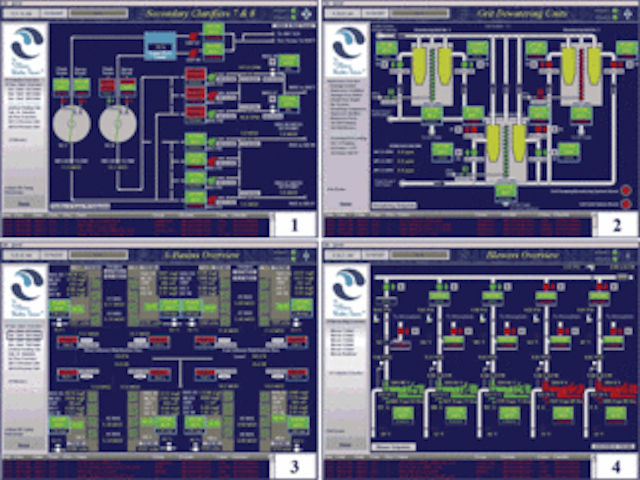 Various displays showing status of the system, including Clarifiers (1), Dewatering (2), Basin Overview (3) and Blowers (4).
Click here to enlarge image
Some control systems had failed and were inoperable. The existing Square D I/Onyx and CRISP SCADA system was obsolete, and grew to be less reliable and more costly to maintain, due to:
Obsolete hardware and software
Limited or non-existent support
Equipment required constant maintenance
Character based graphics were limited and dated
Basic screen tag animation
No historical data trending
Lack of report capabilities.
What Did They Need?
CCWRD needed to expand its capacity and modernize the plant. It needed the increased treatment capacity along with an entirely new SCADA system, including revised flow processes, hardware and software. The district determined that by modernizing the SCADA system, it could operate a larger plant with fewer resources.
Initially, the district decided to replace the existing system with standardized PLC and PC-based SCADA technology in compliance with new CCWRD standards. These required that all new construction be designed with Allen-Bradley PLCs and Wonderware FactorySuite. This new equipment met a second goal of being able to gather more data to display real-time and historical trends and permanently store data. The facility also had to be reprogrammed for greater automation and process efficiency, thereby allowing for staff reductions through attrition and early retirement buyouts. The necessary programming would eliminate unneeded features and fine tune existing features, while adopting the latest technologies to increase reliability and flexibility.
CCWRD also required that the existing facilities be upgraded without disturbing the processes or plant operation.
Assessing the Right Approach
DLT&V Systems Engineering Inc. (DLT&V) addressed CCWRD's problems by first reviewing the district's design information for the new control system hardware and instrumentation. This was to ensure various firms involved in the plant upgrade would all be working from the same parameters. CCWRD defined everything from the type and gauge of wire to part numbers of specific Allen-Bradley components.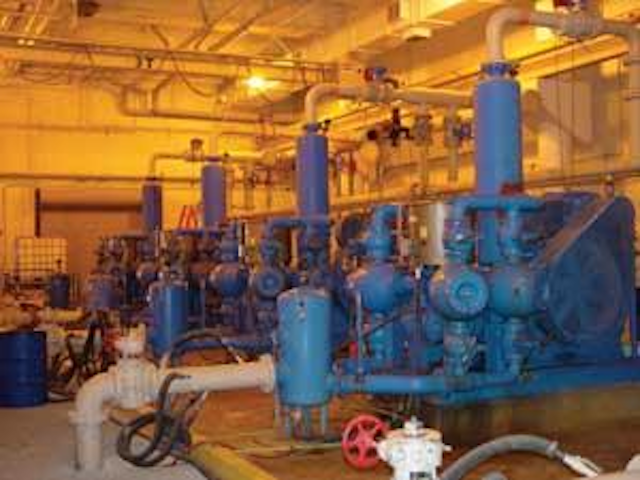 Sludge Dewatering System: Existing Abel pumps that feed sludge into the existing filter press dewatering system, which is going to be replaced with centrifuges over the next few years.
Click here to enlarge image
After reviewing the standards, programmers interviewed plant managers and operators to determine their needs. Processes were analyzed to find ways to increase plant efficiency and anticipate future needs. With findings from this effort, new control descriptions were written and graphics colors developed for HMI screens and other software and documentation standards. This helped to maintain consistency and function as the basis for the programming.
Coordinating Solutions
The engineering firm devised a threefold solution to CCWRD's control system problems: Replace the CRISP system with InTouch, replace the Square D I/Onyx with Allen Bradley PLC5 and ControlLogix PLCs, and implement PDA Thin Client technology to facilitate remote monitoring and control.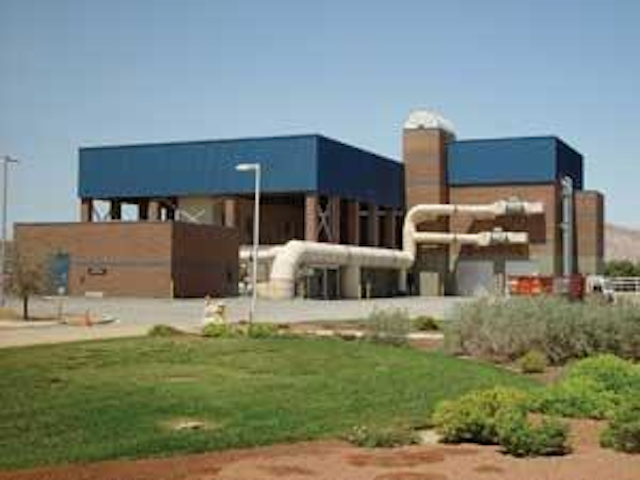 Central Plant Bar Screen Facility: As part of a HMI/SCADA system upgrade at the Clark County Water Reclamation District near Las Vegas, this building is being expanded with new facilities behind this structure.
Click here to enlarge image
New software – The CRISP software system ran on DEC VAX servers and workstations using the VMS operating system. This was replaced with WonderWare InTouch running on Windows 2000 Terminal Servers and PDA Thin Clients. FactorySuite 7.1 was upgraded to 7.11 in May 2002, and 50 ACP thin clients and 11 Dell servers were furnished.
SCADA upgrade – At CCWRD's Laughlin Water Reclamation Facility (LWRF), the I/Onyx hardware was replaced with Allen Bradley PLC5s and Wonderware. Thirty-two I/Onyx cabinets in Las Vegas were upgraded to ControlLogix PLCs and PLCs swapped out in five existing 800HP blower control panels and three sludge plate-and-frame filter presses.
For graphic illustrations of how results were displayed for dewatering, clarifiers, blowers as well as a basin overview, see Figure 1.
PDA Implementation
The CCWRD facility covers hundreds of acres. A plant of this size can be difficult to monitor and control if personnel are operating the facility away from control consoles. Wireless Thin Client technology enabled plant staff to monitor and control the plant from anywhere in the facility, and even city-wide using cellular technology (within cellular provider's range).
Also designed, tested and deployed were Microsoft PocketPC-based wireless Thin Clients that communicate with the Wonderware Terminal Servers. The system was built using Microsoft Windows 2000 Terminal Servers, Citrix Meta Frame Xpa Servers, Citrix ICA Thin Clients, and a combination of CDPD, GPRS, and IEEE 802.11b Ethernet wireless modems. The system was originally designed to allow operators monitoring and control capability with Pocket PC-based computers such as the Compaq iPAQ, but the District has opted to implement the system using notebook computers.
Operators carry notebook personal computers from which they control and monitor lift stations and water/wastewater treatment plants. Each wireless thin-client displays special Wonderware SCADA screens that offer flexibility and portability. The person who is on call has the system available from home and can maintain the connection to the jobsite.
Benefits of Conversion
The most significant benefit of the plant conversion is the facility's ability to handle future capacity. Automation also helps increase its operational efficiency because the current hardware and software are cheaper to maintain and easier to service. Terminal servers lower cost of ownership and IT maintenance cost because one central system is more easily maintained. With operations streamlined, fewer personnel are required to control and maintain the facility.
Conversion to a modern control system has increased efficiency of plant operations. Roving operators can maintain and operate the plant in most on-site locations. Changes to system graphics take minutes rather than hours. Adjustments and fine tuning are a straight forward process.
Challenges During Conversion
Projects the size of the CCWRD plant conversion pose certain challenges. One major obstacle was that field wiring differed from drawing information on record. The engineering firm's staff couldn't always rely on accuracy of the record drawings and thus needed more time and expertise to correlate and update records with the actual facility layout.
Another major challenge was to upgrade hardware and software while keeping the facility running. Any problem in this process could very quickly result in an overflow or other serious incident. To reduce possibility of disruption to the plant, the PLC logic and HMI software were tested and simulated whenever possible to minimize debugging in the field.
Efficient and detailed communication with CCWRD and the various trades is crucial during a conversion of this size. Many people working on site simultaneously and many schedules (some of them competing) have to be updated and tied together. DLT&V resolved this problem through meetings with the customer and contractors, and close adherence to district standards.
Keys to a Successful Conversion
Planning is the most important key to a successful conversion. Detailed planning and close communication with involved parties means there are few surprises. It also means all efforts are pulling in the same direction.
Plan the project carefully and execute the plan.
Review and update as-built documentation.
List I/O points to be converted and identify the ones to be abandoned.
Standardize wire marking systems, tag numbers, and descriptors for HMI tagname dictionary.
Select suitable hardware and create a standard bill of material.
Use common sense.
Hire an engineer with experience who understands the technology and the process.
Be patient, and be prepared to run the processes in HAND or LOCAL mode while the old controls are being replaced.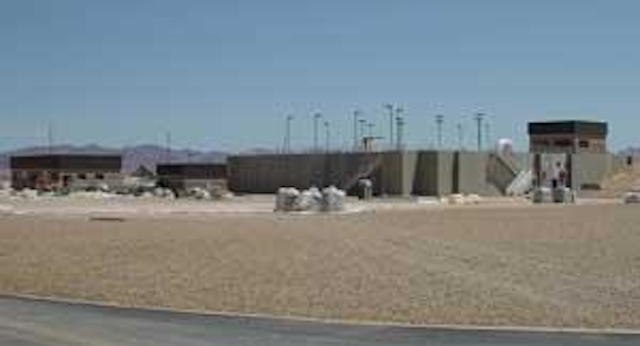 Existing 8 Filters at CCWRD: The new filters are a mirror image of those shown here, extending out the right of the photo as you look at it.
Click here to enlarge image
null
Conclusion
The Clark County Water Reclamation District plant SCADA system expansion and upgrade was a five-year project in which four plants were converted and one new plant constructed. This involved creation of over 22,000 Wonderware tags, termination of 9,000 physical I/O points, programming 71 PLCs and 50 HMI thin clients, upgrading 24 lift stations, and configuring 21 servers.
Author's Note:
Brian Downing, P.E., is president and CEO of DLT&V Systems Engineering Inc., an electrical engineering and integration firm specializing in the water and wastewater industry. Based in Phoenix, Arizona, USA, with offices in California and Nevada, DLT&V provides solutions from brief reports to SCADA design and integration projects for municipalities, private water companies, developers, civil engineering firms and general contractors. Contact: 602-266-4658, marketing@dltvse.com or www.dltvse.com
---

Satisfying Dynamic Demand in the Desert
Water from industrial sites must be treated onsite before it becomes a part of the municipal wastewater system. With all the casinos and conventions in Las Vegas, the volume is certainly affected by the hotel/tourism industry, in addition to a burgeoning population. Thus, reclamation efforts are important to the community and industry.
The Clark County Water Reclamation District is responsible for wastewater treatment and reclamation in all of the county's unincorporated areas. Service also is provided to outlying communities of Laughlin, Searchlight, Overton, Indian Springs and Blue Diamond. Daily, more than 170 million gallons of used water and sewage from thousands of local homes, hotels, schools, churches, business and industry make their way to one of three treatment facilities – located in Clark County, Las Vegas, and Henderson, Nevada. CCWRD owns and maintains nearly 2,300 miles of pipelines. Its main facility is a modern water reclamation plant that utilizes the latest in technology and equipment. The facilities are now undergoing a major expansion to increase treatment capacity from 96 mgd to 110 mgd to meet needs of a growing area. With treatment quality ranked in the top 7% of wastewater treatment facilities in the nation, treated wastewater from these facilities is returned to the Colorado River via the Las Vegas Wash and Lake Mead, which has been receiving such discharges for about 40 years. This effluent fully meets requirements for reduction of regulated contaminants. Although it hasn't been approved for reuse as drinking water, it's safe for other uses such as watering parks, golf courses, highway medians, etc.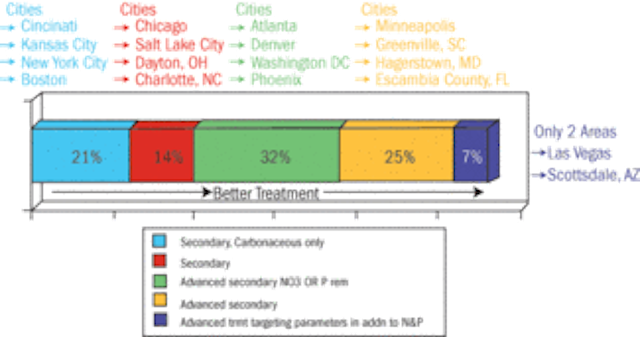 SOURCE: Clean Water Coalition
Click here to enlarge image
The effluent released by the three member agencies has such high quality and goes through such rigorous cleaning for many reasons. Some are listed here:
Environmental Protection: The most important reason effluent is so highly treated is to protect the environment and reduce the impact on ecosystems into which it's reintroduced.
Return Flow Credits: Per federal and interstate agreements, Nevada is allowed to use 300,000 acre feet per year from the Colorado River system – but water treated and returned to river is eligible for return flow credits. That is, every gallon sent to the river system is an additional gallon of water that can be drawn from the river.
Potable Water Conservation: Because it's in a desert, the region's potable water is a scarce commodity. Reusing effluent allows potable water to be used more for its purpose – as drinking water – than for other needs, whether for irrigation or as cooling water (at industrial businesses such as power plants, as well as hotels and casinos). This ensures people consume most of the available drinking water instead of potable water being used for lawns.
Image on Contents page: This filter inlet pump station sends water to the CCWRD filter and UV disinfection system. Two new filters are being added on to the bank of pumps on the opposite side of the building shown.