Quick Assessment Eases Crisis in Disaster Response
Durability and versatility of Ultrameter II from Myron L helps assess safe water sources after Asian tsunami rocks Sri Lanka and Southeast Asia in December 2004
Oct 1st, 2007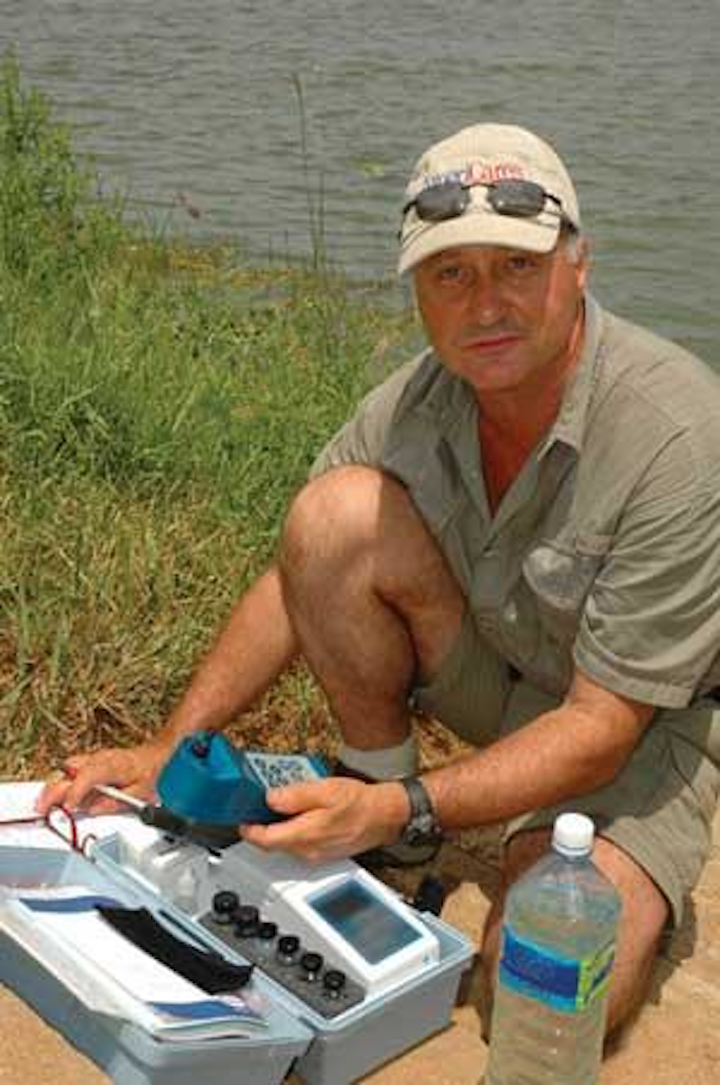 Durability and versatility of Ultrameter II from Myron L helps assess safe water sources after Asian tsunami rocks Sri Lanka and Southeast Asia in December 2004
By Kathryn Robinson
When disaster strikes, people are scared and disorganized. They need resources – safe water and proper sanitation – that aren't easy to come by in the aftermath. Without the help of humanitarian organizations to provide clean water, large populations of survivors are subject to epidemics of cholera, diarrhea, meningitis and other diseases as they struggle to meet their basic needs.
Qualified Help
Dr. Roddy Tempest, CEO of Tempest Environmental Systems of Durham, North Carolina, USA, and a leading designer and manufacturer of emergency water purification systems, has headed related efforts of public and private aid organizations, such as the United Nations and AmeriCares, in responding to people in crisis all over the world for over 15 years. He has helped out in situations such as the aftermath of Hurricane Andrew in 1992, the Kosovar refugee crisis in the Balkans, devastating earthquakes in Turkey, and the flood and mudslides that ravaged coastal states in Venezuela in 1999. He has assisted in disaster relief efforts in Japan, Rwanda, Mexico and Taiwan as well.
Dr. Roddy Tempest with Myron L's Ultrameter II and notes in Sri Lanka
Click here to enlarge image
So when AmeriCares launched its water purification program for the inhabitants of Sri Lanka following the devastation of the tsunami spawned by an earthquake off the coast of Indonesia in December 2004, it turned to Dr. Tempest. For this effort Myron L Company was able to donate two Ultrameter II 6Ps that instantly and precisely measure conductivity, resistivity, TDS, ORP/redox, pH, and temperature. The doctor said the instrument gave him "a good, quick first-blush assessment of the possible water sources." But creating a livable situation for hundreds of thousands of displaced survivors wasn't as easy as testing the water.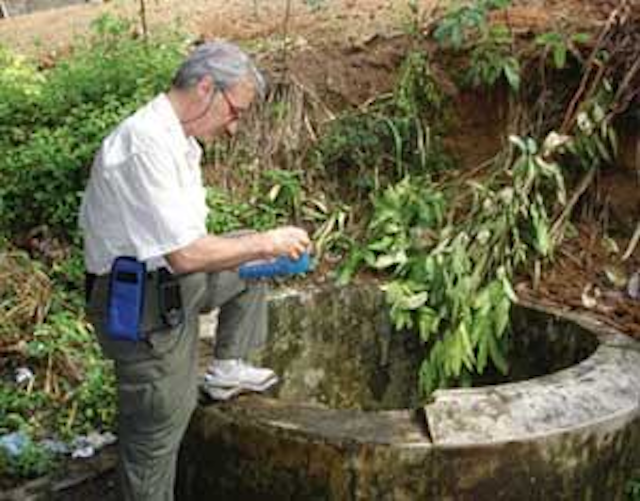 Tempest samples water from all possible sources – here, an open well that might have been spared
seawater intrusion.
Click here to enlarge image
null
Water Doctor to the Rescue
From his U.S. offices, Tempest first responded to the call for help by reviewing satellite maps showing locations of potential water sources in relation to groups of survivors, or Internally Displace Persons (IDPs). He assessed the total situation of potential water sources, trying at a glance to determine likely contamination by flooding or seawater infiltration.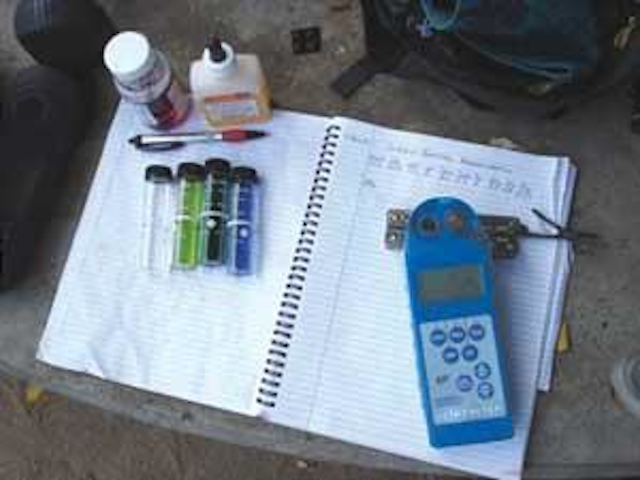 Click here to enlarge image
On arrival in Sri Lanka, the doctor worked 24 hours a day to determine a suitable survival supply of water for the IDPs. As indicated in the World Health Organization's Environmental Health in Emergencies and Disasters, the required water per person per day is 15 liters.
Faced with this daunting task, he surveyed the land via helicopter and fixed-wing aircraft to record the extent of damage, location of IDPs and viability of potential water sources. Some photographs, such as the one on this issue's contents page, reveal the mammoth challenge that lay ahead of him. Debris was everywhere, indicating the likelihood of surface and well water contamination. Filtration would be a must.
Tempest then combined satellite imagery, photographs and sketches of water sources from his survey and a list of supplies available to determine which sources to target for testing. Following WHO guidelines, he considered as many potential water sources as possible, not just the most obvious. These included ground and surface water sources near the groups of IDPs and tanker or bottled water brought in from a distance – though this wouldn't be suitable for the long-term supply. Groundwater is preferred since it's subject to less contamination and withstands dry periods.
First, Tempest considered whether potential water sources could be protected from pollution and secured. He then used the Ultrameter II 6P to screen these sources for their potential to be disinfected and filtered. If the water was brackish, it would require a certain treatment method. If it was high in turbidity, it would require another. If the pH needed adjusting, yet another. If a water source was found to be difficult to treat, then that source would have to be discarded as an option and a better alternative found.
The Ultrameter II was critical in providing fast, reliable, accurate initial information on whether to pursue further testing and treatment of a potential source. The doctor used a multi-parameter approach and tested for TDS, pH, ORP/redox, and temperature with every reading. He also tested for turbidity and bacteria using other instrumentation.
Initially, Tempest used a measurement of the mineral salt concentration using TDS calibrated to a sodium chloride solution and TDS calibrated to a natural water standard. Based on this information, he could tell whether the water was too saline or saturated to be economically filterable. High TDS helps indicate possible presence of unacceptable levels of specifically known inorganic contaminants caused by industrial pollution. And if TDS was too high, filtration systems that work by reverse osmosis would have been overwhelmingly expensive to operate in the disaster area just considering electrical costs alone. It also causes filtration systems to be less efficient, causing operation and management (O&M) costs to soar. System efficiency was critical for short-term disaster response. Time was of the essence.
Quick Response
The doctor had to get as much safe water to IDPs in as the fastest way possible. And though it wasn't a health consideration, high TDS water could have had an unpleasant taste that would have deterred people from using it. Historically, this has caused people to return to old wells or other sources of previously safe drinking water that, in fact, had been contaminated in the disaster, as these were more trusted than one that tasted "polluted." So even though TDS was only a secondary water quality standard, it could have profoundly impacted whether a new source would be acceptable.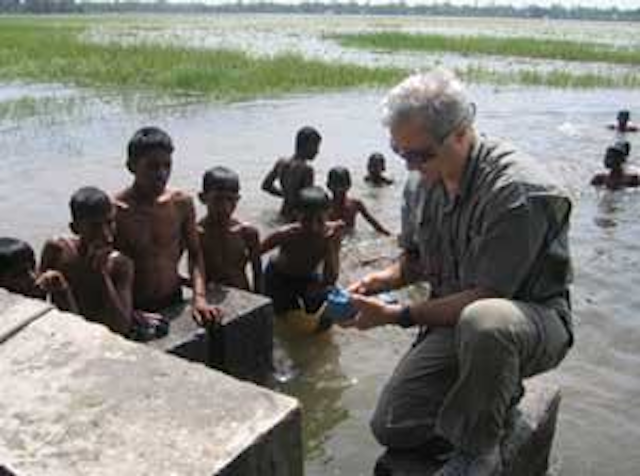 Children enjoying a swim watch as Tempest determines filterability of the water.
Click here to enlarge image
Tempest also took instant electrometric pH readings using the Ultrameter II as pH would directly affect the potential to disinfect the water. pH levels beyond 8 would require substantial increases in the amount of disinfectant required and/or the length of time the water would have to be disinfected before safe consumption. Moreover, going beyond a pH of 9 would make it extremely difficult to maintain safe levels of residual disinfectant. And pH was critical to long-term disaster recovery planning, since too low or too high and it affects water balance, contributing to either corrosion or scaling of filtration and disinfection system components and plumbing.
An electrometric meter was the best choice in this situation. Colored strips or solutions or other colorimetric methods couldn't produce the accuracy required to consistently and correctly balance water and maintain proper disinfection levels in a chemical- and cost-efficient way. Precisely measuring the pH would be critical to providing the ongoing water supply necessary for survival.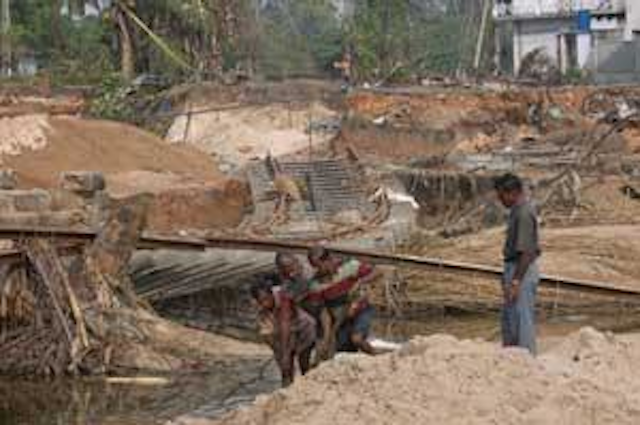 With devastation behind them, workers tap a busted pipe for testing to evaluate cross-contamination between municipal wastewater collection and drinking water distribution lines.
Click here to enlarge image
Tempest also took quick ORP/redox measurements using the Ultrameter II to determine the presence of all oxidizing and reducing agents – not just acids and bases – as well as gain a rough idea of the organic load in the water. If the reading was 650mV or greater, there would be less organic contaminants, reducing the time required to effectively sanitize the water using a minimal amount of free chlorine. A value around 250 mV would indicate that organic contaminants would significantly increase chlorine demand and thus O&M costs.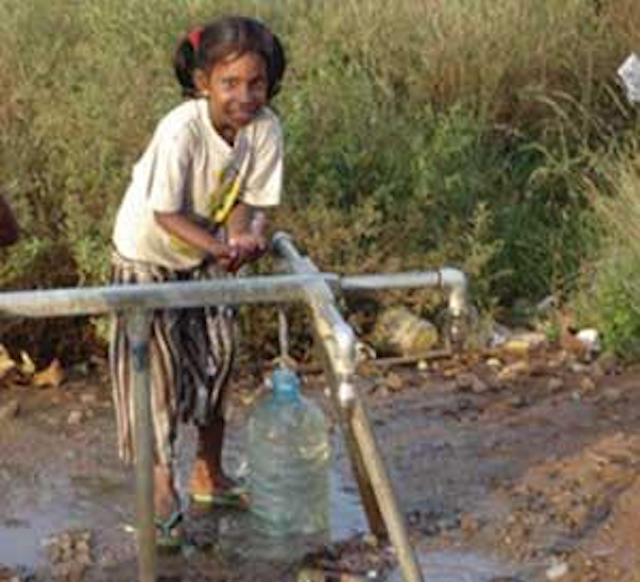 A young girl gets safe drinking water from a new filtration system.
Click here to enlarge image
The doctor wouldn't only use ORP/redox as a good first indicator about the viability of a water source, but also as the best way to measure the disinfectant present in the water after treatment had begun. He stored up to 100 reading at a go in his UMII6P. He took those results and other quantitative and qualitative data from his assessments back to his base to make the final source determination.
Multiple Assessment
Using all of the results from these parameters and based on his knowledge of the location of IDPs in relation to water sources and other information, Tempest decided which source would satisfy the needs of each specific location of groups of IDPs. Sometimes there was a viable source near enough to already established groups. At other times, IDPs had to be relocated within livable distance from the water. While it generally wasn't practical to move large groups of people, after assessing water sources after the tsunami in Sri Lanka, he found it even less practical to supply the IDPs in parts of the Batticoloa and Ampara Districts along the eastern coast. TDS levels indicated wells were too saline from seawater intrusion. With limited electricity, this made use of reverse osmosis or desalination equipment impractical.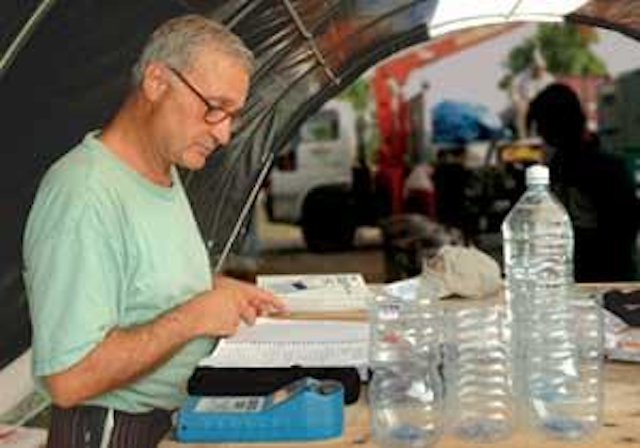 Tempest compares test parameters from each location to determine the best possible sources.
Click here to enlarge image
Tempest ended up settling on sites more inland, using source waters from manmade reservoirs. The challenge in treating these waters was heavy contamination by toxic blue-green algae. IDPs were settled near the water source least contaminated to prevent even more casualties. As for treatment technologies, he decided to go with microfiltration and ultrafiltration systems in the eastern district locations to keep down treatment and operation.
He designed, built and commissioned four large transportable water treatment systems, each capable of producing over 500,000 liters/day.
Plans followed through with long-term water treatment using the Tempest Environmental Systems Equipment for the Sri Lankan Ministry of Urban Development and Water Supply and their National Water Supply & Drainage Board (NWSDB). The Sri Lankan NWSDB currently uses 14 Ultrameter II 6Ps, which provide continuing confidence checks that ensure system equipment remains up and running properly.
---
Kathryn Robinson is sales & marketing director at Myron L Company, based in Carlsbad, California, USA. Contact: +1-760-438-2021, info@myronl.com or www.myronl.com