High Output Near the Mile High City
Siemens vertical UV module helps town north of Denver, Colorado, USA, increase treatment capacity without increasing footprint
Oct 1st, 2007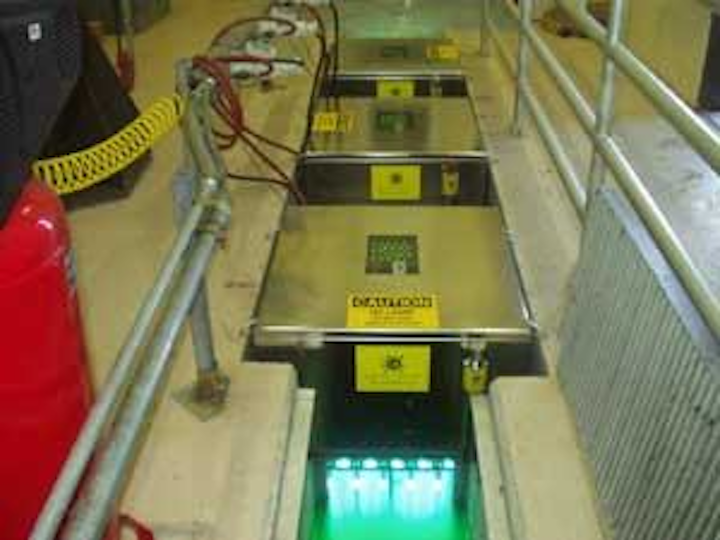 Siemens vertical UV module helps town north of Denver, Colorado, USA, increase treatment capacity without increasing footprint
The Erie Water Reclamation Facility (WRF) in Erie, Colorado, was one of the first plants in the USA to incorporate a small footprint low-pressure, high-output (LP/HO) amalgam UV lamp technology to treat more wastewater without new construction. As part of the WRF's enhancement project, the new state-of-the-art disinfection system replaced an existing legacy system to optimize treatment abilities and modernize the facility.
Erie's former vertically-oriented UV wastewater disinfection system consisted of standard low-pressure, low-output (LP/LO) lamp technology. In 2003, the activated sludge WRF decided to upgrade the system to handle increasing plant flows. As the plant couldn't afford extensive new construction, the technology had to be retrofit into the existing channel. A standard size vertical module wouldn't fit in the channel.
"Erie is a rapidly growing community," says Bob Smith, Erie WRF technician III and Class A operator, "and the existing system would not meet current or future needs."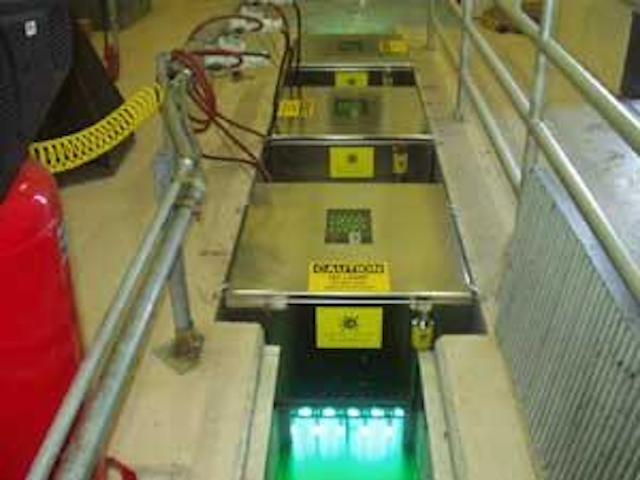 The Barrier Sunlight VE Series system at Erie holds 25 320W lamps three times more powerful than their predecessors with a 12,000-hour lamp life.
Click here to enlarge image
Siemens Water Technologies customized a stainless steel vertical module to fit into the existing UV channel, which limited the required construction as well as plant downtime. To increase design flow, Siemens integrated the latest LP/HO amalgam lamp technology. Each of the modules in the Barrier® Sunlight VE Series system holds 25 320W lamps that are three times more powerful than their predecessors and have a 12,000-hour lamp life.
Other Benefits
Compared to the previous LP/LO UV lamp technology, Erie's new amalgam lamp technology has a longer life due to a new internal coating that prevents the lamps from solarizing, which restricts transmittance. This coating also allows the lamps to operate better in both cold and warm water. Since the Erie WRF experiences colder wastewater flows, this new system has increased efficiency during colder months.
Lamp technology affects UV system maintenance – especially lamp replacement and cleaning. All lamp connections in this vertical amalgam system are above the effluent, making it easier to replace lamps while they are in the channel. As for cleaning, the system can remain online during automatic air-driven quick-stroke quartz cleaning.
"This automated cleaning has greatly reduced maintenance time and costs," says Smith.
Formerly, Erie had to remove the old system from the channel and immerse it in an acid bath every month. This took about half a day and also involved chemical costs. The plant's cleaning now consists of pulling individual banks out of the water and hosing them off every two weeks with a garden hose. Personnel can do this in under an hour.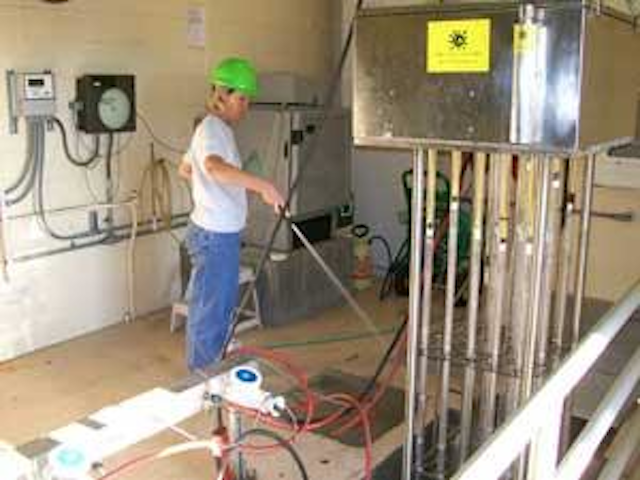 Cleaning the Siemens UV system takes less than an hour every two weeks. Here, Erie's Deb Langerak hoses off a UV bank pulled from the water.
Click here to enlarge image
Erie's vertical amalgam UV system integrates energy-efficient electronic ballasts. The ballasts consume little power, generate modest heat, and are minimally affected by surges, sags and power interruptions. This was an upgrade from the existing electromagnetic ballast technology.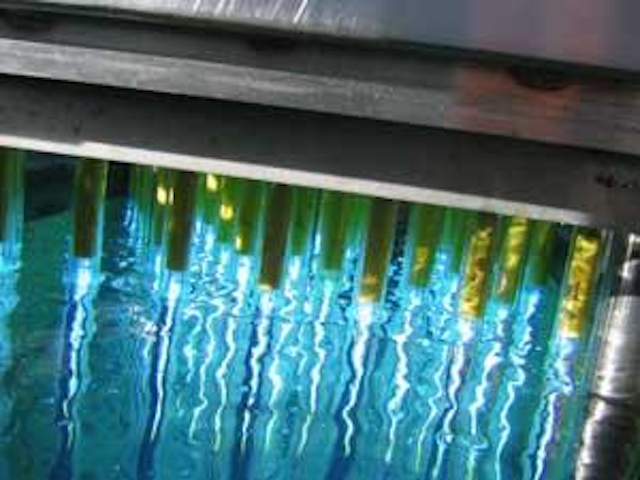 The UV disinfection system's vertical orientation provides a smaller footprint, ease of operation and modular design.
Click here to enlarge image
Programmable logic controllers (PLCs) make the LP/HO amalgam system easy to operate. The PLCs offer energy and lamp savings through either complete module or incremental flow pacing. The controllers are flexible, expandable and modifiable. They also have greater communication capabilities with other PLCs and SCADA systems and a range of operator interface choices.
Excellent Fecal Results
Since installing the new UV system four years ago, the Erie WRF has had excellent fecal results. Its in-house laboratory program ensures it treats wastewater to meet federal- and state-mandated regulations as well as discharge permit limits. Erie's permit is fairly tight with 176/100 ml for a monthly average.
Since installing the new system, the plant has not had a single violation with results normally averaging less than 20/100 Ml. The new permit for 2008, which is also for an additional 0.4 MGD of flow, has even stricter limits of 126/100 ml of E. coli for a monthly average.
"We have no doubt that the Siemens system will allow us to meet our permit limits successfully and consistently," says Smith.
---

About the Authors
Adam Donnellan is director of technical sales for UV products at Siemens Water Technologies in Allendale, New Jersey, USA. Contact: 201-760-0364 or at adam.donnellan@siemens.com
Jon Mays is the chief water reclamation facility operator and a Class A operator for the town of Erie (Colorado, USA) WRF. Contact: 303-926-2895 or at jmays@ci.erie.co.us