Coping with Water Scarcity
By December 2007, the Hamma Seawater Desalination Plant (SWDP) will be supplying clean drinking water to more than a million people in the Algerian capital city of Algiers.
Jun 1st, 2007
By December 2007, the Hamma Seawater Desalination Plant (SWDP) will be supplying clean drinking water to more than a million people in the Algerian capital city of Algiers. Jointly funded by GE Water & Process Technologies and the Algerian Energy Company (AEC) the eagerly awaited 200,000 m3/day (53 MGD) plant will provide the city with a new, sustainable source of potable water as it struggles to cope with urbanization and depleted water reserves caused by drought and high demand.
Urban migration stresses supplies, infrastructure
Over the past decade, Algeria has experienced a dramatic demographic shift as large numbers of people from rural areas have moved to cities. Urban residents now account for about 60% of the nation's population, placing a major strain on infrastructure and water supplies. In Algiers alone, water scarcity caused by demand, drought and an aging, leaky distribution system means residents and businesses face frequent water rationing, often receiving water for only one of every three days. Attempts to provide more water have resulted in over pumping of groundwater sources around the city, which has led to pollution of these valuable resources and in some cases to saltwater intrusion.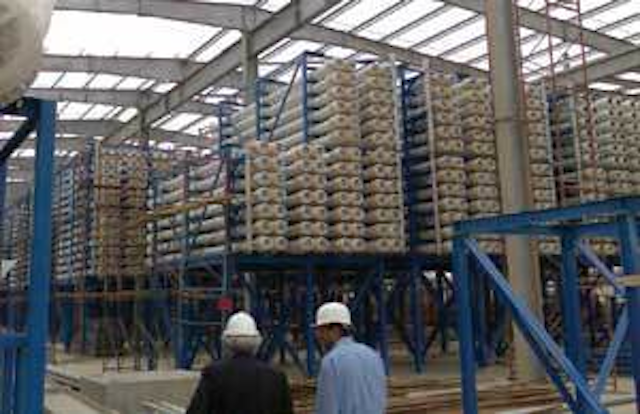 A bank of RO membrane vessels is shown here in construction as of April 2007 at the Hamma desalination plant.
Click here to enlarge image
With very few surface water sources to rely on, the Algerian government has invested heavily in new dams to improve its rain catchment capabilities, but drought conditions have persisted for many years and the dams haven't produced a significant increase in the nation's water reserves. In Algiers, the government has embarked also on an extensive rehabilitation of the water distribution system, which has cut water losses from 40% to less than 25%. Despite the improvements, the city still suffers from a dire water shortage.
A virtually unlimited water source
Desalination technology is enabling the government to begin developing a new source of water, one that's unaffected by the persistent drought that Algeria is experiencing. The Hamma SWDP will provide a consistent supply of high quality potable water for up to 25% of Algiers. By drawing water from the Mediterranean Sea, the Hamma SWDP will have a virtually unlimited source of raw water that can be reliably and economically converted to fresh drinking water.
The plant is being constructed on a brownfield site along the shore of the Bay of Algiers, just east of the Port of Algiers. Although the water quality in this part of the bay can be affected by ship traffic and port activities, the site is ideal for its proximity to the city's water distribution network, power grid and transportation routes.
Designed to handle raw water variability
Once operational, GE will be responsible for the ongoing operations and maintenance of the plant. The facility will draw raw seawater through two 550-meter-long direct intake pipes to a pretreatment system, where it will enter a lamella clarifier and have coagulants added to help remove suspended solids. Following flocculation and settling, the water will pass through a dual media filter and enter a clearwell. Water from the clearwell will be pumped through 5-µm cartridge filters before being distributed among nine trains of single-pass reverse osmosis (RO) membranes. Remineralization and disinfection will be the final steps in the process before the water can enter the city's distribution system.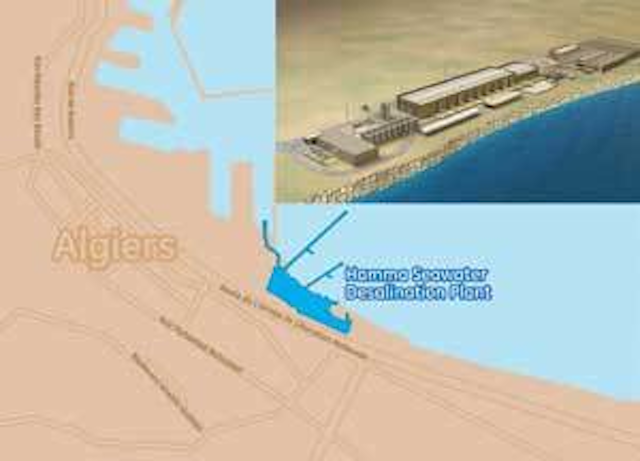 A schematic of the completed plant along with its location in Algiers
Click here to enlarge image
The robust process is designed to handle the potential variability in raw water quality that can occur in the bay. Moreover, the advanced process offers operational and economic advantages over alternatives like thermal desalination processes, including reduced energy consumption and lower chemical requirements. Finished water is guaranteed to meet the following parameters: total dissolved solids of less than 500 mg/L, alkalinity of less than 65 ppm, total hardness of less than 50-65 ppm, and pH of 8-8.5.
Conclusion
Though Hamma SWDP is currently North Africa's largest reverse osmosis desalination facility, many more such projects are being considered or are under construction along the continent's Mediterranean coast. As North African nations try to cope with increasing water stresses caused by growing populations, expanding economies and climate change, desalination technology is increasingly becoming an affordable and practical solution to ease water worries.
Author's Note:
Assaad Haddad is a senior project developer with GE Water & Process Technologies, which is based in Trevose, Pennsylvania, USA. Contact: 617-673-4374, assaad.haddad@ge.com or www.ge.com/water