Forward Osmosis: Is it beginning to live up to the hype?
Forward osmosis has attracted a lot of recent attention over the past few years but with limited market success. With several new companies entering the market and some early commercial installations, has the technology turned a corner?
Jul 1st, 2017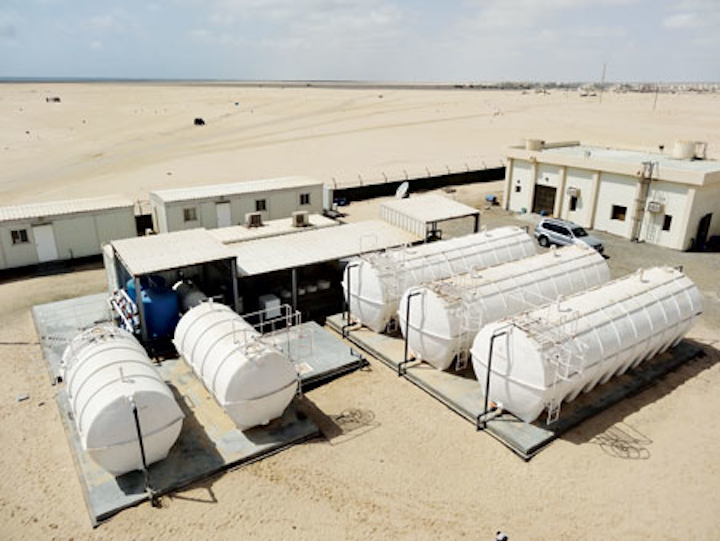 Forward osmosis has attracted a lot of recent attention over the past few years but with limited market success. With several new companies entering the market and some early commercial installations, has the technology turned a corner?
By Steve Gluck
The forward osmosis (FO) market has changed in the last two years. Back in 2015, when BlueTech last published a report on FO, there was a lot of research activity and some hype around the technology, but at that stage there had been very little in the way of commercialisation.
Since then, the hype has moderated, a company has dropped off the scene (HTI), and several have entered this space including Aquaporin, Aquafortus, FTSH20, and - arguably - Hyrec. While the latter is not an FO company, its countercurrent osmosis (CO) technology shares similarities with brine concentrators offered by other firms.
During a recent trip to Japan, BlueTech was also able to confirm Toybo's entry into the FO space. The FO addressable market now ranges from a low of the zero liquid discharge (ZLD) market of less than $300 million in 2017 and a high of $6 billion if it includes product concentration, ZLD and water reuse.
Within ZLD, the opportunity for FO is in minimising pre-treatment needs, concentrating the total dissolved solids (TDS) higher than reverse osmosis (RO) can, and thus pulling market share away from evaporators.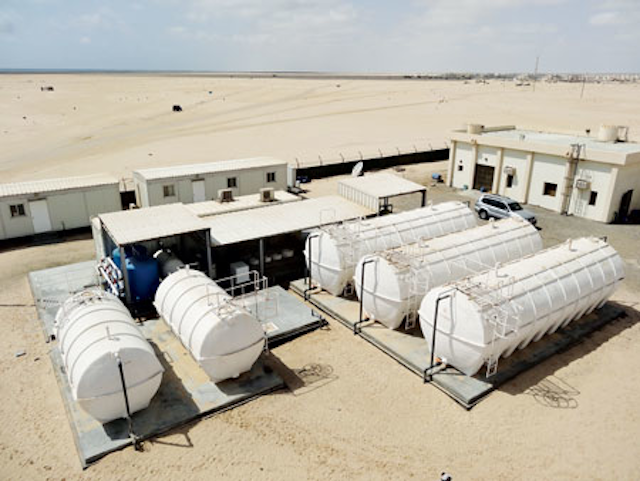 The FO market is small and dominated by four companies, including Modern Water (installation below)
While there is little reason to consider FO over RO except for more challenging feed waters, FO combined with RO does have potential promise to enhance recovery in seawater desalination to pull more water out of the RO concentrate and increase plant capacity, without increasing the withdrawal rate from existing intake structures.
Forward osmosis is an osmotic process that, like RO, uses a semi-permeable membrane to separate water from dissolved solutes. The driving force for this separation is an osmotic pressure gradient. A "draw" solution of higher concentration than the feed water pulls water through the membrane and into the draw solution, leaving the solutes behind. The water is then separated from the draw solution using a separate process. In contrast, reverse osmosis uses hydraulic pressure to force the feed water through a membrane, again leaving solutes behind, but counteracting the osmotic pressure gradient.
FO has been researched for just as long as reverse osmosis, with the focus of attention being on the theory, membrane development, module design, draw solutions and applications. Until now, FO has failed to gain anywhere near the same success as RO, with some commercial failures giving the technology a reputation for being "over-hyped", with a disproportionate share of academic and industry attention.
However, the technology is now starting to gain traction, and faster commercial development can be expected. Evaporation and DTRO (Disc Tubular RO) technology are some of the niches that may be disrupted.
The FO market
The market is dominated by FTSH2O, Porifera, Oasys and Modern Water. However, the FO market is small. None of the companies have more than a few commercial installations, so a few breakthroughs and contracts from the other companies covered in this report would make a big difference with regards to market share.
A key distinction between the FO firms is whether they manufacture membranes, modules, draw solutions or full systems. The companies offering full systems are doing so in order to market their core technology to early adopters - in the long term, the systems suppliers recognise that their technology is likely to be implemented by other companies, such as engineering firms.
Market share
The market share of the FO companies is subject to the law of small numbers. Because there are so few installations, the judgement of market share by installation count will change significantly upon further due diligence beyond the self-reporting from this research, as well as growth due to a high number of reported "projects on the books" becoming true installations over the next two years.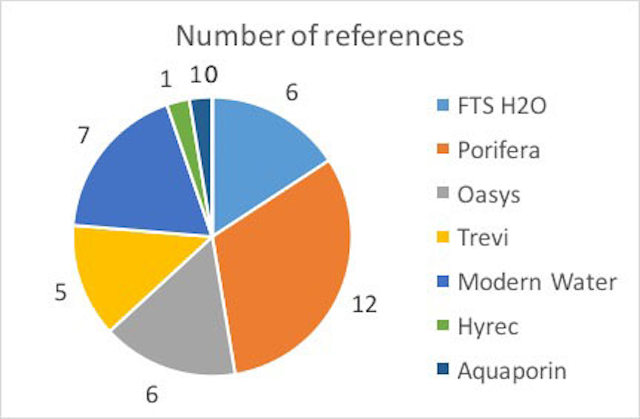 The data in the pie chart is based upon self-reporting of the FO companies for case study installations that are either actively running or have been completed. Projected installations are not included. Toyobo is not included in the chart, as it keeps the number of installations confidential.
Verdict
Over the last few years, efforts to promote FO have narrowed their focus while establishing more commercial credibility. All companies reported increased activity, some of which is resulting in increased sales. FO as a technology is gaining market traction in ZLD/brine concentration, production of valuable products by dewatering, minimising waste hauling costs, concentrating difficult to treat wastes, landfill leachate and specialised desalination opportunities.
Within the next five years, FO will likely be picked up by larger firms as a product offering within a suite of water treatment, brine management and water extraction solutions. The evaporator market will be more challenged by FO, but the FO addressable market will be more realistic than today's most optimistic projections.
Competitive technologies will also make advances, forcing downward pressure on the overall solution cost. FTSH2O has quickly become a leading company while other leaders Oasys Water, Porifera and to a lesser extent but still present, Modern Water have made incremental advances.
The focus for FO has narrowed to ZLD/brine concentration, production of a valuable product by dewatering, minimising waste hauling costs, difficult-to-treat wastes, landfill leachate and specialised desalination opportunities - all have potential for growth, with ZLD showing the most promise.
Below are some of the key takeaways from a Bluetech report, assessing the prospect of FO as well as related osmotically driven membrane processes:
Pros
Several contracts and demonstrations of using FO to dewater products in the food and beverage industry are establishing a solid basis for further commercial traction
Applications of FO as a solution for ZLD are growing and appear to be realistic
The number of companies offering membranes and modules specifically designed for FO has increased in the last three years.
Cons
The use of pressure retarded osmosis (PRO) for electricity generation has engendered great interest, but has so far failed to materialise commercially. Cited reasons for "failure to launch" included capital costs for membranes and installation are too high as well as challenging environmental constraints
Osmotic MBRs and fertigation are not economically attractive for the near term
Pressure-assisted osmosis (PAO) has not materialised in any of the applications to date.
Steve Gluck is the TAG expert for BlueTech Research. Its new report, Forward Osmosis: Technology Horizon Scan and Competitive Landscape Map Summary is now available on its newly upgraded intelligence platform: inside.bluetechresearch.
More Water & WasteWater International Current Issue Articles
More Water & WasteWater International Archives Issue Articles