Protect This House - Overcoming Algal and Red Tide Blooms in Oman
Oman faces regular threats from algal blooms. A pre-treatment plant was delivered quickly to operate in difficult conditions.
May 1st, 2017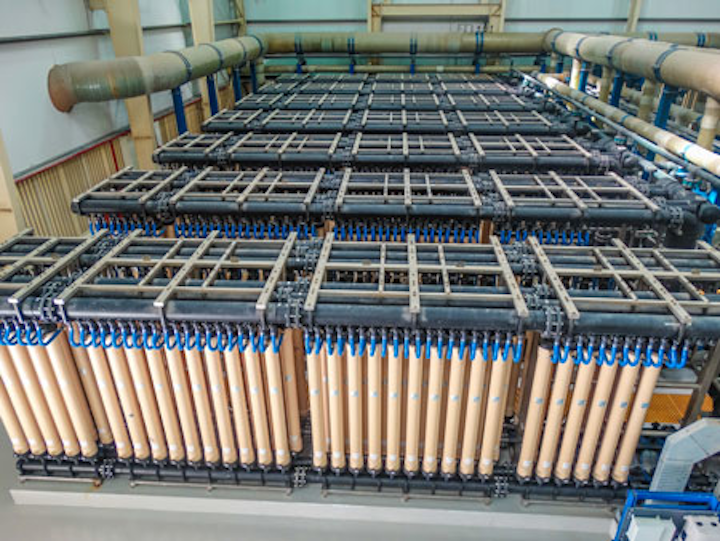 Oman faces regular threats from algal blooms, turning the water green and providing a massive spike in turbidity and organics. A pre-treatment plant was delivered in less than a year capable of protecting desalination equipment and allows for continued operation in these difficult feed water conditions.
By Amrish Rathi, Ali Asghar, Jan Bultiauw and Alaa Ali
To combat the worsening drought and increasing freshwater needs, the Middle East has emerged as a world leader in the implementation and use of large scale desalination plants to extend the lifecycle and supply of water. Oman in particular has a flourishing desalination industry, with several plants in development as the country aims to increase its overall desalinated water capacity.
In the northern region of Oman alone, water demand is projected to increase by 6% per year, from 238 million cubic metres in 2013 to 349 million cubic metres (i.e., 956,000 m³/day) in 2020, according to the Oman Power and Water Procurement Company's 7-Year Statement.
While Oman has taken impressive strides to preserve its freshwater resources through the use of seawater desalination plants to fuel municipal water needs, the region has continually faced one major obstacle: Mother Nature.
Twice a year, a massive algal bloom the size of Mexico takes over The Gulf of Oman, turning the water green from coast to coast. Not only are managing these peaks in contamination a daunting task for seawater desalination facilities, but they have much broader and longer lasting repercussions.
The high variety of substances produced by these algae, as well as the volume at which it is produced during peak seasons, has proven detrimental to the environment, people and businesses that rely on clean, potable water to survive.
Peak algal season
As freshwater resources continue to dwindle, harmful algal blooms and red tide infestations are becoming more prevalent and aggressive across the world, particularly in the Middle East. Desalination plants in the region are typically severely affected by the atrocious quality of seawater due to algal blooms and red tide.
One of the largest obstacles for water treatment plants when operating during a massive spike in turbidity and organics, specifically during these algal events, is that they are constantly battling challenges such as clogged intake filters and damaged membranes. Very often, these plants are forced to shut down during the peak algae season: typically a four-month period in water scarce regions like the Middle East. This poses a significant economic threat to many industries.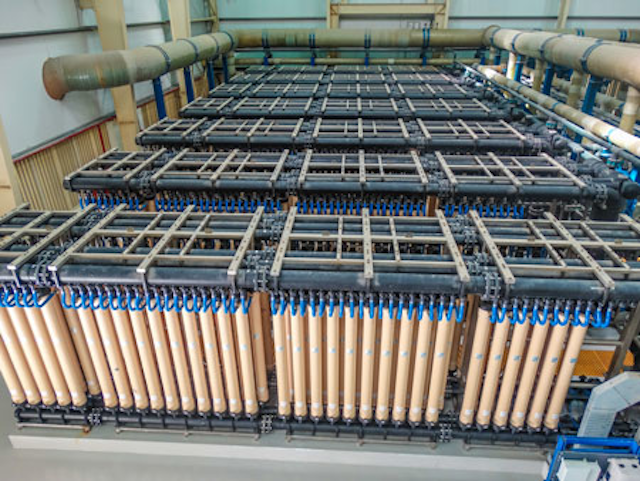 Pall Unit - Oman
However, with sophisticated emerging technology, it is becoming possible for improved treatment methods to overcome and prevent the damage that these infestations cause.
The advent of more robust membranes not only keeps plants in production during high contamination months but ensures long-term safety and the reliability of a consistent and high-quality supply of water year-round.
Meeting their match
The Sultanate of Oman, similar to other gulf countries and regions in the Middle East, depends on these emerging desalination technologies. Needing to improve and expand potable water capacity to the city of Muscat's water network that serves more than two million residents, the city decided to build a new desalination and pre-treatment plant from the ground up in just one year. In 2015, a leading developer and operator based in Oman hired Osmoflo, an engineering, procurement & construction company to build a complete pre-treatment plant with a capacity of 56,500 m³/day.
Designing a pre-treatment system capable of operating in these difficult feed water conditions commonly found in warmer climates and coastal regions throughout the gulf was a difficult task. The system not only needed to filter high temperature seawater, but also handle the seasonal algal bloom and red tides to ensure that the plant is capable of operating year round, throughout the peak turbidity events. These conditions alone pose a daunting task for many water treatment companies.
On top of the challenging design requirements, the financial modeling of the project required that the plant was completed in 11 months - a nearly impossible timeline given the scale of the project.
Beyond the time constraints of this project, the city required both a solution and provider capable of handling difficult feed water conditions without needing to conduct and install a capex and opex extensive pre-treatment of Dissolved Air Flotation (DAF) and filtration and providing undisrupted water production during the algal bloom.
Pall Water was selected for its Aria FLEX membrane system, which was custom designed with smart operational controls and operating protocol and further engineered to handle the complete pre-treatment process specific to the unique needs of this feed water. Not only was the system able to successfully treat the difficult feed water conditions without extensive pre-treatment but in many cases, it did not require any pre-treatment at all. Furthermore, the system was capable of continuing a regular level of production throughout algal blooms and red tide peaks.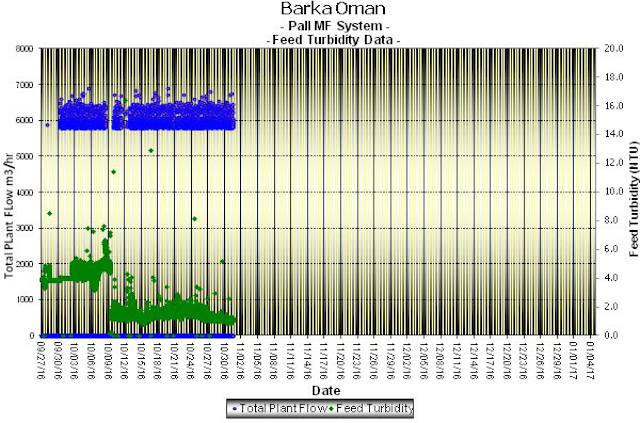 The plant has been able to operate at full capacity, handling spikes in turbidity which has forced others to halt operations
No additional pre-treatment, such as DAF, was required upstream of the membrane system as it was designed to handle high turbidity water along with the algae bloom in the feed (sea) water. Therefore the custom engineering process was able to successfully produce high quality filtrate water to be fed to the downstream seawater reverse osmosis, despite treating very challenging feed water.
Beyond the ability to treat the challenging and unique characteristics of the water in this region, the speed of deployment was critical. Within five months, the project was contracted and installed and the membrane system was producing water in less than two months.
This is particularly impressive given the large scope of this project, which uses the Aria FLEX system that was custom built for a peak capacity of more than 140,000 m³/day. Support from local technicians and the existing local presence of Pall in Oman were crucial factors in the success of the project and completing construction on time.
Despite the challenging conditions of this feed water during infestations, this plant was able to perform at full capacity unlike other desalination plants in the region, which are frequently forced to shut operations during such events as equipment cannot handle the severe spikes in turbidity.
Overall, the pressurised filtration membranes were designed to be well-suited to handle seasonal algal bloom and red tide infestations, without any membrane damage. The custom engineering of the system and its advanced control philosophy allows the plant to run at full capacity during the algal bloom season, keeping business running and water supply flowing- a feat no other Oman plant has yet achieved.
---
Amrish Rathi is the sales director, MEA; Ali Asghar is from the process team and Jan Bultiauw and Alaa Ali are from applications at Pall Water.
More Water & WasteWater International Current Issue Articles
More Water & WasteWater International Archives Issue Articles