Technologies & Products
The data transfer unit DiverMate reduces field time by downloading logged data and allowing users to view last readings from any Diver model. The DiverMate then transports the data back to the office for transfer to a personal computer.
Dec 1st, 2002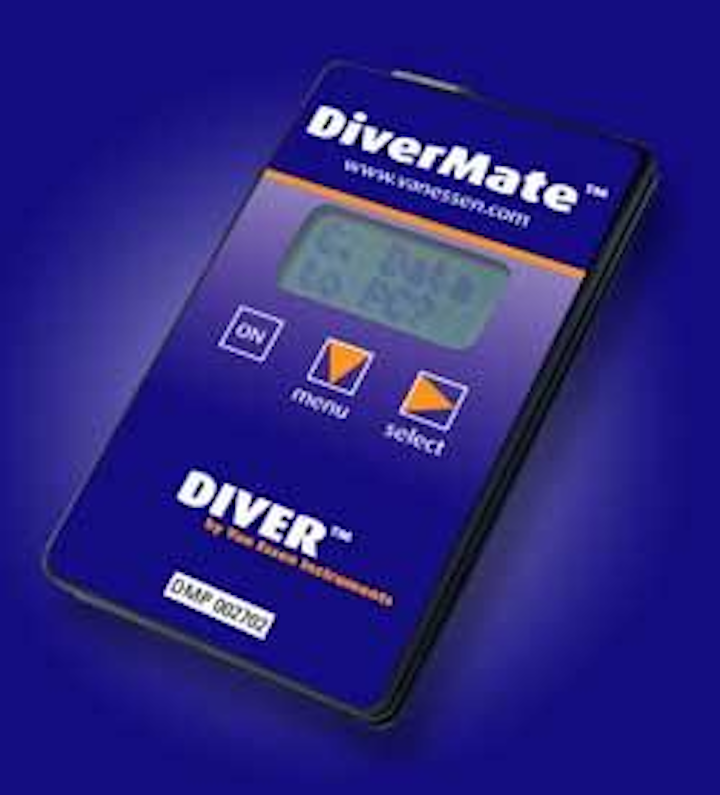 Data transfer DiverMate reduces field time
The data transfer unit DiverMate reduces field time by downloading logged data and allowing users to view last readings from any Diver model. The DiverMate then transports the data back to the office for transfer to a personal computer. The handheld device avoids the need to take a computer, hand-held PC or laptop into the field. One megabyte of Flash Memory stores 190,000 sample sets from up to 50 Divers. One 9V battery gives approximately 30 hours of "ON" time use. To conserve battery power, the DiverMate shuts off automatically after 30 seconds of idle time.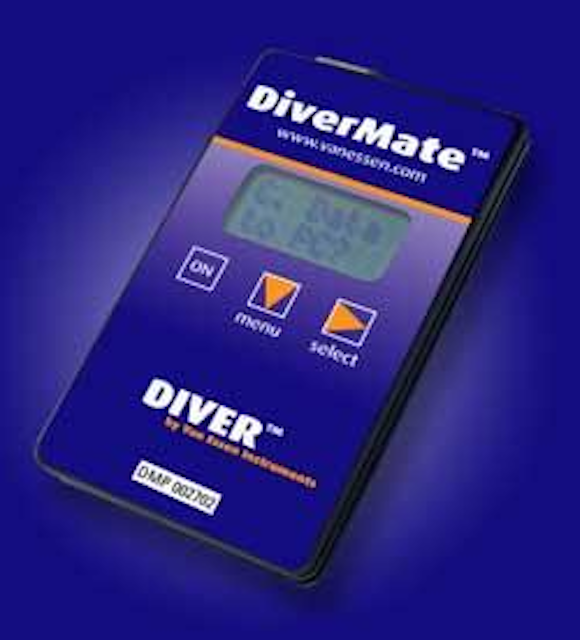 Click here to enlarge image
The Direct Read Cable and Interface Cable are used to collect data from field installed Divers. Data transfer to the PC requires the DiverMate/PC Interface Card, supplied with the DiverMate and software. Both the data and the logger settings are downloaded, one file at a time, avoiding any possible identification problems.
Van Essen Instruments
Delft, The Netherlands
Nanofiltration membrane eliminates need for hybrid system
The new ESNA1-LF low fouling nanofiltration membrane provides salt rejection of 90% and controlled hardness removal, eliminating the need for hybrid membrane system designs. These low-pressure membranes significantly reduce operating costs by lowering power consumption, while providing a non-aggressive low TDS permeate water. The low fouling technology also reduces the cost of chemicals and labour associated with more frequent membrane cleaning.
The ESNA-LF membrane element is available in both four- and eight-inch diameters, 40-inch long configurations, and produces lower colour and disinfection by-product formation potential than standard lime softening processes. ESNA1-LF can be used as an independent system or part of an Integrated Membrane Solution™ (IMS) design. The system treats brackish feedwater sources for municipal potable applications.
Hydranautics
Oceanside, California USA
UK approves Envirocheck HV sampling capsule
The UK Drinking Water Inspectorate approved Pall Corporation's Envirochek™ HV sampling capsule for its continuous Cryptosporidium monitoring programme. The UK requires constant monitoring of drinking water for this parasite using only sampling products that have passed its rigorous qualification process.
Cryptosporidium, one of the leading causes of waterborne disease in humans, can be found in 70 percent of the world's water supply.
Multiple outbreaks of Cryptosporidium, a microscopic parasite found in animal and other organic wastes are reported annually. While everyone is at risk, those with weakened immune systems are especially vulnerable. There is no effective treatment for Cryptosporidium infection.
Continuous monitoring with the Envirochek HV capsule confirms system performance on a real-time basis and provides an added margin of safety regardless of the technology used to process drinking water.
Pall Corporation
East Hills, New York USA
Low-Flow cell provides monitoring alternative
A new Low-Flow Cell for the Multi-Parameter TROLL 9000 water quality probe attaches directly to the sensor side of the MP-TROLL 9000, allowing direct flow-through sampling. The new Low-Flow Cell is an optional accessory.
Low-Flow sampling has become a widely accepted method for monitoring groundwater that provides immediate data and lowers laboratory costs when regulations allow. This method also offers an alternative to in-situ monitoring as well casings decrease in size. Additionally, Flow Cells are preferred for monitoring DO and ORP readings that can be altered if exposed to the atmosphere.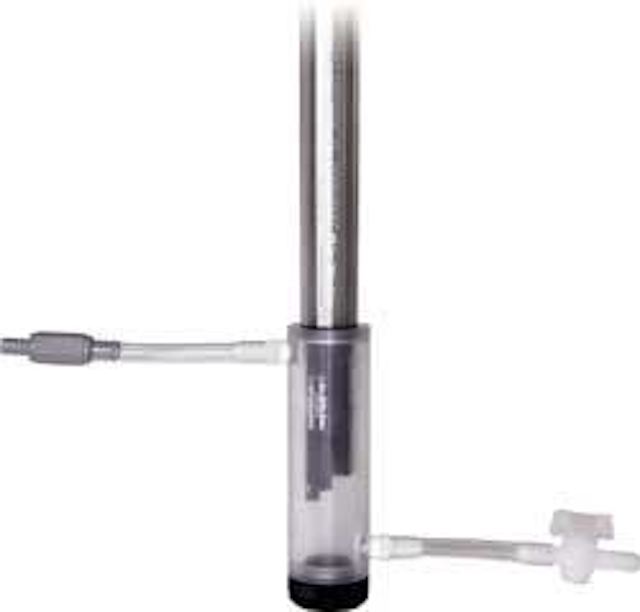 Click here to enlarge image
The In-Situ Low-Flow cell body is manufactured from translucent polycarbonate. All components may be quickly decontaminated. The system meets ASTM, EPA and USGS low-flow system standards and is optimised for flows from 0.1 to 0.5 litres per minute.
In-Situ Inc.
Laramie, Wyoming USA
Degassing valve prevents vapour lock in metering pumps
Degassing valves automatically vent gases and vapours that are commonly released from sodium hypochlorite or hydrogen peroxide. Gases or vapour are compressible, and if not vented, cause vapour lock in metering pumps and the system. This causes metering pump malfunction and, in most cases, causes the pump to stop discharging chemicals to the system.
The valve allows for the venting of gases and condensed vapour back to the feed tank, which improved priming on initial start-ups and continuous operation while working under pressure (maximum 150 psig). When in operation, the valve vents gases, vapour and a small amount of the chemical being pumped. This discharge must be returned through hard piping or tubing back to the feed tank to prevent personnel or equipment from coming in contact with vented corrosive fluid.
PFS Corporation Stops inject chemicals into the centre stream of flow to disperse chemicals uniformly. An enhanced version of the PFS regular injection quill, they are available in six construction materials. Unlike normal corporation stops that incorporate a chemical resistant injection quill with an inexpensive brass isolation valve and gland, the PFS Corporation Stop uses comparable chemical resistance throughout the unit.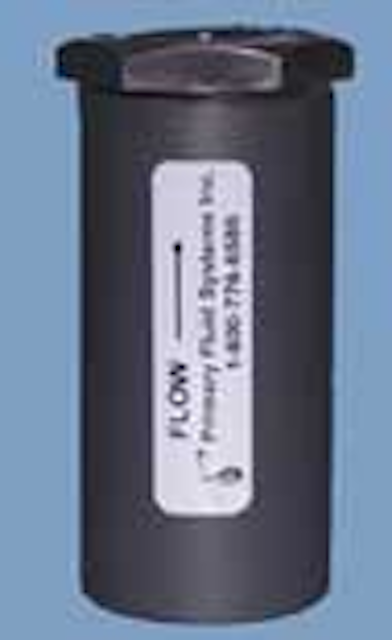 Click here to enlarge image
Primary Fluid manufactures glass calibration cylinders that handle corrosive chemicals that their PVC and Polypropylene calibration cylinders cannot handle safely.
Primary Fluid
Burlington, Ontario Canada