Making Water Reuse Popular
Addressing 60 years of offensive odors, inadequate wastewater capacity and water supply challenges, the Gippsland Water Factory (GWF) established a new standard in total water management.
Jan 1st, 2013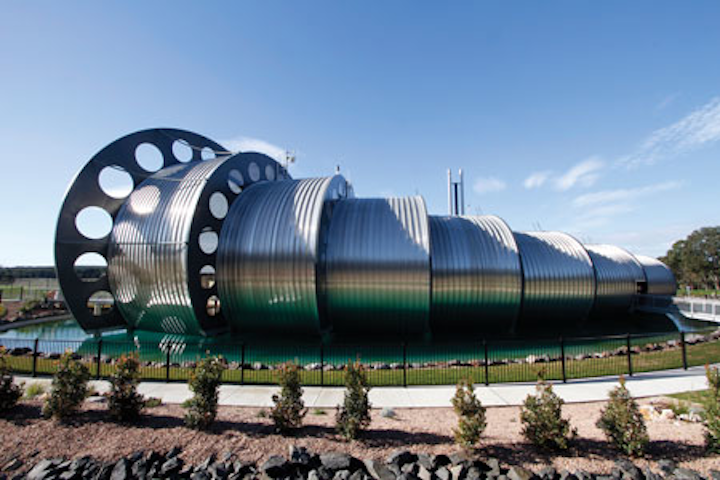 RO + MBR Combination Prevail in Australia
Addressing 60 years of offensive odors, inadequate wastewater capacity and water supply challenges, the Gippsland Water Factory (GWF) established a new standard in total water management. Andrew Hodgkinson, Julee Payne and Peter Skeels explain how a filtration treatment sequence helped get the local community and businesses on side.
Located at Maryvale, in the heart of Latrobe Valley, Victoria - one of Australia's, and the world's, most greenhouse emission-intense industrial precincts - the GWF transformed a noxious wastewater system into a sustainable treatment and purified water reuse system. Though the project was challenging, its vision was clear: "GWF will contribute to a new environment through innovation and education, enabling a sustainable water future for Gippsland and Victoria."
GWF is a green solution to a very brown problem. Raw sewage had been discharged through a 90 kilometer Regional Outfall Sewer (ROS), almost half of which (40 km) was open earthen drain. The ROS has generated strong odor and community angst ever since it was commissioned in 1955.
"Pipe the open drain" was the simple solution and a safe solution from a practical, technical and political standpoint. But Gippsland was also in the midst of the most severe drought in living memory, with increasing pressure from industry and agriculture for additional waters from Gippsland rivers. These competing forces created a tremendous incentive and opportunity to solve both a 60 year environmental problem and also build the foundation for a new way to care for the region's rivers and lakes and secure central Gippsland's future water sustainability.
The result was GWF drastically improved treated effluent quality discharged to the ROS, while simultaneously achieving an 11,000 – 15,000 m3/day water reuse benefit for industry and fodder crop irrigation, with similar water resource extraction reductions.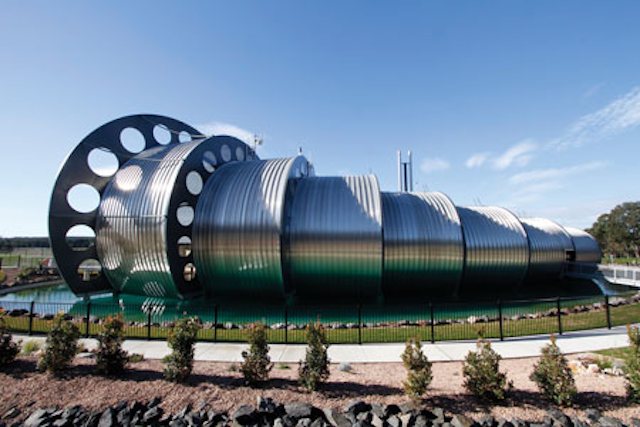 Education: The Vortex Centre located at the GWF site has hosted more than 4,000 visitors to date. Featuring interactive displays, touch-screens, innovative projection and engaging videos, the Vortex focuses on water conservation and sustainable water management, highlighting water as a precious resource at a local, state, national and global level.
Technology process
Commissioned in stages, GWF became operational in late 2010, achieving stable operations in early 2011. Its treatment processes rely on biological treatment, membrane filtration and reverse osmosis (RO) to transform nearly 35,000 m3/day of wastewater into a sustainable resource. Wastewater flows comprise 16,000 m3/day of municipal wastewater and 19,000 m3/day of industrial (pulp and paper) wastewater. The municipal and industrial wastewater streams use separate treatment trains customized to their specific source water quality. This enables GWF to economically produce 8,000 – 10,000 m3/day of high-quality purified water for industrial reuse at Australian Paper - the Southern Hemisphere's largest pulp and paper manufacturer's - Maryvale mill. As a result, the same amount of fresh water (almost three billion litres a year) is freed up in the region's rivers and reservoirs, enough to supply an Australian town of about 40,000 people. Other streams are re-used for agriculture, with the balance available for resale when suitable customer demand is established.
Reclaimed water uses
GWF is the first project in Australia to incorporate water recycling into its design from inception. A combination of technologies produce purified water of better quality than that produced at many drinking water plants.
GWF's recycled water product is highly purified water produced from the most secure water supply in Gippsland - its municipal sewage supply. The water is delivered into the paper mill's water supply system, reducing demand on its existing raw water supply. In addition, other municipal wastewater streams were reconfigured to enable an additional 4,000 – 5,000 m3/day of recycled water for irrigation on Gippsland Water's 6000 hectare farm at Dutson Downs.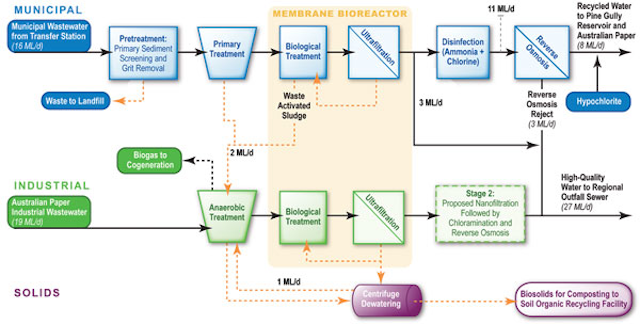 By using advanced filtration techniques such as membrane bioreactors (MBRs) and Reverse Osmosis (RO), GWF's advanced treatment system produces purified recycled water and meets very stringent nutrient standards for its reuse product: total nitrogen concentrations of less than 2 milligrams per liter (mg/L) and total phosphate concentrations of less than 0.1 mg/L as P.
Municipal treatment consists of preliminary treatment, primary treatment, MBR incorporating biological nitrogen and phosphorus removal, chloramination, RO, and chlorine disinfection. Biological Nutrient Removal is provided to remove excess nutrients for compliance with stringent nutrient requirements, even with RO following it. Industrial treatment consists of anaerobic pre-treatment and MBR treatment without BNR. Provision was made for a future upgrade to the industrial process train to enable increased production of purified water using nanofiltration followed by RO.
Importance of pre-treatment
The industrial influent is high strength, nutrient deficient and with significant residual non-biodegradable organic matter (derived from Kraft pulping activities) that can rapidly foul RO membranes. The industrial influent is also heavily laden with sulfate ions arising from the Kraft pulping process. GWF's unique anaerobic/aerobic/membrane filtration treatment sequence was specifically developed to treat this. The anaerobic pre-treatment step converts degradable organics using a combination of typical anaerobic processes and a greatly enhanced sulfate reduction mechanism. This produces a stream depleted of organics but rich in sulfide for the MBR treatment step.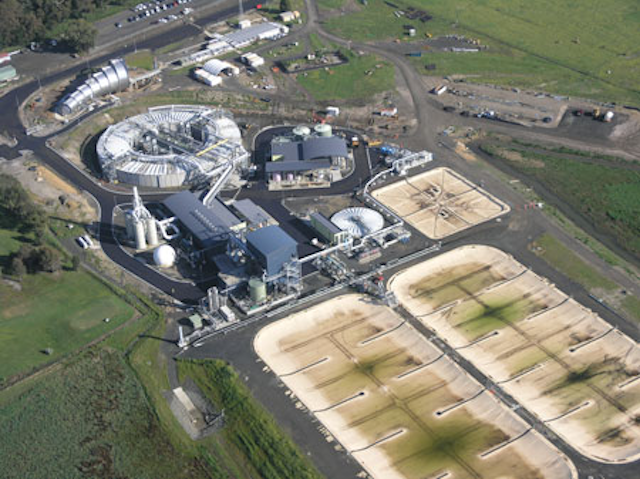 Australian Paper's Maryvale site has three pulp mills, five paper machines, an elemental chlorine free (ECF) bleach plant, a power generation and black liquor recovery plant and a waste paper processing plant. It is one of Australia's largest industrial facilities
The GWF industrial train MBR includes a special pre-oxidation step (known as H2SOx) that saves up to 75% of the air required for processing the huge amounts of hydrogen sulfide dissolved in the wastewater (typically around 250 mg/L as dissolved H2S). This enables a stable aerobic process, readily filterable sludge and incorporation into the biomass as a precipitate of up to three quarters of the sulfur that is borne within the industrial wastewater. This accumulated sulfur is removed from GWF via the sludge dewatering system, which sends a sulfur and nutrient-rich biosolids material to Gippsland Water's Soil Organic Recycling Facility, where it is converted into a high grade fertilizer.
The Gippsland trend
True to its vision, GWF's influence also reaches beyond Gippsland. Other projects around the country and overseas have looked to GWF for inspiration from a technical, sustainable and innovative perspective. When construction began in February 2007, GWF was the only water reclamation system in Australia to incorporate recycling from inception. It is also a world-first in the way it treats Kraft pulp and paper wastewater. Since that time, several similar recycling and education projects have been developed in Australia, such as Sydney Water's Water Recycling Education Centre at St Mary's, the Water Reuse Plant in New South Wales and Sydney Water's Reuse Program.
Author's note: Peter Skeels is general manager of operations at Gippsland Water. Andrew Hodgkinson is senior principal technologies for global water sustainability and Julee Payne is business development manager at CH2M Hill.