Pump Prodigy
Danish pump manufacturing giant Grundfos is diversifying into water treatment. CEO Carsten Bjerg speaks exclusively to Tom Freyberg about the company's plans and how leakages can be reduced globally.
Sep 1st, 2012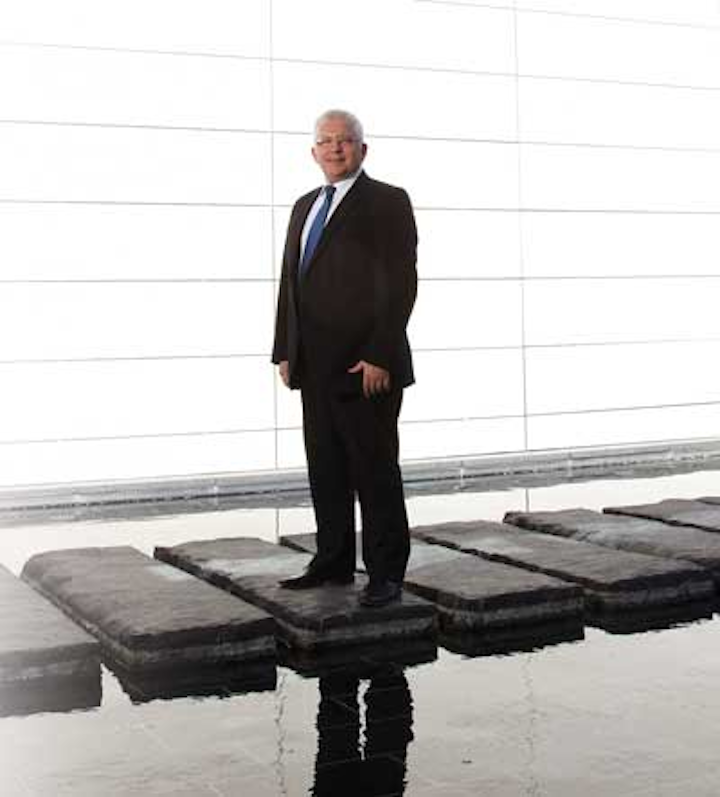 Grundfos CEO Gains Ground
Danish pump manufacturing giant Grundfos is diversifying into water treatment. CEO Carsten Bjerg speaks exclusively to Tom Freyberg about the company's plans and how leakages can be reduced globally.
The interview with Carsten Bjerg should be focusing upon the water industry. Instead, the conversation takes an immediate turn towards the 2012 Olympic Games. Denmark has just taken a gold medal – its second overall – in Olympic track cycling. Bjerg is clearly proud of the achievement.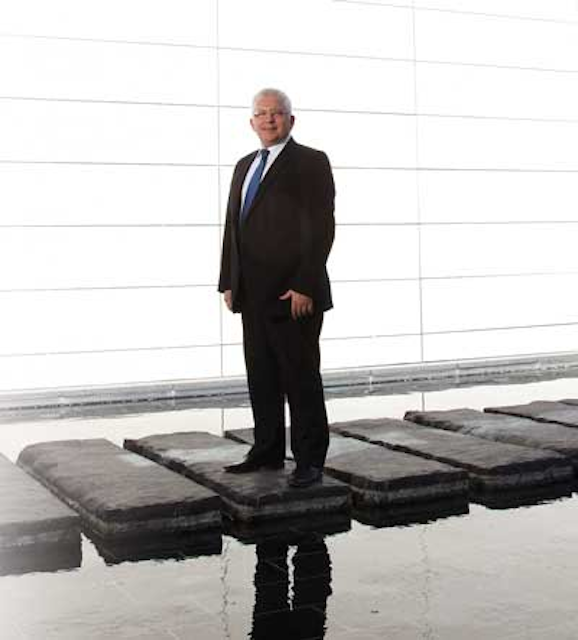 Reflecting on success: After rising to the role of CEO during the course of his 15 years at Grundfos, Bjerg led the company to turnover 2.8 billion euros during 2011
A regular gym goer, supporter and follower of a local handball team (one of the top two in the country), it's clear that the Grundfos CEO is active outside of the boardroom. After the conversation goes onto team Great Britain's efforts (I can't help but bring up the 20+ gold medals to date), Bjerg likens the results with those of his company. Investment put into athletics at grassroots level years ago is now paying off, just in time for the Olympics, he says.
And in answering the question of how the company reported an 8% growth on pump sales in 2011 with a turnover of DKK21.2 billion (2.8 billion Euros), he attributes this to the same reason: investment.
"We are seeing payback on the globalization of our company that we have invested in over the last 15 years. This of course helps in a period when growth in Europe is not so strong. Europe used to be our strongest market but we now have much more of the sales outside of the region," he says.
The Far East, including China, as well as ASEAN (Association of Southeast Asian Nations), not to mention Eastern Europe, Russia and the US markets have helped contribute to Grundfos' turnover growth despite Europe's decline.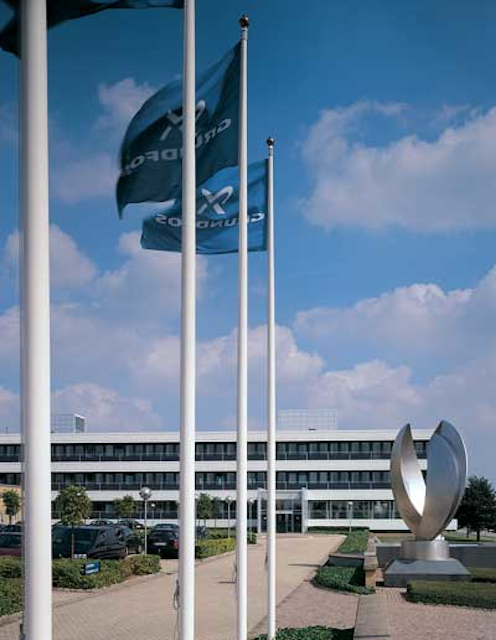 Flagship purchase: The foundation owning Grundfos has helped push Grundfos into the water treatment market, leading to the acquisition of U.S. firm Enaqua, which focuses on UV and membrane filtration
Just like investing into up and coming athletes, Bjerg prizes his efforts over the last decade in investing into R&D and new products, which have now been released onto the market and are helping with the financial bottom line.
There's also another reason why despite being a European competitor in the Olympics, Denmark-born Bjerg speaks highly of Great Britain's efforts. A mechanical engineer by training, he spent a year at Cambridge University in England completing a Masters Degree in ACPMM (Advanced Course in Production Methods and Management). Since then he spent 14 years with Danish pump and automation manufacturer Danfoss and has been with Grundfos for the last 15 years. So within the space of two companies, Bjerg has risen to the role of the CEO.
Diversification: pumps to UV and membranes
Olympics fever to one side, in order to discuss the recent development and direction of the company, it's important to firstly understand its roots. Grundfos is owned by the Poul Jensen Foundation, set up by the company founder in 1975. Today the foundation owns 86.7% of the shares, alongside 2% that are owned by staff and the rest owned by the founder's family.
"The foundation is asking us, asking me to ensure that Grundfos makes a positive difference to the world," the CEO says. "And specifically over recent years we have come to the conclusion that we ought to also play a role in water treatment."
And it is this decision that led the company to recently acquire Enaqua, an American company that focuses on the use of Ultraviolet (UV) technology to disinfect water, as well as membranes for water purification. The purchased firm produces UV disinfection systems that range in sizes up to 100 million gallons per day for municipal and industrial applications.
Discussing the change in direction away from pumps, Bjerg says: "This is not necessarily the investment that has the maximum payback for us. Today we are still a pump company and there is still enough for us to do there. Yet we are also seeking ways to create a position for ourselves as a water treatment provider.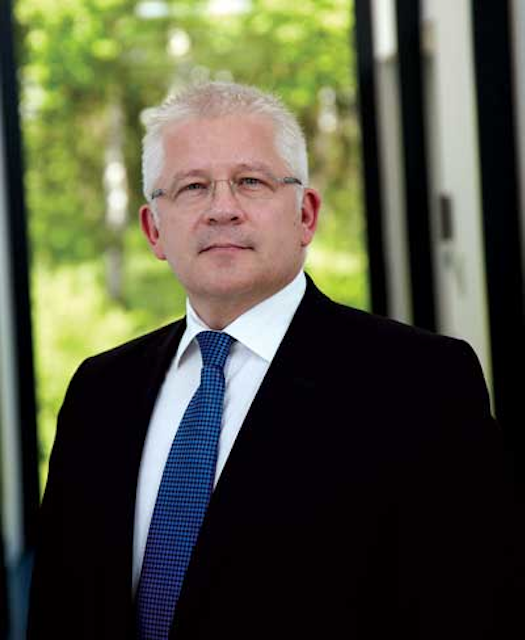 Hard line: Bjerg strongly believes that market mechanisms should be put in place to incentivise
"Will we see more of this?" he asks. "The answer is hopefully, yes. We would like to do more than what this acquisition is making possible for us. We are looking for other entries into that market with direct acquisitions, as well as research and development. Again, we do not seek to become a provider across the board of equipment for the industry. But when we identify technology breakthroughs then yes, we can help the industry and build on the position we've established."
Lower pressure, lower leakages
Nor is it just manufacturing and selling pumps that make up the core of Grundfos' business. Bjerg says it's also about educating the industry on potential savings that can be made. One of these savings is the area of water leakages and non-revenue water. With the World Bank estimating that 45 million cubic meters of perfectly usable, potable water is lost in the network everyday through worldwide leaks: it's a worthy cause for the CEO to turn his hand too.
Rather than focusing on reactively acting on leaks once they've occurred, Grundfos believes the solution lies earlier in the cycle. Demand Driven Distribution, or DDD for short. That's the name the company gives to the set-up of multiple pumps operating at proportional pressures, all in unison. The system is designed to supply precisely the flow needed at the pressure required, with numerous pumps running efficiently instead of one big pump.
According to the firm, when you reduce pump pressure by 50%, you can reduce leakage loss by at least 30%. This is one topic that the CEO is clearly passionate about.
"You have to make sure that you reduce the risk for leakages by adjusting the pressure of the system," he says. "Again here you have the application where it's very common to have full pressure in the system independent from the demand. This doesn't make sense energy wise, nor does it make sense when it comes to leakages. So our main contribution to this is to offer solutions whereby with alternative controls you are ensuring that you adjust the pressure in the system according to the amount of water required."
Bjerg says DDD can lead to three benefits: energy saving, reducing leakages and optimizing the efficiency of the system, reducing the overall maintenance required. Speaking more broadly, he suggests that the way in which utility leakages are perceived should change.
"This is one of the tricky issues because in many places around the world you do not have the market mechanisms punishing the water industry if they have leakages in the system. I think we should pay much more attention to this matter."
So regulatory enforcement/fines on utilities could help reduce leakages?
"I just think that if you take it from the global challenge we have on water, it is establishing how you can lose so much drinking water without that being a problem for anyone."
Indeed, findings from the Asian Development Bank suggest that by cutting the amount of lost water across Asia in half, 150 million people could be supplied with treated water (see feature on page 28).
"I think that you could argue, as a consumer for water – each of us – how much should we pay for water that is pumped up from the ground to make it possible for us to drink water? However, it's also important not to blame the water industry because if you provide water for society and do not benefit from reducing leakages, then why should you put investment in?"
S-tube impeller
Shortly before the Enaqua announcement in June, Bjerg was busy helping to launch Grundfos' S-tube impeller at the IFAT Entsorga show in Munich, Germany. A tube-shaped impeller in a pump housing that matches the tube shape through the entire pump, Grundfos claims this design "offers greater hydraulic efficiency than any other type of wastewater impeller and doesn't compromise free passage".
So how long has the impeller been in development?
"Historically, on wastewater pumps it was always acclaimed that you cannot use the most energy efficient solutions as you would have problems with the free passage and problems with clogging on the pumps," says the CEO. "Here we have invented an impeller that does not compromise on either of the two accounts. This is I believe the first in our industry. You have optimal efficiency and at the same time free passage for the impeller. This is actually something we've had in our laboratories for some years. The first time I was involved in discussing this theoretical solution was almost ten years ago."
Reducing unnecessary water losses is also a focus area for the company's global operations. Like any major industrial manufacturer, water consumption is a big concern, not to mention expense. In 2010 the company consumed just over 650,000 m3. A year later in 2011, this had dropped to just over 530,000 m3. How was this achieved?
"We are preaching the message that this is something that all companies should be doing," says Bjerg. "We've given it a lot of attention. We've been looking across the entire organization for opportunities to save water. The result is down to multiple solutions implemented across our many companies around the world. It's not down to one technology or one example. One of the things we do is to use our own technology or products in our own operations."
Energy
It's difficult to talk with the CEO of one of the world's largest pump companies without discussing energy. Pumps, along with aeration equipment at wastewater facilities, are often pointed to and blamed for high energy costs. And with estimates suggesting that pumps alone are responsible for 10% of the world's entire global electricity consumption, it's finger pointing that is not likely to go away. So what is being done and what can be done to address this?
"That's right – pumps do actually consume a relatively big share of the global electricity production across the world at 10%. This means there's a huge opportunity for improvement. It's not that you can cut the usage entirely away as pumps are needed in many places and provide an important role. It's important that it's done in the most energy efficient way."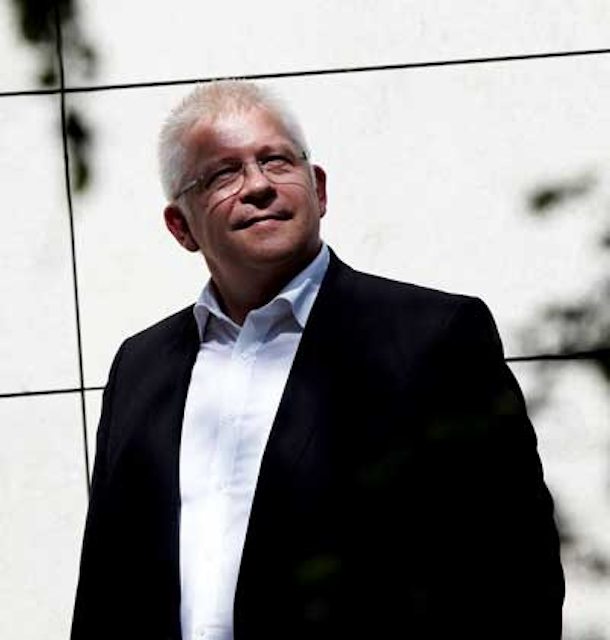 Bright outlook: An engineer by training, the Grundfos CEO believes that technology will play a pivotal role in future energy, climate and water challanges
The CEO adds: "We decided that we will go beyond what legislation requires. We have introduced the Blueflux-labelling, which is something we put on all our products that use our best technology motors and frequency converters. This is a result of investing in technology. I would say the investments in technology and R&D are the major reasons for making this happen."
Legislation requirements on pumps, as mentioned by the CEO, are now major considerations. The Energy Using Product Directive is a European Commission energy efficiency framework, setting the future or energy efficient products in the EU. The Directive has also been revised to include energy related products.
With the new requirements, high efficiency, variable speed circulators must be used as a standalone pump. This will mean that investment in new product development and production lines, as well as adaptation of tooling, test and production equipment will be a huge challenge for the pump industry. Grundfos is already actively marketing its EuP ready integrated circulators.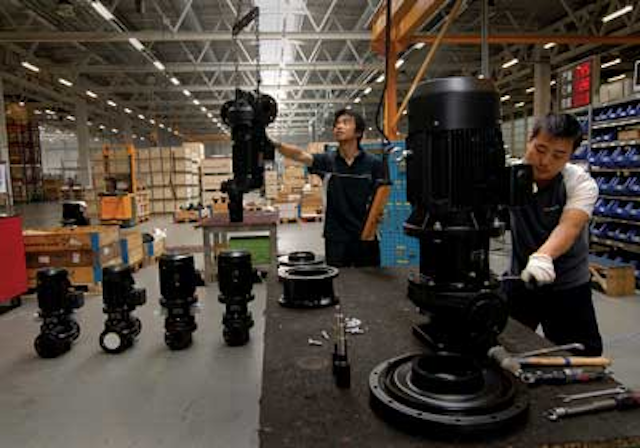 Eastern promise: In light of Europe's lagging economy, Grundfos has found success in the Far East, including China as well as the Eastern European and Russian markets
Final words
When asked to describe himself in five words, Bjerg avoids the question. Instead he describes the reasons why he's remained with only two companies since his education; a rarity today with the amount of competition and opportunities inevitably springing up.
"I think in my career there's a reason why I've been with only two companies and that is that I'm very dedicated and committed to what I do and don't jump from one company to another every second year. I think that is important. I would have a difficult time in working for a company that I don't believe in the business priorities but also the ability to commit to the purpose of the company. It's important to me to continue to be the person I am. Everyone will know me as Carsten and that's the way I like it."
It's clear that Bjerg, sorry Carsten, doesn't preach the environmental message for the sake of it. Both the CEO and the foundation behind Grundfos believe that the profits from the company should be invested to help the firm divert into water purification for the better of the planet. This is an aim that's been clearly backed up by the Enaqua acquisition. And testament to Bjerg's love for the environment, he spends a great deal of his spare time tending forests and fields around his house.
"For the huge challenges the world is facing on energy, climate change and water; technology is the answer. I always say that as a manager and CEO, there is a limit to how much of a difference you can make. The difference is made by the many people of the organization. I see my job to provide the best possible framework for employees to thrive."
Just as I expect the CEO to make another analogy of comparing people or products to Olympic athletes, news comes through the wires of another Olympic gold medal. Needless to say, both of us are hoping it's either Denmark or Great Britain as the victor.