UV combats microorganisms in municipal and dairy industries
Ultraviolet technology emerges as a safe, cost-effective way to disinfect drinking water and dairy products without using chemicals.
Oct 1st, 2005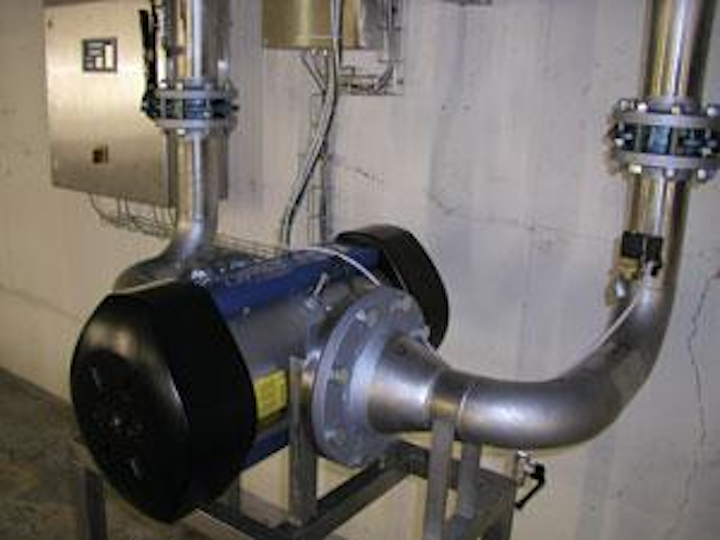 Ultraviolet technology emerges as a safe, cost-effective way to disinfect drinking water and dairy products without using chemicals.
All microorganisms, such as Cryptosporidium, Giardia lamblia and Legionella, need a certain amount of ultraviolet (UV) energy to ensure permanent inactivation. Conventional low-pressure UV lamps, characterized by a monochromatic emission spectrum (UV light emitted at 254 nanometers, or nm) can provide this energy. Medium-pressure UV lamps, characterized by a polychromatic emission spectrum (UV light emitted across the UV germicidal range of 200 to 300 nm) can also provide this energy.
The major difference between the two types of lamps is that, contrary to low-pressure UV lamps, medium-pressure UV lamps prevent photoreactivation of the irradiated microorganisms. This is due to the ability of medium-pressure lamps to damage the enzymes responsible for these pathogens' repair mechanisms. Both types of lamp alter the pathogens' DNA structure.
A German municipality and an Italian dairy processor sought a UV disinfection system for their respective disinfection needs. The municipality wished to install a safe, reliable solution that would produce high quality drinking water compliant with DVGW Standard W294. The directive requires that biodosimetric tests be used to test the UV system's functionality. The dairy company opted to employ UV as an alternative to using very high concentrations of chemical disinfectants to treat its process water. Both installed Wallace & Tiernan UV Astron disinfection systems with polychromatic UV lamps, with great results. The UV Astron series is marketed as the USFilter Barrier® M UV system in North America.
Waterwork Kirmesplatz, Stadtwerke Düren, Germany
According to the Federal Association of German Gas and Water Management (1998), more than 60 percent of Germans get their drinking water from groundwater, which is not always disinfected before consumption. Per the German Drinking Water Act, drinking water that comes from protected groundwater does not need to be treated because it already meets federal microbial treatment requirements and has a low potential for microorganism reactivation. According to the German drinking water rule, groundwater under direct influence of surface water or surface water itself needs to be pre-treated and disinfected before it can be used as drinking water.
Compact, flexible and made of SS Ti, Wallace & Tiernan UV Astron 275 A and B units are approved for use in dairy applications.
Click here to enlarge image
In the last decade, German waterworks have begun to use fewer chemicals and more UV to disinfect their drinking water. As UV disinfection does not form by-products, the technology became a more popular drinking water disinfection method when the German government lowered trihalomethane (THM) levels to 10 µg/L. Additionally, several recent worldwide outbreaks of various waterborne protozoa, such as Cryptosporidium and Giardia, spurred waterworks to contemplate UV as a safe, alternative drinking water disinfection method that protects people from gastrointestinal diseases and related fatalities. A low concentration of chlorine is often used after the UV disinfection step to protect the user against possible microbiological contamination during distribution.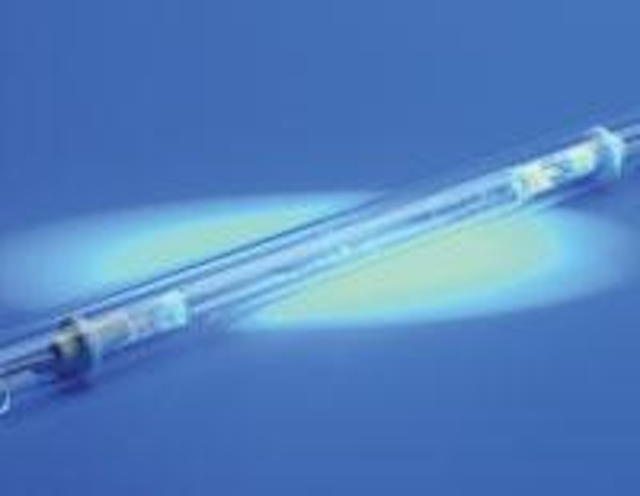 Fouled quartz sleeves reduce the UV energy emitted to the medium, which can result in insufficient inactivation of microorganisms.
Click here to enlarge image
The city of Düren, Germany recently installed four Wallace & Tiernan UV Astron 1250 units - one for each pump. Operational for almost six months, the units disinfect treated surface water from the nearby River Rur in the Obermaubach area.
Each UV unit has six medium-pressure lamps and can treat 375 m3/h. For optimal performance, the units are equipped with automatic cleaning mechanisms that clean the quartz sleeves and UV sensors whenever necessary during the disinfection process. Depending on the required amount of water, the UV systems are switched on and off. A frequency converter controls one of the four pumps, allowing the attached UV unit in this pipe to respond only on the required amount of water.
Italian dairy processor
An Italian dairy company uses water to process cheese, milk, butter and yogurt and for cleaning and sanitizing operations. Low dose chemical disinfection is ineffective at inactivating Pseudomonas, an aerobic bacteria common to the dairy industry. Since high doses of chemical disinfectants cannot be used because they affect the product quality, UV is the most cost-effective and safest treatment solution for the industry.
This particular dairy processor decided to install two Wallace & Tiernan UV Astron 275 units for their flexibility and compactness. The units' "inline" design requires little floor space. Moreover, the UV technology's automated treatment process can handle the dairy company's frequent stop-and-go product processing. Usually when the water flow stops for a long time, the UV lamps will heat it up and a temperature sensor located in the UV chamber will switch the lamps off to avoid increasing the water temperature and damaging the installation. When the process starts up again, it needs instant disinfected water, but the powerful UV lamps can take up to two minutes to reach full disinfection strength. To avoid this lag, the temperature sensor was linked to a bleed valve that, at 30°C, receives a signal and sends a small amount of process water through the UV chamber.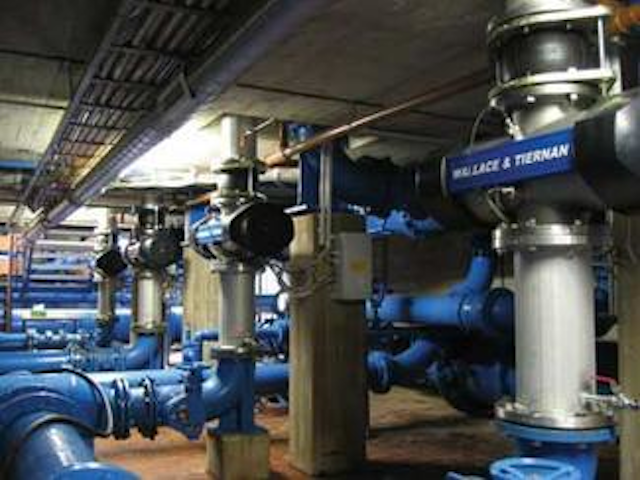 Each of the four UV Astron 1250 untis installed in Duren, Germany disinfects for general pathogenic microorganisms. The units also follow the W294 directive for UV installations in drinking water applications, which means a dose of 400 J/m2
Click here to enlarge image
In addition to compactness and flexibility, the UV Astron units have met the entire dairy processor's other needs. The completely automated units perform reliably and are made of dairy industry-standard stainless steel (316 Ti). CIP procedures can be used to clean the units. In addition, the units also cost considerably less to install than other disinfection alternatives. With a design flow that ranges from 144 to 275 m3/h and a T10 transmittance of 98 percent, the UV Astron systems guarantee a minimum dose level of 40 mJ/cm2.
The UV Astron Disinfection System
The Wallace & Tiernan UV Astron disinfection system was principally designed to treat potable, swimming pool and process water, with flow rates from 10 to 1000 m3/h. Extremely compact, UV Astron units are equipped with anywhere from one to six medium-pressure lamps that emit a UV-C wavelength spectrum in the germicidal range of 200 to 300 nm. These wavelengths damage the microorganisms' DNA, cell membranes, proteins, lipids and enzymes and, as a result, destroy the microorganisms' reproductive abilities and repair mechanisms.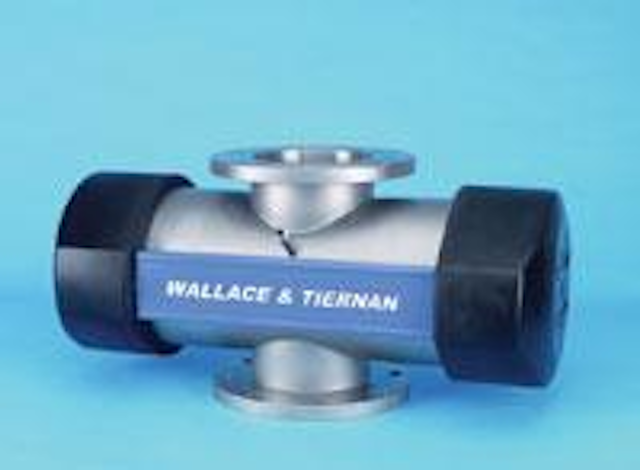 The UV Astron series is marketed as the USFilter Barrier M UV system in North America.
Click here to enlarge image
Located in the UV system's treatment chamber, the Wallace & Tiernan UV lamps must be mounted in a horizontal position to ensure reliable working conditions. The UV chamber itself, which is at the heart of the UV Astron system, can be mounted either horizontally or vertically as well as rotated around its own axis. The flow pattern inside the UV chamber has been improved to ensure optimal disinfection of the water to be treated. Furthermore, continuously monitoring system parameters such as the efficiency and correct operation of the UV lamp, possible fouling of the quartz sleeves and UV sensor by waterborne deposits and changing quality (UV transmittance at 254 nm) of the fluid ensures a reliable disinfection result. The UV chamber's hydrodynamic design minimizes pressure loss. The system automatically monitors each individual lamp and indicates its operating status via LEDs on the control cabinet. The kind and number of lamps used, as well as the size of the UV chamber, depend on the application type and onsite conditions.
All UV Astron series units are equipped with an advanced disinfection control system. The lamp intensity is automatically set at the most economic energy levels that permit optimal, energy-saving operation. Water quality, flow rate, lamp age and possible deposits on the quartz sleeves influence a UV system's performance. The disinfection control system is flexible enough to increase the economical lamp life and respond to changes in transmittance, capacity and bacteriological requirements.
Manual and automatic cleaning mechanisms are available for the Wallace & Tiernan UV Astron disinfection system, depending on the series model. Fouled quartz sleeves reduce the UV energy emitted to the medium, which can result in insufficient inactivation of microorganisms. The disinfection control system can increase the cleaning frequency in case an automatic cleaning mechanism is used to remove heavy deposits built up on the sleeves. Regular cleaning lowers maintenance needs and operational costs.
Easy to operate, the manual cleaning mechanism is available on all UV Astron models. The cleaning frequency depends on the water quality and can be operated on demand.
The automatic cleaning mechanism also periodically cleans the quartz sleeves and UV sensor at a pre-set time, but the cleaning frequency can be changed on demand. The UV sensor carefully monitors the intensity needed, and the disinfection control system is able to override the time if an immediate cleaning is required. A built-in motor drives the cleaning mechanism, and its functionality is continuously checked. The wiper strokes are counted. This information helps determine when the wiper rings need to be replaced.
As with other UV technologies, the UV Astron system does not harm the environment and is increasingly used as an alternative to chemical disinfection methods, especially where no residual effect is necessary. The technology produces no disinfection by-products, taste or smell, nor does it cause corrosion. Simple operation and reliable disinfection, high yield, and high effectiveness against Cryptosporidium, Giardia lamblia, Legionella and other microorganisms are additional advantages UV has over alternative disinfection treatment methods. Contrary to several chemical disinfection methods, UV is effective for all types of microorganisms.
Author's Note
Rob van Esch, Ing. is the UV project and sales manager for Wallace & Tiernan, which is part of Warrendale, Pennsylvania-based Siemens Water Technologies. Mr. van Esch is located in Veldhoven, The Netherlands and can be reached at EschR@chemfeed.org. Company web site: www.usfilter.com.
---
Where else can UV technology be used?
In addition to disinfecting dairy process water, municipal drinking water and wastewater, UV irradiation is also used in a variety of other applications, including swimming pools, fish farms and aquaculture, and air conditioning systems. UV can also be used to produce process water, cooling water, wash water, cleaning water and transport water for the food and beverage, microelectronics, pulp and paper, pharmaceutical and cosmetics, automobile, offshore and naval, health care and horticultural industries, as well as for agriculture.