St. Petersburg upgrades water treatment plants with UV systems
All of St. Petersburg's four drinking water treatment plants will eventually install ultraviolet disinfection systems particularly to eliminate chlorine-resistant clostridium and viruses.
Oct 1st, 2005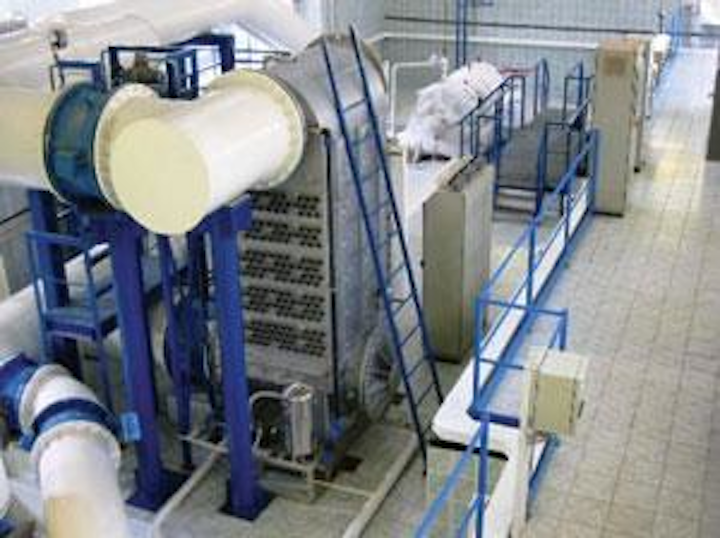 All of St. Petersburg's four drinking water treatment plants will eventually install ultraviolet disinfection systems particularly to eliminate chlorine-resistant clostridium and viruses.
Since mid-September, the world's largest UV drinking water disinfection installation (1.26 million m3 per day) began operating in St Petersburg, Russia. Once completed in 2006, the capacity will be increased to 2.5 million m3 per day. The entire city's drinking water will be free of clostridium and viruses.
Russia's second largest city, St. Petersburg, is located on the Gulf of Finland with a population of 4.5 million people. The city is rapidly upgrading its wastewater and drinking water treatment facilities. Sodium hypochloride systems have replaced liquefied chlorine in the drinking water plants, most of them located in the center of the city. This step will eliminate the risks associated with the storage of large volumes of hazardous chemicals in densely populated areas.
St. Petersburg draws all its drinking water from the river Neva, polluted in particular with chlorine-resistant clostridium and viruses. Disinfection with ultraviolet (UV) radiation is widely used all over the world now to remove harmful microorganisms. It is proven to be very effective also against microbiological pollutants, resistant to chlorine.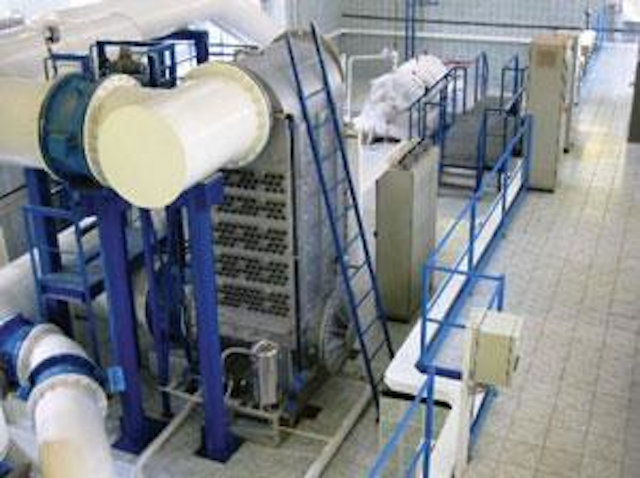 LIT UDW 216 in-line cross flow UV disinfection system in St. Petersburg
Click here to enlarge image
The city's Vodokanal Waterworks decided to implement UV disinfection in all its four drinking water plants in a step-by-step approach. Theoretical studies, pilot and field tests preceded its introduction over long periods of time. Analytical studies of the water quality were carried out in research laboratories of Vodokanal Waterworks and Moscow and St. Petersburg universities.
The raw water from the river is pre-treated with coagulants and flocculants and led through sedimentation and sand filtering stages.
Clostridia spp., coliphages, faecal and total coliform concentrations were measured over a period of 18 months. The 254-nm (10-mm) transmission, monitored during that time, varied between 79 percent and 85 percent. The UV disinfection function was foreseen in the pumping stations, as a last step before the water was released into the city's distribution network.
The dose for an effective and cost-efficient degree of disinfection (45 mJ/cm2) was established in compliance with North American and European standards.
The main and largest drinking water treatment plant of the four sites is housed in historical 19th-century buildings. The typical architecture should remain unaffected. The UV disinfection equipment had to fit in the existing pumping house space.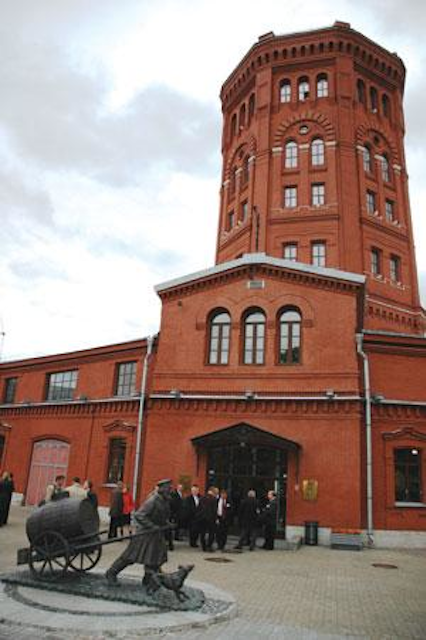 The compact UV disinfection system is installed in St. Petersburg's historical 19th-century Vodokanal Main Waterworks.
Click here to enlarge image
LIT Technology UV equipment was selected for the job following a public tender. LIT's UDW in-line cross flow concept ensures optimum UV dose distributions with equal disinfection performance at all points in the reactor, featuring very low head losses.
The UV disinfection systems consist of LIT's DB300 lamps. These high-output low-pressure mercury lamps deliver four times more UV energy than typical low-pressure lamps, while maintaining the same electrical efficiency. They allow for designs with small footprints, meeting the space restrictions in the historical buildings without having to erect extra facilities on the premises.
With UV disinfection at the so-called "Main" drinking water treatment plant (864,000 m3 per day) in place since early 2004 and the recent addition of UV to the Volkovskaja facilities (396.000 m3 per day), the city of St. Petersburg has installed by far the biggest UV drinking water disinfection capacity in the world. By 2006, the total capacity of the city waterworks will be protected by UV disinfection, an unprecedented 2.5 million m3 per day.
Most of St. Petersburg's wastewater will see UV light in the near future. In September 2005, the 330,000-m3-per-day Southwest Wastewater Treatment Plant, equipped with LIT "open-channel" UV disinfection equipment, also began operating, which significantly reduces the direct discharge pollution into the Gulf of Finland.
Author's Note
Henk Giller is the director of LIT Europe b.v., based in Valkenswaard, The Netherlands. Sergey Kostioutchenko is the president of LIT Technology, located in Moscow, Russia. For more information, please contact Henk Giller at h.giller@lit-uv-europe.net.