Global trends in PPPs benefit desalination projects
Technological advancements over the past 10 years have led to a dramatic increase in the number and size of proposed seawater desalination plants.
Jun 1st, 2005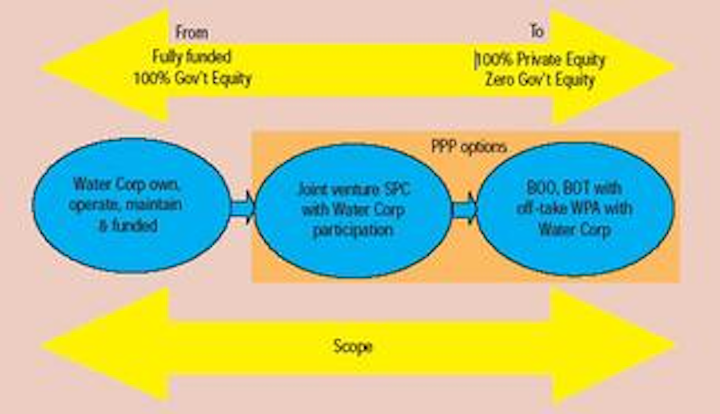 One of the primary benefits of public-private partnerships is that they allocate risk to the party best qualified to manage it. The unique risk profile of desalination projects, therefore makes these water production facilities particularly well-suited to benefit from these partnerships in contrast to other water or wastewater projects.
Technological advancements over the past 10 years have led to a dramatic increase in the number and size of proposed seawater desalination plants. Seawater desalination facilities are being proposed or constructed in places never before considered economically feasible. Most of these plants are large to take advantage of economies-of-scale and have relatively high fixed and operational costs. These modern facilities employ new, state-of-the-art technology in which process risk and operational complexity are higher than usually found in conventional water treatment plants.
Worldwide, virtually every large seawater desalination plant proposed or constructed in the past five years has employed some type of public-private partnership (PPP). PPPs may range from a relatively simple, annual contract to provide services to operate and maintain a facility, to a long-term, fully privatised arrangement. Under a fully privatised plan, the private corporation may develop, construct, operate and own the treatment plant in return for a public entity's guarantee to purchase some minimum quantity of treated water for an agreed-upon price.
The specific advantages of each PPP model must be individually considered for each project. PPPs are not a panacea; if a project is not well-structured, technically sound, or does not make financial sense, it will not survive the due diligence process. Off-takers must be credit worthy and offer a secure payment mechanism, and private-sector partners must exhibit the financial and technical strength to assume responsibility for the service to be provided.
By thoroughly pre-qualifying prospective partners, the public's interests in obtaining reliable services at affordable prices can be balanced against a private company's desire to make a profit.
Seawater desalination plants have a unique risk profile. Seawater intake and concentrate discharge requirements, stringent permitting and environmental considerations result in limited siting opportunities. Process and operating risks associated with the technical complexity and energy consumption of a desalination plant are usually much greater than those of conventional treatment plants.
Local or regional variations in the preferred PPP strategies are developing as the large-scale desalination market evolves and matures. It may be more accurate to call these trends "options" or "alternatives." Specific needs also may drive a project towards an alternative delivery method, such as to reduce developmental risks, shorten project schedules, lower or stabilise the rate structure, or gain access to private capital or the latest technology.
In the United States, the trend seems to be toward public ownership and tax-exempt financing with a private partner providing design/build (EPC) and operating (O&M) services. The "alliance" Design-Build-Operate (DBO) model seems to be working successfully in Australia. In the United Arab Emirates, government equity participation in the special-purpose company that owns/develops a project reduces the capital that must be raised by the private partners and improves the interest rate and capital repayment period.
California and Texas consider seawater desalination
In February 2002, the Metropolitan Water District of Southern California (MWD) solicited proposals for the development of cost-effective seawater desalination projects that contribute to the region's overall water supply reliability. Proposals were to be evaluated for their regional water supply benefits, water quality impacts, operational reliability, project feasibility and schedule, risk mitigation, and cost to MWD. Selected projects would be eligible for financial assistance in the form of an MWD tariff subsidy. Of the projects proposed, a private developer selected two sites for a 100,000- to 200,000-m3/d facility and is currently conducting environmental impact assessments and prequalifying EPC contractors.
In April 2002, the governor of Texas announced an initiative to develop a 100,000-m3/d seawater desalination demonstration project using an expedited process similar to that undertaken by MWD. The governor instructed the Texas Water Development Board (TWDB) to identify a project proposal with a strong potential for implementation, and to develop screening criteria to analyse potential projects. A request for Statements of Interest (SOI) was also prepared during the next five months.
In November 2002, 10 project proponents responded with details of proposed projects at various locations along the 600-km Texas coast. TWDB evaluated the proposals and issued a report recommending that three projects undergo further development and that US$ 1.5 million be issued to the Research and Planning Fund to issue grants for study to determine their feasibility. The complete project identification process, from the time the governor announced his initiative to the identification of the three viable projects, took nine months.
A common denominator in the three selected projects was that each proponent had chosen to employ some form of PPP as one of the cornerstones of their offer, despite new legislation that would be required to allow use of a design/build project delivery approach.
More than 60 seawater reverse osmosis (SWRO) projects in the Caribbean have been driven to employ a build/own/operate/transfer (BOOT) project delivery model, due to operation and maintenance (O&M) problems and performance deficiencies experienced with smaller SWRO systems supplied using a conventional, turnkey delivery model.
Most of these plants are small - in the 750- to 5,000-m3/d range - and it is economically impractical to employ full-time personnel with the necessary experience to operate an individual facility. The private sector has responded with a core staff of operators that is available to operate multiple plants for different clients.
The contract arrangements usually allow the owner/operator to retain any savings that result from improving a system's operating efficiency. This has led to some technology advances, including the highly efficient "pressure exchanger" energy recovery device now being used on SWRO plants around the world. Although most projects are referred to as BOOTs, there is little emphasis on the "T", and most contracts continue on beyond their original term.
Conclusion
PPPs can meet the unique requirements encountered in the development of seawater desalination projects. They can help alleviate or distribute the additional risks associated with these types of projects and increase the likelihood of a project's success.
Well-structured PPPs can also often shorten project delivery schedule and help reduce and stabilise a desalination system's capital and operating costs. To derive their full benefit, PPPs can - and should - be structured to meet local, regional, and project requirements.
Authors' Note
Tom Pankratz is a vice president with CH2M HILL, based in Houston, Texas, USA, who has written six books, including "desalination.com" and "Dictionary of Environmental Engineering," and dozens of papers on a variety of water-related subjects. Peter Walkemeyer is the managing director of Projenco Pty Ltd, based in Perth, Western Australia.

---
Water Corporation opts for alliance DBO model in Perth
Western Australia's government-owned Water Corporation provides complete water services to 1.9 million people in one of the world's largest geographic areas served by a single utility. Since 1975, reduced rainfall patterns in Western Australia have resulted in prolonged water use restrictions.
In developing a drought response strategy, the City of Perth turned to seawater desalination and undertook a feasibility study to determine whether a 130,000-m3/d SWRO plant could be designed and constructed within a 24-month time frame. The project was developed in an environment of considerable uncertainty. The procurement and delivery strategy needed significant flexibility built in to accommodate the uncertainty and the requirement for a very short project life cycle. A variety of project delivery schemes were considered and an "alliance" contracting concept was selected.
Under an alliance, one or more owners form an alliance with one or more service providers (i.e., designer, constructor, supplier, etc.) to deliver a specific project. Sometimes referred to as a "relationship contract," this arrangement involves partners assuming collective responsibility for delivering the project with collective ownership of risks and sharing of rewards. This arrangement is particularly well-suited for projects with high levels of uncertainty as to whether or not a project will ultimately proceed to completion; this situation faces many seawater desalination projects.
Under traditional contracts, responsibilities and risks are allocated to different parties, and commercial and/or legal consequences apply if the parties fail to manage their risks or properly complete their contractual obligations. Under an alliance model, the participants assume collective responsibility for delivering the project and collective ownership of all associated risks - and they collectively share in the pain or gain based on predetermined targets to which they have jointly agreed.
Different methods can be used to establish an alliance contract, and they must each be evaluated based on the issues and risks confronting the individual project. For the Perth Seawater Desalination Project, the Water Corporation used a process that engaged two consortia in a front-end design competition (Project Development Phase) before selecting one of them to complete the design and construct and operate the plant.
The two-stage procurement process began with a Registration of Interest (ROI) inviting private-sector companies to submit their qualifications, proposed personnel, and cost estimate for the Project Development Phase (PDP). Nine applicants submitted offers in separate technical and financial envelopes. The technical responses were evaluated, and the field was narrowed to five applicants, who were interviewed in interactive workshops. Two were subsequently selected as participants for the PDP, and their financial envelopes were then opened to ensure that their PDP cost estimates were within a predetermined range.
The second stage of the selection process commenced with the award of the PDP to the two participants. The PDP ran for five and a half months, during which time the participants completed 30% to 40% of the design, prepared detailed capital and operating cost estimates, identified all technical and financial risks, and prepared a detailed proposal. The project alliance agreements, including risk and reward mechanisms, also were negotiated with each participant during the PDP. The Corporation seconded key personnel into each team during the PDP and held weekly progress meetings and numerous workshops with each participant. The PDP provided a continuous assessment vehicle for the Corporation to assist it in determining which participant provided the best-value outcome. Key evaluation criteria included life-cycle cost, culture, capability and commitment.
The Corporation is funding the design and construction of the desalination plant and will own the facility; however, it will enter into a long-term alliance with the successful participant for the plant's O&M. Part of the evaluation, therefore, assesses the likelihood of a long-term successful relationship during the O&M phase.
In this procurement process, proposals are submitted at the end of the PDP and a detailed commercial and technical evaluation is conducted. Evaluation criteria relating to culture and commitment are also applied, and the successful participant is chosen to design, construct, operate and maintain the plant in an alliance with the Corporation.