Successful development of a RO membrane product line
LANXESS is a global solution provider for liquid purification technologies with 75 years of experience in water treatment. We have a leading position on the market with our Lewatit® ion exchange resins.
Sep 1st, 2013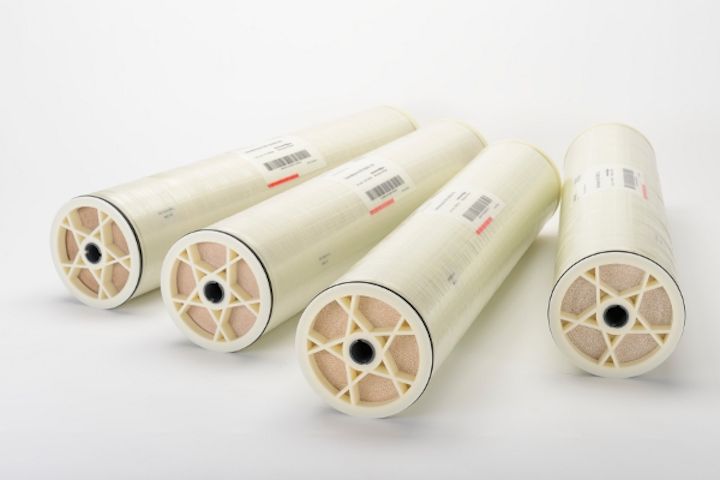 Specialty chemicals company LANXESS offers a complete range of RO membrane elements for the desalination of brackish and low salinity waters.
LANXESS is a global solution provider for liquid purification technologies with 75 years of experience in water treatment and has a leading position on the market with our Lewatit® ion exchange resins. Furthermore, we are strongly committed to our new reverse osmosis (RO) membrane business. Our Lewabrane® RO membrane elements are now installed in more than 24 different countries around the world.
We offer Lewabrane® products from our modern production facility in Bitterfeld, Germany. These RO membrane elements are designed for the state-of-the-art desalination of brackish and low-salinity waters in industrial and potable water applications. The Lewabrane® RO membrane elements comply with the "NSF/ANSI Standard 61" for health-related implications of drinking water system components. NSF International has certified that all brackish water membrane elements currently offered by LANXESS are safe for use in the treatment of drinking water.
Our product portfolio includes four different types of RO elements: a high rejection type for the best permeate quality, a high flow type for the best balance of flow and salt rejection, a fouling resistant type for fouling resistance via 0.86 mm feedwater spacer as well as a low energy type for energy savings from low pressure operation – compared with the other Lewabrane® types. In 2014, LANXESS plans to introduce a new RO element for seawater desalination. This will be followed by the introduction of an ultra-low pressure membrane for low salinity brackish water applications.
Process stability and durability are the key parameters of an excellent RO process and the RO elements are key factors. Therefore it was one of the aims during the development of the membrane to improve this parameter by improving the polymerization reaction of forming the separating polyamide layer. The new state-of-the-art production line in Germany employs a process that increases the polymerization degree of the polyamide layer.
The polyamide layer has a thickness of around 0.1 µm. The high polymerization degree is essential for the chemical and mechanical durability of the membrane. It goes along with a lower negative surface charge of the membrane, which improves the fouling properties during the filtration of surface water. In addition the membrane is highly cross-linked, which leads to a higher constant rejection of salt mixtures because the rejection is not caused by repulsion of the negative charged surface and the anions but rather by pore size and diffusion.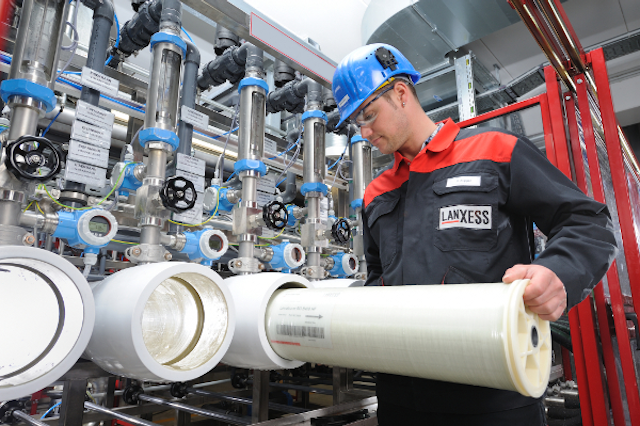 For quality assurance purposes each individual Lewabrane® product is checked in an element tester.
These benefits have been observed in laboratory results as well as in real operational plants. The results confirm a consistent performance, with high salt rejection rates at good water productivity. In one operating plant, the running time between the membrane cleanings could even be doubled in comparison to the formerly installed product. These results in particular demonstrated that the aim of a highly cross-linked membrane with lower fouling tendency was achieved and verified at commercial scale.
Lewabrane® products are supported with a full service package that includes RO system design with our innovative LewaPlus™ software tool, which provides various unique features including power optimization, calculation of the true power consumption around the RO system as well as a new cost calculation that prompts the designer to accept or input specific cost parameters based on local considerations, cost of capital, etc. to evaluate all aspects of total water cost. Additionally, we offer RO membrane element testing in our laboratory, as necessary, to keep your water treatment facility online.
www.lewabrane.com Booth Number: 06.103