Seawater Desalination: A Promise for China's Future?
With China's State Council establishing a higher than expected target for desalination capacity by 2015, market activity has accelerated.
Sep 1st, 2013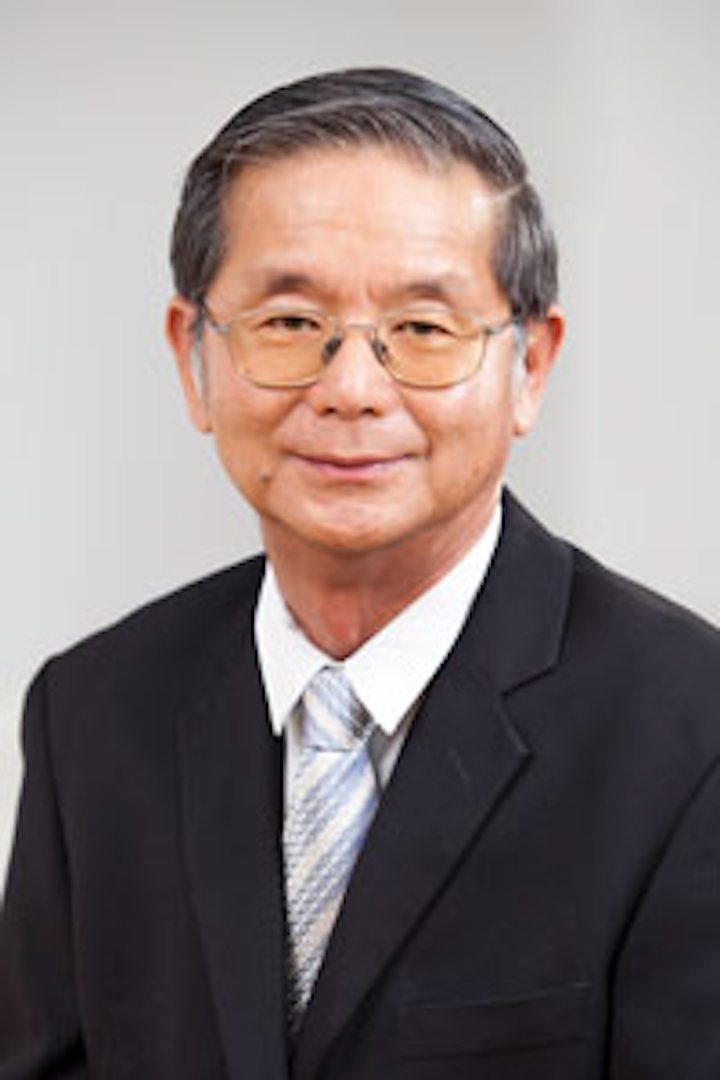 With China's State Council establishing a higher than expected target for desalination capacity by 2015, market activity has accelerated. Ahead of the IDA World Congress in Tianjin, Khoo Teng Chye looks at how international companies are tackling the rapidly moving Chinese market.
Many articles have been written about China's thirst, and how desalination will be a viable solution to fulfil its water demand. What China's planners actually think, outsiders may never really know. But if one were to read the signals that have been coming out of China's government regarding desalination development over the last 18 months, it does seem reasonable to conclude that desalination has been elevated to a level of importance never before seen.
Previously, to cope with water stresses, the Chinese government had rolled out a plan to develop a 'Water Conservation Society'. This plan was integrated into the 11th Five Year Plan (2006-2010), and three important documents - the 'China Ocean Agenda 21', 'The Outline of the National Planning for Development of Ocean Economy' and 'The Special Plan for Seawater Utilisation'. These were promulgated to act as the guidelines for the Chinese seawater desalination industry. In particular, 'The Special Plan for Seawater Utilisation' clearly stated the regional short-term (2010) and long-term (2020) targets for regional desalination and seawater utilisation.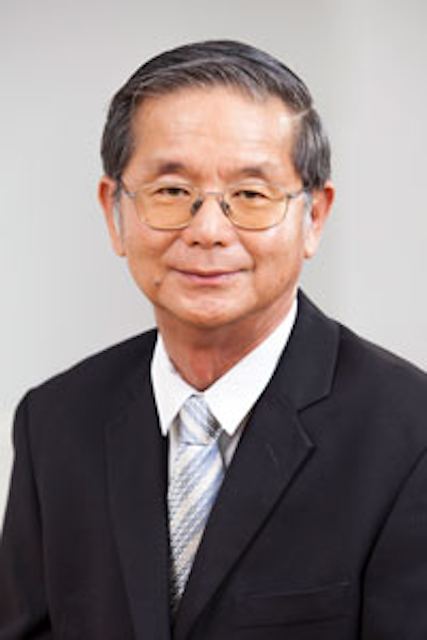 Khoo says that it is expected that RMB10.8-13.6 billion (US$1.8 – 2.2 billion) of new investment will be required over five years in the Chinese desalination market
Investment opportunities
In February 2012, China's State Council announced its 12th Five-Year Plan (FYP) for desalination, establishing a higher than expected target of 2.2 - 2.6 million m3/day of online capacity by 2015, versus less than 1 million m3/day today. The all-powerful NDRC (National Development and Reform Commission) has been delegated with the task of spearheading the development of the desalination sector to ensure that it meets its targets.
Meanwhile, it is believed that the government will extend subsidies and preferential financing policies to seawater desalination projects, support initial public offerings or bond sales by related enterprises and encourage private investment into the industry. All in all, it is expected that RMB10.8-13.6 billion (US$1.8 – 2.2 billion) of new investment will be required over five years.
One of the goals of the 12th FYP for desalination is to increase domestic equipment production so that it provides 70% of all equipment used in desalination plants – a policy similar to that used to build up the country's wind energy industry a few years ago. In fact, besides the similarity to the wind energy industry, the aim of the government's plan for the Chinese desalination sector seems similar to what was achieved in the areas of rail and aviation. While foreign technology is still welcomed into China, it seems that the government is trying to produce the whole value chain domestically.
In March 2013, in the latest move to boost the development of the desalination sector, the NDRC announced the first batch of regions and companies that have been selected to carry out seawater desalination pilots.
The list includes the cities of Shenzhen in Guangdong, Zhoushan in Zhejiang, Luxixiang Island in Zhejiang, Binhai New Area in Tianjin, Bohai New Area in Hebei and several industrial parks and companies.
Eventually, the list will grow to include about 20 pilot projects by the end of the 12th FYP. The NDRC has asked the listed regions and companies to actively promote the application of desalted water and encourage its use in daily supplies.
Market activity
Against the backdrop of the Chinese Government's focus on desalination, Abengoa, IDE Technologies, Aqualyng and Hyflux are already in the thick of the action.
Abengoa has started commercial operations at a 100,000 m3/day plant in Qingdao, which it will operate and maintain for 25 years. Hyflux has also developed China's largest membrane-based seawater desalination plant in Tianjin Dagang, which has a current designed capacity of 100,000 m3/day that is expandable to 150,000 m3/day.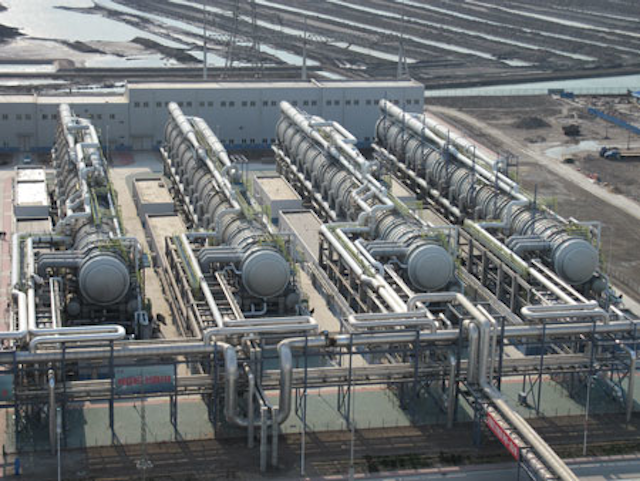 IDE Technologies' 200,000 m3/day plant in Tianjin has been called one of the world's largest Multi-Effect Distillation (MED) desalination plants
In September 2012, IFC invested US$12 million in Aqualyng to expand the company's seawater desalination projects in China. Aqualyng will use the funds to build new desalination plants in areas in China and also other parts of Asia. Aqualyng's joint venture partner is Beijing Enterprises Water Group (BEWG). Together, they have commissioned the first stage of the Caofeidian desalination plant in Hebei province, which can process 50,000 m3/day of fresh water. The plant is one of the first large-scale, commercial seawater reverse osmosis plants in China and BEWG had reiterated plans to build a second plant in Caofeidian, with a capacity of more than 1 million m3/day.
Cheaper desalination
Another challenge that policy makers and planners have to address is the issue of cost. It is without doubt that desalination is relatively expensive, but it is believed that maturing and better technology will eventually offset rising energy costs. While desalinated water is unlikely going to be as cheap as rainwater, it can certainly be affordable. As demonstrated by Hyflux's bid for the second desalination plant in Singapore, coupling a power component to a desalination plant can bring about very attractive pricing. The first year cost price of desalinated water offered by Hyflux is just S$0.45/m3 and the facility capacity will be 318,500 m3/day.
In conclusion, while the history of China has seen many examples of grand engineering projects, few have been as awe-inspiring as those related to water. The Three Gorges Dam and the South-to-North Water Diversion Project are but two recent examples. Perhaps, if desalination succeeds in bringing relief to the residents of the water-stressed cities, it could qualify as another worthy addition to the list of Chinese engineering achievements. As the IDA World Congress theme puts it – Desalination is a Promise for the Future.
Author's note:
Khoo Teng Chye is currently the executive director of the Centre for Liveable Cities, Ministry of National Development, Singapore, after having served as chief executive of PUB. For more information on the article, email: Khoo_Teng_Chye@mnd.gov.sg.
---
IDA World Congress
The International Desalination Association (IDA) will be holding its biennial World Congress in Tianjin, China on 20-25 October 2013. The event will see a gathering of researchers and practitioners from the world over, exchanging their views and ideas on the role of desalination as a viable and sustainable solution to the world's water challenges. The Technical Program will cover a broad but comprehensive range of hot topics such as Governance and Finance, Sustainable Desalination, Effective and Efficient Operations, and Innovative Desalination Technologies. In addition, the Congress will also take a look at Desalination Culture and Heritage, which will trace the development of desalination technologies and derive lessons to be learned from past experiences, successes and failures.