Sustainable Solutions for the Desalination Industry
World leading chemical company, BASF, will feature at booth A77/78 its comprehensive range of innovative water solutions for the desalination industry at various stages of water production.
Sep 1st, 2013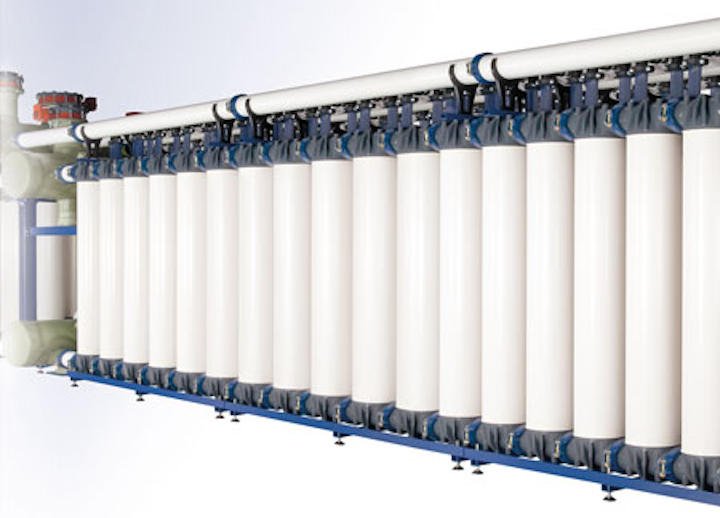 World leading chemical company, BASF, will feature at booth A77/78 its comprehensive range of innovative water solutions for the desalination industry at various stages of water production. This includes coagulants, ultrafiltration membranes, antiscalants, chlorine scavenger and surfactants to ensure desalination plants operate efficiently and effectively.
One highlight will be the new T-Rack® 3.0 based on inge® ultrafiltration membrane technology. BASF will also unveil the next generation of the Sokalan® RO-Xpert software with its unique feature of precisely predicting magnesium hydroxide scale formations.
New era of ultrafiltration technology
BASF is the leading provider of inge ultrafiltration membrane technology produced from its high-performance plastic Ultrason®. inge has now launched the third generation of its ultrafiltration racks: T-Rack 3.0. Designed for optimum pressure resistance, these new racks open up an even wider range of potential applications.
The membrane surface area of each T-Rack 3.0 module has been increased to 70 m2, which gives the racks an even higher capacity than previous models. The new design of the racks also enables more modules to be packed into the same space, significantly increasing the capacity of the overall system while maintaining the same compact footprint. Its high corrosion resistance makes the new T-Rack 3.0 a particularly good choice for larger facilities, for example as a pre-treatment stage for seawater desalination or wastewater reuse.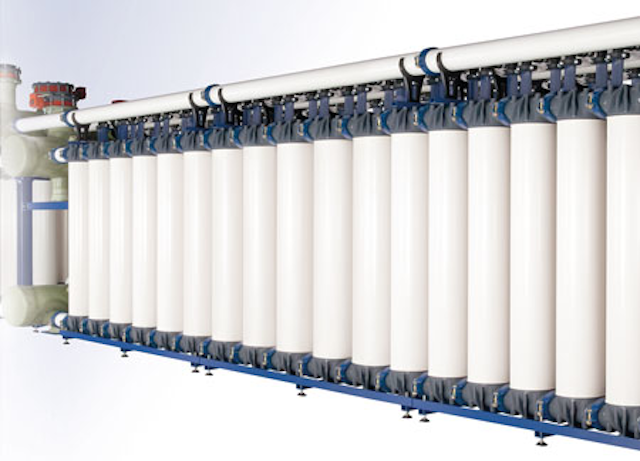 T-Rack 3.0: Compact, pressure-optimized and powerful – the new generation of inge ultrafltration modules
When every drop counts
For more than two decades BASF has been known for its innovative thermal desalination products. The antiscalant Sokalan PM 15 I is an industry benchmark and is approved for use in major MED and MSF thermal seawater desalination plants worldwide. Sokalan AF is a pure organic, silicone free antifoam that provides excellent foam control for thermal desalination processes at low dosage rates. BASF's Sokalan RO range of high-performance membrane antiscalants has been developed focusing on sustainability and low environmental impact. This is while considering specific customer requirements that allow operation of RO desalination plants more effectively.

Heat transfer unit of a MSF-Thermal Seawater Desalination plant before and after the use of Sokalan PM 15 I
Sokalan RO antiscalants are a high performance chemical pre-treatment that control inorganic salts, metal hydroxides, and colloids in RO feed water.
The unique performance characteristics provide users with more complete control of system feed water chemistry, reducing membrane fouling and minimizing cleaning requirements.
The Sokalan RO portfolio includes phosphorous free specialty products for superior scale inhibition caused by calcium carbonate, calcium sulfate, and barium sulfate as well as solutions for magnesium hydroxide, silca and calcium phosphate scale inhibition. In addition BASF offers efficient raw materials for reverse osmosis membrane cleaners.
Software Control
The next generation of the Sokalan RO-Xpert software is designed to recommend the most suitable and efficient Sokalan RO antiscalant for a reverse osmosis system. The software takes into consideration the feed water analysis as well as the plant process parameter. It calculates the scaling and fouling potential as well as the required dose rate to control the process and allows the project data to be saved to file.
Software permits manual selection of the antiscalant to allow comparison between different Sokalan RO types. A comprehensive summary of this calculation including feed water analysis, plant performance data as well as reject composition, scaling potential and indices can be printed if required.
With BASF's extensive experience in water and wastewater treatment the Magnafloc® LT coagulants and flocculants portfolio complements the offering providing advanced pre-treatment performance and residuals treatment in the RO desalination process.