Design-Build-Operate A Sustainable Global Model?
Long-term predictions suggest the DBO procurement method is forecast to streamline the traditional design-build (DB) delivery approach.
Dec 1st, 2011
Long-term predictions suggest the DBO procurement method is forecast to streamline the traditional design-build (DB) delivery approach. With wastewater recycling expected to increase by at least 15 million cubic meters over the next three years, this will also increase market opportunities. Paulina Szyplinska looks at where some of the key markets will be.
A key factor that has resonated in the global water market even more profoundly in the last few years is the need for local solutions in a globalising marketplace. In addition, global water market trends shaping the design-build-operate (DBO) are constantly increasing the pressure for high quality and efficient of water and wastewater services. Since the DBO model integrates three functions into one

project, it allows for faster and more cost-efficient project delivery. The key part in the formulation of the DBO contracts lies in the assimilation of "operation" and aiming at combining it into an attractive package of design, build and operation for the contractor. With a tangible shift of increasing contractual empowerment in favour of long-term agreements, this is expected to play an increasingly critical role in the shaping of the water market over the next ten years.
DBO success in the US
A well documented $609 million DBO between Veolia Water North America and Tampa Bay Water in Florida is part of a 15 year contract, signed in 2000. In 2015 there will an optional five-year renewal. After five years of operational results the facility was expanded to share the title of the nation's largest DBO project, alongside Seattle Public Utilities' 120 MGD Tolt Treatment Facility.
Interestingly, Veolia Water North America was chosen through a holistic procurement approach that required companies to form teams (or consortiums) that merged all engineering, construction and operational disciplines. The bid team, which included Camp Dresser & McKee as well as Clark Construction, was selected in April 2000 to design, build and operate the publicly-owned facility.
The Tampa Bay Water Regional Surface Water Treatment Plant blends source water from the Alafia River, the Tampa Bypass Canal, the Hillsborough River and the C.W. Bill Young Regional Reservoir, delivering raw water through a 72-inch diameter pipeline to the treatment plant process equipment. Treatment elements use a multi-barrier process including ballasted flocculation, ozonation, filtration through granular activated carbon gravity filters, disinfection, chemical dosing and solids processing. Adjacent to the regional water treatment plant are finished-water storage tanks and a pump station that supplies water to the Tampa Bay Water member governments' distribution systems.
Defining the DBO market
Growing disproportion between global water supply and demand is alarming. As a result some regions have already reached their limits of water resources. Increasing risk of water scarcity means there is a strong economic case for investing in water infrastructure and services with numerous long-term cost-effective initiatives, such as DBO, which can be undertaken to tackle water stress.
Unfortunately the global water industry is heavily fragmented. Furthermore decentralization in water supply and sanitation also means a large number of water utilities are under performing. Severe fragmentation of the global water industry creates serious challenge to meet the growing demand for water and wastewater services. One of the most effective ways to overcome the water sector inefficiency is consolidation of smaller and under performing systems and outsourcing of the services. Regions with consolidated water systems can more easily engage in Public-Private Partnerships (PPPs) and gain access to private capital and expertise.
The DBO model is expected to gain significant popularity among other PPPs over the coming years, mainly due to benefits of reduced capital and maintenance costs, consideration of long-term efficiencies of treatment plants and reinforcement of service activities.
Implementation of DBO model in the water market
Although the global financial crisis has had a negative impact on the overall water business, investments into water infrastructure are recognised and emerge as long-term store of value in recessionary times. The Asian water sector was not as affected by the recession as other regions and US and Canada rebounded strongly in early 2010 with many ongoing DBO projects.
Europe is expected to continue to invest into water-related infrastructure due to increasing number of PPPs in the water sector as well as necessity to catch-up with strict environmental regulations, especially by new central and eastern European countries.
In the long-term perspective the DBO procurement method is forecasted to streamline the traditional design-build (DB) delivery approach over the forecast period. The global water DBO market with an overall size of $81.22 billion in 2010, is expected to grow at the CAGR of 8.6% over the next ten years, reaching approximately $185 billion in 2020, fueled by the needs of growing economies and concentrated efforts to expand access to safe water supplies and adequate sanitation facilities.
Water reuse/desalination opportunities for DBO models
The current trend of the global water market is mainly to expand water reuse capacity. According to the World Bank, at present more than 40 million m³ of municipal wastewater is recycled daily worldwide and it is expected to increase to approximately 55 million m³ by 2015. The water reuse market is expected to develop mainly in the direction of greenfield projects creating good opportunities for DBO companies.

Regions where the highest increase in the volume of reused water is expected include Mexico, Saudi Arabia, China, India, Peru, United States and Spain. Furthermore, limited supply of freshwater stimulates worldwide expansion of desalination plants. Development of desalination plants is projected to remain very strong, doubling the installed capacity in the next five years. With production costs of less than $1 per cubic meter of water, reverse osmosis plants are achieving price levels similar to conventional water sources.
Due to complexity of water business, provision of package services is highly beneficial. Implementation of integrated water cycle is the responsibility of local water authorities and can be improved by outsourcing the water supply and wastewater services. This creates good opportunities for DBO companies specialising in complex project delivery. The global DBO market is attracting a lot of interest from international companies and the competition has begun with large corporations mainly form Europe and United States. Increasing competition is fueled by the fact that local authorities are opting for integrated solutions to develop water infrastructure along the lines of PPPs models.

The DBO project delivery is driving both vertical and horizontal integration in the market with convergence between construction and engineering capacities. The acquisition trend is expected to continue focusing on acquiring small to midsize firms to grow in local markets.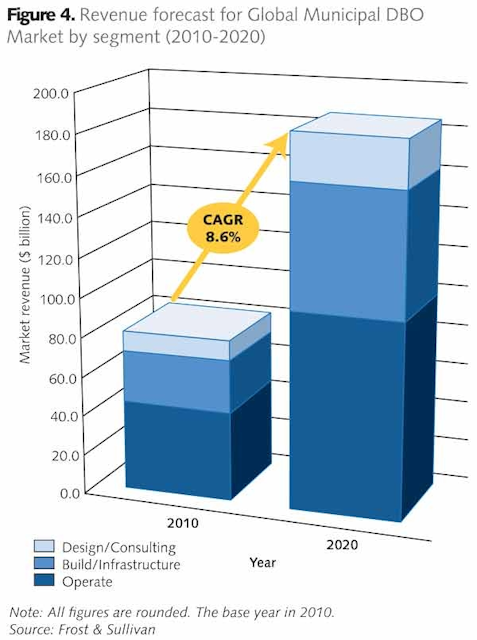 The recent acquisition of UK's Halcrow Group by the US-based consultant engineering company CH2M HILL to grow its water business in Western Europe, the Middle East, Australia, Asia and South America confirms that geographical diversification plays an important role in this market. Global water DBO players are becoming characterised with clear geographic priorities, balanced business models and state-of-art technologies to fulfill customer needs, being constantly ahead of environmental challenges. Companies with strong local footprints, offering integrated services can look forward to a sharp increase in demand in the years ahead.
Future outlook on the DBO market
In developed markets the growth is projected to be strong due to focus on improving drinking water quality and increasing water reuse.
The growth potential in Europe is expected due to substantial upgrades and large-scale investment necessary to meet the European Union environmental standards. This includes Russia with its potential to develop PPPs and modernise ageing infrastructure. Potential for DBO business in the Middle East is closely linked to the provision of additional water through desalination, leading to strong growth rates for related technologies and services. The US and Canada are expected to grow in the coming years, driven by increased levels of investment to upgrade aging water infrastructure and expand reuse capacities. Areas of more acute water stress are expected to see large number of DBO investments, including China, India and Australia. Growth is expected to be slower in a number of Latin American markets and Sub-Saharan Africa, mainly due to the poor economical conditions. However, the possibility for water DBO development is projected over the long term.
The global pressure to manage existing water resources far more efficiently and provide sustainable water solutions opens opportunities to develop water reuse, recycling and desalination plants, smart technologies and carbon footprint reduction and promise attractive upside potential for water DBO market. The demand for integrated water operation and management will further extend outsourcing of water supply and wastewater services, delivering good opportunities for DBO companies specialised in overall project and service provision. WWi
Author's note: Paulina Szyplinska is a water market analyst at Frost & Sullivan. This article is based on some of the key findings of the current research by Frost & Sullivan analyzing the Global Water DBO Market. For further information please email Chiara Carella at chiara.carella@frost.com.
More Water & WasteWater International Current Issue Articles
More Water & WasteWater International Archives Issue Articles