Desalination 'Comes of Age' Across Arid Australia
Australia is helping to change the worldwide perception of desalination. Water security threats from climate change and uncertain water availability are key drivers.
Jul 1st, 2011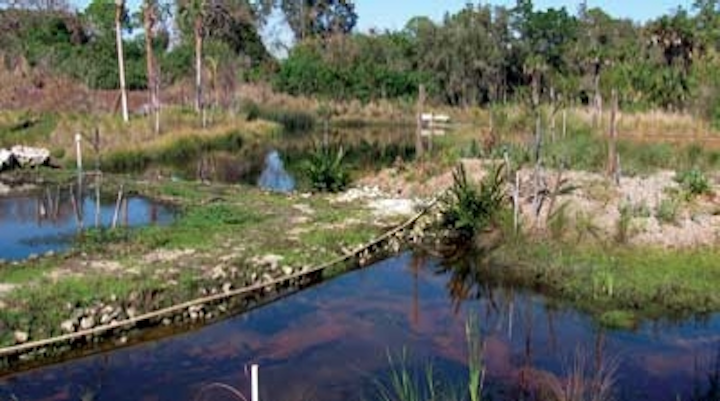 Australia is helping to change the worldwide perception of desalination. Water security threats from climate change and uncertain water availability are key drivers. Neil Palmer addresses the latest developments to the country's desalination capacity, including renewable energy power.
Desalination has "come of age" in Australia. The level of investment in desalination technology in the arid nation in just six years has been astonishing. By the end of 2012, Australia will have its sixth large-scale seawater desalination plant operational in as many years, supplying water to all mainland state capital cities with between 10 to 40% of their public water needs.
More plants for both urban and industrial supply are in planning stages, and millions of dollars are simultaneously being poured into research and development innovation by government, industry and private enterprise.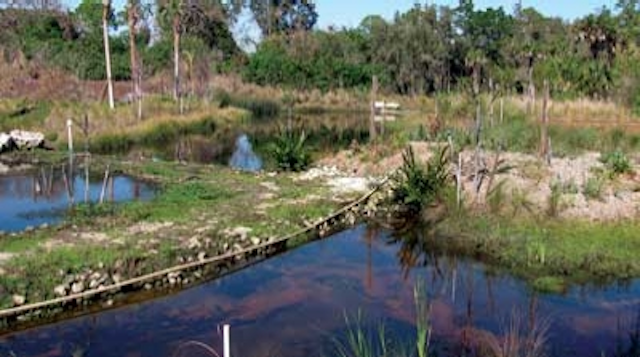 Melbourne Desalination Plant: Artist's impression showing extensive landscaping earthworks to minimise aesthetic impact
Australia is the world's driest inhabited continent and the continued effects of cyclical droughts and climate change mean its growing population of 22 million (expected to grow 50% by 2050) generally requires up to five times the water storage of an equivalent population in the United Kingdom to secure reliable supply.
A combination of drought, climate change, advances in reverse osmosis technology, reduced unit cost and population growth has resulted in an anticipated increase in desalinated water over 10 years between 2005-2015 from less than 100 ML/d to more than 1800 ML/d.
Australia's first plant came into service in November 2006 - the environmentally pioneering Perth Seawater Desalination Plant in Western Australia, with a capacity of 145 ML/d.
Since then, a further five large seawater desalination plants have been created along the coastline with the largest at Wonthaggi, just outside Melbourne, at 450 ML/d capacity nearing completion. By 2015, these will be capable of providing up to 30% of Perth's drinking water needs, 10% of Brisbane's, 15% of Melbourne's, 10% of Sydney's and 40% of Adelaide's from the plentiful sea resource.
The Federal and Western Australian governments recognised the need to fast-track innovation, energy efficiency and cost savings in desalination technologies and in 2009 established the National Centre of Excellence in Desalination Australia (NCEDA), based at Murdoch University in Perth. NCEDA has been allocated $A20 million over five years for research from the Federal Government's Urban Water and Desalination Plan.
State by state, it's evident that the rapid development of desalination capability and innovation in Australia will continue – confirming its place as a prime mover on the world stage.
Expansion in Western Australia
The Perth Seawater Desalination Plant, (PSDP) located at Kwinana on the Cockburn Sound in WA could be regarded as a world-leading model for future sustainable seawater desalination plants. At the time of its construction (2005-6), the A$387 million plant was the largest in the Southern Hemisphere, and Australia's first large scale seawater desalination facility.
Its capacity makes it the current biggest single water source feeding into the metropolitan city of Perth, providing 17% of public water needs. The plant was built by Multiplex-Degremont Joint Venture, in alliance with the Water Corporation, and is being operated for 25 years by a Degremont/Water Corporation alliance. An associated 82 MW wind farm north of Perth injects over 272 GWhr per year into the grid from which Water Corporation purchases 185 GWhr, enough to offset all energy used by the desalination plant. This is therefore the world's largest desalination plant powered effectively from renewable energy.
Such energy with low specific energy consumption is achieved from the plant's efficient design, incorporating isobaric energy recovery devices. This ensures that it's the world's 'greenest' plant. Taking this into account and considering its small physical footprint, the Kwinana plant is considered one of the most sustainable water sources in Australia.
Its success has led Perth authorities to build a second plant. The Southern Seawater Desalination Plant, producing 150 ML/d from the ocean south of Perth at Binningup... [continues of page 60] [continued from page 54] ...will be completed ahead of schedule this year by Spanish consortium Technicas Reunidas S.A/Valoriza Agua, AJ Lucas and Worley Parsons. Once operational, Binningup will double Perth's desalinated water resources to over 30% and similar to the Kwinana plant, all energy used will be offset by energy from renewable sources.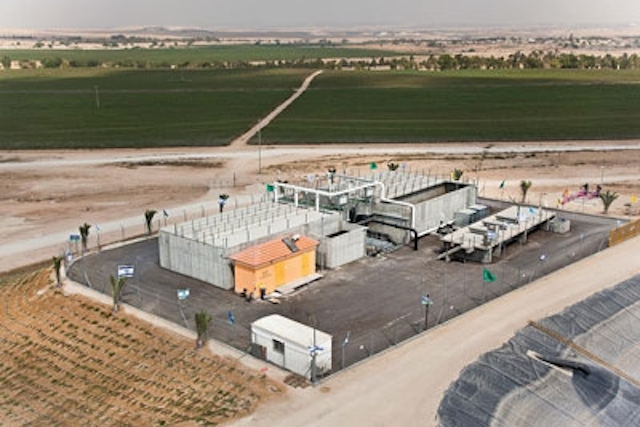 Sydney's facility will help increase Australia's desalination capacity
Immediate duplication of the Binningup plant has been recommended by water and desalination experts to meet the expected shortfall in public supplies. This takes into account predicted ongoing dry seasons in the south-west region of WA and critically low reservoir levels, and intake/outfall infrastructure has already been built to enable this.
Once expanded, it would then be possible to meet half of Perth's water needs via the two desalination plants in the short term. Options for further increases in daily drinking water capacity for Perth include indirect potable reuse of wastewater or a third seawater desalination plant.
A 175 ML/d private seawater desalination plant is being constructed for CITIC Pacific Sino Iron at Cape Preston, near Karratha. With process design by IDE, prefabrication of much of the plant was undertaken in China and shipped to site. Completion is expected at the end of 2011.
Two thermal desalination plants have also been recently built for industrial applications. These are a 3.6 ML/d mechanical vapour compression operational plant on the Burrup Peninsula in the state's North-West for Burrup Fertilisers Ammonia Plant and a 7.2 ML/d multi-effect distillation plant at Ravensthorpe in the South-West for BHP Billiton's nickel mine. Unfortunately the Ravensthorpe plant was mothballed (along with the mine) as a result of the 2008/2009 global financial crisis.
Gold Coast plant supplies South-East Queensland
Desalination is a key component of both the Gold Coast Waterfuture Strategy and the South-East Queensland Regional Drought Strategy Contingency Supply Plan. The plant at Tugun, close to the Gold Coast Airport, has been completed and produces 125 ML/d.
A 25 km pipeline delivers desalinated water to the Water Grid, SE Queensland's bulk water supply network. The plant was built by the Gold Coast Alliance, a Veolia-John Holland Joint Venture, in alliance with Gold Coast Water and the Queensland State Government, and the plant will be operated for 10 years by Veolia in alliance with Gold Coast Water.
Sydney, New South Wales plant completed last year
Sydney Water has built a 250 ML/d reverse osmosis seawater desalination plant which recently won the GWI Desalination Plant of the Year Award. The design is capable of accommodating a future duplication in capacity to 500 ML/d.
The plant, which cost around $A2 billion, is located on the Kurnell Peninsula south of Botany Bay which already hosts an oil refinery. The plant was designed and constructed by the Blue Water Joint Venture, consisting of John Holland Group Pty Ltd and Veolia Water.
Veolia will operate and maintain the plant for Sydney Water. As for the WA plants, the Sydney Desalination Plant will purchase renewable energy equivalent to the energy consumed from a wind farm, resulting in no net greenhouse gas emissions from operations.
Extensive landscaped Melbourne plant and pipeline
The Victorian State Government is building a 450 ML/d desalination plant to ensure reliable supplies for Melbourne. The plant is located 120km from Melbourne near Wonthaggi. This site was chosen so that intakes and saline outfalls are into the open sea of Bass Strait, rather than into confined Port Phillip or Westernport Bays.
It is being delivered by the private sector as a BOOT project using Victoria's Public Private Partnerships framework. Construction of the plant was awarded to AquaSure, a consortium consisting of Suez Environnement, Degremont, Thiess and Macquarie Capital Group.
Construction began in September 2009, and the $3.5 billion project is nearing completion. The project incorporates a number of significant environmental protection and social amenity measures, such as a fully architecturally designed facility with intensive landscaping integration, a planted green roof, a coastal park, fully underground power supply with co-located broadband communications cable, and long 4 metre diameter intake and outlet tunnels.
The extensive underground pipeline connects the plant to Melbourne's Cardinia Reservoir east of the city and is capable of providing up to a third of Melbourne's annual water supply. The plant is estimated to use about 90 MW of power, the equivalent of which will be purchased from renewable energy sources.
South Australia as a consumer of desalinated water
A 300 ML/d desalination plant for Adelaide began operations in May on a site in the former Mobil refinery site at Port Stanvac on St Vincent Gulf, south of the city. The $A1.4 billion design-build-operate project was awarded to Adelaide Aqua, a consortium of Acciona Agua, McConnell Dowell, Abigroup and United Utilities Australia. The plant's construction was in response to the Millennium drought (1997 – 2010) which reduced flows in the state's River Murray, saw reservoir levels fall critically low and severe water restrictions implemented. Initially construction of a 150 ML/d seawater desalination plant was announced in 2008 and capacity was subsequently doubled to 300 ML/d. This single source will now be capable of supplying about 40% of Adelaide's current annual water consumption. As in other states, renewable energy will be purchased to offset the entire plant's energy requirements.
Another 280 ML/d seawater desalination plant is planned for Whyalla in the north of SA to provide additional water resources for the expanded BHP Billiton copper, uranium, gold and silver Olympic Dam mine and processing plant near Roxby Downs. This plant's transfer pipeline system will carry potable water to Olympic Dam - about 320 km in length - with a nominal pipeline diameter expected to be in excess of one metre.
Smaller desalination operations
In addition to the large seawater desalination plants there are thought to be more than 500 small reverse osmosis plants servicing remote mining, oil and gas sites, power stations, medical (dialysis), food and beverage plants and coastal and island communities.
Osmoflo, the largest Australian desalination company, has alone built more than 270 small to medium plants since 1991. The first reverse osmosis plant was thought to have been installed by Permutit in 1968 at Cook, a siding on the Trans Australia Railway in the Nullarbor Plain.
The first large scale brackish water reverse osmosis plant (35 ML/d) was built at Bayswater Power Station in NSW in 1987 for cooling water salinity control. Desalination's future in Australia
Desalination's Future in Australia
The Australian desalination industry and Federal Government-funded research and development sector driven by NCEDA is growing rapidly. There are many opportunities in design, construction and operations encouraging employment of an increasing number of tradespeople, para-professionals and university graduates, with research activity fostering PhD and Honours student projects in desalination.
Climatic factors and urban population growth are expected to boost further need for desalination plants in Australia. The Federal government's Climate Commission recently warned of the imminent threats to the country's water security from climate change, which will continue to affect rainfall patterns creating increasing uncertainty in water availability.
It's becoming increasingly recognised by Australian authorities that the continuous base load flow of water from seawater desalination is comparatively cost-effective insurance, dramatically reducing the likelihood of water restrictions and safeguarding water-dependent industries' ability to maintain operations, provide jobs and support Australia's growing economy and population. The future for desalination in Australia looks bright indeed.
Author's note: Neil Palmer is CEO of the National Centre of Excellence in Desalination Australia, an International Desalination Association (IDA) director and co-chair of the technical program for the 2011 IDA World Congress.
This event takes place from September 4-9 in Perth, coinciding with the official opening of the Southern Seawater Desalination Plant at Binningup and NCEDA's new national Desalination Research Facility and Desal Discovery Centre at Rockingham. For more information, please visit: www.idadesal.org.
More Water & WasteWater International Current Issue Articles
More Water & WasteWater International Archives Issue Articles