UV Shines Light on Russian Wastewater Problem
In addition to mechanical and biological treatment methods, Moscow is on its way to treat over 6 million m3/d of urban wastewater using alternative disinfection technology from LIT Technology.
Sep 1st, 2008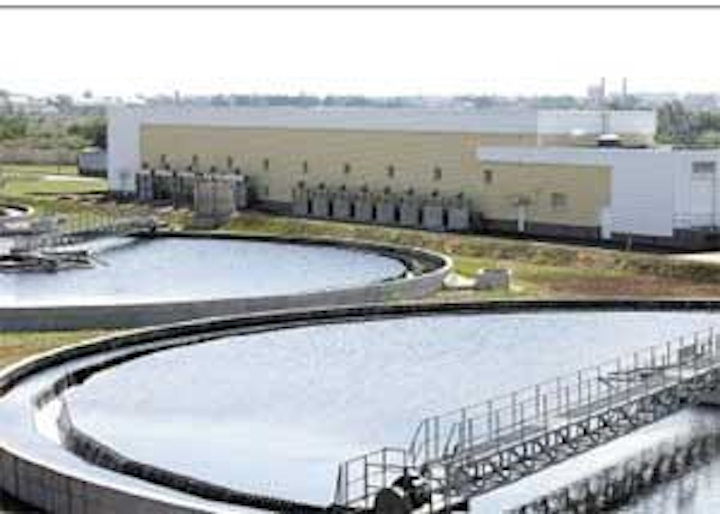 By S. Khramenkov, S. Kostyuchenko, S. Volkov and H. Giller
In addition to mechanical and biological treatment methods, Moscow is on its way to treat over 6 million m3/d of urban wastewater using alternative
disinfection technology from LIT Technology.
UV plant facility at Luberetskaya WWTP
Click here to enlarge image
In Moscow, the urban wastewater treatment plants (WWTPs) processes 6,125,000 m³/day wastewater, making them the greatest wastewater purification plants of Europe. The processed wastewater partly consists of industrial wastewater and partly of domestic wastewater. It involves wastewater that comes from the city as well as from the region around Moscow.
After treatment, the processed wastewater is discharged into the Pekhorka River and Moscow River. The volume of water from these two WWTPs is so large that 50% of the water that flows through these rivers consists of treated wastewater. Its quality is therefore an essential part in furthering the ecological goals for the basin of both rivers.
Until recently the wastewater in both WWTPs was only treated in a mechanical and biological way. Disinfection of the wastewater with UV has only recently been added as a final step.
Use of conventional treatment methods such as chlorination for the disinfection of wastewater was unacceptable for the city of Moscow from a practical perspective. This had to do with a number of factors that could be a potential hazard. For example:
Storage of large amounts of chlorine may be a hazard to people and the environment.
Residuals that remain in wastewater after chlorination are toxic and have a great impact on the environment in the river water. After all, the flow of wastewater produced by a city like Moscow is so large that it may have a crucial impact on the microbiological quality of the receiving surface water.
Normally speaking, there are many pathogenic bacteria, viruses and parasites in the wastewater of a city. These microorganisms may cause various diseases and are a threat to the health of people and animals. The water companies in Moscow were aware of the importance of good disinfection of wastewater. This is why they intensively sought a technical solution that was as optimal as possible. Disinfection of the wastewater by means of UV turned out to be the best method for this.
In 1997, the Mosvodo channel water companies entered into a collaboration with LIT Technology, a world player in development and production of UV disinfection systems. At the request of water companies in Moscow, LIT carried out a number of studies and scientific tests with wastewater purification plants of the city. These studies focused on determining which conditions are necessary for applying UV systems with such large facilities. During these studies, it was assessed to what extent it was possible to deactivate different types of microorganisms (including viruses and protozoa) through UV. In addition, research was carried out on the mechanical design of the UV systems that would have to function with these types of plants in the long term. All technical studies and investigations were carried out at the location of WWTPs in Moscow.
Hereby, both the open channel and closed reactor systems of LIT were tested. Both types of systems had so-called "low pressure high output" (LPHO) amalgam UV lamps of LIT. The findings of these trial studies were applied as a basis for the technical solution for the various wastewater plants in Moscow.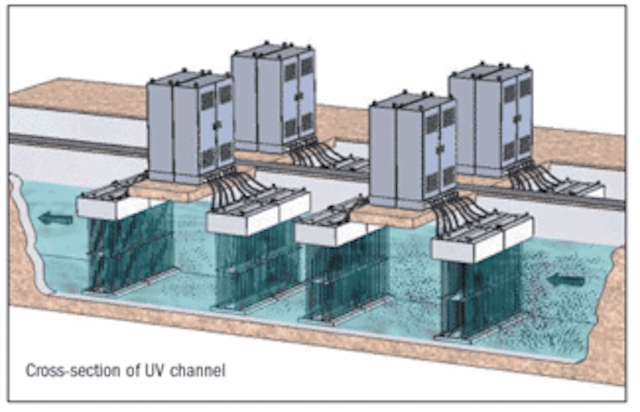 Click here to enlarge image
During the first phase of the study the main focus was on microbiological effectiveness of UV disinfection in conformity with the prevailing "hygienic guidelines for the protection of surface water". During this study, it was proven that UV is a very efficient method to reduce total coliform content.
In 2006, LIT started to work out specifications for the first phase: the Lubertskaya WWTP. In this project, the UV system was placed after biological treatment of the effluent. The capacity of the UV plant place here was 56,250 m³/hour. This is equal to 1.35 million m³/day.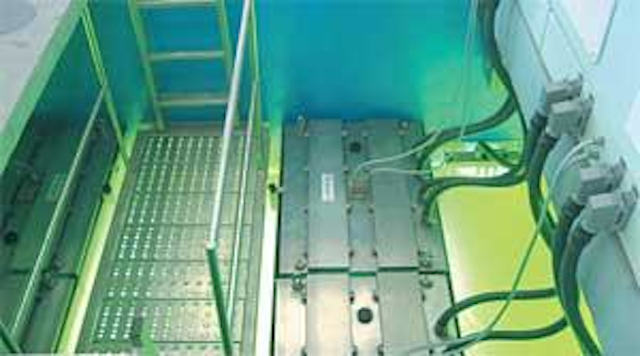 UV modules in channel
Click here to enlarge image
Special UV modules were designed for this project that include vertically placed UV lamps. In view of the enormous capacity of this treatement plant, the current velocity of the effluent is very high. As a result, it was necessary to place LPHO amalgam lamps of no less than 600W in order to treat the effluent adequately. One advantages of the vertical placement of the UV lamps is that it stimulates the water's turbulence. This benefits the entire disinfection process of the effluent. An additional advantage is the ease with which the lamps can be replaced. With this design it isn't necessary to get a complete module from the channel for cleaning or replacing the lamps. This means it's also possible to save on operational costs.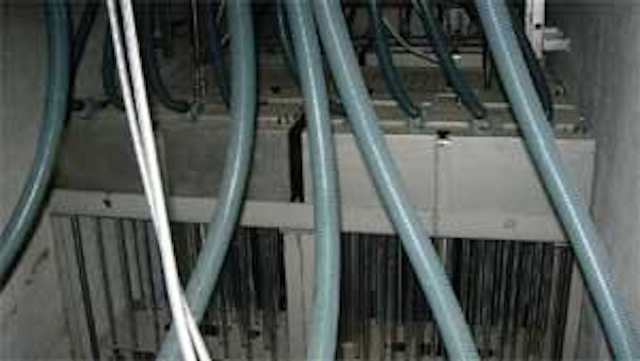 Click here to enlarge image
The entire Luberetskaya WWTP consists of eight channels, each fitted with four UV units. The water levels in the channels are automatically regulated. Each UV unit has a mechanical cleaning system that automatically cleans the quartz tubes. The entire UV plant operates completely without human intervention.
Conclusion
The Luberetskaya plant is the first step in a project whereby the entire wastewater capacity of Moscow, over 6 million m³/day, will be disinfected with LIT UV technology. It's presently the largest UV project in the world.

WWi
Authors' Notes:
S. Khramenkov is general director of MSUE Mosvodokanal of Moscow. S. Kostyuchenko is general manager of LIT Technology in Moscow. S. Volkov is head of sales and marketing at LIT Technology in Moscow. H. Giller is director of LIT UV Europe b.v. of Valkenswaard, The Netherlands. Contact: +31 40 224 0730, h.giller@lit-uv.eu or www.lit-uv-europe.com