Sensors, Monitors & Meters
For those looking to measure and control the level of materials contained in tanks or vessels, Siemens has a new continuous level measurement device for the water and wastewater sector.
Apr 1st, 2008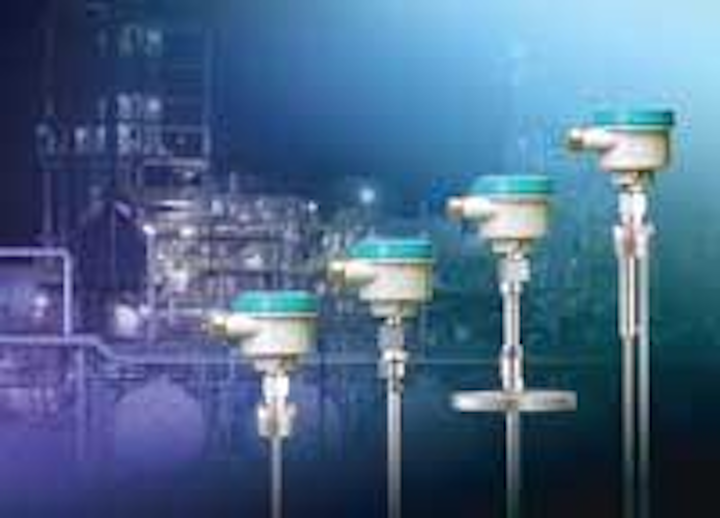 Keeping level simple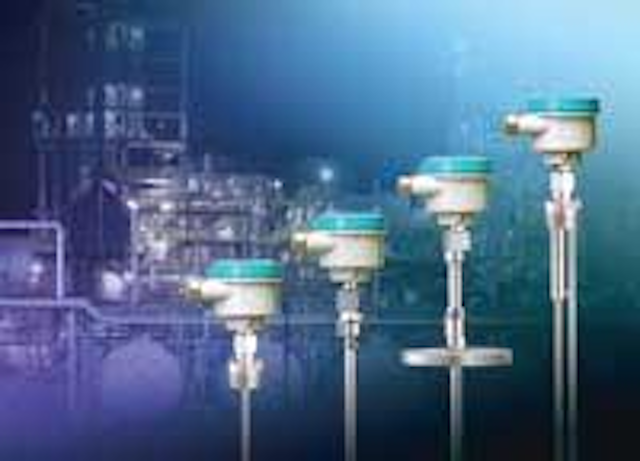 Click here to enlarge image
For those looking to measure and control the level of materials contained in tanks or vessels, Siemens has a new continuous level measurement device for the water and wastewater sector. The Sitrans LG200, from Siemens Process Instrumentation, is a guided wave radar transmitter for tank level, level interface and volume measurement. It's designed to be unaffected by changes in process conditioning, high temperatures, pressure and steam – ensuring accurate measurement in level, volume and interface applications. The unit can automatically ignore obstructions and is able to apply algorithms to raw echoes to produce reliable measurements. Offering coaxial, single or twin rod probes, for short and extended applications, it's ideal for retrofitting torque tube applications and can be mounted in existing chambers or cages for optimal measurement. Furthermore, the two-wire, loop-powered Hart level transmitter can measure materials with a dielectric range of 1.4 and higher with temperatures up to 427°C (800°F) and pressures up to 6250 psig (431 bar). Featuring a compact design and a range of threaded and flange process connections, it's also easy to install with quick setup possible thanks to three programming buttons on the instrument or via a Hart handheld programmer. Users also can now program the device from a remote location using the Process Device Manager Simatic PDM via Hart protocol. The transmitter is designed to measure accurately in liquid or slurry applications of corrosive vapours, foam, saturated steam, high viscosity, quick fill/empty rates, low levels and varying dielectrics and product densities.
Siemens (UK) plc.
Frimley, Surrey, United Kingdom
www.siemens.co.uk/automation
---

Space-saving flowmeter offers elbow room
Municipal water treatment engineers tasked with measuring liquid flow in close proximity to an elbow will find the self-conditioning V-Cone flowmeter from McCrometer reduces the straight pipe requirement between the two devices by up to 70% vs. other meters, resulting in significant real estate and installation labor savings that can actually exceed the cost of the instrument itself.
It needs only 0-3 straight pipe diameters upstream and 0-1 downstream to operate effectively. This unit operates over a wide flow range of 10:1 with low head loss and supports line sizes from 1/2-to-120+ inches (12.5-to-3,050mm). Accuracy is +0.5%, with a repeatability of +0.1%. This meter conditions fluid flow for a stable flow profile that increases accuracy. A centrally-located cone inside the tube interacts with the flow and reshapes the velocity profile to create a lower pressure region immediately downstream. The pressure difference between the static line pressure and low pressure downstream of the cone can be measured via two pressure sensing taps, one slightly upstream of the cone and the other in the downstream face of the cone itself. The pressure difference can then be incorporated into a derivation of the Bernoulli equation to determine volumetric fluid flow rate. The flowmeter enjoys consistent performance and low cost of ownership because it requires virtually no recalibration or maintenance over a long life. It's especially useful in water well production, crowded pumping stations, filter and pipe galleries and finished water applications.
McCrometer Inc.
Hemet, California, USA
www.mccrometer.com
---

Good things come in small packages
Against stiff competition, Danfoss secured an order for two off 200kW VLT® AQUA drive versions – the first of its new generation, highefficiency, high-power FC series drives – to supply Northumbrian Water's Lumley Water Pumping Station in northeast England for refurbishment of the Lumley-Rainton booster pumps.
The drives were ordered by Labtec (Services) Ltd., which has a framework agreement with Northumbrian for design and supply of motor control centres (MCC) and low voltage assemblies. Labtec was contracted to manufacture the MCC for the pumping station and during design ran into space limitation problems. The Rainton-Mill Hill leg of the water treatment works' distribution system was refurbished with two new 185kW pumps, complete with variable speed drives that will operate either as duty/standby or duty/duty units, but the drives had to fit in an area with a height of 1900 mm. The smaller footprint of the Danfoss drive yet excellent power output proved the ideal solution.
Danfoss Ltd.
Denham, Bucks, United Kingdom
www.danfoss.co.uk/drives
---

Clean power ozone generator system
Click here to enlarge image
Literature is available online for Degrémont Technologies- Ozonia's new power supply and ozone generation equipment. With a substantial reduction of electrical energy consumption and an ozone concentration rate up to 14% by weight (broad range from 6 to 14 wt%), the combination of the IGS (Intelligent Gap System) Dielectric Technology and MODIPAC™ (Modular Power Supply Unit) improves efficiency of ozone generation and is perfectly suited for larger installations found in industry, e.g., pulp & paper, municipal and wastewater treatment works:
Higher ozone output with a capacity to more than 250 kgO3/h/unit Lower power consumption with minimum 10% energy savings
Higher ozone generation reliability with MODIPAC™ modular design (from 1 to several units) based on IGBT technology. This allows a very high availability level of over 98% with protection of each individual ozone generation tube assembly via a fuse.
Fully automated operation and remote control with BUS communication.
These innovations result in major advantages for operators of all types of oxidation processes. This is due not only to reduced electrical energy consumption, improved reliability and availability, but also from recognition as a technically efficient, environmentally friendly chemical for pulp bleaching, water treatments, etc.
Degrémont Technologies-Ozonia, A SUEZ Company
Dübendorf, Switzerland
www.degremonttechnologies.com
---

Pump metering systems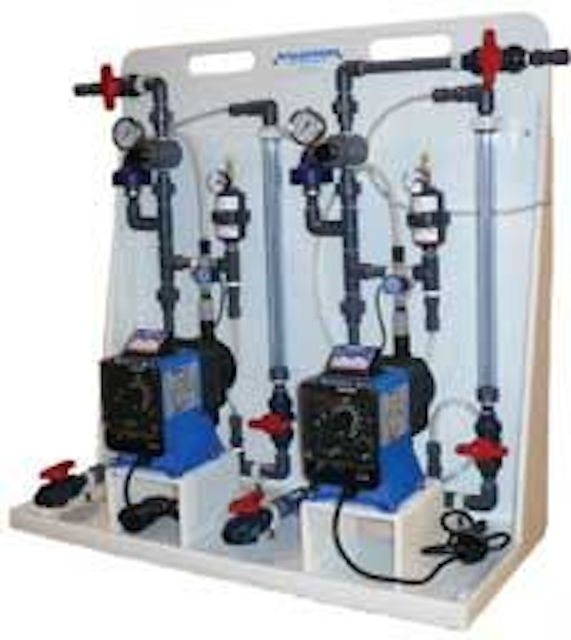 Click here to enlarge image
Pulsafeeder's Pre- Engineered Metering Systems provide complete chemical feed solutions for all electronic metering applications. Offering turn-key simplicity that ranges from economical, Basic packages for inhibitor feed to more full-featured Standard packages for redundant disinfection applications, these rugged fabricated assemblies are built with industrial-grade durability in mind.
Pulsafeeder Inc., A Unit of IDEX Corp.
Punta Gorda, Florida, USA
www.pulsafeeder.com
---

Accurate open channel flow measurement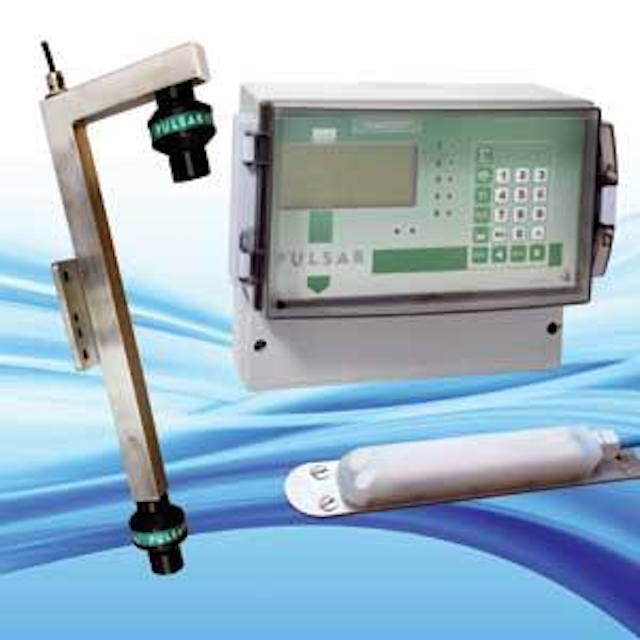 Click here to enlarge image
Pulsar Process Measurement of Malvern has launched FlowCERT, a new non-contacting ultrasonic open channel flow measurement system to help companies achieve UK monitoring certification scheme (MCERTS) standards. It consists of a dedicated control unit, which makes calculations to BS3680 across every regularly used flume and weir type, and offers datalogging and RS485 digital communications. This is coupled with a choice of sensor, either Pulsar's high-frequency dBMACH3 transducer or its patented DUET – a new concept in ultrasonic measurement featuring two transducers mounted on a common frame, one higher than the other. Both fire together, but echoes returning from the flow surface are processed at the lower unit. Constantly monitoring the phase difference between the transducers, it dynamically compensates for changes in the speed of sound between the transducers and liquid surface. This speed varies with temperature and conventional compensation equipment doesn't react quickly enough to be effective. Temperature variations provide the major source of process inaccuracy when using ultrasonic equipment, so by completely removing temperature effects, DUET is a significant breakthrough. In tests, against a temperature variation of more than 30ºC, it plus the open channel flow measurement system achieved linear measurement accuracies of ±0.5mm. FlowCERT also offers 32-point linearisation and velocity x area flow calculations where no primary measurement device exists, with the addition of Pulsar's Speedy velocity sensor. The sensor is available either as a "wedge" sensor to be fitted to the bottom of a channel or pipe, or as a pipe sensor. In both cases Doppler effect is used to calculate liquid flow velocity.
Pulsar Process Measurement
Malvern, Worcestershire, England
www.pulsar-pm.com
---

Flowmeter part of oil separator solution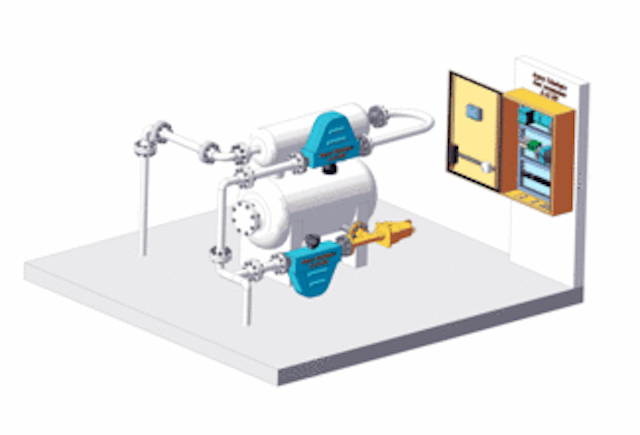 Click here to enlarge image
Emerson Process Management and Argosy Technologies Ltd. unite to provide an integrated flow measurement and quality monitoring solution for upgrading oil separator systems, known as AGZU "Sputnik" separators, in Russia and the CIS. The solution, patented and certified by Russia's GOST standard, is designed for automatic multiphase measurement and quality monitoring of hydrocarbon flow right from the wellhead. The Argosy system, known as R-AT-MM measuring system, using Micro Motion® Coriolis meters, delivers a total solution including high accuracy data acquisition, accumulation, processing and communication. Challenges facing customers in this upgrade process are identifying a solution for use in rugged, diverse oil fields in remote regions that offer low maintenance and high reliability, yet are capable of providing accurate fiscal measurement of both oil and gas coming off of the AGZU Sputnik oil separator. To meet the new Russian GOST R 8-615-2005 requirements and also provide a low-cost upgrade solution for older, existing AGZU Sputniks in the field and new units for new well sites, Argosy conducted research and field tests in the West Siberian region since 2003. Its engineers found that its R-AT-MM system (based on Micro Motion Coriolis mass meters, Phase Dynamics water cut meters, and the R-ATMM controller), best serves these customers needs. Designed and produced by Argosy in Russia, over 600 R-AT-MM upgrade systems are now installed and successfully operated by major Russian oil & gas companies.
Micro Motion, An Emerson Process Management Unit
Boulder, Colorado, USA
www.micromotion.com
---

Mini magmeter measures down to 0.1 μS/cm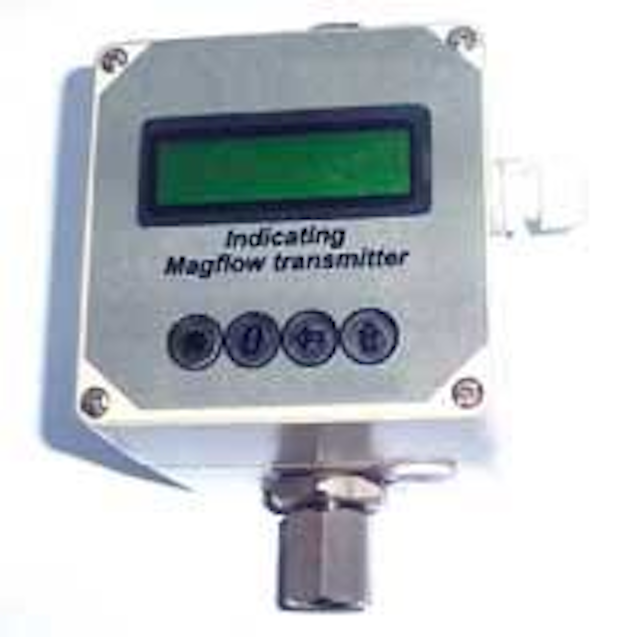 Click here to enlarge image
European flowmetering and control technology specialist Bronkhorst UK has launched an ultra-compact electromagnetic flowmeter in the UK. Available also with an integral PID controller for flow control duties, the Miniature- Mag series is suitable for measuring liquids with conductivity down to 5 μS/cm, even as low as 0.1 μS/cm for some applications, and for handling flow rates from 1-to-3,000 lph. Intended mainly for smaller bore installations and usable on pipework bends rather than just straight runs, it's available for internal pipe diameters between 1.5mm and 12mm and features empty meter detection for when there's insufficient flow. A very high speed of response makes it ideal for batching applications, a capability further enhanced by automatic overrun compensation. It also can be specified as a flow controller, with an integral PID loop for control valve operation or direct pump control. Analog, pulse, relay, RS232 and serial output connections are optional for interfacing with plant-wide control networks.
Bronkhorst UK
Sawston, Cambridge, England
www.bronkhorst.co.uk
---

Municipal, industrial flowmetering
With a highly intelligent, no-moving-parts design, the ST50 flowmeter series from Fluid Components International is now available with a high-precision +1% accuracy configuration for line sizes from 51-to-610 mm and is suitable for applications in air, compressed air, HVAC and process gases, including nitrogen. The new high accuracy unit features FCI's thermal dispersion mass flow sensing technology, which provides direct flow measurement for higher performance at a lower cost. There's no need for temperature sensors, flow computers or other devices required with orifice plates, venturis, vortex shedding and other meters. Its unique design also provides built-in temperature compensation for reliable measurement over a wide temperature range with almost no pressure-drop.
Fluid Components International LLC
San Marcos, California, USA
www.fluidcomponents.com
---

New pumps for seawater desalination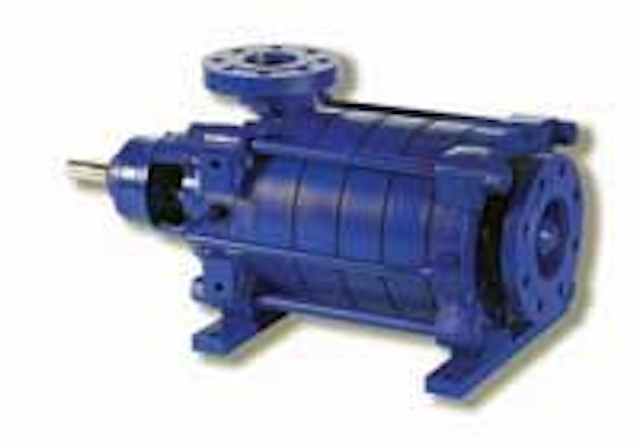 Click here to enlarge image
Seawater desalination using reverse osmosis is booming. To better serve this market, KSB AG has developed its high-pressure series Multitec-RO pumps. The new pump sets are primarily for use in small- to medium-sized installations commonly found in hotels and large ships or for transportabl installations in containers. They have a desalination capacity of up to 10,000 m3/d. Complete pump sets, offered in horizontal long-coupled design, are special variants of the tried and tested Multitec range. The fact they're standard pumps means they have a shorter delivery time and are more cost-efficient than customised pumps commonly sold in this market segment. With a discharge head of up to 800 metres and a maximum flow rate of 850 m3/h, this type series has been used with much success in a variety of applications for many years. Design of the multistage RO pumps is robust, and they're made from duplex stainless steel to cope with very aggressive salt water. Featuring a low-maintenance ceramic bearing as well as a hydraulically optimized design and easily replaceable wear parts, these pumps offer a high degree of operating reliability and low energy and maintenance costs. Thanks to the axial inlet, the pump set is compact and requires just a discharge-end mechanical seal, which allows for space-saving installation.
KSB AG
Frankenthal, Germany
www.ksb.com
---

Solutions for WFD organic analysis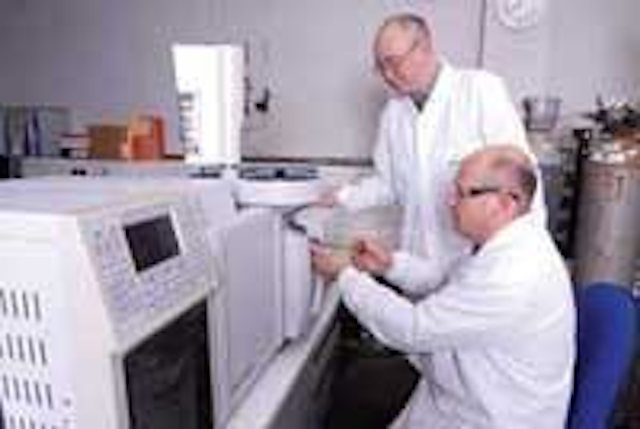 Click here to enlarge image
When considering the 33 priority hazardous substances as detailed in the EU Water Framework Directive as well as the eight additional pollutants identified in amending directives, laboratories face many challenges. Suggested environmental quality standards are challenging in themselves and, coupled with varying matrix types, could cause issues in organic analysis. Add to this a lack of definition as to how a compound should be defined for measurement (as is the case for C10-C13 chloroalkanes) and the picture complicates further. STL has taken a look at these challenges and how best the laboratory can analyse compounds as currently defined.
Severn Trent Laboratories Ltd.
Coventry, United Kingdom
www.stl-ltd.com