Singapore to collaborate with Saudi Arabia on desalination knowledge sharing
Singapore's PUB has signed MOUs with the Saline Water Conversion Corporation and Western Australia's Water Corporation...
Jul 18th, 2017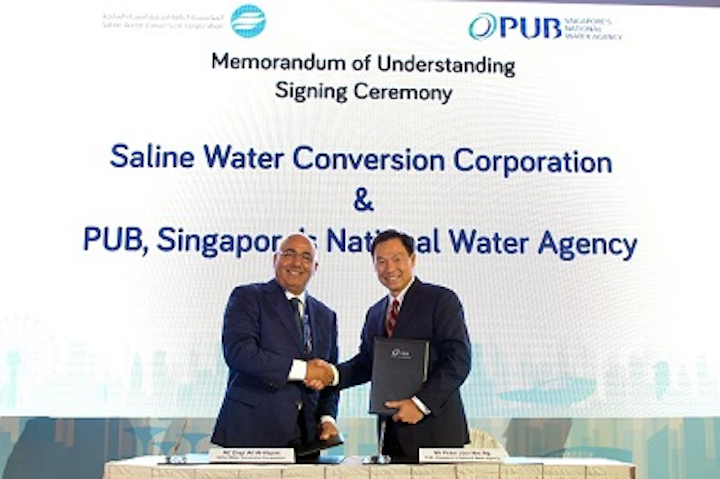 SINGAPORE – Singapore's National Water Agency PUB has signed Memorandums of Understanding (MOU) with Saudi Arabia's Saline Water Conversion Corporation (SWCC) and Western Australia's Water Corporation.
PUB's MOU with the SWCC aims to support relations between the Singapore and Saudi Arabia governments, and facilitate knowledge exchanges in the field of water supply, water network management and innovation.
This includes areas such as desalination technology, energy reduction, water management systems (SCADA), leak detection, non-revenue water, and automated metering.
The MOU with Australia's Water Corporation will promote cooperation and collaboration in the field of urban water supply, wastewater management and innovation. This is particularly in areas such as climate change adaptation, water quality management, wastewater treatment technologies (in terms of energy efficiency), water reuse, asset resilience, smart water technologies and customer engagement.
Both MOUs will also promote staff exchanges to gain insights into partner utilities' issues, share experiences, and resolve common water challenges.
Ng Joo Hee, chief executive of PUB, said: "Water utilities around the world grapple with many common challenges as we work to ensure a safe and adequate supply of water to our customers. Climate change, pollution, population growth and urbanisation, and rising cost of operations compel water utility leaders to work ever closer together to co-create mutually beneficial solutions."
###
Read more
Singapore's Marina East desalination plant to be a 'lush green gem'
De.mem inches closed to nanofiltration roll-out in Singapore