Products & Services: Aeration
Collection of Aeration products and services.
Aug 2nd, 2013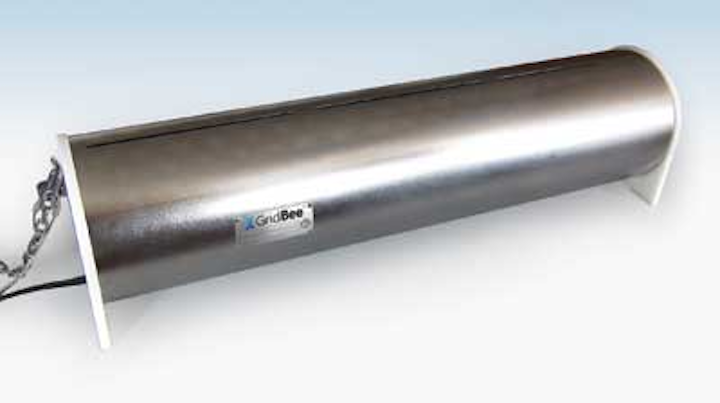 Potable tank mixer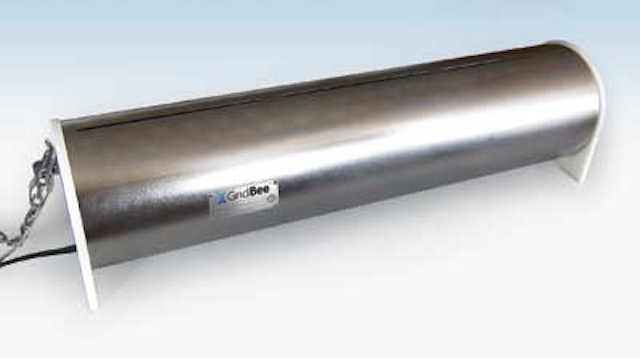 Priced below $8,000 and with a performance guarantee, the GridBee® GS-12 electric mixer from Medora Corporation is a low-cost solution for preventing ice damage in potable water storage tanks. Year round, the GS-12 mixer helps minimize thermal stratification, prevent short-circuiting and stagnant water conditions, and ensure uniform water age and distribution of disinfectant. The GS-12 takes new incoming water off the floor and mixes it throughout the water column.
Medora Corporation
www.medoraco.com
---
Aerobic treatment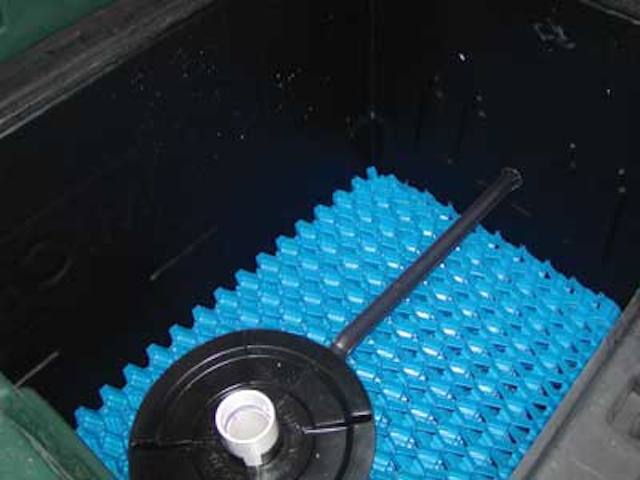 The Fixed Integrated Treatment Technology (FITT) of the FAST systems allow for robust, aerobic treatment inside the tank. These systems create an optimized environment with consistent aeration and mixing throughout the media for maximum biomass generation to withstand periods of high and low input. Technology certifications include: EPA, ETV, EPA's approved system for project sites, and NSF Std 40 class 1 and 245 (nitrogen reduction).
Bio-Microbics Inc.
www.biomicrobics.com
---
Oxidation ditch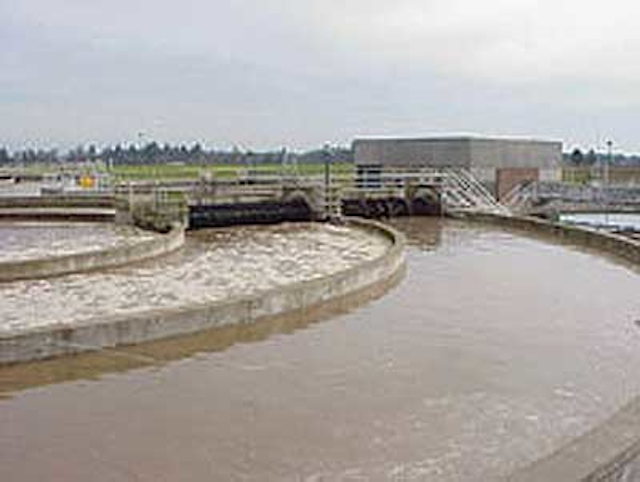 The Orbal® multichannel oxidation ditch from Siemens, as a complete mixed, looped reactor system, is well-suited for conventional activated sludge, advanced secondary sludge treatment, simultaneous nitrification-denitrification, biological phosphorus removal, and stormwater treatment. The ditch has three concentric channels: the outer channel - an aerated anoxic reactor - where the majority of the process 'work' takes place; the DO of the second channel that operates in a swing mode to vary with daily load conditions; and the last channel, which maintains a polishing mode that removes remaining BOD and ammonia before the flow exits to final clarifiers.
Siemens Water Technologies
www.water.siemens.com
---
Oxygen injection system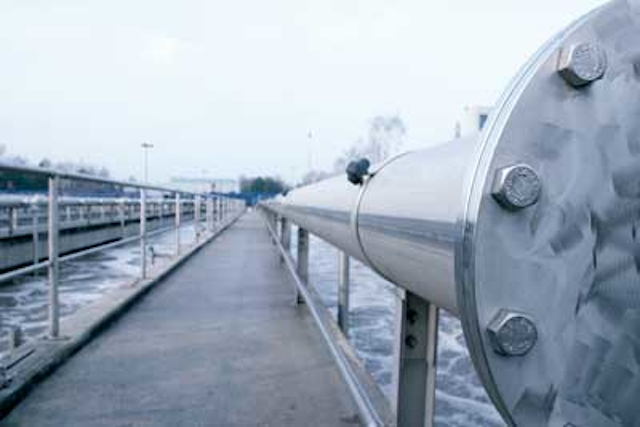 The SOLVOX® process from Linde North America injects 100% oxygen (O2) in water to efficiently decrease BOD and dissolve organics and odors. Since air is only 21% O2, the SOLVOX oxygenation process is almost five times more efficient than typical aeration. By quickly diffusing O2, it can supplement or replace existing aeration systems and save energy required for high-volume air compressors. SOLVOX can be used for primary aeration or to boost the efficiency of denitrification and activated sludge systems. The process includes O2 supply, metering and a gas injection system.
The Linde Group
www.lindewatertreatment.com
---
Aeration system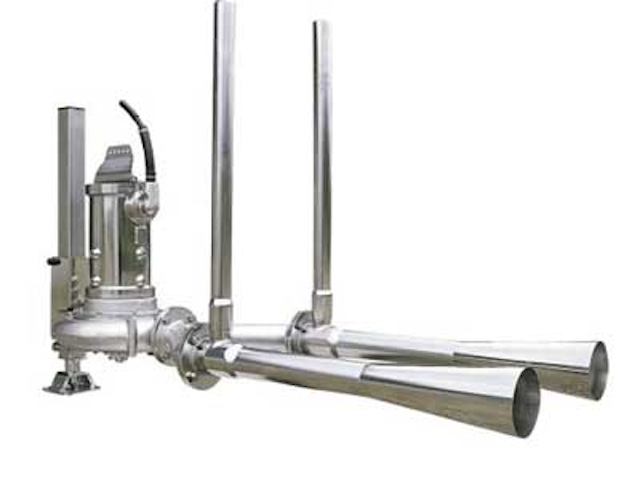 Landia's AirJet system can aerate thicker sludge than other systems. It offers simplified upkeep and does not require the tank to be drained for diffuser maintenance. Available in motor sizes from 3 kW to 18.5 kW, and in submerged, vertical or horizontal versions, the system can be dry-installed outside the tank or floating under pontoons in a lagoon. Ideal for applications where liquid levels vary, the non-clogging air jets are self-aspirating, so they don't require a compressed air supply.
Landia Inc.
www.landiainc.com
---
Diffuser system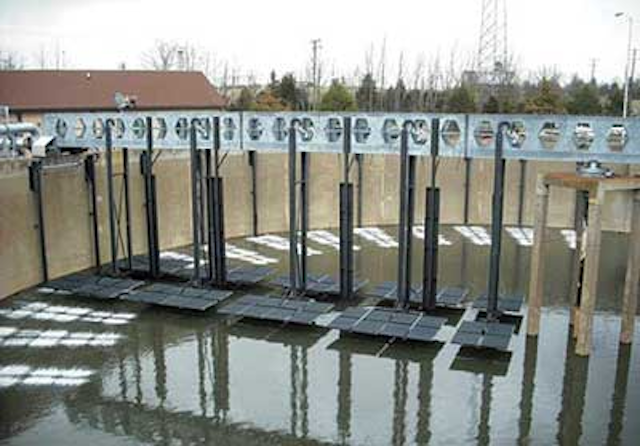 SchreiberFLEX membrane air diffusers feature a unique, patented design for fine bubble aeration. The diffusers have high strength with a moment capacity of 340 foot pounds. SchreiberFLEX diffusers increase the effectiveness of an aeration process by providing a high rate of oxygen transfer efficiency - 5.5% per meter (1.7% per foot) of immersion at 17' submergence at a maximum throughput rate of 1.3 scfm per lineal foot of diffuser. As air pressure to the diffusers is eliminated, the micro slits on the membrane close to prevent liquid from entering the tube. The control of air flow to the diffusers results in a vast increase in process flexibility and effectiveness.
Schreiber LLC
www.schreiberwater.com
---
Porous ceramic diffusers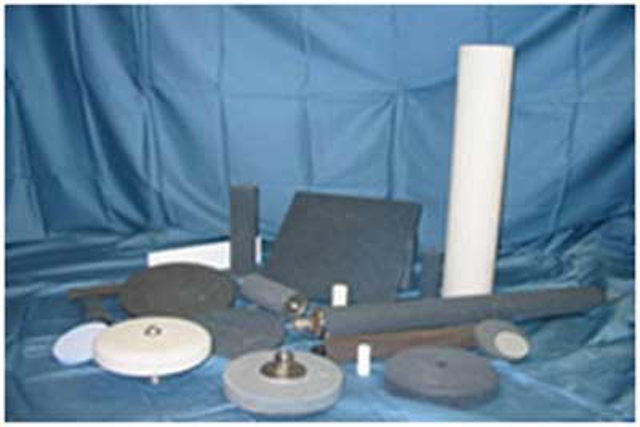 Refractron porous ceramic diffusers are used for applications that require the production and dispersion of fine air or gas bubbles through the porous ceramic into a liquid. The naturally hydrophilic material is easily wetted, resulting in the production of fine, uniform bubbles. Refractron's porous ceramic has 40-50% open porosity and is available in pore sizes ranging from 0.25 to 90 microns. Monolithic, single grade, aluminum oxide porous ceramic is available in 6, 15, 30, 50, 60, and 90 micron pore sizes.
Refractron Technologies Group Corp.
www.refractron.com