Products & Services: Tanks & Structures
Collection dealing with tanks and structures products and services.

Sep 10th, 2014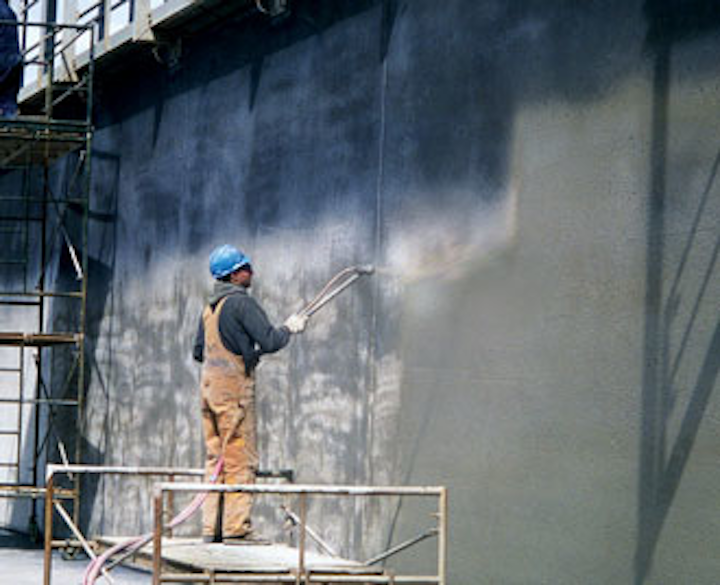 Concrete waterproofing
XYPEX Concrete Waterproofing fills and plugs pores, capillary tracts and micro-cracks in concrete structures with a non-soluble crystalline formation. Unlike surface coatings, it cannot be punctured or damaged and will not delaminate or peel off the surface. The product can also be applied as a surface treatment or used as an admixture. It is non-toxic and does not contain any VOC, thus permitting its use in confined spaces without ventilation.
Xypex Chemical Corporation
www.xypex.com
Fabric buildings
Legacy Building Solutions offers fabric buildings that incorporate structural steel beams instead of open web trusses. This provides much flexibility to customize buildings beyond the confines of standard sizes to the exact width, length and height required in applications like wastewater treatment plants, public works facilities and general storage. It also allows for much wider doors than with web trusses. Legacy's beams are not vulnerable to unseen corrosion originating inside a tube, and the structural steel has multiple coating options, including hot dip galvanizing, red oxide primer and powder coat paint.
Legacy Building Solutions
www.legacybuildingsolutions.com
Concrete admixture
MCI®-2005 NS is a liquid concrete admixture that provides protection of multi-metals embedded in concrete from corrosion induced by carbonation, chloride, atmospheric attack, and other corrosive contaminants without changing the set time of concrete mixes. This long-term inhibitor doubles the time to initiation of corrosion and reduces the corrosion rate up to five times over the life of the structure. It also reduces the effects of shrinkage and cracking.
Cortec Corporation
www.cortecvci.com
Bolted steel storage tanks
To meet the rigorous demands of storing recovered wastewater or brine water for treatment, Superior Tank has developed a line of bolted steel storage tanks featuring a premium powder coating. The new tanks utilize extremely durable 3M Scotchkote, which is specially formulated for corrosive environments. Tanks are available in capacities from 10,000 to 3,000,000 gallons and comply with both AWWA and NSF standards. Open-top and closed-roof designs are offered as well as specialized appurtenances.
Superior Tank Co. Inc.
www.superiortank.com
Corrosion- and chemical-resistant tanks
Assmann Corporation has a full line of corrosion- and chemical-resistant tanks and containers. Constructed from virgin high-density crosslink or FDA-compliant linear polyethylene, the tanks and containers are used to store and transport corrosive and hazardous materials. They also provide low temperature impact resistance, are UV stabilized and are available in a wide range of capacities and colors.
Assmann Corporation
www.assmann-usa.com
Prestressed concrete tanks
DN Tanks specializes in the design and construction of AWWA D110 prestressed concrete tanks used for potable water, wastewater, chilled water, and other liquids. With over 2,500 tanks ranging in capacity from 40,000 to 40 million gallons, DN Tanks offers expanded construction capacity and proficiency in multiple types of proven tank designs to provide customized liquid storage solutions.
DN Tanks
www.dntanks.com
Tank covers
Environetics' Defender™ Filter Covers prevent algae growth, contain odor and maintain operating temperatures. Opaque covers block UV light, prohibiting algae growth to keep filters clean, and a mechanical attachment system provides a positive seal for effective odor containment. Further, a low-profile design minimizes internal volume, reducing odor treatment requirements. The covers also isolate thermal air masses to maintain operating temperatures and eliminate freezing.
Environetics Inc.
www.environeticsinc.com
Fiberglass tanks, basins
Fiberglass aboveground tanks and basins from Orenco provide long-lasting, low-maintenance bulk storage solutions for wastewater, potable water and process applications. These helically-wound, lightweight vessels are more corrosion-resistant than steel and have longer service lives. They are available in sizes up to 250,000 gallons, and underground basins range from 2-24 ft. in diameter. Both can be shipped as single units or in sections that are stacked and assembled onsite.
Orenco Systems Inc.
www.orenco.com