Product Showcase
Collection of new products of special interest to the municipal water and wastewater markets
Sep 1st, 2015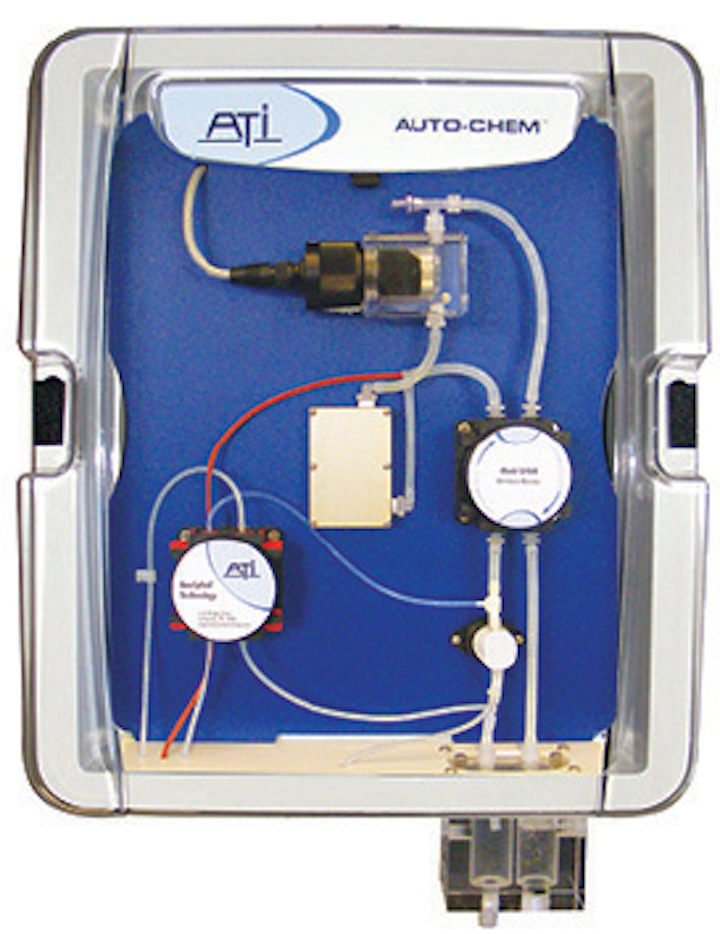 Amonia Monitor
Analytical Technology's Q46N Free Ammonia Monitor is designed for the continuous measurement of free ammonia, total ammonia and monochloramine in potable water. It is intended for monitoring chloraminated water to minimize the amount of excess ammonia in the system. The Q46N has a fast response time for real-time ammonia measurement and provides continuous, real-time updates for better process control. It utilizes a simple chemical system with three inexpensive reagents, which are required for operation.
Analytical Technology Inc.
www.analyticaltechnology.com

Ultrasonic flowmeters
Sonic-Pro® Hybrid Ultrasonic flowmeters from Blue-White measure flow rate using either Doppler or Transit Time methods. Non-invasive clamp-on transducers work with both clean and dirty fluids, with a high-capacity flow velocity range of up to 30 feet per second. Sonic-Pro can be configured and controlled remotely via RS-232, RS-485, USB, or Ethernet. View real-time flow and download data log files remotely on a Windows® PC. Additional features include: an easy-reading backlit LCD, data logged to standard SD card format, and isolated 4-20 mA output.
Blue-White Industries
www.blue-white.com

Pipe coupling
The HYMAX VERSA coupling from Krausz is an all-in-one product that can stab-fit two separate pipes of same or differing materials and diameters or wrap around the damaged section of a pipe. This versatile performance offers a range of options for different circumstances and conditions. In situations where cutting pipe involves adhering to stringent environmental precautions, the pipe can be wrapped in one step without cutting away damaged pipe. For pipes that are not completely round and don't easily fit into a standard coupling, it can also close around them.
Krausz Industries
www.krausz.com

Grinder pump
Zoeller Pump Company's Shark® Fractional Horsepower Grinder Series is designed to handle difficult applications where sewage ejectors struggle. These 115-volt, 12-amp, maximum (807)-circuit, all-cast-iron pumps represent an integral automatic grinder. Available in 1/2 HP (803), 3/4 HP (805) and 1 HP (807) models, these pumps offer performance head up to 55'. Zoeller's patented Tri-Slice™ Cutter Technology provides over 300,000 cuts per minute, meaning flushable wipes, sanitary napkins, disposable and cloth diapers, and other debris are no match for this energy-efficient series.
Zoeller Pump Company
www.zoellerpumps.com

Intelligence platform
Itron has launched the Itron Riva Developers Community, a first-of-its-kind distributed intelligence platform that supports sensing technologies and dynamic applications at the device level. With the community, Itron is accelerating app software development for the Itron Riva platform, further enabling an ecosystem of Internet of Things (IoT) applications. These applications could cover various IoT verticals, such as energy and water management, building energy management, smart street lighting, and solar monitoring.
Itron Inc.
www.itron.com

Adjustable ratchet wrench
With its reversible, adjustable head, Reed's L2N1ADJ ratchet wrench lets workers access nuts in tight quarters. The two socket sizes (1 1/4" x 1 1/16") feature a 12-point design, which helps the sockets grip and hold for pipeline work. Loosening the large wing nut swings the socket head from side to side, and flipping the socket head, by disassembling the wing nut and bolt, makes it possible to use either socket opening without interference.
Reed Manufacturing Company
www.reedmfgco.com

Chlorine scale
The Chlor-Scale 150® from Force Flow provides a simple and reliable way to monitor the amount of chlorine or ammonia used and the amount remaining in the cylinder. The solid PVC scale platform, with a 5-year warranty, provides a strong defense against the corrosive environments associated with gas-feed applications. Further, an optional pedestal stand eliminates wall mounting.
Force Flow
www.forceflow.com

Solids density meter
Markland's Suspended Solids Density Meter provides real-time knowledge of sludge/silt concentrations in pipes, clarifiers and tanks and helps automate biosolids removal. Using a safe ultrasonic sensor, it continuously monitors primary, secondary, return-activated, and backwash sludge, allowing users to program underflow pumps to shut off before sludge density becomes too thin, as well as adjust flocculent dosing for preferred feed density and enhanced dewatering. Both non-intrusive inline pipe spool-piece and throw-in style versions are simple to install, calibrate and clean.
Markland Specialty Engineering Inc.
www.sludgecontrols.com