District meets growing water demands from recreational lake
Contractors using Vermeer equipment dig trenches in challenging, rocky soils for a 100-mile water distribution pipeline project in west central Texas.
Oct 1st, 2003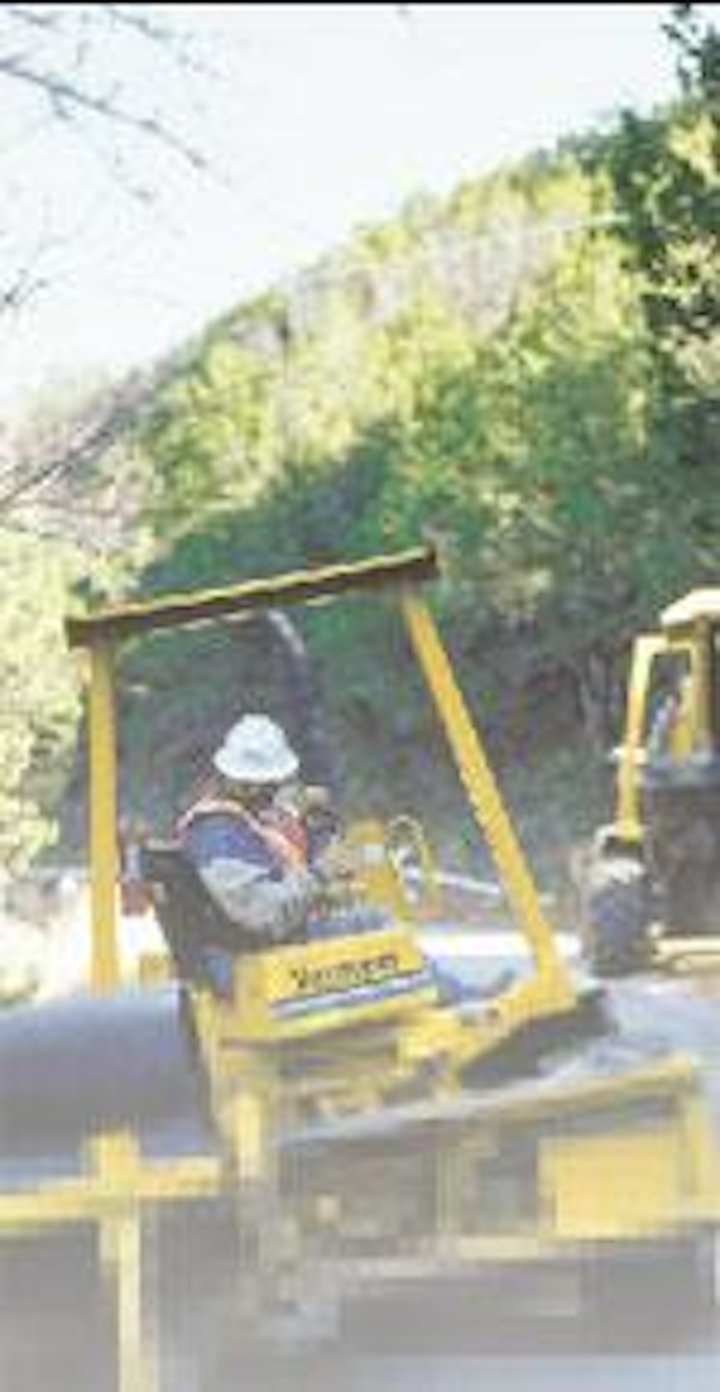 By Ryan Johnson
Possum Kingdom Lake will provide area residents with more than recreational fun once the five-phase project to construct a new one million gallon-per day water treatment plant and a 100-mile distribution system is completed.
The 17,000-acre lake, located 75 miles west of the growing US metropolis of Fort Worth and Dallas area, now serves as a recreational hub for swimming, boating and water skiing. Area residents, however, must also rely on the lake for a new distribution system to satisfy the growing need for potable water.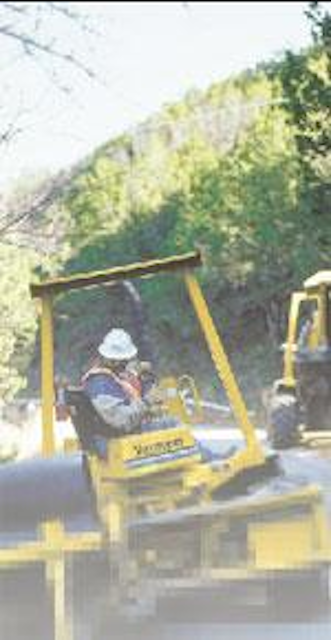 Rubber tire trenchers, such as the above Vermeer V8550, are a popular option for digging trenches in areas where larger track trenchers are not permissible. Photo by Vermeer Manufacturing Company
Click here to enlarge image
Currently, the Possum Kingdom Water Supply Corporation, a non-profit organisation, is nearing completion of the third phase of the five-phase project. The entire project will cost US$ 13.3 million, funded by state and federal loans and grants. The remaining two phases will include completion of the distribution system from the new water treatment facility.
Possum Kingdom Lakes' history dates back to the early 1940s when US President Franklin Roosevelt and US Senator Morris Sheppard determined that the future growth and economic prosperity of the area would need an adequate and dependable water supply. In 1942, federal funding was allocated to dam the Brazos River at Possum Kingdom to form the lake.
The citizens of West Central Texas depend on this water supply as much as anyone else in the state, especially as the population continues to grow. The Texas Natural Resource Conservation Commission estimates that by the year 2050, 38% of the state's population will not have enough water to meet the anticipated demand. For this reason, growing counties like Palo Pinto and others must conserve water and build additional resources.
Possum Kingdom Water Supply Corporation hired two Texas-based companies, Bowles Construction and Hawkeye Underground, Inc., to construct trenches for the new water system, while other portions of the supply system are also undergoing construction, such as the new water facility, distribution system, pump system and storage tanks. Bowles Construction is headquartered in Wichita Falls, Texas. Hawkeye is based in Roanoke, Texas.
Bowles and Hawkeye progressed quickly despite the challenging, rocky soil. Andy Bowles, vice president of Bowles Construction, estimates that approximately 70 % of the job involves trenching through tough Texas rock. Soil conditions include clay, limestone, cobblestone, granite and sandstone.
Phase Three was projected to take one year to complete, barring any unforeseen problems or conditions that would cause a delay. "It's about 100 miles of pipeline, and there's about 2,000 water service connections on it," Bowles said.
Bowles and Hawkeye are using Vermeer® V8550 rubber tire trenchers - among others - at the site to dig the new trenches for the water distribution installation. Hawkeye has also relied on a Vermeer V120 rubber tire trencher equipped with a powerful rocksaw and a Vermeer T755 track trencher.
"We relied on the T755 track trencher and our rubber tire trencher to dig the trenches through the tough limestone, which is prevalent in the entire area, Bowles said. "We depended on the track trencher to get through the hard rock, and thus far, it's paid off for us. The trenchers are a good fit for this type of work because of the power they offer, and because they can dig in these soil conditions. Because of the rock, there's no way you could dig with an excavator. This type of rock has to be sawed," he explained.
"Anywhere from two-inch to 16-inch pipe is being installed on most parts of the site," Bowles said. "We have different-sized trenchers working at the site because it will take a couple different sizes to get the job done. In other areas, trenches of 48 inches are needed, which call for larger machines.
In addition to his trenchers, Bowles supplements his trench installation projects with horizontal directional drills (HDD) to bore under some of the roads where traditional trenching methods are impossible.
---
Author's Note
Ryan Johnson is a technical writer with Two Rivers Marketing Group, based in Des Moines, Iowa, USA.